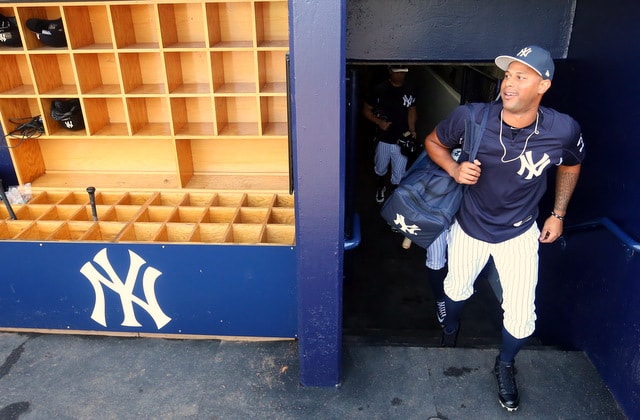 There's a version of the 2017 Yankees where Aaron Hicks is a much bigger story.
From the get-go, he was overshadowed by Aaron Judge in a kinda-sorta-maybe rigged battle for right field that you knew Judge was going to win if he hit at all. And then came Judge's otherworldly rookie season and there was little room for Hicks to find screen time in his own breakout role.
On last year's postseason coverage, Alex Rodriguez mentioned that Hicks was soft-spoken, so it makes sense that the quiet guy in the clubhouse would be behind the scenes. Still, Hicks did plenty of speaking with his bat and it's not like Yankee fans didn't notice No. 31 taking over center field.
As with every breakout season, there comes the inevitable backlash a year later that it's not sustainable. He can't replicate that. That wasn't his true talent level. So here we are: Can Hicks put together just as good of a 2018? Let's examine further:
Projections
2017 Season: .266/.372/.475, 15 HR, 14.1% BB, 18.6% K, 361 PA
2018 Steamer: .251/.337/.422, 16 HR, 11.5% BB, 19.0% K, 472 PA
ZiPS: .247/.334/.421, 20 HR, 11.6% BB, 20.1% K, 423 PA
PECOTA: .235/.321/.381, 12 HR, 10.8% BB, 21.2% K, 451 PA
Steamer and ZiPS buy some of the breakout while PECOTA simply doesn't seem him as any different from 2012-16 Hicks. It makes sense stat-wise, particularly when you look at his second-half numbers. His .218/.319/.396 in 119 plate appearances looks a lot like that PECOTA projection.
The other thing you might notice is that he doesn't have full 600-ish PA-season in any projection. He's never had more than 390 PAs in a season, so his biggest test will be surpassing that.
Is he really that good a hitter?
In 88 games last year, Hicks batted .266/.372/.475 (127 wRC+) while producing 3.3 fWAR. Some of that wins production was his defensive value (more on that later), but he was a legitimate offensive stud when healthy.
As noted above, there were essentially two different Hicks seasons in 2017: First half and second half. It's a clean split between the two due to his first oblique injury of the year. His hitting unsurprisingly suffered after coming back from that injury and he dealt with the issue again. Check out his wOBA (the noticeable decline you see in 2017 is right when the oblique injury happened).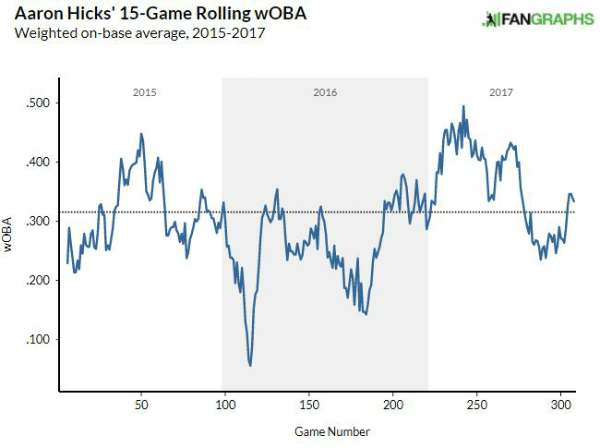 Interestingly, his walk rate saw a similar dip, though he showed off his eye with a pair of multi-walk games at the end of the season.
The overall production decline makes sense, though the walk rate is tougher to parse. Was his timing off after the injury? Probably, though his world-beating walk rate for the first couple months of the year was also unsustainable.
Still, Hicks produced at a level he simply hadn't before. The centerfielder thrived in an everyday role with the same No. of PAs in 35 fewer games. It's concerning he was limited to just 88 games, but the production is key. The Yankees have outfield depth, so someone making those starts needs to produce.
Hicks lifted the ball more like everyone else in 2017, posting a career-high fly-ball rate. However, he also had a tough to sustain 15.8 percent HR/FB rate. His average estimated HR distance (348 feet) was one of the lowest marks in the league and was, in fact, the lowest for any player with at least 10 homers. Like Didi, that power could be sustainable if you're pulling the ball at Yankee Stadium like Hicks was.
So it makes sense that Hicks was a better hitter all around at home vs. on the road. Unlike 2016, he wasn't essentially useless on the road and still posted an above-average wRC+ (118) outside of Yankee Stadium.
Similarly, he was better against southpaws while posting career-best numbers against righties. He hits for more power from the left-side, but his average spikes as a righty. He's an ideal switch-hitter if he maintains little difference in his platoon splits.
Injury concerns
Each of the last two seasons, Hicks had exactly 361 plate appearances. In 2016, a large reason why he didn't get a full season's worth of at-bats was his role as a backup. But he also missed over three weeks with a hamstring injury.
A year later, he had two separate stints on the disabled list with oblique injuries. The concern with Hicks is that he's very willing to throw his body around on defense to make plays to the point where it could lead to injury (the first oblique injury vs. Texas in June, for example).
This offseason, it appears Hicks dedicated himself to becoming a behemoth of a human being. Muscles upon muscles. I'm a very big fan of swole Aaron Hicks and would like to see those combat muscles for 162 games in 2018.
Defensively sound
The opposing team has a speedy guy on first base and there's a single up the middle. If Jacoby Ellsbury is in center, that player is going first to third without question. If it's Aaron Hicks, oh boy, that guy is stopping right in his tracks.
Hicks robbed two grand slams last year and makes up for occasional bad reads with his above-average sprint speed (according to Baseball Savant), making diving catches and strong plays near the wall. You also can't discuss Hicks' defensive skills without mentioning his No. 1 tool, his arm. That thing is still a cannon and particularly when compared to Ellsbury's arm, it's staggering. It's gone under the radar how many runners have to go station-to-station instead of taking the extra base because of Hicks' rocket.
DRS loved him last year as he was tied for seventh with 15 runs saved among outfielders despite playing just 689.2 Inn in the field.) UZR/150 had him fifth. He rated much higher in 2017 than in 2016, which could be partially due to a consistent role in center field instead of bouncing around the outfield.
***
What should we make of Hicks after his breakout 2017? He's clearly a lot more talented than his below replacement level 2016, but his second half is cause for concern. Even with the presence of a cadre of elite outfielders flanking him, Hicks still has an important role and the team could use a lot more than 361 plate appearances over 88 games from him.
Even if he can't return to his first-half excellence of 2017, he can be valuable as long as he stays on the field and does the small things. Use his eye to force pitchers to work at the bottom of the order. Get on base at a decent clip. Hold runners with his arm. The power and the overall average is extra. I don't see him getting 600 plate appearances due to the Yankees' superior outfield depth, but expecting 500 is not unreasonable for Hicks.