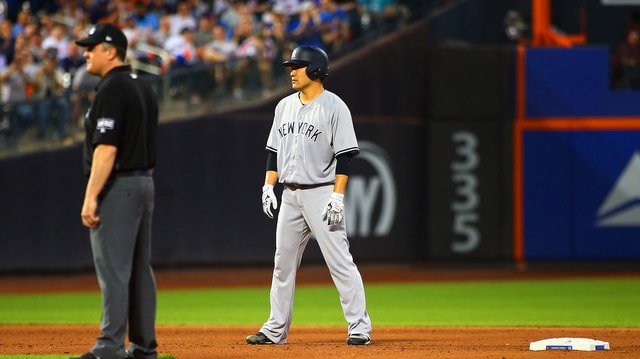 6:44pm ET: "I'll throw a month out there, I don't know. Could be sooner, would be longer. But I'd rather under promise and over perform on everything if we can," said Brian Cashman today.
4:07pm ET: It's not often you see a player injury both hamstrings on one play, but Masahiro Tanaka pulled it off last night. He was placed on the 10-day DL today with what the Yankees are calling "mild strains of left and right hamstring," the team announced. Tanaka will get treatment and be reevaluated in 3-7 days. Ronald Torreyes was called up from Triple-A Scranton to fill the roster spot.
Tanaka said he first felt tightness in both hamstrings in the third inning last night, and they finally gave out in the sixth, when he ran the bases and scored on a sacrifice fly. Here's the play:
I suppose the good news here is the injuries are being classified as "mild." Hopefully this is just a quick ten-day stint on the disabled list, and Tanaka can return as soon as he's eligible. The Yankees are already without Jordan Montgomery, so losing another starter really stinks. Straining both hamstrings is a very Mets injury. Fitting it happened at Citi Field.
The Yankees have an off-day Monday and that gives them flexibility when it comes to replacing Tanaka. They can call up a spot starter pretty much whenever they want next week. Tanaka's rotation spot can be pushed all the way back to next Saturday, if necessary. David Hale, Chance Adams, Justus Sheffield, and possibly Jonathan Loaisiga are call-up options. We'll see.
As for Torreyes, his return gets the Yankees back to a normal four-man bench, though they still have eight relievers as well, so it's the best of both worlds. They're carrying four starters until Tanaka's replacement is called up. I can't help but wonder that, when the time comes to call up a starter, Tyler Austin may go down instead of Torreyes again.