Barring a stunning collapse by either the Red Sox or Yankees, the Yankees will play in the 2018 AL Wild Card Game on Wednesday, October 3rd. That's three weeks from yesterday. The Yankees lost the 2015 Wild Card Game to the Astros and won the 2017 Wild Card Game against the Twins, so this won't be their first wildcard rodeo. They've been through it before.
The Yankees will inevitably face the Athletics in the Wild Card Game — Oakland is 8.5 games up on the Mariners for a postseason spot, so yeah — which will be a daunting challenge, but winning the World Series ain't easy. You've got to beat several good teams to do it and the Athletics are a very good team. You can write it in pen at this point: Yankees vs. Athletics in the 2018 AL Wild Card Game. Where? That is still up in the air.
At some point between now and then the Yankees (and A's) will have to select a Wild Card Game starter and get that pitcher lined up for October 3rd. With Sean Manaea out, I assume the A's will go with Mike Fiers, but we'll see. The Yankees? It's a bit less clear. Given Lance Lynn's overall body of work, I think we can remove him from consideration. The other four starters all have a case to get the nod in the Wild Card Game. Let's review.
J.A. Happ
Career Postseason: 3.72 ERA (4.06 FIP) in 19.1 innings
2018 vs. Athletics: 1 GS, 6 IP, 2 H, 1 R, 1 ER, 1 BB, 5 K, 1 HR
The case for Happ: Since coming over at the trade deadline, Happ has been everything the Yankees could've possibly wanted. Steady, reliable, low maintenance. He has a 2.70 ERA (4.45 FIP) with 22.9% strikeouts and 4.8% walks in eight starts and 46.2 innings with the Yankees, and, just last week, he held the A's to one run in six innings and was dominant. Happ may not be a true top of the rotation starter like Chris Sale or Corey Kluber, but he's a damn good pitcher, and I don't get the sense the pressure of the postseason will get to him at all.
The case against Happ: Well, Happ did face the Athletics just last week, so they'd be seeing him for the second time in less than a month on Wild Card Game night. The more times you see a pitcher, especially several appearances close together, the more it becomes advantage hitter. The A's know what Happ is about. They just saw him and have a firsthand scouting report. Also, I should note Happ is a fly ball pitcher (42.0% grounders) and the A's have hit the third most home runs in MLB (200). That might not mix well.
CC Sabathia
Career Postseason: 4.20 ERA (4.35 FIP) in 126.1 innings
2018 vs. Athletics: 1 GS, 3.1 IP, 7 H, 5 R, 4 ER, 2 BB, 4 K, 0 HR
The case for Sabathia: First of all, Sabathia's been really good this year! I feel like we're not appreciating enough the fact he has a 3.54 ERA (4.04 FIP) in 139.2 innings on one good knee. Sabathia has the third highest soft contact rate (24.6%) and the eighth lowest hard contact rate (28.9%) in baseball. Hitters have had a hard time squaring him up and that has been the case for nearly three years now. And we know Sabathia won't be overwhelmed by the moment. He's pitched in a lot of big games over the years. There's a reason the Yankees picked him to start ALDS Game Five and ALDS Game Seven last year. Game Five went great. Game Seven … not so much. But credit the Astros. They're pretty good.
The case against Sabathia: The A's saw Sabathia just last week and roughed him up pretty good. Also, Sabathia has been just okay since returning from the disabled list last month, pitching to a 4.87 ERA (2.03 FIP) in four starts and 20.1 innings. The disaster start against in Oakland is skewing that a bit (3.71 ERA in the other three starts), but still, the outs and 1-2-3 innings haven't come quite as easily the last three or four weeks.
Luis Severino
Career Postseason: 5.63 ERA (7.22 FIP) in 16 innings
2018 vs. Athletics: 2 GS, 8.2 IP, 11 H, 7 R, 6 ER, 3 B, 10 K, 0 HR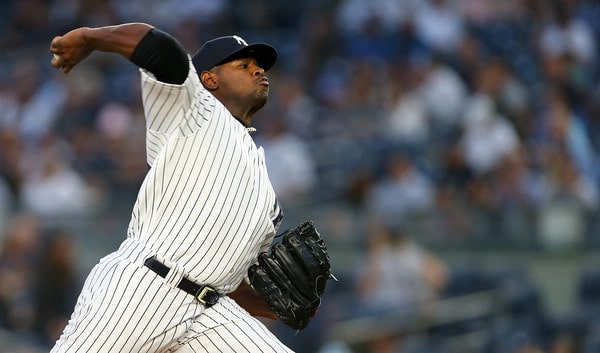 The case for Severino: Severino is the most talented pitcher in the rotation. He's the best bet to limit balls in play and he is probably the team's best chance at a dominant Wild Card Game start. The guy didn't take a 2.31 ERA (2.75 FIP) into the All-Star break by accident. Severino pitched at a similar level last season. If the Yankees want someone who can overpower the Athletics and avoid balls in play, Severino is their best bet. When he's right, he's among the best in the sport.
The case against Severino: The last two months can not be ignored. Severino has lost his slider and his command has wavered, and, as a result, he has a 6.34 ERA (4.35 FIP) in his last 12 starts and 61 innings, and that includes last night's rebound start against the Twins. His worst outing of the season came last week, against the same A's team he'd face in the Wild Card Game. Severino was arguably the best pitcher in the league in the first half. He has inarguably been one of the worst in the second half. As good as his overall body of work is since the start of last season, you can't ignore what's right in front of you. Severino has been thoroughly ineffective since early July. Perhaps last night was a #turningpoint. We'll have to wait and see.
Masahiro Tanaka
Career Postseason: 1.44 ERA (3.23 FIP) in 25 innings
2018 vs. Athletics: N/A
The case for Tanaka: Wow has Tanaka been good lately. He's been the opposite of Severino. He started poorly and is finishing very well. Tanaka has a 2.35 ERA (2.93 FIP) with great strikeout (25.9%), walk (4.3%), and ground ball (50.9%) rates in his last ten starts and 65 innings. Happ has been very good overall. Tanaka has been the Yankees' best starter for more than two months now. Also, Tanaka hasn't faced the A's this season! Oakland's hitters would be going in blind. And who could forget what he did in the postseason last year? There is no moment too big for him.
The case against Tanaka: For starters, Tanaka remains very home run prone (1.5 HR/9), and the A's can hit the ball out of the park. Their 200 home runs are second in the American League to the Yankees (234). Secondly, Tanaka excels by getting hitters to chase out of the zone. He leads all pitchers in chase rate this year (40.1%). He led all pitchers in chase rate last year (42.1%). That's what Tanaka does. He gets hitter to expand the zone. The Athletics, however, do not chase out of the zone. Their team 27.6% chase rate is the lowest in baseball. Only the Dodgers (26.9%) chase less. They're the type of offense that could lay off those splitters and sliders, and back Tanaka into bad counts.
* * *
You could make the case the Yankees should just bullpen game the Wild Card Game. That might be tough to do without an effective Aroldis Chapman, however. Two innings from Jonathan Holder, two innings from Chad Green, then cobble together five innings from David Robertson, Zach Britton, and Dellin Betances? Chapman returning and being effective would make the bullpen game plan a little more realistic.
The Yankees have not given any indication they will bullpen game the Wild Card Game — they effectively bullpen gamed it last year, and when they got to ALDS, their bullpen was fried for the first few games — and I'm cool with that. Start an actual starter and adjust as necessary on the fly. Again, that's what the Yankees did last year. If they get four or five good innings from the starter before going to the bullpen, great! That'd be ideal.
Given the remaining schedule, Severino is currently lined up to start the Wild Card Game on normal rest. That doesn't mean much though. There's still time to rearrange things and get Tanaka or Severino or Sabathia lined up for that day on normal rest, with extra rest, whatever. The Yankees have about a week, a week and a half to really nail this down. Anyway, the Wild Card Game starter is begging for a poll, so let's get to it.
Who should start the 2018 Wild Card Game?