By

Via Mark Feinsand: The Yankees have fired hitting coach Kevin Long. GM Brian Cashman signed a new three-year extension today and it seems they waited until that was complete to announce any coaching changes. First base coach Mick Kelleher was also let go. Joe Girardi said Long and the rest of the staff were going to be evaluated soon after the end of the season, though that's no different than every other season.

Long, 47, is essentially being scapegoated for the team's underperforming offense. He took over as hitting coach in 2007 and the Yankees led baseball with a 113 wRC+ from 2007-12 before falling apart these last two years, when, not coincidentally, the quality of the players on the roster went down. Brian McCann was the only regular this year to perform well below reasonable expectations. No word on who will replace Long, but I'm sure that's something the Yankees want to address sooner rather than later. Double-A Trenton hitting coach Marcus Thames is someone to keep in mind. · (240) ·
By

The Yankees have re-signed GM Brian Cashman to a new three-year contract, the team officially announced. The two sides had reportedly been talking about a new deal for a few weeks now. This is Cashman's fifth straight three-year contract. No word on the value, but his last deal was worth $9M total and I'm sure he got some sort of raise.

Cashman, 47, has been the team's GM since 1998 and the Yankees are literally the only employer he's had in his adult life. He started with the team as an intern way back in the mid-1980s. I don't really mind that Cashman is coming back, he seems to consistently come out ahead in trades, but the strategy of throwing money at free agents to plug every hole has to change. Free agency isn't what it once was and that approach just isn't as effective as it used to be. · (88) ·
The 2014 season is over and it's time to look back at the year that was. Our old What Went Right/Wrong format has gotten stale, so it's time for a new review format. We'll review individual players, performances, tendencies, all sorts of stuff in the coming days and weeks.
Although the Yankees failed to make the postseason for the second straight year, the 2014 season was mighty peaceful, wasn't it? The hottest topic in Spring Training was whether Yangervis Solarte would make the Opening Day roster, and the summer was focused first on Masahiro Tanaka's dominance and later Derek Jeter's farewell. It was pure baseball all the time. It was pleasant and refreshing.
That was all possible because Alex Rodriguez was serving a 162-game suspension for his ties to Biogenesis. His initial 211-game suspension was handed down last August, he appealed the ruling and played in 44 second half games, then spent most of the offseason in front of an arbitrator in a court room. The ban was eventually reduced to the entire 2014 season and postseason by the appeal, which saved the Yankees almost $24M against the luxury tax. That helped them sign Tanaka.
As we've learned over the last ten years or so, A-Rod is a human lightning rod, creating and drawing all sorts of attention. A little of it is good — I'm certain the Yankees and MLB love the additional ticket sales and ratings — but most of it is bad or controversial. To his credit, Alex stayed out of the limelight during his suspension. I expected him to make some headlines at some point but he didn't. He was photographed at a few college football and baseball games, plus he recorded an Ice Bucket Challenge video …
… but that's it. The MSM was so starved for A-Rod driven controversy that they made a big deal out of him spending a few days in New York last week because he didn't meet with the Yankees, as if a guy can't just spend a few days in a New York to attend a charity event in the offseason. It was a nice, quiet, A-Rod free summer.
Joe Girardi, Brian Cashman, and Hal Steinbrenner all made it clear in recent weeks Rodriguez will be back with the team next year — "When he's healthy, he's an asset. We need those kind of assets. We need the hitting," said the owner — and that makes sense. I initially thought they would release him after the suspension but I'm an idiot. Of course they won't release him. They could still recoup a significant chunk of the $63M they owe him through 2017 if he gets suspended or hurt (via insurance) again. The odds of one of those two things happening is pretty high, especially the getting hurt part given the last few years.
The quiet, controversy-free season is over and now the attention will shift back to Alex as soon as Spring Training begins. It'll start before then, really. I'm sure the first few days of camp will be total chaos and there's really no avoiding that. No one has any idea what he can contribute on the field — A-Rod is said to be in great shape, but he's 39 and has played 44 games these last years, so it's almost like he's coming out of retirement after a two-year hiatus — but the Yankees are stuck with him. They signed him to that contract. They made their bed and still have another three years to lie in it. I have zero sympathy for the team.
I enjoyed watching A-Rod so much for the first five or six years of his time in pinstripes. He was a tremendously productive player and goofy enough to make you laugh a few times a year. And that's why I felt sad when I realized how much more peaceful this past season was without Alex. He's such a distraction — he's a distraction even when he isn't doing anything wrong at this point, just his presence is a distraction — that it took away from my enjoyment of the game, and I didn't realize it until he was gone this summer.
By

Via Anthony McCarron: Outfielder Chris Young said he is "completely open" to re-signing with the Yankees this offseason. "I'm really happy that I did get this opportunity to come here, in this environment, in as big of a year as it's been for the Yankees. To be surrounded by (Derek Jeter's farewell), I've been able to create memories that'll last a lifetime. Every little bit helps, for sure. I'm really grateful for that," he said. "This is a great organization. I've had a great time while I was here and I'm completely open to everything."

Young, 31, hit .282/.354/.521 (146 wRC+) with three homers in only 79 plate appearances with the Yankees in September. He hit an awful .205/.283/.346 (81 wRC+) with eight homers in 287 plate appearances for the Mets earlier this season before being released. The Yankees will need a fourth outfielder to replace Ichiro Suzuki and, given Brett Gardner's and Jacoby Ellsbury's left-handedness as well as Carlos Beltran's platoon split, it would make sense to bring in a righty bat. Young is a fit for the 2015 Yankees in a fourth outfielder role at fourth outfielder dollars, say one year and $2-3M or so. · (325) ·
I've got eight questions for you in this week's mailbag. The best way to send us questions is through the Submit A Tip box in the sidebar. We get a lot of questions each week, so don't take it personally if yours isn't answered.
Dan asks: These bullpens in the post season are terrible. D-Rob is gonna be a hot commodity this off season, qualifying offer be damned. Why are the Yankees so good at piecing together and developing RPs, and so bad at developing talent elsewhere?
The Yankees don't have a good reputation for developing talent overall but, once again, they churned out some useful arms this past season. No aces, we're all still waiting for that next great homegrown Yankees ace, but guys like Shane Greene and Dellin Betances had success this season. Last year it was Adam Warren and Preston Claiborne. The year before that it was David Phelps. Despite their (well-earned) reputation for not developing players, the Yankees do still crank out enough quality arms to fill out a staff and make trades each year.
Anyway, I think the bullpen stuff just boils down to having a lot of options and Joe Girardi's ability to put guys in position to success. He's a little rigid with assigned innings and makes moves fans don't agree with like every other manager, but I think Girardi is clearly an upper echelon manager at using his bullpen. The Yankees value strikeout-heavy relievers and they hoard these guys in the draft, off waivers, in trades, any way they can get them. Some of them stick and the ones that don't are quickly replaced.
There is also an element of luck here that we can't ignore. This is baseball and sometimes things break your way. The Yankees drafted David Robertson as a fastball/slider pitcher, but that summer he learned a curveball from his Cape Cod League pitching coach, and boom. He took off. Dellin Betances going from near-bust starting pitching prospect to elite reliever in 12 months was the best case scenario. 99th percentile stuff. The answer isn't sexy. They just try to have as many guys with good arms and hand 'em over to Girardi as necessary.
Travis asks: Could we match up with a trade with Detroit, given their bullpen struggles? Who would the Yankees, realistically, target?
The Tigers will no doubt be looking for bullpen help this winter but they're a win now team, and win now teams usually don't give up big league players. They'd prefer to dangle the few prospects they have and that doesn't really help the Yankees. Prospects are one of the few things in baseball more volatile than relievers. I joked about trading Shawn Kelley and Warren for Nick Castellanos last week but that isn't going to happen even though Castellanos kinda sucks. I'm sure Detroit would like to get their hands on one or three of the Yankees' relievers, but I don't see what they have to offer. Jose Iglesias coming off a lost season? Ewww.
Travis asks: Would the Yankees move Brett Gardner to CIN if it would help net one of Mat Latos, Mike Leake or Johnny Cueto?
I don't think they would and not just because the team clearly loves Gardner. Trading him for one of those admittedly very good (well, just good in Leake's case) pitchers doesn't make sense for a few reasons. One, they'd be subtracting one of their best hitters at a time when they need offense more than anything. Two, all three of those pitchers will be free agents next winter, so they'd only have them for a year. Flipping four years of Gardner for one year of a pitcher doesn't make sense for the current roster, not when someone like Brandon McCarthy available for nothing more than money. I don't think trading Gardner is off the table this winter, but he'd have to go in a package for a young bat, not one year of a veteran pitcher.
P.J. asks: With questions about CC Sabathia going forward is Francisco Liriano a viable starting pitcher for the Yankees to target this winter in free agency?
Yes if he doesn't receive a qualifying offer. I personally wouldn't give up a first round pick for someone as unpredictable as Liriano. He is relatively young (turns 31 later this month) and even though he didn't repeat his 2013 success (3.02 ERA and 2.92 FIP in 161 innings) in 2014, he was still pretty good (3.38 ERA and 3.59 FIP in 162.1 innings). Liriano still misses a ton of bats (9.70 K/9 and 25.3 K%) and gets ground balls (54.4%), but he also walks a lot of guys (4.49 BB/9 and 11.7 BB%) and is good for a DL stint or two per year. Plus he's a lefty and the Yankees could use one of those in the rotation. I would prefer McCarthy but Liriano makes sense as a Plan B. Does two years and $25M get it done?
Greg asks: What case can be made for Brendan Ryan getting the 2015 starting shortstop job?
I can make only one case for starting Ryan at shortstop next year: the Yankees tear it all down and rebuild, but are unable to come up with a young shortstop this winter. That won't happen. The tear down and rebuild part, I mean. They probably won't find a young shortstop but at least it's possible. Tearing it down? Not a chance. Ryan flat out can not hit, we have almost 2,800 plate appearances telling us that (career 69 wRC+), and his defense is merely very good but no longer elite these days. I think there's a much better chance of the Yankees dropping Ryan from the 40-man roster and sending him to Triple-A — he'd forfeit the rest of his contract by electing free agency rather than accepting the Triple-A assignment, and he ain't doin' that — than going into next season with him as Plan A at shortstop. With all due respect, Ryan isn't someone a winning team plays regularly.
Jimmy asks: As nice as the "Core Four" sounds, and due respect to Derek Jeter et al, but at some point we're going to have to note that the entire 90's dynasty paralleled the arc of Bernie Williams' career. Bernie was the lynchpin for those championships, no?
I think Jeter was the lynchpin to the late-90s dynasty but yes, Bernie doesn't get enough respect for the role he played on those teams — cleanup hitter! center fielder! — because his career ended a few years before everyone else's. My favorite thing about him is how consistent he was from 1997-2002:

Source: FanGraphs — Bernie Williams
Bernie sat between 4.8 and 5.1 WAR every year for six straight years, his age 28-33 seasons. That's pretty neat even if WAR is far from perfect.
Michael Kay has justified excluding Williams from the Core Four by saying he wasn't part of the 2009 World Series team and I can't do anything more than roll my eyes at that. It totally diminishes not only what Bernie did for the Yankees in the late-90s and early-2000s, but also diminishes what guys like Paul O'Neill and David Cone and Tino Martinez did. Core Four is a catchy nickname and nothing more. Bernie was every bit a part of the core of those teams as Jeter and Mariano Rivera and everyone else. It's a damn shame he is stuck on the outside looking in despite being such an important part of team history.
Matt asks: How worried are you about field conditions next year when the new York Football Club plays at Yankee stadium?
Worried but not full blown panic. I'd say a five on a scale of one to ten. They didn't agree to house a football team for (at least) a year without considering the field conditions, especially since they have so much money invested in so many players. Imagine if Jacoby Ellsbury tears up a knee or an ankle stepping in a divot? That would be a nightmare. Grounds crews these days are amazing though, and the fields themselves are state of the art. I'm sure there will be some ugly patches across the 81-game home schedule and faded lines as well, but what can you do. I'll be paying attention to it next year but I'm sure this is a lot of worrying about nothing.
Anthony asks: It might be a little early but where do you predict some of the bigger prospects to start next season? Aaron Judge, Eric Jagielo, Ian Clarkin, Luis Severino?
I expect Clarkin to start next season with High-A Tampa and the other three to start with Double-A Trenton, with Judge and Severino candidates for a quick promotion to Triple-A Scranton. I think both Gary Sanchez and Tyler Austin will start the year with the RailRiders while Slade Heathcott settles in with Trenton, if he ever gets healthy. The Yankees did not have many prospects at the upper levels this year but that will change in 2015, at least in theory. Not all of these guys will work out, that's baseball. But if the Yankees can hit on Severino and get a quality bat or two out of the Judge, Sanchez, Jagielo, and Austin group, it would be a huge help.
This is your open thread for the evening. There is no baseball again tonight — ALCS starts tomorrow, NLCS starts Saturday — but both the (hockey) Rangers and Devils are opening their season. The Colts and Texans are the Thursday night football game. Talk about any of that stuff and more right here. Have at it.
By

Via Dan Barbarisi: Mark Teixeira has already started offseason workouts after admitting he wasn't strong enough to get through this past season. "I just didn't have the strength. The rotation wasn't there. The explosiveness wasn't there. I just wasn't strong enough to get through the season," he said. "I'm doing light workouts right now, and when I start hitting the weights heavy here in a couple weeks, I'll be prepared. I'm not shutting it down for a month like I usually do."

Teixeira, 34, hit .216/.313/.398 (100 wRC+) with 22 homers in 123 games this year, though after the All-Star break he could only muster a .179/.271/.302 (62 wRC+) line with five homers in 50 games. It's worth noting both David Ortiz (2008) and Jose Bautista (2012) needed a full season to get back to where they were after suffering the same wrist tendon sheath injury as Teixeira. I don't think the guy we saw in the second half is the real Teixeira but I'm also not convinced he'll get back to being the ~120 wRC+ guy he was from 2010-12, before the injury. Either way, the Yankees are stuck with him for two more years and have to hope he will rebound going forward. · (83) ·
The 2014 season is over and it's time to look back at the year that was. Our old What Went Right/Wrong format has gotten stale, so it's time for a new review format. We'll review individual players, performances, tendencies, all sorts of stuff in the coming days and weeks.
By just about any measure, last season was the worst of CC Sabathia's career. He did manage to soak up 211 innings and that's worth something, but he ranked 76th with a 4.78 ERA and 72nd with 0.3 bWAR out of 81 qualified starters. Sabathia led baseball with 112 earned runs allowed and his 2.69 K/BB fell off big time from the 4.48 K/BB ratio he put up in 2012. It was an awful season and everyone and their mother had theories why CC dropped off so much.
Despite the terrible year, there were some reasons to believe Sabathia would rebound this year, specifically that he was a year out from elbow surgery and would have a normal offseason. He was also working to add a cutter. I, personally, also thought he couldn't possibly be any worse. Maybe he wouldn't get back to being an ace but he would be a serviceable mid-rotation horse, someone who soaked up a boatload of innings and was league average or better at preventing runs. I would have taken that in a heartbeat.
Instead, Sabathia did get worse in 2014. He got worse and he got hurt. Sabathia made just eight starts for the Yankees this summer and threw only 46 innings — he failed to complete six full innings of work three times, equaling his total from 2011-12 combined — with a 5.28 ERA and 4.78 FIP. It all started in the first inning of the first game of the season too. The Astros (!) tagged Sabathia for four runs in the first inning on Opening Day and only twice in those eight starts did he allowed fewer than four runs.
There were flashes of Sabathia figuring it out but one of the ways we cope with Ace Sucking Syndrome (ASS) is over-analyzing the hell out of every little thing. I did it. More than once. But none of the positive signs — the times he's retired 12 in a row in the middle of a start, stuff like that — meant anything in the end. Sabathia was getting bombed on the regular, allowing ten homers in those 46 innings (1.96 HR/9 and 23.3 HR/FB%). Hit Tracker says those ten homers averaged 403.1 feet, so they weren't wall-scrapers.
Sabathia's season came to an end following his May 10th start against the Brewers, when the Yankees placed him on the disabled list with fluid in his twice-surgically repaired right knee. He was expected to return in June or July and he actually did go out on a minor league rehab assignment at one point — I completely forgot about that — but Sabathia eventually suffered a setback. It was feared he would need career-threatening microfracture surgery after a stem cell treatment didn't work, but additional tests showed he only needed the knee cleaned out. Either way, his season was over.
If you're looking for a silver lining in Sabathia's season, it's that both his strikeout (9.39 K/9 and 23.0 K%) and walk (1.96 BB/9 and 4.8 BB%) rates were stellar. He also got a lot of ground balls (48.0%). That's all well and good, it's better than having crappy peripherals, but Sabathia's struggles are rooted in the type of contact he allowed, which was routinely hard. Unfortunately there is no publicly available data measuring this stuff. Line drive rates are fickle — his 22.1% liner rate was in line with the last four or five years anyway — because of scorer bias. All we have is anecdotal evidence and that sucks.
What we do know is that Sabathia's velocity continued to trend downward — he averaged 90.76 mph in 2014, down from 92.36 in 2013 and 93.31 in 2013 according to Brooks Baseball — and that's completely expected since he's a 34-year-old with nearly 3,000 regular season innings on his arm. Velocity loss is inevitable and not reversible. That's life. It happens to everyone. Sabathia's location was ever so slightly worse than it had been, particularly when it came to grooving pitches over the plate (via Brooks):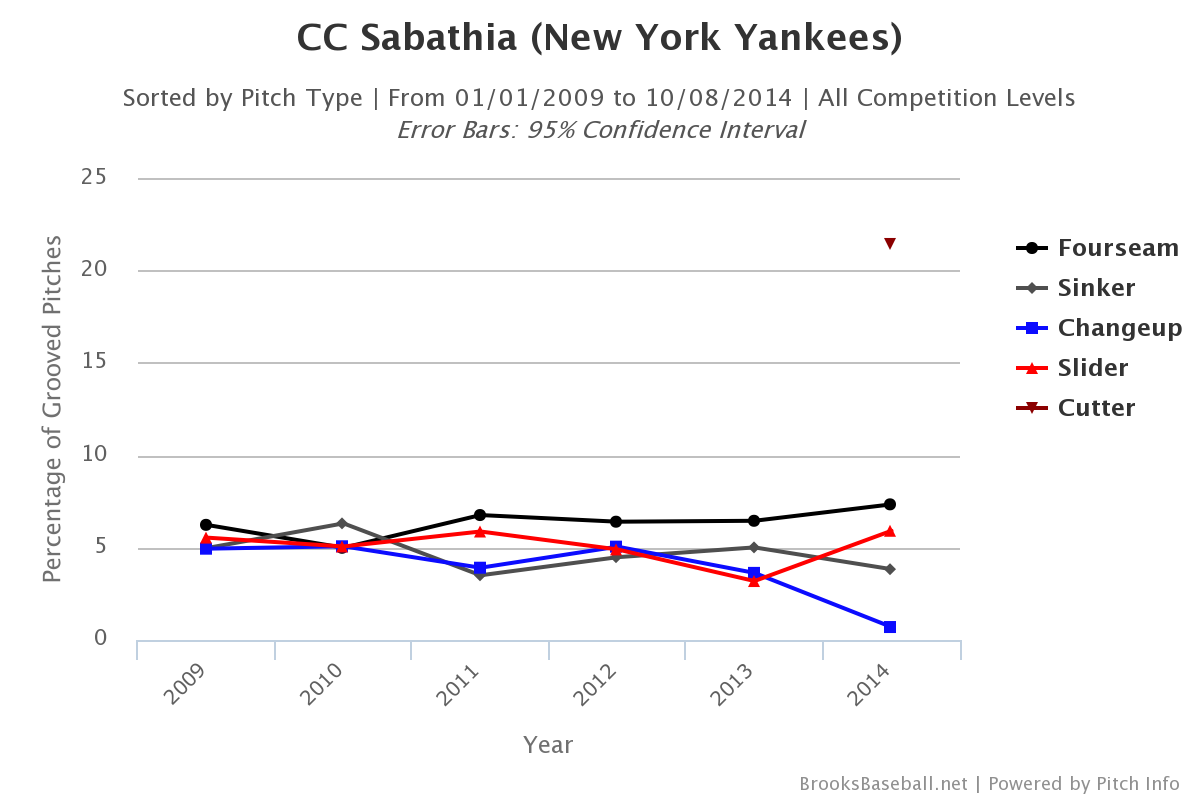 You can get away with grooving ~6.5% of your fastballs like Sabathia did from 2011-13 when you're throwing 93+. In his limited time this year he grooved 7.3% of his fastballs while averaging just north of 90 mph and that's a big difference. Since 2010, opponent's slugging percentage against Sabathia's fastball has steadily reason from .373 to .447 to .479 to .486 to .722 (!) this year. Obviously there's some sample size noise in there, but the point stands. Hitters are getting mighty comfortable in the box against CC.
The location issues — it seemed like whenever Sabathia missed, he missed up in the zone and/or right out over the plate — could stem from lots of stuff. There's a million variables here. He could be overthrowing to compensate for lost velocity, his landings could have been sloppy because his knee was unstable, his mechanics could have been out of what for whatever reason. I'm sure all of that and more have contributed to his problems. Sabathia's release point has been steadily dropping over the years (via Brooks) …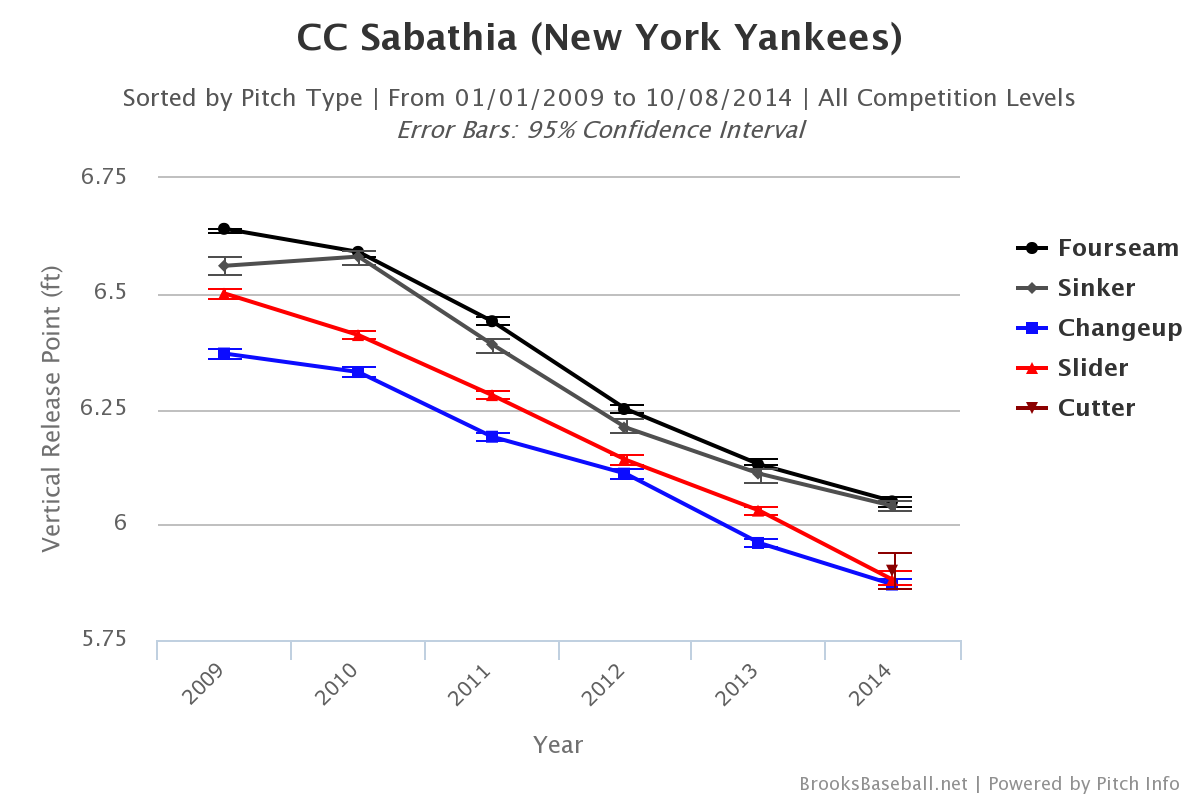 … which, again, is fairly common among pitchers his age, especially with that workload. At some point your shoulder just isn't strong enough to maintain your arm slot. Sabathia's dropped his arm over time and that at least partially explains the extra cut we see on his pitches from time to time. Extra cut that usually took the pitch over the plate and into the happy zone for hitters. We saw plenty of that last year and we saw plenty of it again this year. He had the same issues as last season only worse.
Sabathia had his knee cleaned out in August and soon thereafter had a second stem cell treatment (as planned). We recently learned he has started throwing and will soon get back up on a mound before shutting it down for the winter and going through his usual offseason routine. I love CC, he's one of the my favorite Yankees of all-time, but I learned my lesson last year and I'm not expecting a bounce back next year. I'm not expecting anything. If he comes back and dominates with a healthy knee, that would be awesome. If he comes back and is a league average inning eater, great. If he comes back and stinks again, well that'll stink, but that's sorta what I'm expecting at this point.
The Yankees are stuck with Sabathia for another two years and possibly a third — his 2017 vesting option is based on the health of his shoulder, not his knee — so they have to hope this knee surgery helps him get back to being a useful pitcher. Sabathia is a tough dude who has pitched through knee problems and a bone spur in his elbow these last few years and I have not doubt that if he fails and is again one of the worst pitchers in baseball, it won't be for a lack of effort on his part. The Yankees have a lot of uncertainty in their rotation heading into next season and, after both this year and last, Sabathia is a huge part of that uncertainty.
By

1:34pm: According to Roch Kubatko, Hardy and the Orioles have agreed to a three-year extension worth $40M or so. Scratch him of the list.

12:00pm: Via Dan Martin: Orioles shortstop and impending free agent J.J. Hardy said he will listen to the Yankees if they come calling this offseason. "It's not something I can look into the future and see what's going to happen. I've just got to focus on helping our team right now and obviously the playoff this year. But if it comes to it, I'll have to think about it more," he said. "This is my fourth year here and I feel like this organization, we're going in the right direction. It's a good group of guys here. It's something if they came to me, I would listen, also."

Hardy, 32, hit .268/.309/.372 (90 wRC+) with nine homers in 141 games this year while missing time with lower back problems. He hit 20+ homers every year from 2011-13 as well as in 2007-08, plus he's a very good defender despite an unconventional over-the-top throwing motion that makes you wonder if the ball will make it to first base on the fly. There will be a bunch of quality shortstops on the market this winter and Hardy is probably the best two-way player, though the back trouble dates back to last year and that's kinda scary. Jhonny Peralta signed a four-year, $52M contract last winter and I suspect Hardy will get something similar even though he'll cost a draft pick to sign. · (333) ·
Earlier this week we looked back at the five longest homeruns of the 2014 Yankees' season, and now it's time to flip the script. We're now going to look at the shortest homers of the season. This post is made possible first by Hit Tracker and all its wonderful and freely available data, and also by the new Yankee Stadium and it's cozy right field post. I honestly look more forward to writing this post than the longest homers post each year because these cheap homers make me laugh.
The shortest homer in baseball this year was, of course, an inside the parker. Brandon Barnes hit it and it only traveled 304 feet. Yes, there was a missed dive involved. Here's the video. Usually there are a few 200-something-foot inside the parkers that bloop in and take a weird bounce by an outfielder, but not this year apparently. The shortest homerun to actually leave the yard this season was this David Ortiz blast that wrapped out the Pesky Pole, which traveled only 318 feet. Only two other dingers traveled less than 330 feet this year. Here are the 2012 and 2013 shortest homeruns posts. Now for the 2014 edition.
5. July 2nd: Brian McCann vs. Jake Odorizzi
As you might suspect, Yankee Stadium will be featured prominently in this post. The fifth shortest homer of the Yankees' season was a cheapie to right field, the kind of homer that McCann was never able to hit in Turner Field all those years with the Braves. Odorizzi left a 90 mph heater up in the zone, McCann flicked his wrists, and hit a high fly ball that landed just beyond the wall in the field field corner. This one had a nice big arch to it. Hit Tracker says it traveled 342 feet, which is hard to believe. Doesn't look like it went much farther than the 314 on the wall, but whatever. The dinger left McCann's bat at 94.5 mph.
4. August 23rd: Carlos Beltran vs. Scott Carroll
This homerun a) came on Joe Torre Day at Yankee Stadium, and b) was so short that White Sox manager Robin Ventura had it reviewed to make sure a fan didn't reach over the wall to grab it. The replay confirmed the initial call though, that it left the yard for a sixth inning solo homerun. Beltran had just received a cortisone shot in his troublesome elbow, and even though it barely snuck over the wall, it was a sign he was feeling good enough to swing the bat. The ball traveled only 339 feet with an exit velocity of 94.4 mph.
3. September 24th: Mark Teixeira vs. Brad Brach
Technically, this homer didn't go over the fence. It was stopped short by the foul pole. This Teixeira blast was the team's third shortest homer of the year, clanking off the bottom of the pole in right field. I'd say no more than 10-15 feet up the pole from the top of the wall. In a park with a normal sized right field, it would have continued to slice foul and that would be that. The at-bat would have continued. Instead, the Yankees walked away with a pair of runs. Yankee Stadium giveth and Yankees Stadium taketh, I guess. Teixeira's dinger traveled only 335 feet and left his bat at 98.5 mph.
2. September 14th: Brian McCann vs. Darren O'Day
Believe it or not, this short dinger was not hit at Yankee Stadium. It was hit at Camden Yards and it was kind of a big deal for a few minutes. The Yankees were barely hanging on in the wildcard race at the time and they were tied 1-1 with the Orioles in the ninth inning on Sunday Night Baseball. O'Day's sinker stayed out over the plate and didn't sink, a pitch that is more or less a batting practice fastball coming from an opposite hand sidearmer. McCann hammered it to right and just over the big wall with the scoreboard. The Yankees eventually lost the game in walk-off fashion but, for at least a little while, McCann gave the team some hope. This homer went 333 feet with a 97.7 mph exit velocity.
1. June 17th: Brett Gardner vs. Marcus Stroman
I'm disappointed Gardner hit the shortest homer of the season because it's almost cliche. The scrappy little speed guy willing the ball just over the fence, that sorta thing. Lame. Anyway, this was nothing more than a hanging slider that Gardner tomahawked down the right field line and off the Yankee Stadium foul ball. Teixeira's ball clanked 10-15 up the pole, right? This one hit about six feet up the pole, that's all. It was barely high enough and it would have sailed foul had right feet been 315 feet away from home plate instead of 314 feet away. At 331 feet and 98.9 mph off the bat, this was the shortest homer hit by a Yankee and fourth shortest outside the park homerun in baseball overall this past season. Though I guess it really didn't leave the park. You know what I mean.