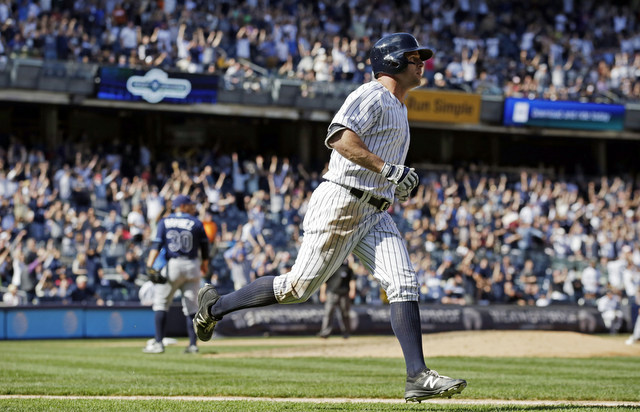 A winning streak! Yes, it's only two in a row, but my standards are low. Brett Gardner's walk-off dinger gave the Yankees a nice come from behind 3-2 win over the Rays on Saturday afternoon. They tried like hell to strand all the runners again, but Gardner wouldn't let it happen. Good game. Would watch again.
I didn't get to see much of the game again — I did see the bottom of the eighth and ninth after I remembered the FOX Sports Go app exists — so I can't go into too much detail. The important points: Masahiro Tanaka was great, the bullpen was great, and the Rays did the Yankees a solid with some defensive miscues. Some quick thoughts:
1. The Yankees scored their first run on a wild pitch, but don't ignore the walk and the single that set it up. Blake Snell was making his first career start and he had some jitters early, and the Yankees pounced. Yes, they stranded a runner, and yes one run isn't a bit deal, but a run is a run. It was nice to get on the board quick.
2. Another strong outing by Tanaka. He did surrender the #obligatoryhomer, but it nearly soared foul, and it was only the second dinger he's given up this season. Thanks to all those sinkers he's throwing, his ground ball rate is a career high (by far) 56.7% through four starts. Tanaka is pretty awesome. It's weird to me so many people seem to think otherwise.
3. Jacoby Ellsbury's 80 catcher interference tool came into play again. That loaded the bases in the seventh, and Gardner followed with a run-scoring infield single. He hit a rocket back up the middle that lefty Xavier Cedeno managed to knock down and keep on the infield. Even when the Yankees get a hit with runners in scoring position, it goes wrong. That should have been a two-run single to center. Instead they only got the one run.
4. Andrew Miller faced three batters and didn't strike any of them out. What's that about? Dellin Betances only struck out two batters in his scoreless inning too. Their combined season strikeout rate went from 21.0 K/9 and 63.6% to 19.6 K/9 and 60.7% in an afternoon. Lame.
5. Once upon a time, like three or four months ago, people wanted the Yankees to trade Gardner to add prospects and clear payroll. What a time to be alive. Gardy goes yardy:
Gardner went 3-for-5 on the afternoon and drove in two of the team's three runs. He's hitting .313./.441/.479 (171 wRC+) through 15 games. Brett can stay. Name him captain already.
6. An MRI showed Aaron Hicks has what the Yankees called "traumatic bursitis" in his shoulder, which sounds bad, but he'll only be shut down 5-6 days before resuming baseball activities. The Yankees may stick him on the DL anyway so they don't have to play shorthanded. Good news, all things considered.
Here are the box score, video highlights, and updated standings. Don't miss our Bullpen Workload and Announcer Standings pages either. The Yankees will look to finish the sweep (!) Sunday afternoon. It'll be Michael Pineda against yet another lefty, this one Drew Smyly.

Source: FanGraphs
Minor League Update: I won't have time for a full DotF write-up tonight. Here are the box scores.