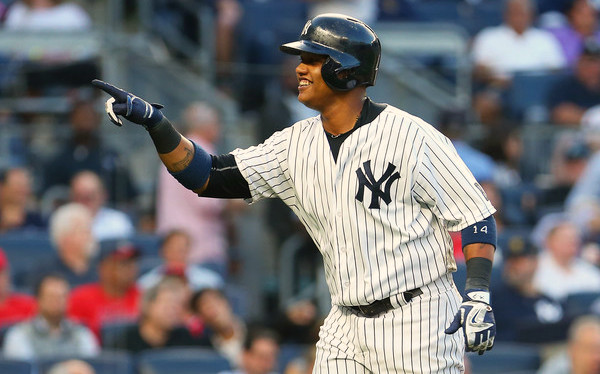 The Yankees are a little more than 40% of the way through the 2016 season, and so far things are not going according to plan. They need a serious run to get back into the postseason race and that run needs to happen soon. The season isn't so young anymore, you know? It's only going to get harder and harder to climb back into the race from here.
Starlin Castro is now a little more than 40% of the way through his first season in pinstripes, and based on what we've seen so far, I think the best way to describe his season is: meh. Certainly not great, but not truly abysmal either. Adequate is a good word. Or maybe participatory. He's not the reason the Yankees are out of the postseason picture but he's probably not someone who will carry them back into the race either. Here are some thoughts on Starlin's first few weeks in New York.
1. He stopped hitting after the Astros series. Boy did Castro make a great first impression. He came out of the gate and went 7-for-12 (.583) with two doubles and two homers in the season-opening three-game series against the Astros. Starlin drove in eight runs in the three games. It was easy to dream on Castro being a guy who is energized by the bright lights of New York and carrying the offense going forward.
Instead, in the 66 team games since that Astros series, Castro has hit .234/.271/.365 (68 wRC+) in 259 plate appearances, which is not an insignificant sample. His overall season batting line sits at .250/.285/.406 (83 wRC+), which is awfully close to the .265/.296/.375 (80 wRC+) batting line he put up last season. Starlin definitely has had his moments …
… and yes, he has been better than
Stephen Drew
was last year (76 wRC+), but not by a ton. Overall, I don't think many will disagree with me when I say Castro has been underwhelming offensively. He leaves you wanting more.
2. He'll get himself out on pitches out of the zone. Castro has never been a guy who will work deep counts and drive the pitcher nuts. He's up there to swing the bat. There's a reason he has a career 4.9% walk rate, after all. This season Starlin has a career high 36.6% chase rate on pitches out of the zone (career 33.3%), which is the 20th highest among the 170 hitters with enough plate appearances to qualify for the batting title.
When there are runners in scoring position, Castro expands his zone even more. He has a 41.3% chase rate on pitches out of the zone with runners on second and/or third base. Every one of Starlin's at-bats with ducks on the pond seems to look the same. Pitchers feed him a steady diet of breaking pitches down and away, and he goes fishing again and again and again. I don't know about you, but Castro is not someone I want at the plate with the game on the line.
I'm not a believer in hitting with runners in scoring position being a skill. Hitting is a skill and good hitters overall tend to be good hitters with runners in scoring position. Castro's the kind of guy who makes me rethink that stance. He goes into hack mode with men on base, even moreso than usual, and that's pretty much the exact opposite of the approach you should have in those spots. The pitcher is the one in trouble, not the hitter. Be patient. Don't help the guy on the mound out.
3. His defense is generally fine, but his double plays could use work. Even at this point, Castro is still relatively new to second base. He's played only 105 games and 827.1 innings at the position in the big leagues, all since last August, so he doesn't even have a full year at second yet. Because of that, we should cut him some slack in the field. He's generally been fine. He's not killing the Yankees in the field.
More than anything, Castro's biggest issue at second seems to be turning the double play. Example: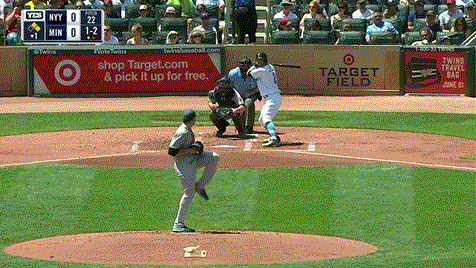 We've seen similar plays — a weak throw to first and the runner beats out the double play — throughout the season. That one from Sunday was particularly egregious because it was so routine. Castro was at the bag for the toss and had plenty of time before the runner bore down on him. It's not the first time this season that's happened and it feels like it won't be the last.
Like I said though, I do think Castro deserves some slack because he is new to the position. Turning double plays at second is totally different than turning them at short. At short the play is right in front of you and you can see the runner coming from first. At second, your back is to the runner, so you're making the pivot blind. Turning double plays is definitely an area Castro can improve, and really, it seems like it could be as simple as getting him to put more on his throws. Just fire it to first, assume everything will be a bang-bang play.
4. Baserunning? More like baseoutmaking, amirite? The Yankees and their fans have already had the full Starlin Castro Baserunning Experience™. He's been picked off third …
… and twice been thrown out trying to stretch a single into a double, among other mistakes. A total of 729 players have run the bases this year and only 25 have made more outs on the bases than Castro. This is not a new issue either. Starlin was 19th in outs on the bases last year.
Some players make a lot of outs on the bases because they're speedy and they push the envelope, and occasionally they get thrown out. That's baseball. Castro isn't one of those guys though. He's made some bad baserunning mistakes, like that pickoff at third and the two times he was thrown out trying to stretch a single into a double, both of which came on a ball hit to left field, so the entire play was in front of him. Starlin has been doing this for years and years. I don't expect it to stop.
5. His power seems to be blossoming. I know this turned into a "let's dump on Starlin Castro" post but I don't want that to be the case, so let's end with a positive. Castro is hitting for more power than ever before. He's already hit nine home runs, two fewer than last season in 307 fewer plate appearances. Starlin averaged 12 homers per season from 2011-15 and he should clear that easily this year. He has a chance to hit 20+ dingers in 2016 for sure. Remember, Wrigley Field is a pretty good place to hit. It's not like this a guy going from a huge ballpark to Yankee Stadium.
Castro currently has a career high .156 ISO and he's used pretty much the entire field too. Here's the spray chart of his extra-base hits, via Baseball Savant: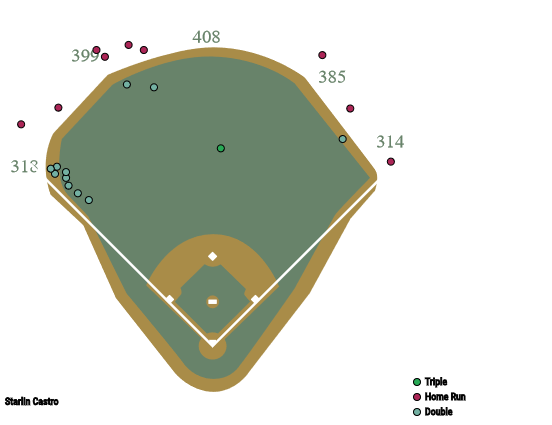 Like most hitters, Castro does the most damage when he pulls the ball. He has hit three of his nine home runs to the opposite field though, and that's a skill well suited for Yankee Stadium. Keep in mind Castro is still only 26, so he's either in or about to enter would figures to be the prime years of his career. You'd expect his power output to uptick right about now, and it has this season. That is definitely promising.
* * *
A little less than three months into the season, it's easy to see why Castro earned a reputation for being a talented yet frustrating player while with the Cubs. He has a knack for giving away at-bats by chasing out of the zone, and he's had enough lapses in the field and on the bases to say they were more than a fluke one-time incident. Castro is still pretty young, but he also more than 4,000 plate appearances and 1,000 games in the bigs, and yet he's still making the same mistakes he was years ago. Folks are still waiting for the adjustments.
Adam Warren has had a pretty crummy season to date — 4.56 ERA (5.39 FIP) with an 18/14 K/BB in 25.2 innings — which is surprising because he was pretty damn excellent for the Yankees the last three years. Does that soften the blow of Castro's rough first few weeks in pinstripes? Eh, maybe. It doesn't really matter to me. You can understand why the Cubs were ready to move on from Starlin and why a team devoid of young impact talent would take a chance on him, right? So far that chance is not really paying off for the Yankees. Starlin seems capable of so much more, and that has been the case for a few years now.