By

Via Chad Jennings: Joe Girardi confirmed Michael Pineda started a throwing program on Saturday — he played catch from 60 feet — and said he will likely need more than the original 3-4 week timetable to return to the team. No surprise there. "Everything was fine," said Girardi to Jennings and Brendan Kuty. "We have a plan. As long as he makes every step along the way, I don't know if it's quite six weeks (until he returns)."

Pineda, 25, originally got hurt on April 29th, so tomorrow would mark two weeks out. He just started playing catch, so he still needs to throw off a mound before he can get into minor league rehab starts. Pineda needs to get stretched all the way out and will probably have to make several rehab starts. He might be be 3-4 weeks away from returning right now. You have to think the Yankees will be careful with him because the injury is so close to his surgically repaired shoulder as well. Pineda had a 1.83 ERA (2.68 FIP) in 19.2 innings before getting suspended and hurt. · (18) ·
It's that time of year again, the Subway Series. The Yankees and Mets will meet four times this week, and, like last season, they will play a four-game home-and-home series. The battle for bragging rights opens tonight at Yankee Stadium and will wrap-up on Thursday at Citi Field. Two games at each building.
What Have They Done Lately?
Following a surprisingly strong start to the season, the Mets have lost eight of their last ten games. They did win yesterday (via walk-off), however. The Amazin's are 17-19 with a -8 run differential overall this season, which has them tied for last in the top heavy NL East.
Offense
The Mets have a below league average offense at 3.94 runs per game with a team 83 wRC+. They also have a 23.0% strikeout rate as a team, the seventh highest in baseball, so they struggle to score runs and struggle to put the ball in play. Manager Terry Collins does not have any position players on the DL but 1B Lucas Duda (118 wRC+) has missed the last few games with a stomach problem.
As usual, the Mets' lineup is anchored by 3B David Wright (104 wRC+), who is off to a relatively slow start. Former Yankee OF Curtis Granderson (72 wRC+) got off to a brutally slow start but has been much better over the last two weeks or so (151 wRC+). Defensive wiz OF Juan Lagares (121 wRC+) has had an unexpectedly strong start to the season. He was always a glove first guy. 2B Daniel Murphy (133 wRC+) has been excellent and Duda has been more than solid since taking over as the full-time first baseman following the Ike Davis trade.
Other than those five, the Mets have OF Chris Young (97 wRC+), C Travis d'Arnaud (67 wRC+), OF Eric Young Jr. (79 wRC+), and SS Ruben Tejada (54 wRC+) playing everyday. IF Wilmer Flores and UTIL Eric Campbell were just called up to add some spark. Flores has played three games and Campbell made his MLB debut yesterday. C Anthony Recker (103 wRC+) and former Yankee OF Bobby Abreu (91 wRC+) round out the bench. Yes, Bobby Abreu is in the big leagues.
It's worth noting Mets' pitchers are 0-for-63 this year, the longest hitless streak by a pitching staff to start a season in baseball history. The chances of them picking up their first pitcher hit on Wednesday or Thursday is roughly 10,000%.
Pitching Matchups
Monday: RHP Hiroki Kuroda (vs. NYM) vs. RHP Bartolo Colon (vs. NYY) (Pitcher GIFs)
Remember when the Yankees dragged Colon out of winter ball and we all laughed? Three years later, he's still going strong in the big leagues. Who would have guessed? The 40-year-old Colon has a 5.36 ERA (4.09 FIP) in seven starts and 43.2 innings this year, with his best strikeout (7.01 K/9 and 17.8 K%) and walk (1.03 BB/9 and 2.3 BB%) rates since his stint in pinstripes. Homers (1.44 HR/9 and 12.1 HR/FB%) and a lack of grounders (37.4%) have been his biggest problems. Colon still throws almost nothing but fastballs, upper-80s four-seamers and mid-80s two-seamers. His velocity isn't what is was three years ago. On occasion he'll throw low-80s sliders and changeups. There's no mystery here. Colon comes right at guys with fastballs.
Tuesday: LHP Vidal Nuno (vs. NYM) vs. RHP Zack Wheeler (vs. NYY) (Pitcher GIFs)
Wheeler, 23, is the second of the Mets' three big pitching prospects, sandwiched between Matt Harvey and Noah Syndergaard. He has a 4.35 ERA (3.13 FIP) in seven starts and 39.1 innings this season, and his only real problem has been walks (4.12 BB/9 and 10.6 BB%). Young pitchers, man. The two things they do better than anything is walk guys and get hurt. Wheeler has very good strikeout (8.92 K/9 and 22.9 K%), homerun (0.46 HR/9 and 6.3 HR/FB%), and ground ball (52.3%) rates, though he's been getting clobbered by left-handers (.393 wOBA). Righties haven't had as much luck (.277 wOBA). Two mid-90s fastballs (four and two-seamer) set up his upper-80s slider and upper-70s curveball. Wheeler throws only a handful of changeups per start. He's got nasty stuff, but like most young pitchers at this point of their careers, Wheeler is still rough around the edges.
Wednesday: RHP Masahiro Tanaka (No vs. NYM) vs. TBA
This start was supposed to go to RHP Jenrry Mejia, but after three straight rough outings, Collins told David Lennon they may skip his start and give him some time in the bullpen. They need to limit his workload anyway. If that does happen, either RHP Rafael Montero or RHP Jacob deGrom figures to get the call for the spot start. Both would be making their big league debuts. Montero, 23, has a 3.67 ERA (3.97 FIP) in 42.2 Triple-A innings this season and is by far the better prospect of the two. He was really impressive in Spring Training. Everything (delivery, ball out of his hand, etc.) looks easy. The 25-year-old deGrom has a 2.58 ERA (3.73 FIP) in 38.1 innings at Triple-A this season. He spent all of last year at Triple-A, so if the Mets make this decision based on seniority, deGrom would be the guy.
Thursday: TBA vs. RHP Dillon Gee (vs. NYY) (Pitcher GIFs)
Gee, 28, turned his season and to some extent his career around during the Subway Series last season, when he held the Yankees to one run in 7.1 innings while striking out 12. He went into that start with a 6.34 ERA and has pitched to a 2.72 ERA (3.85 FIP) in 202 innings since. Gee comes into this series with a 2.73 ERA (4.28 FIP) and just okay peripherals — 5.64 K/9 (15.6 K%), 2.56 BB/9 (7.1 BB%), 1.03 HR/9 (9.5 HR/FB%), 40.9% grounders, .302 wOBA against lefties, and .262 wOBA against righties — though he's obviously doing something right. He's one of those guys who defies the usual ERA/FIP relationship. Gee has the standard issue four-pitch mix: upper-80s fastball, mid-80s changeup, low-80s slider, and mid-70s curveball. Far from flashy, but it's damn effective, especially over the last year.
As for the Yankees, they seem likely to start Alfredo Aceves in the series finally now that CC Sabathia is on the 15-day DL with a knee issue. Chase Whitley, the other starter candidate, is pitching for Triple-A Scranton today according to Donnie Collins. It could be a short tune-up outing for Thursday or remove him from consideration all together. If that happens, maybe they'll just stick with Matt Daley as the extra reliever.
Update: Whitley threw only one inning and seven pitches this afternoon, so it was just a tune-up appearance. He is very likely coming up to either make the spot start or replace Aceves as the long man. I assume it's the latter.
Bullpen Status
It seems like the Mets have had one of the very worst bullpens in baseball this year thanks to some high-profile meltdowns, but they're closer to middle of the pack with a 3.99 ERA (4.31 FIP). It could be worse, I guess. Believe it or not, former Yankee RHP Kyle Farnsworth (4.39 FIP) is closing with RHP Daisuke Matsuzaka (3.52 FIP) getting most of the setup innings. That's a real thing that is happening. RHP Carlos Torres (2.94 FIP) will also see some late-inning time.
LHP Scott Rice (3.97 FIP) is Collins' only lefty right now. RHP Gonzalez Germen (4.21 FIP), RHP Jeurys Familia (3.77 FIP), and RHP Jose Valverde (5.36 FIP) fill out the rest of the bullpen, which could get a boost from Mejia this week. We'll find out soon enough. Dice-K threw two innings and 34 pitches yesterday, so he might not be available tonight. Valverde, Familia, and Rice also pitched briefly on Sunday. Our Bullpen Workload page has the status of the Yankees' relievers. Check out Amazin' Avenue for the latest and great on the Mets.
Record Last Week: 3-3 (28 RS, 23 RA)
Season Record: 19-17 (155 RS, 166 RA, 17-19 pythag. record)
Opponents This Week: vs. Mets (two games, Mon. and Tues.), @ Mets (two games, Weds. and Thurs.), vs. Pirates (three games, Fri. to Sun.)
Top stories from last week:
Please take a second to answer the poll below and give us an idea of how confident you are in the team. You can view the interactive Fan Confidence Graph anytime via the nav bar above, or by clicking here. Thanks in advance for voting.
Given the team's current roster construction, farm system, management, etc., how confident are you in the Yankees' overall future?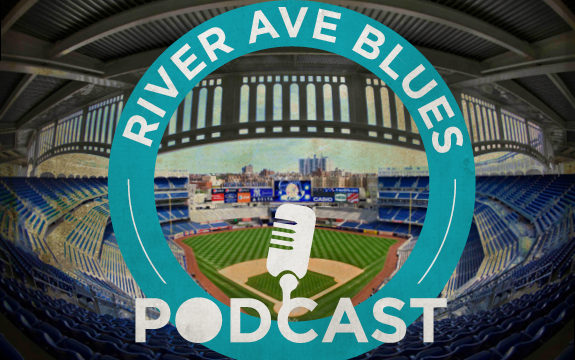 The total score of the weekend series: Yankees 14, Brewers 14. But they can't split the series, so the Brewers ended the weekend on top, winning Sunday's game in a walkoff. The Yankees came back from behind in both Saturday and Sunday's games, but it wasn't enough.
Jay and I look at the series that was, and then look ahead to this week's series, both against the Mets. To talk about the crosstown rivals other team, we have Marc Carig of Newsday. You might remember him from the Yankees beat a few years ago. The man knows his Mets.
iTunes link: subscribe here
Or you can subscribe to the RSS feed.
There are also plenty of iOS and Android apps that will grab the pod.
Podcast: Play in new window | Download (Duration: 46:44 — 21.4MB)

Source: FanGraphs
I was out visiting family for Mother's Day, and it looks like I picked a good game to miss. Mark Teixeira's two-out, two-strike, game-tying solo homer off Francisco Rodriguez in the ninth inning was wasted as former Yankee Mark Reynolds and the Brewers walked off with a 6-5 win a half-inning later. Like Saturday, this was a winnable game that will go for a loss.
David Phelps managed to put eleven men on base in five innings plus two batters of work, including the leadoff man in five of the six innings he started. It's a miracle he didn't give up more than four runs. His balk and some (more) shaky defense came back to bite the Yankees in the middle innings, after they jumped all over Matt Garza for three runs in the first inning. I'm sure this one had the look of a laugher early on.
My least favorite thing about David Robertson being the closer is that he never pitches. He's pitched twice in the last nine days, and Joe Girardi preferred to use Adam Warren for 40+ pitches and Shawn Kelley's balky back (he warmed up) before Robertson on Sunday. Matt Thornton against a righty predictably went wrong — didn't Girardi see the pinch-hitter coming? — and Dellin Betances finally found a jam he couldn't escape. The Yankees had 15 base-runners in nine innings, but apparently that wasn't enough.
For the box score and video highlights, go to MLB.com. FanGraphs has some other stats and ESPN has the updated standings. The Yankees now head home for what amounts to a seven-game homestand — two of the seven are in Flushing, so they aren't traveling — starting Monday night against the Mets. Hiroki Kuroda and Bartolo Colon, two of the three oldest starters in baseball this season (R.A. Dickey is the other), will be the pitching matchup. Check out RAB Tickets if you want to catch the Subway Series live.
Bunch of notes to pass along:
C Gary Sanchez had a closed door meeting with Double-A Trenton manager Tony Franklin, coach Orlando Mercado, and catching coordinator Julio Mosquero following today's game, according to Nick Peruffo. They just wanted to iron out some bad catching habits, apparently. "It's not that he's doing wrong, it's just some things that Julio saw in the last couple of days that he wanted to talk to him about, and be a little more emphatic about," said Franklin. "There is more that goes in to coaching besides going out and tossing them balls all the time."
RHP Chase Whitley was scratched from today's Triple-A Scranton start for an unknown reason, according to Donnie Collins. Seems like it has something to do with CC Sabathia's injury than anything else. If Al Aceves moves into the rotation, Whitley might replace him as the long man.
OF Tyler Austin (groin) was activated off the Double-A Trenton DL yesterday. SS Carmen Angelini was placed on the DL with an unknown injury, according to Peruffo. Matt Kardos says RHP Brett Gerritse has joined the Thunder as well.
RHP Nick Rumbelow and RHP Stefan Lopez were promoted from Low-A Charleston to High-A Tampa, the River Dogs announced. LHP Rony Bautista has joined Charleston.
Triple-A Scranton (2-1 win over Durham in eleven innings, walk-off style)
RF Ramon Flores: 1-5, 1 R, 1 K
3B Scott Sizemore: 1-5, 2 K
SS Dean Anna: 0-4, 1 BB, 2 K — hasn't hit much here yet
LF Zoilo Almonte: 2-5, 1 RBI — walk-off single
DH Zelous Wheeler: 1-3, 1 R, 1 HR, 1 RBI, 1 K, 1 HBP
1B Kyle Roller: 1-4, 1 K
LHP Eric Ruth: 5 IP, 2 H, 1 R, 1 ER, 3 BB, 3 K, 8/4 GB/FB — 56 of 92 pitches were strikes (61%) … called up from Tampa to make the spot start in place of Whitley
RHP Mark Montgomery: 1.1 IP, 0 H, 0 R, 0 ER, 2 BB, 1 K, 2/1 GB/FB – 14 of 28 pitches were strikes
RHP Branden Pinder: 2 IP, zeroes, 2/3 GB/FB — 12 of 22 pitches were strikes (55%)
Happy Mother's Day to all you moms out there. You're all pretty great in my book. Here's your open thread for the night. The Cardinals and Pirates are the ESPN Sunday Night Game (Miller vs. Morton), plus there's NBA and NHL playoff action on, including the Rangers. Talk about those games, your mother, or anything else right here. Enjoy the evening.
The Yankees have guaranteed themselves of at least a split of this six-game road trip through Anaheim and Milwaukee, so today's game is the difference between a 4-2 trip and a 3-3 trip. A 4-2 trip just looks better. Grab a win for mom today and head home to New York for a week. Sounds like a Mother's Day plan to me. Here is the Brewers lineup and here is the Yankees lineup:
It's warm and overcast in Milwaukee, and there's rain in the forecast this afternoon, so the Miller Park roof will probably be closed for the game. At least part of it. First pitch is scheduled for a little after 2pm ET and you can watch on YES locally and MLB Network nationally, depending on where you live. Enjoy the game and Happy Mother's Day.
The Yankees will be without CC Sabathia for at least the next two weeks. After last night's game he had an MRI on his right knee, which revealed fluid build-up. He will have it drained, which will keep him out of action and necessitate the DL trip.
The good news: the MRI showed no tear, so Sabathia should need only the minimum stay on the DL.
For right now the Yankees have recalled RHP Matt Daley. Joe Girardi says that Al Aceves is the leading candidate to take Sabathia's start Thursday against the Mets. That's not set in stone, though. Just before the Sabathia news broke, we learned that RHP Chase Whitley had been scratched from his start at AAA Scranton. Donnie Collins of the Times-Tribune speculates that Whitley could be up to replace Aceves as the long man, with Preston Claiborne headed back to AAA. It could just as well be Daley headed back to AAA tomorrow if that's when they decide to make the move. Whitley is not on the 40-man roster, which causes further complications.
While Sabathia has struggled at times this season, he has shown some definite signs of life, particularly as he continues to strike out hitters. His problems seem to center on consistency. Perhaps he can right the ship upon return at the end of May.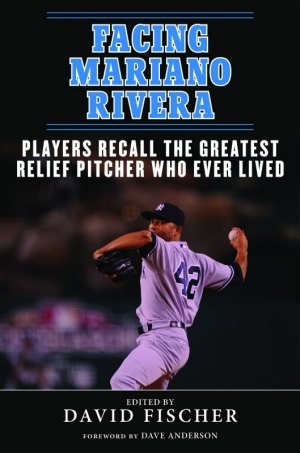 We had a full year to gush over Mariano Rivera's greatness. It didn't seem like long enough. And it still feels wrong that he's not closing the door this year.
During that year we saw fans show their appreciation. Teams honored Mo with ceremony after ceremony, paying tribute with gifts as though he were an ancient king. Most pervasively, we saw the media stumble over themselves to gush about Mo.
His peers talked about his greatness, but it felt as though we didn't hear enough of their stories. What did it feel like to stand there in the batter's box against Rivera?
We get answers in the recently published book, Facing Mariano Rivera, edited by David Fischer. It contains stories of nearly 100 opponents who faced Rivera. (It also contains contributions from guys like Paul O'Neill, Derek Jeter, Robinson Cano, and other teammates who never faced him, plus a number of pitchers and managers.) If you've ever wondered what it's like to stand in the box and know what pitch is coming, and still not be able to hit it, this book will help get you there.
There is, to be sure, plenty of fluff praise for Rivera, the standard praise of his composure and class. But nearly every player says one thing that really stands out, that helps you more fully understand the opponents' mindsets when they faced Rivera – with the game close enough for him to be in there, but still seemingly out of reach.
Here are two of my favorite excerpts:
Tim Salmon
Salmon debuted in 1992, when I was 10, thus at the very peak of my baseball card collecting phase. We all chased after his rookie card, and I'm fairly certain that we all had at least one. It really is no surprise that baseball cards lost all value when internet commerce was even in its infancy.
In his fourth season, Salmon accomplished something that at the time was insignificant. He recorded the first hit off of Mariano Rivera. He in fact recorded two that day, including a double. In his third at-bat he walked, which ended Mariano's day. That was in 1995, when Rivera was still a starter.
In 13 at-bats after that, including postseason, Salmon went 0 for 13.
A lot of closers grunt and snort and spit, they scowl at you, and throw the ball under your chin, trying to intimidate you, which makes you want to bear down and beat them all the more. Mariano was never like that on the mound. He was pleasant; his demeanor was disarming, it was life facing an old friend. I think that works to his advantage. Hitters don't have that extra motivation you might have against guys you despite who are flaunting their stuff and pointing to the sky and talking trash.
Edgar Martinez
Mo faced 1,013 different hitters during his career. Who was the toughest of them all? When asked last spring, Mo didn't hesitate when he answered.
The toughest – and thank God he retired – (former Mariners DH) Edgar Martinez. Oh my God. I think every pitcher will say that, because this man was tough. Great man, though – respected the game, did what he had to do for his team. That's what you appreciate about players, when a player come and do what is right for the game of baseball, for his team and teammates.
Martinez must have traumatized Mo when the latter was a rookie in 1995. In 7 PA he went 6 for 7 with two homers, a double, and a walk. Even when Mo was Mo in 1996, Martinez went 2 for 2 with two doubles. After that Martinez went 3 for 10 with three walks, two intentional. He was on an 0 for 6 slide against Rivera before he singled on August 14, 2004, the last time the two faced each other.
Just how badly did Mo want to beat Martines?
I think what makes him great is his command and his location; knowing where to throw the pitch. A good example is when I faced him in the 2000 American League Championship Series. I made the last out of the game. He got me out with a sinker inside. I never remember him throwing me a sinker before. that was the first tim I ever saw a sinker from him. He knew when to change his plan, when to go with something completely new, something different that you're not expecting.
If you're missing Mariano, and I sure am, this book is a nice little reminder of the greatness we witnessed night in and night out for so many seasons. You can flip around and read stories at random. I've been trying to find as many current players as possible, reading their stories when the Yankees face them this year.
Hardcover price: $17.71 – Click here to buy it on Amazon
Kindle version: $11.99 – Click here to buy it and start reading right now
There is something of a graphical element, since the book contains breakdowns of every hitter's at-bats against Mo, so the hardcover might be better. But if you're using Kindle on a tablet, it should render just fine.