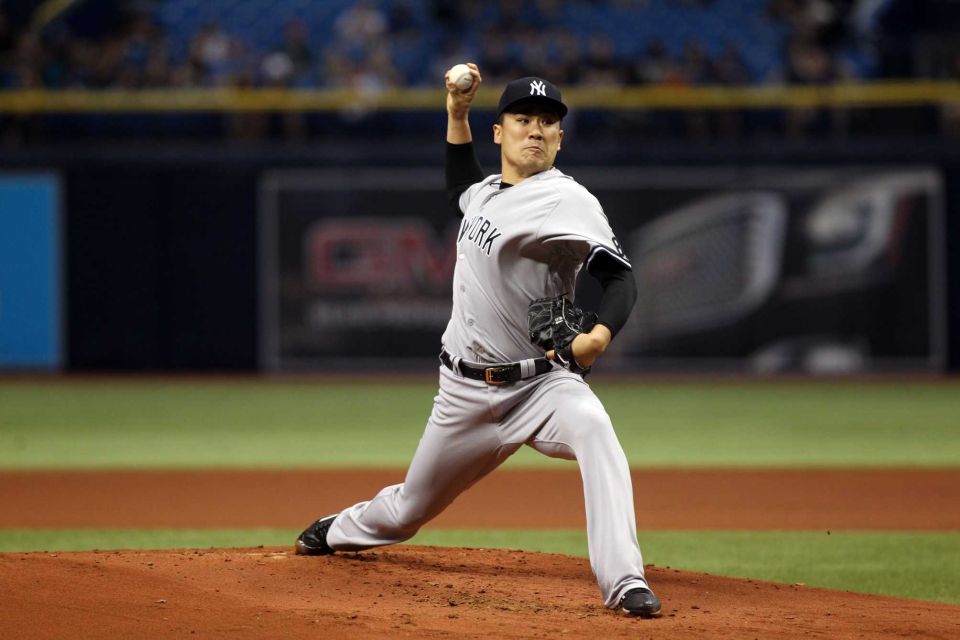 Super Hiro
A couple veteran sluggers made sure that the Yankees wouldn't waste another pitching gem in Friday night's series opener at Tampa Bay. Alex Rodriguez and Carlos Beltran both homered in support of another brilliant performance by Masahiro Tanaka, leading the Bronx Bombers to a 4-1 win over the Rays.
Tanaka took a perfect game into the fifth inning, allowing just two hits and no walks over seven scoreless innings. He is now 3-0 in 10 starts this season, the first Yankee pitcher with a double-digit streak of unbeaten starts to begin a season since Orlando Hernandez in 2004.
Tanaka continued his dominance away from Yankee Stadium, delivering his third straight road outing of at least seven innings, one run or fewer and no more than five hits allowed. The last Yankee with a streak like that was Mike Mussina in August 2003. He lowered his road ERA to 1.34, the best in the American League through Friday's games (min. 15 IP).
The 27-year-old right-hander was brilliant in finishing off hitters, as the Rays went 0-for-11 in two-strike counts with four strikeouts. Tampa Bay's left-handed bats were also held in check by Tanaka, going 0-for-10 and hit just one ball out of the infield (a fly out by Corey Dickerson in the fifth inning).
A-Rod and Beltran supplied the offensive fireworks needed for the win, becoming the first set of Yankee teammates age 39 or older to homer in the same game, and the 21st pair overall to achieve that feat. The most recent guys to do it were Frank Thomas and Matt Stairs for the Blue Jays on June 23, 2007, and the first guys were Ty Cobb and Zack Wheat for the Philadelphia A's on July 15, 1927.
The 6-foot-7 elephant in the room
Saturday's game went pretty much as predicted given that Michael Pineda was listed as the starting pitcher for the Yankees. The big righty gave up a bunch of first-inning runs and was hit hard all afternoon, adding another ugly pitching line to his ledger, and the Yankees lost to the Rays.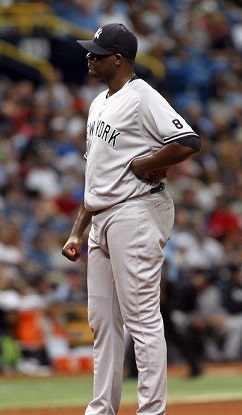 Pineda added three more runs and four hits to his league-leading totals in the first inning, which now stand at 16 runs and 26 hits. His 14.40 first-inning ERA would easily be the highest single-season mark by any Yankee that started more than five games.
It was also his fourth game with at least six earned runs allowed this season, the most by any pitcher in the majors through Saturday's slate. The only other Yankee in the last 60 seasons to have four such games this early into the schedule (through 48 team games) was Terry Mulholland in 1994.
On a more positive note … Beltran reached another significant statistical milestone in this game, hitting his 12th homer of the season in the fourth inning for his 2,500th career hit. He's the 99th player all-time and the 10th switch-hitter with that many hits, but also joined an even more exclusive club when looking at his rare combo of speed, power and on-base skills.
Just three other players in major-league history, along with Beltran, have compiled at least 2,500 hits, 400 homers, 300 stolen bases and 1,000 walks: Barry Bonds, Willie Mays and Alex Rodriguez.
One is enough
One swing changed everything for the Yankees on Sunday afternoon. With Starlin Castro's two-run homer in the seventh inning, they avoided becoming a historical footnote in baseball history and instead added another rare win to their franchise record books. The go-ahead blast ended Jake Odorizzi's no-hit bid in emphatic fashion and delivered one of the most unusual victories ever recorded by a Yankee team.
It was the first time since at least 1913 that the Yankees won a game of nine or more innings while recording just one hit or fewer. The only other instance of this happening in a contest of any length was July 10, 1914 against the Indians, the second game of a doubleheader that lasted only six innings. The next day, on July 11, a 19-year-old named Babe Ruth made his major-league debut for the Boston Red Sox.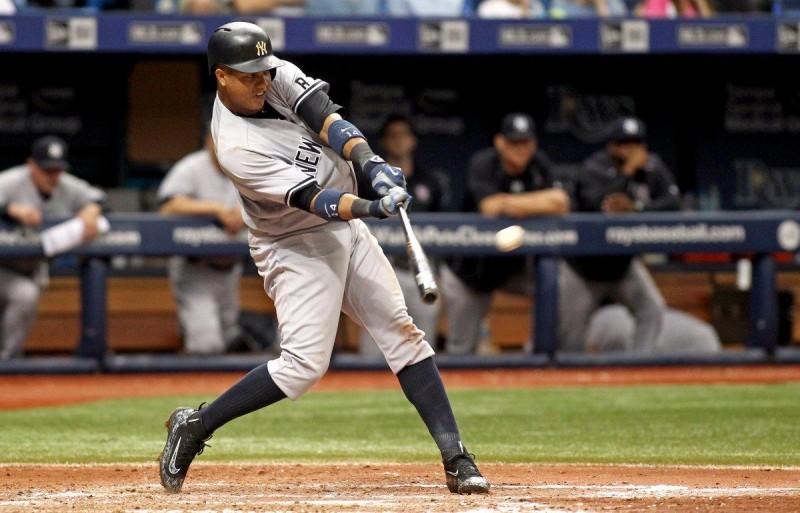 This was also the first time since at least 1913 that the Yankees were held to one hit or fewer and scored more than one run in a game, regardless of the length or outcome.
Just three other times in the Live Ball Era (since 1920) have the Yankees played a game where their only hit was a home run: Sept. 10, 1999 vs. the Red Sox (Pedro's 17-strikeout one-hitter); June 1, 1960 vs. the Orioles; Aug. 11, 1943 vs. the Browns.
Lost in the statistical madness was another fantastic outing by Nathan Eovaldi. He threw six innings of one-run ball, winning his fifth straight start and improving to 6-0 with a 2.72 ERA in his last seven starts. Nasty Nate now has a streak of back-to-back-to-back starts of at least six innings and no more than one run allowed for the first time in his career.