By

Via Anthony Rieber: Hiroki Kuroda is still unsure if he wants to pitch in 2014, either in Japan or with an MLB team. He hasn't ruled out retirement. "It all depends on how I feel after the season and think about things. Right now all I can say is I don't know," said the right-hander.

Assuming he doesn't start tomorrow — he lines up for that game but the team has the starter listed as TBA — the 38-year-old Kuroda ends the season with a 3.31 ERA and 3.56 FIP in 201.1 innings. He hit a real big wall in mid-August and was just brutal down the stretch. The Yankees will surely make Kuroda the $14M-ish qualifying offer to ensure they get a draft pick if he signs with another MLB team, but they don't get anything if he retires or heads back to Japan.

I would like to have Kuroda back next season at a reasonable price, but I'd be lying if I said I wasn't worried about an older pitcher who's hit a wall in August two straight years. He earned $15M this season and I would be uncomfortable giving him more. It's a very fair price. · (14) ·

Source: FanGraphs
The four-game losing streak that everyone forgot about is over. The Yankees won their third-to-last game of the season on Friday night, holding on for a 3-2 win over the last place Astros. Let's recap the meaningless victory:
MLB.com has the box score and video highlights, FanGraphs some other stats, and ESPN the updated standings. It'll be Pettitte vs. Clemens — Andy Pettitte vs. Paul Clemens, no relation to Roger — in game two of this season-ended three-game set on Saturday. Andy will be making the final start of his career (for the second time). That's a night game. Just had to sneak one more Saturday night game in before the end of the year, huh? Thanks, baseball gods.
So here we are. The final series of the season. These games mean nothing to either team. The Astros are locked into the first overall pick (for the third straight year) and the Yankees are pretty much locked into their draft slot as well. It'll take a minor miracle (or sweeps by the Astros and Diamondbacks) to move up a spot. They're just … running out the clock, I guess. Getting these last three games out of the way before four and a half months of vacation. Here's the lineup that will face left-hander Brent Oberholtzer:
And on the mound is right-hander Adam Warren. He hasn't thrown more than 28 pitches in an outing in three weeks, so I can't imagine he'll be good for more than three innings tonight. Maybe four if they're lucky. That doesn't really matter though, the bullpen is full of September call-ups.
It's hot (as usual) in Houston and it's supposed to rain tonight, but Minute Maid Park has a roof and that won't be an issue. First pitch is scheduled for 8:10pm ET and can be seen on YES. Enjoy the game. There aren't that many left.
Mariano Rivera Update: Joe Girardi said Mariano Rivera is his own boss this weekend. If he wants to pitch, he'll pitch. If he wants to play the outfield, he'll play the outfield. It's all up to him.
If the Yankees and Astros play three meaningless games in Minute Maid Park to close out the season and no one sees them … did it actually happen? A recent Astros television broadcast received a 0.0 Nielsen rating, so pretty much no one watched the game. I'm guessing more than a few people will tune in to see the Bombers this weekend, however.
What Have They Done Lately?
The Astros have lost 12 straight games and come into this series with the very worst record in baseball: 51-108 with a -232 run differential. They are, as the kids say, stupid bad.
Offense
At 3.8 runs per game with a team 87 wRC+, Houston is a below-average offensive club. No surprise there. They're without C Jason Castro (130 wRC+), their best player, who is done for the season with a knee injury. OF Robbie Grossman (97 wRC+) is out with an oblique issue as well.
Manager Bo Porter doesn't have a lot of firepower at his disposal. Aside from Castro, the team's only legitimate above-average everyday hitter is 1B Chris Carter (115 wRC+), who has huge power (29 homers and .232 ISO) and will strike out a frickin' ton (36.5%). 2B Jose Altuve (86 wRC+) and 1B Brett Wallace (96 wRC+) are two other guys you might recognize, along with former Yankees farmhands 3B Brandon Laird (94 wRC+ in limited time) and OF Jimmy Paredes (33 wRC+ in limited time). OF L.J. Hoes (96 wRC+ in limited time) and 3B Matt Dominguez (91 wRC+) have been useful.
Aside from those guys, there's not much to see here. C Carlos Corporan (85 wRC+), C Max Stassi (96 wRC+ in super duper limited time), and C Cody Clark (-37 wRC+ in very limited time) handle things behind the plate with Castro hurt. IF Jake Elmore (83 wRC+ in limited time), IF Marwin Gonzalez (55 wRC+), and SS Jonathan Villar (83 wRC+) are the various infielders. OF Brandon Barnes (77 wRC+), OF Trevor Crowe (72 wRC+ in limited time), OF J.D. Martinez (77 wRC+), and OF Marc Krauss (76 wRC+) fill out the rest of the bench. Nineteen position players in all.
Starting Pitching Matchups
Friday: RHP Adam Warren vs. LHP Brett Oberholtzer
Oberholtzer, 24, has a 2.71 ERA (3.77 FIP) in 66.1 innings across nine starts and three relief appearances this season, his rookie season. The southpaw doesn't miss bats (5.56 K/9 and 15.5 K%), doesn't walk anyone (1.63 BB/9 and 4.4 BB%), and doesn't get ground balls (36.6%). He does kinda keep the ball in the park though (0.95 HR/9 and 7.6% HR/FB). Oberholtzer sits right around 90 with his two and four-seam fastballs, using them to set up his low-80s changeup and upper-70s knucklecurve. Obviously, the Yankees have never seen him before.
Saturday: LHP Andy Pettitte vs. RHP Paul Clemens
No relation to Roger, the 25-year-old Clemens has a 5.69 ERA (5.97 FIP) in 68 innings covering four starts and 30 relief appearances. He's in the rotation because there's no one else, basically. The peripherals are just terrible: 5.96 K/9 (14.9 K%), 3.31 BB/9 (8.3 BB%), 2.12 HR/9 (14.4% HR/FB), and 36.1% grounders. Clemens has good stuff, sitting in the low-to-mid-90s with his four-seamer and low-90s with his two-seamer. A hard mid-80s changeup and upper-70s curveball are his two secondary pitches. The Yankees actually saw Clemens earlier this season, scoring a run against him in 1.1 innings of relief.
Sunday: TBA vs. LHP Erik Bedard
Finally, a pitcher we've heard of. Bedard, 34, has pitched to a 4.81 ERA (4.52 FIP) in 144 innings this year, his most since 2007. His strikeout rate (8.06 K/9 and 20.3 K%) is good but the walk (4.69 BB/9 and 11.8 BB%), homer (1.13 HR/9 and 9.6% HR/FB), and ground ball (36.8%) numbers aren't. Bedard still has that knee-buckling mid-70s curveball, but his fastballs (two and four-seamer) have slipped into the upper-80s with age and injury. An upper-70s changeup is his fourth pitch. The Yankees have seen Bedard a bunch of times over the years, both the good version with the Orioles and the broken down version with the Mariners.
Bullpen Status
The Astros were off yesterday, but that doesn't really matter with September call-ups and the season about to end. Rule 5 Draft pick RHP Josh Fields (5.45 FIP) has taken over as closer and LHP Kevin Chapman (4.44 FIP) does most of the setup work. RHP Rhiner Cruz (5.36 FIP in limited time) and RHP Josh Zeid (4.75 FIP in limited time) tend to get the ball in the middle innings. Thanks to expanded rosters, Porters also has inexperienced arms RHP Jorge De Leon, RHP Chia-Jen Lo, and RHP David Martinez in the bullpen.
The Yankees are in fine bullpen shape at this point. I don't know if we'll see Mariano Rivera again this season, and as sad as that would be, I would be perfectly cool with that given the send-off last night. Check out our Bullpen Workload page for recent reliever usage details, then check out Crawfish Boxes for the latest and great on the Astros.
By

Adam Warren will start tonight's game, the Yankees announced. I can't imagine he'll go more than three, maybe four innings, so expect to see a lot of bullpen. Andy Pettitte will pitch tomorrow and Sunday's starter is still listed as TBA. Hiroki Kuroda is lined up to pitch that game, but I guess the Yankees are considering shutting him down. Not a bad idea considering how gassed he's look of late. Brett Marshall or a bullpen game could be in store for Sunday. · (6) ·
Five questions and five answers this week. Use the Submit A Tip box in the sidebar to send up anything at any time, mailbag questions or otherwise.
John asks: Hypothetically speaking (how else would we speak when speculating about the offseason?), if Robinson Cano were to get say $29M per year for nine years from the Dodgers, could the Yankees sign Brian McCann, Stephen Drew and Omar Infante for $29M combined? And, if so, might that be a better strategy for 2014 and beyond?
I don't see how they could get those three for only $29M total. McCann is looking at Yadier Molina money on the open market ($15M annually) while neither Drew ($9.5M) nor Infante ($4M) have a reason to take a pay cut following their strong seasons. I think the best case scenario is something like $35M total, broken down into $15M (McCann) plus $12M (Drew) plus $8M (Infante). I'm probably underselling Drew and Infante given the dearth of quality middle infielders. It might be closer to $40M total than $35M when it's all said and done.
If the Yankees can't re-sign Cano — I would be stunned if they didn't at this point — then spreading the wealth around is pretty much the only thing they can do. There's no other superstar available this winter who is worth a nine-figure commitment. (Maybe Shin-Soo Choo. Maybe.) McCann plus Drew plus Infante would be a real good start, bhe Yankees need more pitching and outfield help though. This team isn't one or two players away from getting back into contention. This roster has an awful lot holes.
Chris asks: Would you be in favor of reducing the time between signing and free agency? Teams today are forced to decide between players hitting their free agency years around age 28-30. Small market teams won't pay for players past 30 and subsequently lose their players while big market teams continuously pay and pay. It hurts everyone. Isn't the answer to make players free agents earlier? Cano would be worth millions and millions more if he was two or three years younger.
Oh yeah, absolutely. I am decidedly pro player when it comes to this stuff. Let them become free agents as soon as possible. Teams would never agree to it and, frankly, small market clubs would have no chance to contend if they didn't get to control their young players for what is usually the most productive years of their career. If they knocked it down to five or even four years of team control before free agency, clubs like the Rays and Athletics would have no chance to contend. It would be a franchise killer. Baseball's salary system is screwed up in that players earn the most when they're on the decline, but it is what it is. The six years of team control are a necessarily evil.
Karl asks: How much amateur money is at stake over the possible variation in the final standings? Any chance a post-qualifying offer Hiroki Kuroda signs with the Dodgers to chase a ring and gets the Yankees a comp pick?
I'll answer the second part first: yes I could definitely see Kuroda signing elsewhere in hope of winning a ring. The Dodgers are an obvious destination but the Tigers, Rangers, Nationals, and Cardinals could also be fits. Despite his ugly finish to the season, I'd have no trouble making Kuroda a $14M qualifying offer. It's a no-brainer in my book.
As for the standings, the Yankees could finish with anything from the 12th through 16th best record in baseball. The Blue Jays have a compensation pick early in the first round, so that would give them the 16th through 21st overall pick. Right now they have the 17th overall pick and the only way they can move up to 16th is if they get swept by the Astros while the Diamondbacks sweep the Nationals this weekend. That's the only possible way to move up at this point.
Based on last season's slot values, that's the difference between the 16th ($2.3M) and 21st ($1.97M) picks is kinda small. Nice chunk of change but not a game-changing amount. The 17th overall pick was slotted for $2.16M, but the values are expected to increase next summer. Based on historical data and all that, the difference in expected future value of the 16th pick and the 21st (or 25th or 30th, for that matter) pick is negligible. That's all theoretical though, anything can happen in one given year. Obviously you'd like the higher pick.
Christopher asks: Would you be interested in the newly back on track Ubaldo Jimenez at around $13M? I think there's great value there and he could be the steal that helps the Yankees get back on track.
Once upon a time I was in favor of trading Jesus Montero for Jimenez, and for a while there it looked like the Yankees dodged a serious bullet. Obviously that seems silly now because Michael Pineda still hasn't thrown a single pitch for the team in the 20 months (!) since the trade. Seriously, he's missed two years (and counting) with that shoulder injury. What a disaster.
Anyway, this is purely hypothetical because there is an $8M club option in Ubaldo's contract for next season and the Indians will surely pick that up. The 29-year-old has a 3.38 ERA and 3.57 FIP in 176 innings this season but he's been even better in the second half: 1.86 ERA and 2.39 FIP in 77.1 innings. Jimenez has been a big reason why the Tribe jumped over the Rangers in the wildcard race.
Update!: Turns out Jimenez's club option became a mutual option after the trade. He'll surely decline his half and become a free agent.
Now, as good as the second half has been, we have to remember Ubaldo was really bad just last season. Heck, he had a 4.56 ERA and 4.49 FIP in 98.2 innings of the first half this year. Last year it was a 5.40 ERA and 5.06 FIP in 176.2 innings. Jimenez would be worth a much deeper look if he was indeed going to be free agent — did he actually change anything? — but I'd be very skeptical about giving him $13M a year based on a good half-season. High reward but super duper high risk.
Donny asks: Since we might not actually get to see this come to fruition, I figured I would ask: What do you think the playoff roster might/should look like?

I've been saving this question for like, three weeks now. I didn't want to answer it while the team still had a shot at the postseason because I figured there might be serious playoff roster talk at some point. Now that they've been eliminated, let's have at it. Based on who is actually healthy and available right now, here's the 25-man roster I would take into the wildcard play-in game/ALDS:
The opponent would dictate the bullpen to a certain degree. If the Yankees drew an opponent with a right-handed heavy lineup, I would probably take Phil Hughes Preston Claiborne over Huff. In this general case I'd take the second lefty.
The Yankees have an alarming shortage of useful position players. Brendan Ryan is not eligible for the postseason roster because he wasn't in the organization on August 31st, so Nunez is the starting shortstop by default. That leaves Adams or Reynolds as the everyday third baseman if A-Rod's various leg injuries don't heal up in time. Hafner is pretty useless, but I'd rather have the extra bench bat than the 12th pitcher. I'd trim the staff down to ten pitchers if there was another position player worth taking. That … is not an inspiring roster. Geez.
First, the entrance:
Then, the exit:
Couldn't have done it any better. Beautiful.
This is the final home game of Mariano Rivera's career. I can't believe it. I don't want to believe it. The Yankees have already been eliminated from the postseason and Rivera's farewell tour is pretty much the only reason worth tuning in. Joe Girardi has already confirmed Mariano will pitch tonight regardless of score, and you can be sure the ovation and "Mar-ee-a-no!" chants will be long and loud. It's going to be amazing. I can't want but I never want it to come. Here's the lineup that will face right-hander Alex Cobb:
And on the mound is righty Ivan Nova, making his final start of the season. He's been one of the few positives this year regardless of what happens tonight.
The weather is fine in New York, so they won't have any trouble getting the game in. First pitch is scheduled for 7:05pm ET and can be seen on YES. Enjoy.
Rotation Update: Andy Pettitte's last start has been pushed back a day, so he will start Saturday instead of Friday. The Yankees currently have both Friday's and Sunday's starters listed as TBA. Friday's start was supposed to go to the Phil Hughes/David Huff tandem before they had to spot for CC Sabathia and Sunday's start was supposed to go to Hiroki Kuroda. Guess they're shutting him down. Brett Marshall and Adam Warren are the obvious replacement options, though I suppose they could go with a bullpen game on Sunday. We'll see. Not exactly a big concern.
By TiqIQ
Over the last week, the average price for Mariano Rivera's final game has dropped on the secondary market from $238 on September 8th to $103 today.  It's one of the few games the Yankees have sold out this season. Despite that fact, the average price is now only 10% above the Yankee's regular season average.  That's quite a contrast from opening day, when the game had an average price of $371. In April, Yankees fans envisioned a strong finish after an injury-slowed first half, and Mariano on the mound saving a game to put them into the playoffs for one final magical Mo postseason.  Instead, it's been almost a week since he has pitched, and while a there have been a couple wins along the way, the last 10 days has been filled with a lot of lopsided losses.  Tonight, the Yankees will face Alex Cobb, whose 2.90 ERA is the best of any of the Rays starters this series.  Based on the first two games of the series, a save opportunity may be a long shot.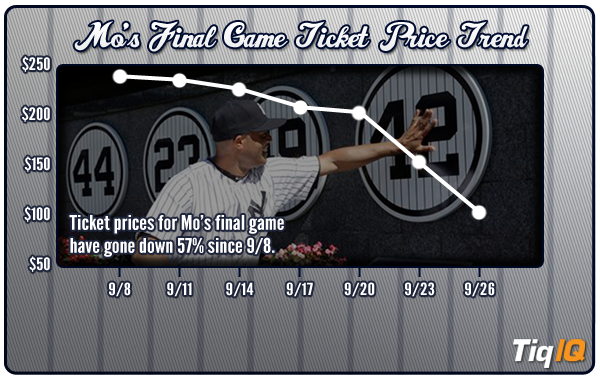 To the dismay of Yankees fans, Mo has not been trotting out for a ceremonially inning this series.  Not surprisingly, it's been business as usual for the Mo, and last night was no exception.  With two outs in the bottom of the 8th, the Yankees, down 7-3, loaded the bases. When Curtis Granderson came to plate, one swing could have tied the game. Many managers feel that a tied game in the 9th at home is the equivalent to a save situation. Preserving the tie gives the home team a chance to win the game in the bottom half of the 9th, so goes the logic.  With that possibility, Mariano quickly stood, loosened his arm with a few bent-over windmills and stepped up the bullpen rubber.  The crowd cheered in anticipation of a miracle, and Mo threw two quick pitches at about three-quarters speed before Granderson grounded sharply into a shifted 4-2 putout.  With the threat over, Rivera returned to his seat and eventually watched the Yankees go out 1-2-3 in the ninth.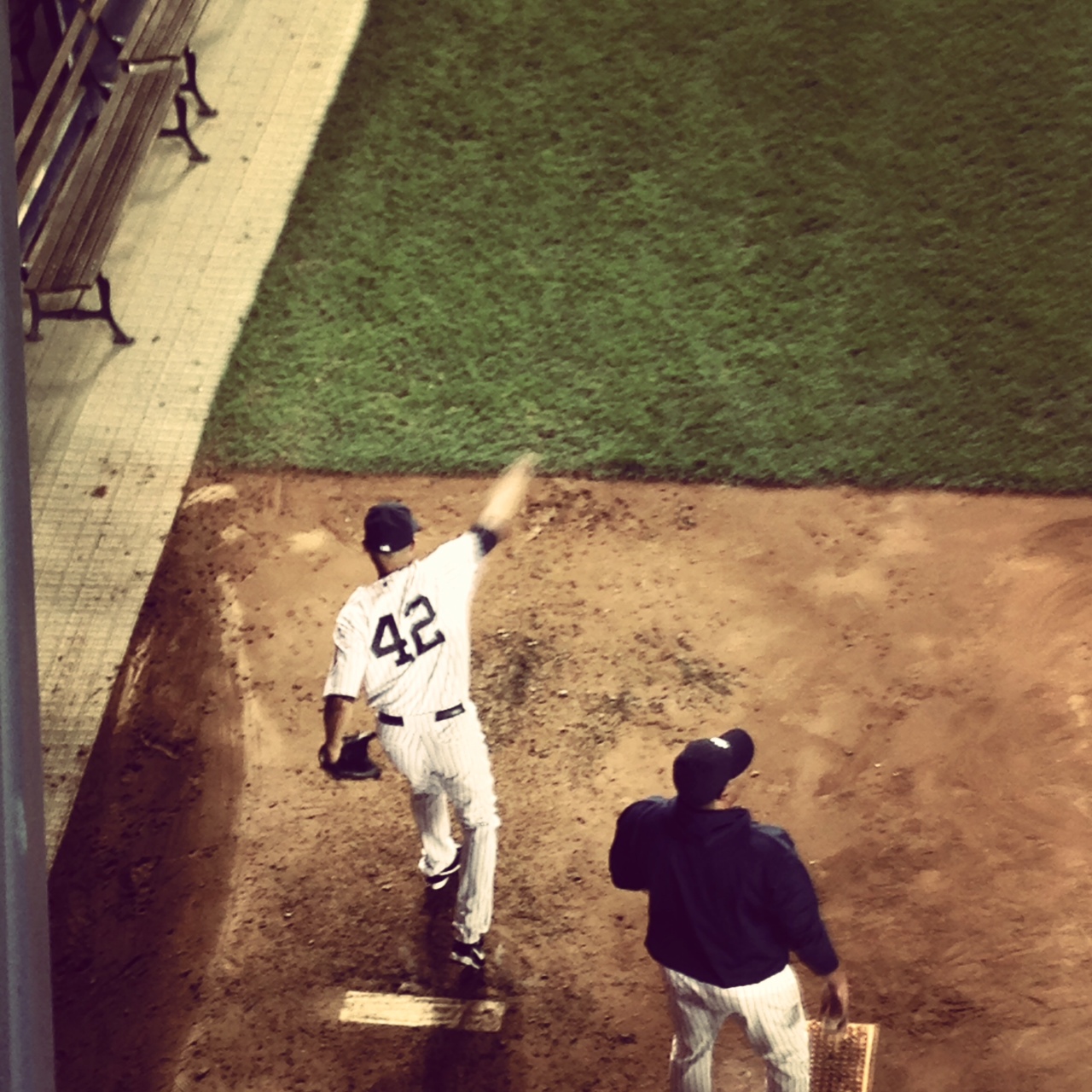 If the Yankees can't make it close tonight, those could have been Mariano's two last warmup pitches in Yankee Stadium.  Despite their elimination last night, and the final confirmation that there would be no world series tickets in the Bronx, the Yankees still have something to play for tonight: the chance to give their fans one last opportunity to see the great Mariano close a game.   It would be some version of a happy ending to a miserable and tortured season, and give Yankees fans a brief moment to reminiscence about the last 19 seasons before turning their attention to an uncertain future.
By

This afternoon, Joe Girardi told reporters the Yankees are "absolutely" kicking around the idea of letting Mariano Rivera play an inning in center field before the end of the season. It won't happen tonight, during the team's final home game, because the game is meaningful to the Rays and they want to respect the pennant race. Something like that. If it does happen, it'll be in Houston this weekend. Rivera would likely play center in the eighth and pitch in the ninth. I really hope this happens. Would make the entire season worth it. · (30) ·