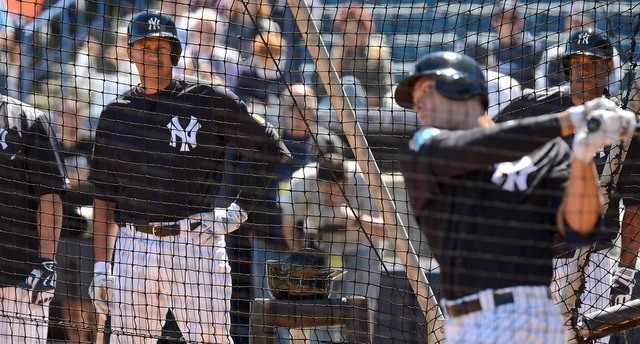 Today was photo day in camp, and based on this year's photos, it appears the Yankees will indeed wear a No. 8 on their sleeve this season to honor Yogi Berra. Yogi passed on September 22nd and the team did wear a No. 8 on their sleeve last year, but it was only briefly because the season ended. Glad to see (it appears) they'll be wearing it in 2016 too. Here are all the photo day photos and here are the notes from a light day in camp:
As always, Chad Jennings has the day's workout groups. It was a light day on the mound; James Kaprielian and Bryan Mitchell threw bullpens and that's about it among the notable hurlers in camp. Everyone hit and went through fielding drills. The usual.
Relatively good news for Domingo German: yesterday's MRI showed only a nerve issue in his elbow. He is rehabbing from Tommy John surgery and felt discomfort during yesterday's throwing session. Apparently the new ligament is fine. [Brendan Kuty]
This is your open thread. The (hockey) Rangers are playing right now, the Nets are playing later, and there's a bunch of college hoops on throughout the night. Talk about whatever.