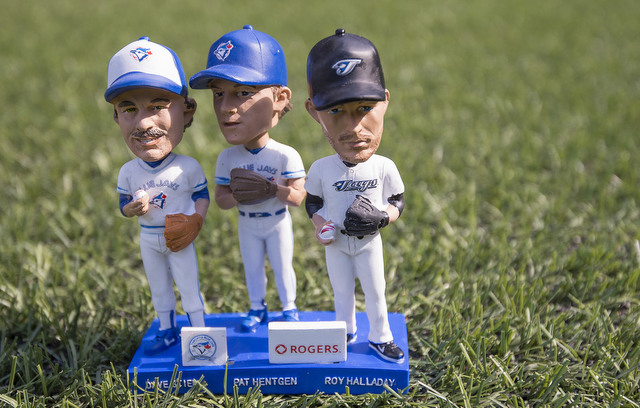 One AL East rival leaves town and another comes in. The first place Blue Jays are in the Bronx for a three-game series this week. The Yankees are still kinda sorta in the postseason race, and if they're going to make things interesting, they have to keep winning series. They've won their last three series and need to keep it going. Unfortunately, the Yankees are 2-7 against the Blue Jays this season. They've been outscored 39-21. It hasn't been pretty.
What Have They Done Lately?
Like last season, Toronto started off slowly this season before catching fire at midseason. They bottomed out at 19-23 on May 18th and have gone 48-28 since. That's the best record not just in the AL, but all of baseball since that admittedly arbitrary date. Toronto is 67-51 overall with a +88 run differential. They're a half-game up in the AL East and 6.5 games better than the Yankees.
Offense & Defense
Last season the Blue Jays had baseball's highest scoring offense since the 2009 Yankees. This year's they're averaging a healthy 4.81 runs per game with a team 103 wRC+, so they're merely one of the best lineups and not the best lineup. Manager John Gibbons is without two important regulars: RF Jose Bautista (114 wRC+) and CF Kevin Pillar (79 wRC+). Bautista has a knee injury and Pillar has a thumb injury. Neither is coming back this week. OF Ezequiel Carrera (Achilles) is out too.
Even without Bautista, the Blue Jays still have an insane middle of the order led by 3B Josh Donaldson (157 wRC+) and DH Edwin Encarnacion (143 wRC+). SS Troy Tulowitzki (107 wRC+) has been much better of late too. 2B Devon Travis (120 wRC+) has come back very well from shoulder surgery, and LF Michael Saunders (129 wRC+) has been great this year. Those five guys are Toronto's top offensive threats with Bautista sidelined. They do the majority of the damage.
C Russell Martin (92 wRC+) and 1B Justin Smoak (94 wRC+) are the other regular regulars. With Bautista and Pillar out, the Blue Jays have had to play OF Melvin Upton Jr. (87 wRC+) in center with an OF Junior Lake (74 wRC+)/OF Darrell Ceciliani (-31 wRC+) platoon in the other outfield spot. Not great. IF Darwin Barney (75 wRC+) and C Josh Thole (27 wRC+) are the other bench players. Only a three-man bench for the Blue Jays right now. More and more teams seem to be doing that.
The Blue Jays are very good defensively when at full strength. Losing Pillar and Bautista definitely hurts though. Upton and the Lake/Ceciliani platoon are a big downgrade. The infield is very good though — Donaldson is Gold Glove caliber at third, the other three guys are very good — as is Martin behind the plate. He's still one of the top defensive catchers in the game.
Pitching Matchups
Monday (7:05pm ET): RHP Chad Green (vs. NYY) vs. RHP R.A. Dickey (vs. NYY)
Four years ago the Blue Jays acquired Dickey to be their ace, and now he's their sixth best starter. The 41-year-old has a 4.61 ERA (5.28 FIP) in 24 starts and 142.2 innings, with the kind of peripherals you'd expect to see from a 41-year-old knuckleballer: 17.0% strikeouts, 8.6% walks, 43.4% grounders, and 1.64 HR/9. He also has a very small platoon split. Dickey's knuckleball sits in the mid-70s and his show-me fastball averages 82 mph. He used to throw two knuckleballs with the Mets, a slow one in the low-70s and a harder one in the upper-70s, but not anymore. The Yankees scored four runs in 6.2 innings against Dickey back in May.
Tuesday (7:05pm ET): RHP Michael Pineda (vs. TOR) vs. RHP Marco Estrada (vs. NYY)
Estrada, 33, has shown last year's success was no fluke. He's followed up his breakout season (3.13 ERA and 4.40 FIP) with a 2.95 ERA (3.92 FIP) in 20 starts and 128.1 innings this season. Estrada's underlying stats don't jump out at you (23.4 K%, 8.9 BB%, 34.3 GB%, 1.05 HR/9, small platoon split), but he's a proven FIP beater because he's adept at getting pop-ups and weak fly balls. The guy has a .217 BABIP this year after having a .216 BABIP last year. It's not a fluke after 309.1 innings. Those pop-ups and weak fly balls are easy outs. Estrada does it with a dynamite upper-70s changeup that he throws with the same arm action as his upper-80s fastball. He screws up the hitter's timing as well as any pitcher in the game. Estrada also throws some upper-80s cutters and mid-70s curves, but the fastball/changeup combo is his bread and butter. The Yankees have seen the veteran righty twice this season and it didn't go well either time: three runs in seven innings and eight shutout innings, both in May.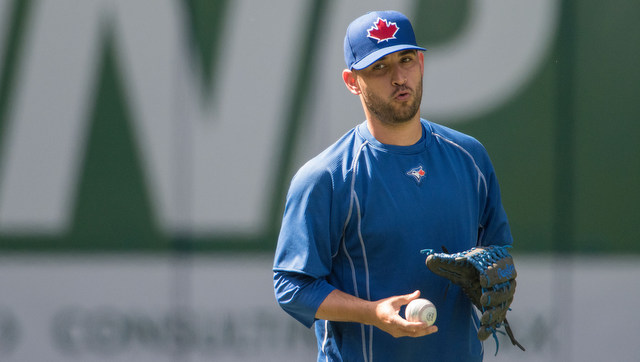 Wednesday (1:05pm ET): LHP CC Sabathia (vs. TOR) vs. LHP J.A. Happ (vs. NYY)
Spoiler alert: Happ is going to get a healthy number of Cy Young votes this season. That's what going 16-3 with a 2.96 ERA does for you. The 33-year-old has a 3.75 FIP in 23 starts and 143 innings, and like Estrada, his peripherals don't stand out (21.6 K%, 7.5 BB%, 42.4 GB%, 0.94 HR/9, small platoon split), but the guy gets so much weak contact in the air that it works. Happ throws low-90s four-seamers, low-90s sinkers, mid-80s changeups, and upper-70s curves. Nothing sexy there. Happ has faced the Yankees twice this season, and he limited them to one run in six innings both times.
Bullpen Status
The Blue Jays have a three-man bench but only a seven-man bullpen. That's because they're currently using a six-man rotation as a way to control Aaron Sanchez's and Marcus Stroman's innings. Here's the relief crew Gibbons has to work with:
Closer: RHP Roberto Osuna (1.89 ERA/2.49 FIP)
Setup: RHP Joaquin Benoit (3.94/4.67), RHP Jason Grilli (3.16/3.46)
Middle: RHP Joe Biagini (2.09/2.25), LHP Brett Cecil (4.74/3.91), RHP Ryan Tepera (3.68/3.82)
Long: RHP Scott Feldman (3.74/4.04)
The bullpen, specifically the middle innings, has been a problem for the Blue Jays for much of the season. The Grilli and Benoit pickups have helped, as has the emergence of Biagini, a Rule 5 Draft pick from the Giants. Cecil is the only lefty and he's the kind of guy who can go a full inning if necessary.
Benoit, Grilli, and Cecil all pitched yesterday, though none of them threw more than nine pitches. Grilli pitched Saturday as well. Other than that, Toronto's bullpen is in pretty good shape. Check out our Bullpen Workload page for the status of Joe Girardi's relief crew.