Yeesh, that was bad. The hitting, the pitching, the fielding, pretty much everything. The Yankees were embarrassed at home Tuesday night, falling 15-1 to the Astros for their fourth loss in six games.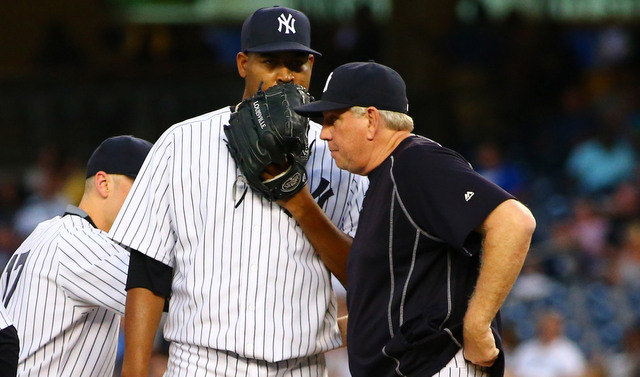 Over In The First
This game was not competitive very long. Ivan Nova quickly retired the first two batters of the game before the floodgates opened thanks to a combination of a Jacoby Ellsbury defensive miscue and Nova having nothing. Nova walked Carlos Correa with two outs, which, whatever, it happens, but then Colby Rasmus lifted a line drive to center than Ellsbury misread and allowed to fall in for a triple. Ellsbury initially broke back before having to come in for the ball, and his slide fell short.
Fine, whatever, that shouldn't happen but it did. One run isn't the end of the world. Nova couldn't stop the bleeding there though. He walked Evan Gattis on four pitches, gave up a line drive double to Carlos Gomez to make it 2-0, then gave up a booming two-run double to Luis Valbuena. Four-zip Astros. Marwin Gonzalez followed with a single to make it 5-0. Nova then walked Jason Castro before getting Jose Altuve to ground out to end the inning. Altuve made two of the three outs in the first.
The Ellsbury misplay — it was ruled a hit but come on, a big league center fielder has to catch that ball, it should have been an error — definitely hurt, but that inning went well beyond "blame Ellsbury." Nova had nothing and allowed seven (!) straight hitters to reach base with two outs, including three on extra-base hits. He threw 40 pitches in the inning and the Astros fouled off ten. Nova couldn't put anyone away. Not the first time that's happened this year.
When it was all said and done, Nova was charged with seven runs on seven hits and four walks in four innings. He struck out one. Nova has now allowed 17 runs on 34 base-runners in 21.1 innings in his last three starts. Slump? Post-Tommy John surgery wall? Who knows. Bottom line is the Yankees need Nova to be better than this. The offense is struggling and they certainly don't have the pitching depth to compensate. Ellsbury was only a small part of the problem. Even Nova's outs were crushed.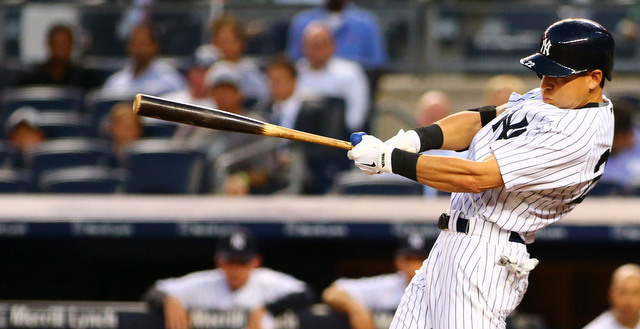 Offense? No Offense
The Yankees scored their only run in the ninth inning, when the game was all but over. Ellsbury hit a leadoff single, moved up to second when Chris Young was hit by a pitch, moved to third on a ground out, then scored on another ground out. Not the most exciting rally, but hey, at least they didn't shut out. Not that it really matters.
All told, the Yankees had four hits on the night: two singles by Ellsbury, a double by Carlos Beltran, and a single by John Ryan Murphy. That's it. No one drew a walk and they stuck out a dozen times. Dallas Keuchel, who is an excellent pitcher, was on cruise control. Seven scoreless innings and Astros manager A.J. Hinch pulled him after only 88 pitches because the game was so out of hand. Save those bullets for another day.
The Yankees have now had six or fewer hits in each of their last three games, during which they've scored five total runs. They're averaging 3.1 runs per game in their last 20 games. Basically everyone in the lineup other than Beltran and Ellsbury is slumping. Nova could have tossed a gem and the Yankees still would have lost. This is bad, man. Real bad.
Bullpen Adventure
The only pitcher to not allow a run? Brendan Ryan, of course. He tossed two scoreless innings to spare the bullpen. Two innings! He's the first position player to throw two innings in a game for the Yankees since Stick Michael in 1968. Good gravy. Nick Rumbelow allowed two runs (one earned) in an inning and Chris Capuano was charged with six runs in two innings. He looked like he was pitching hurt for a while. The trainer came out to see him, he threw some test pitches and remained in the game, but didn't look real comfortable. Hooray for Ryan. Everyone else stunk.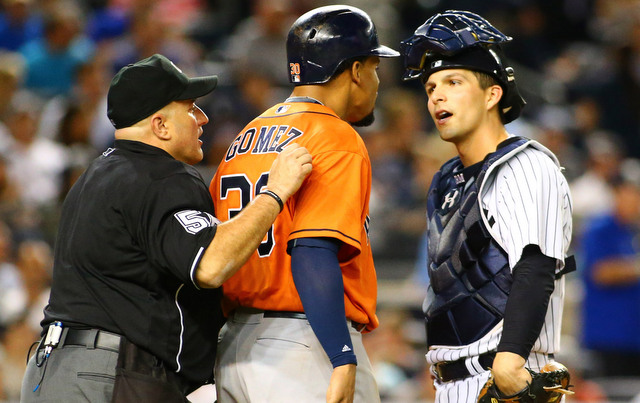 Leftovers
The benches briefly cleared in the sixth inning because apparently the Yankees took exception to something Gomez said or did. Joe Girardi told reporters they didn't like the way he flipped his bat or something after flying out. Silly. Gomez flew out, jogged down to first, then the bench yelled something at him. Murphy said something to Gomez near home plate before the umpires stepped between them. I'm still not sure what Gomez did wrong. Seems like the Yankees have more important things to worry about than someone flipping their bat in a blowout. (Gomez homered later in the game, so good job?)
Before he pitched, Ryan played a few innings in right field. It was his fifth career game in the outfield and first since 2008. Between the pitching and the extra running, he's going to be pretty sore tomorrow. I'm not sure anyone on the Yankees had more fun than him though. Ryan seemed to have a blast on the mound. Can't say I blame him.
Box Score, WPA Graph & Standings
Here are the box score, video highlights, updated standings, and postseason odds. Also, head over to our Bullpen Workload and Announcer Standings pages for some potentially useful — or perhaps not — information. Here's the loss probability graph:

Source: FanGraphs
Up Next
The ten-game homestand ends Wednesday afternoon with the series finale against the Astros. Michael Pineda will make his hopefully triumphant return from the DL and make the start. Collin McHugh will be on the bump for Houston in the matinee. RAB Tickets can get you in the door if you want to catch that game live.