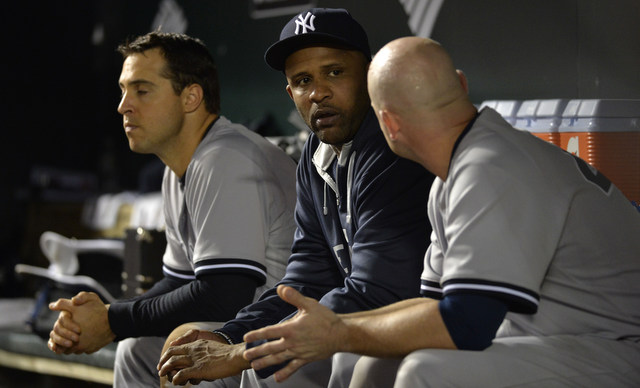 The Yankees just dropped their third straight series to start the season and I'm not sure what part of the team you could point to as an overwhelming positive in the early going. Well, aside from Alex Rodriguez, that is. Anyway, I have some thoughts not necessarily related to the series in Baltimore.
1. Hands down, the very worst thing about the Masahiro Tanaka situation is that we view everything through his elbow. He's impossible to look at, think about, and analyze like a normal pitcher. Tanaka can never have just one of those days. Every bad pitch, every bad inning, everything will be viewed as a sign of impending doom. Throw fewer fastballs than normal? It's the elbow. Hang a few sliders? It's the elbow. That splitter didn't get a swing and miss? Elbow. Elbow elbow elbow. I've gotten over sitting on the edge of my seat every pitch worrying Tanaka's elbow will explode right before my eyes, but it's always there, looming in the back of my mind. Even if he gets over whatever troubled him in his first two starts and begins dominating like he did early last year, the elbow injury means it's going to be a long time until people look at him as a normal pitcher. Sometimes things happen in baseball and there's no way to explain them. That's what makes it fun. But with Tanaka, whenever something happens, it'll be traced back to the elbow, fairly or unfairly. It feels like he is no longer subject to baseball's randomness.
2. I was looking at the schedule the other day just to see what's coming for the Yankees and you know what? There are no easy series anymore. There are more teams in contention now than ever before thanks to revenue sharing and the second wildcard, so the days of piling up, say, seven wins during a nine-game road trip through Minnesota, Cleveland, and Kansas City are over. Every team is good now. There is no soft spot of he schedule anymore. Know what I mean? Just looking at the upcoming schedule, the Yankees don't play a team that is widely expected to be a non-contender until late-May, when the Rangers come to the Bronx for three games. After that you have to wait until the Phillies visit in late-June. Every series seems to mean something nowadays and don't get me wrong, it's fun and I think it's great for baseball overall, but geez. There are no breaks. The Yankees could use one of those easy series right about now.
3. Thing I would like to see: the Yankees buying a draft pick. That's basically what the Dodgers did last week. The full trade was reliever Ryan Webb, minor league catcher Brian Ward, and the 74th pick for reliever Ben Rowen and minor league catcher Chris O'Brien. Webb's hurt and the point of the trade from the Orioles' point of view was shedding his $2.75M salary. The two teams swapped fringe prospect catchers and the Dodgers also sent a minor league signee reliever to Baltimore. In a nutshell, the trade was "we'll give you the 74th pick if you take Webb's contract," which the Dodgers did. (They released Webb a few days later.) If another club is out there willing to trade a draft pick to shed a small, unwanted contract — history says the O's wouldn't have made the deal with New York, for what it's worth — it's the type of move a team flush with cash like the Yankees should absolutely make, especially given the way everyone (Brian Cashman, Hal Steinbrenner, etc.) has been talking about the importance of young players lately. The 74th pick isn't a premium pick or anything, but at the cost of a few million (Webb would have cost the Yankees $4.125M with the luxury tax), a big market club should take advantage, and the Dodgers did.
4. The Didi Gregorius/Shane Greene trade has played out to the worst case scenario for the Yankees so far. There's really no way to argue otherwise at the moment. Out of all the moves they made this past offseason, this was the one they most needed to provide some positive early returns. Instead, Gregorius has been awful in every phase of the game while Greene has been dominant, allowing seven hits and one walk in 16 shutout innings across two starts. I expect Gregorius to be better (how could he be worse?) and Greene to not be as dominant (how could he sustain this?) going forward, but first impressions are damn near impossible to change, and the first impression of this trade is that it's a disaster. I'm not saying it is a disaster! Just that that's the impression many folks have right now and it's hard to shake that. It's still super early, the season isn't even two weeks old yet, but geez, on top of all the other things going wrong with the Yankees in general, Greene's domination isn't helping matters.
5. One of the great unknowns in recent Yankees history — if not franchise history overall — is how things would have played out had Jennifer Steinbrenner and Steve Swindal not gotten divorced in 2007. Swindal was one of the team's general partners — just like Hank and Hal Steinbrenner — from 1998-06 and was the heir apparent to George Steinbrenner. (It wasn't just a rumor, Tyler Kepner reported the plan was to promote Swindal.) Swindal was far more active in the team's day-to-day operations than either Hank or Hal — he negotiated Joe Torre's contract in 2004 and represented the team at MLB's press conference when it was announced Yankee Stadium was getting the 2008 All-Star Game — and by all accounts, he was a super smart guy and a promising future chairman. Instead, he and George's daughter got divorced, his relationship with the team was dissolved, and the team was handed over to Hal, who showed little interest in running the Yankees before then. Who knows how things would have played out had Swindal taken over the team a few years ago as planned. Maybe it would be better, maybe it would be worse. We'll never know.