No one said these last three games would be pretty. The Yankees played their first truly meaningless game of the season Friday night, and not surprisingly, they got clobbered 8-1 by the Orioles. So it goes.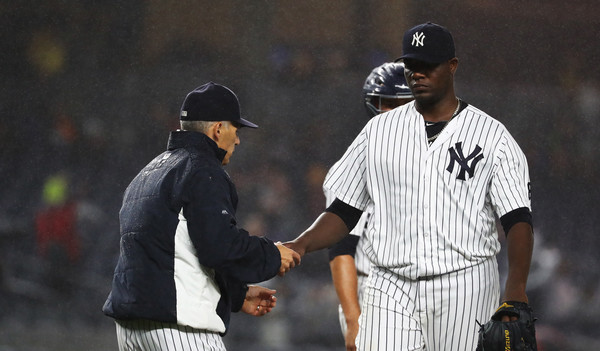 The End of the Pineda Era
There's a non-zero chance Michael Pineda threw his last pitch in pinstripes Friday night. He's a year away from free agency, and if the Yankees deem him unworthy of a long-term extension, they could try to cash him in as a trade chip in a weak free agent class this offseason. It's certainly worth exploring both options, a trade and extension. Doesn't hurt to see what's out there, after all.
Regardless of what happens over the winter, this was Pineda's final start of the season, so it's only fitting he closed out his year with some two-out runs and long home runs. That's what he did all summer. Two singles and a double in the fourth inning, all with two outs, created the Orioles' first two runs. Adam Jones (solo) and Mark Trumbo (two-run) then annihilated long home runs into the second deck in left field for a 5-1 lead in the fifth.
You can never really trust the television gun or the scoreboard, but PitchFX confirms Pineda's velocity was down quite a bit Friday night. He averaged 91.8 mph with his cutter and 82.1 mph with his slider, down from his season averages of 94.8 mph and 86.4 mph, respectively. Hopefully that's just the product of the less than ideal conditions — it was rainy and cold as hell — and not something worse.
The Trumbo homer ended Pineda's night and season. He finishes with a 4.82 ERA (3.79 FIP) — second straight season his ERA was a full run higher than his FIP — in a career high 175.2 innings. The good news: Pineda leads all qualified AL starters with a 10.61 K/9 and is second with a 27.4 K%. The bad news: He's the sixth pitcher in history with 200+ strikeouts and a 4.80+ ERA. Joe Girardi called Pineda's season "mind-boggling" before the game. That about sums him up.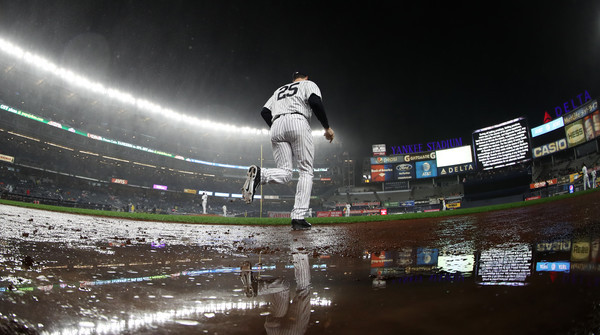 One Token Run
Not a whole lotta offense for the home team Friday night. The Yankees scored their one run in the fourth inning, on a walk (Chase Headley), a loud single (Brian McCann), and a sac fly (Mark Teixeira). Their only other hits were an infield single by Aaron Hicks in the fifth inning and a regular ol' singly by McCann in the ninth. Their only other baserunners were a first inning catcher's interference (Jacoby Ellsbury, of course) and a trio of walks (two by Hicks, one by Rob Refsnyder).
Once the Orioles blew the game open in the fifth inning, Girardi pulled all the regulars and the Yankees played the rest of the game with a Triple-A lineup. Here was the batting order after the sixth inning:
DH Brian McCann
1B Tyler Austin
2B Rob Refsnyder
RF Aaron Hicks
Billy Butler didn't even pinch-hit for McCann in the ninth, so props to Girardi for benching Butler these last few days. His at-bats are better used elsewhere. Anyway, the Yankees were eliminated from postseason contention Thursday night and it showed Friday. Not much fight in the offense in this one.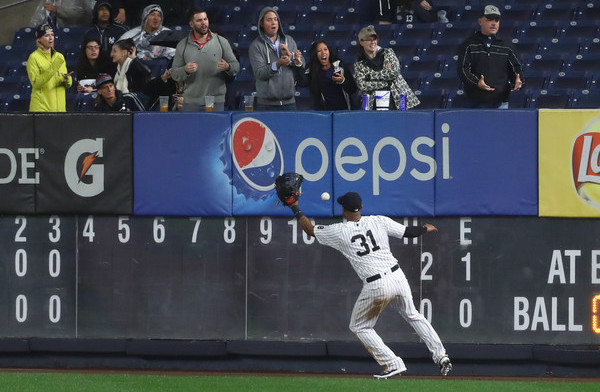 Leftovers
The multitude of relievers: James Pazos (two outs), Anthony Swarzak (six outs), Chasen Shreve (three outs), and Ben Heller (three outs). Pazos allowed three runs, all on Jonathan Schoop's homer. Shreve loaded the bases with no outs in the eighth and actually escaped without allowing a run. How about that? When Swarzak is your most effective pitcher, you know it's bad.
Gary Sanchez went 0-for-3 with a strikeout and is now in a 1-for-27 (.037) slump. The one was a home run, of course. Hey, a slump was bound to happen eventually. Sanchez is still hitting .298/.373/.662 (171 wRC+) on the season, which I can confirm is pretty excellent. Sock one more dinger before the season ends, will ya Gary?
Ellsbury's first inning catcher's interference was his 12th of the season, extending his own single-season record. The old record was eight by Roberto Kelly, so he didn't just break the record. He smashed it. There have been 39 catcher's interferences this season. Ellsbury has almost a third of them. Crazy.
Pineda's first strikeout of the game was the team's 1,371st of the season, establishing a new franchise record. The old record was set in 2014 and tied in 2015. Me thinks we're going to see a lot of strikeout records set in the future. That's where baseball is heading.
And finally, the Tigers are winning and the Blue Jays are losing as of this writing, so if the scores hold, the Orioles will sit in the top wildcard spot and the Blue Jays will be a game back. The Tigers will be a half-game back of Toronto. It would be so great if the Blue Jays miss the postseason after running their mouths earlier this week.
Box Score, WPA Graph & Standings
For the box score and updated standings, head on over to ESPN. MLB.com has the video highlights. Don't miss our Bullpen Workload and Announcer Standings pages. Here's the win probability graph:

Source: FanGraphs
Up Next
The Yankees and Orioles will play the second game of this season-ending three-game series Saturday afternoon. That's a 4pm ET start. Luis Severino, not Masahiro Tanaka, will be on the mound. The Yankees are understandably playing it safe and shutting down their ace after his minor forearm injury. Wade Miley will be on the mound for the O's. Check out RAB Tickets if you want to catch either of the final two games of the season live at Yankee Stadium. The winter's long, man. Go see baseball while you can.