The Yankees probably could have picked a better day to send out their postseason invoices. The bullpen melted down again in Wednesday night's 5-3 loss to the Orioles, who left little doubt they are far and away the better team. The Yankees are 7-10 since winning seven of their first eight games after the All-Star break.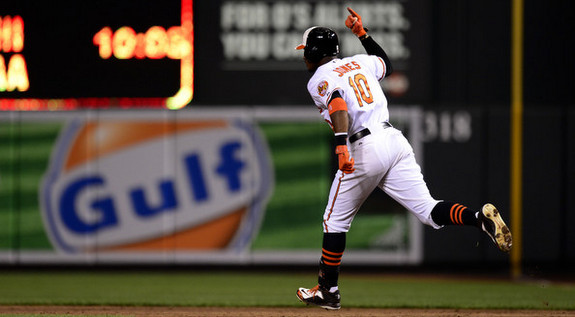 Meltdown
Desperate times call for desperate measures, and for the Yankees, that means going to Dellin Betances for three innings with a 2-1 lead. Betances allowed a leadoff single to start the sixth inning but cruised after that, striking out four of the next six batters to get the Yankees to the eighth inning with that 2-1 lead. He went back out for the eighth, recorded the first out on an infield pop-up, then served up a hanging curveball to Jonathan Schoop, who hammered it out to left for a wall-scraping game-tying solo homer. It just barely cleared the wall but that doesn't matter. They all count the same and the game was tied. Schoop has hit four of his eleven homers against the Yankees this year, by the way.
Betances was lifted immediately after the homer with his pitch count at 33. The Yankees have been scaling back on his workload in recent weeks — he had not thrown two full innings since before the All-Star break and only once did he throw more than 25 pitches in an outing since June 24th. I dunno, he didn't look tired to me, it just looked like he hung a breaking ball. It happens. In important games like this, you have to lean on your best players, and that includes going to Betances for three innings. I have no problem whatsoever with sending him back out for a third inning. It just didn't work out.
Anyway, once Betances was out of the game, Shawn Kelley came in to completely put it out of reach. He got a quick ground out to third for the second out of the inning, then Nick Markakis singled back up the middle, Chris Davis walked, and Adam Jones clobbered a go-ahead three-run homer. It wasn't a question of if the Orioles would score more runs after Schoop tied the game, just how many. Three was the answer on Wednesday. Apparently the game was important enough to use Betances for three innings but not important enough to use David Robertson at all. For the second straight game, the bullpen was unable to keep things close and let Baltimore run away with it late.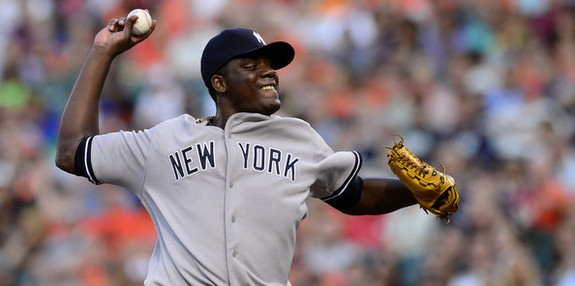 The Return of Big Mike
Michael Pineda's triumphant return to the rotation started with 12 straight outs. Only one of those outs came on a hard hit ball too. That was Davis' fly out to right field for the second out of the fourth inning. Pineda left a pitch up, Davis just got under it, and Martin Prado tracked it down and reeled it in with a perfectly timed leap at the warning track. That was it. Pineda was dominant through the first four innings, looking very much like the guy we saw back in April.
The fifth inning got a little bit messy. Nelson Cruz broke up the perfect game bid with a leadoff double when Pineda left a cutter up in the zone, putting him in the stretch for the first time all night. He retired Delmon Young on a ground out to third, but Steve Pearce went down and golfed a pitch into shallow left for a single to put runners on the corners. Cruz had to hold up to see if the ball was caught, so he only advanced to third. Ryan Flaherty drove him in with a sacrifice fly to center. Pineda got out of the jam with just one run thanks to Chase Headley's diving stop on Schoop's ground ball.
After throwing 72 pitches in his last minor league rehab start last week, Joe Girardi pulled Pineda after that fifth inning, with his pitch count at only 67. I thought it was the right move because he clearly started to labor during the long 22-pitch fifth, leaving a lot of pitches up in the zone in particular. Remember, he only made two rehab starts and wasn't stretched back out all the way. Pineda's velocity graph shows he was running out of gas too (via Brooks Baseball):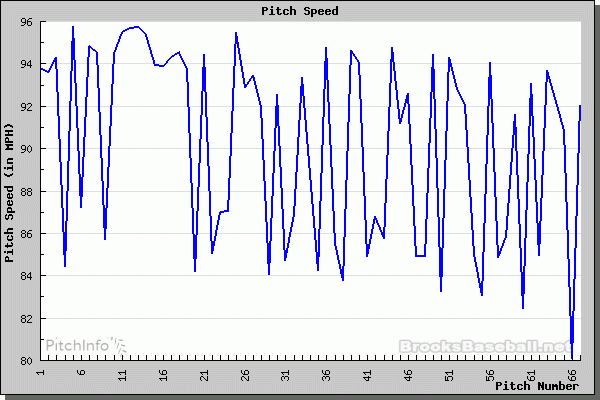 Like I said, Pineda started to labor and his stuff wasn't as crisp as it was earlier in the game. Given his history of shoulder problems, Girardi was right to play it safe and take him out after those five innings, especially since his bullpen was fresh and Thursday is an off-day. PitchFX says Pineda topped out at 95.3 mph with his fastball (averaged 93.8) and got five swings and misses, which is actually kinda low. First start in more than three months though. One run on two hits and no walks with four strikeouts in five innings is a pretty awesome first start back. Welcome back, Big Mike.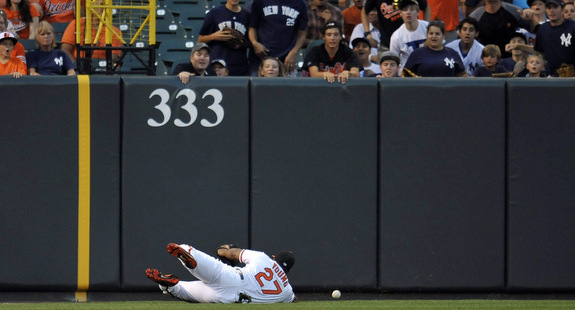 You'll Get Three Runs And Be Damn Thankful For It
The Yankees had base-runners in three of the first eight innings of the game. That's it. They plated two runs in the third inning on Frankie Cervelli's two-run homer — Chris Tillman hung the hell out of a 3-2 curveball — which came after Stephen Drew's leadoff double. It was nothing more than a fly ball to left field that Young couldn't run down. It actually hit off his glove too. An average defensive outfielder turns that into an out, no doubt in my mind. Drew (and the Yankees) got lucky, but hey, at this point he'll take whatever he can get.
One inning later, the Yankees put runners on the corners with two outs when Mark Teixeira and Headley dropped singles into right and left fields, respectively. Drew grounded out to second to end the threat. Cervelli drew a one-out walk in the eighth and stolen second base, but that's it. Brett Gardner and Derek Jeter both flew out to end the inning. Drew's double, Cervelli's homer and walk (and steal), and singles by Teixeira and Headley represented the only offense in the first eighth innings.
The Yankees did score a garbage time run in the ninth inning on Headley's ground out. Teixeira walked and Carlos Beltran doubled down the left field line with one out to bring the tying run to the plate. Headley's ground out was the second out of the inning, then Drew grounded out to end the game. The Yankees have scored more than three runs just once in their last six games. That was the ten-run aberration in the series-opening win over the Indians. The last game they won, coincidentally. This offense couldn't be any coming up any more small.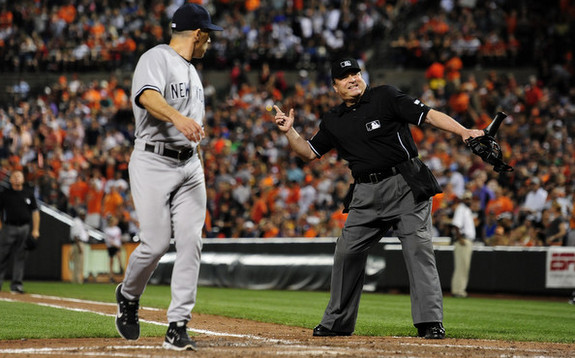 Leftovers
Girardi was ejected in the sixth inning when the umpires ruled Drew ran out of the baseline while running out a ground ball back in front of the plate. The ball was thrown wide of the bag and into right field, allowing Drew to go to second, but it didn't matter because of the call. It was awful. Drew stepped on the grass a few steps before the bag when the ball was already in the outfield. So dumb.
The top three hitters in the lineup went a combined 1-for-12. The only hit was Gardner's third inning single immediately after Cervelli's homer. Jeter banged into a 6-4-3 double play as the next batter to ensure the Yankees did not run the risk of scoring another run. Teixeira (single, walk) and Cervelli (homer, walk) were the only players to reach base twice.
Kelley has now allowed seven runs on five hits and three walks in 1.2 innings across his last three appearances. Betances and Robertson are the team's only trustworthy relievers right now. The bullpen is falling apart late in the season for the second straight year, I assume because they're burnt out from pitching so many important e innings from April through July.
Box Score, WPA Graph & Standings
Head over to MLB.com for the box score and video highlights. FanGraphs is where you can find some additional game stats. The up-to-date standings are at ESPN. The Yankees are now eight games back of the Orioles in the AL East — several members of the team said they were focusing on the second wildcard spot after the game — and as soon as the Tigers finish beating the Pirates, New York will be four games back of that second wildcard spot with three teams ahead of them. FanGraphs puts their postseason odds at 9.1% and that seems way too high.

Source: FanGraphs
Up Next
The Yankees are traveling tonight and will spend tomorrow's off-day in Tampa, at their home away from home. They open a three-game series with the Rays on Friday night. Brandon McCarthy and Alex Cobb will be the pitching matchup for the series opener.