By

Via George King: The Nationals do not have interest in either John Ryan Murphy or Austin Romine in the wake of Wilson Ramos' injury. Ramos had surgery to remove the hamate bone from his left wrist and will be out 4-5 weeks. Former Rays backstop Jose Lobaton will handle starting duties in the meantime.

Since Ramos is coming back relatively soon, Frankie Cervelli doesn't make much sense for Washington. He is out of options and can't go to the minors, and they already have two quality catchers in Ramos and Lobaton. The Nationals don't have any spare infielders to move for a catcher anyway. They insist they're going to hold onto Danny Espinosa. Oh well. · (7) ·
the series against the Astros did not go according to plan, but this weekend's series against the Blue Jays in Toronto figures to be much more exciting. Not only are the Yankees playing a division rival for the first time in 2014, but we're going to get our first regular season look at both Masahiro Tanaka and Michael Pineda as well. To say those two are important to the future of the franchise would be a massive understatement.
What Have They Done Lately?
Toronto opened their season with a four-game series against the Rays, which they split down in Tampa. As you know, they were a huge disappointment last season, finishing 74-88 with a -44 run differential. Tonight is their home opener.
Offense
On paper, few teams can match the powerful lineup the Jays trot out there each day. They only scored eleven runs in the four games against Tampa Bay, but don't let that fool you. They had a team 99 wRC+ and averaged 4.40 runs per game last season despite all their injuries, and they are returning almost all the same personnel. Toronto will be without Jose Reyes (114 wRC+ in 2013) this weekend. He's on the DL with another hamstring problem.
Manager John Gibbons has two elite right-handed power bats in his lineup. OF Jose Bautista (134 wRC+ in 2013/264 wRC+ in 2014) has been tearing the cover off the ball since the start of Spring Training, so he looks to be all the way back from his 2012 wrist surgery. 1B Edwin Encarnacion (145/-31) is a monster. Maybe the most underappreciated great hitter in baseball. I'm going to point out his 2013 stats again: 82 walks, 66 extra-base hits, 62 strikeouts. Pujolsian. DH Adam Lind (132/321) and OF Colby Rasmus (130/24) balance the lineup with some lefty pop.
With Reyes out, former Yankee OF Melky Cabrera (87/90) has been leading off while fellow former Yankee C Dioner Navarro (13/-4) bats fifth. 3B Brett Lawrie (94/-15) is still a maniac, and IF Ryan Goins (62/-100) and IF Maicer Izturis (63/285) have been splitting time at second base early on. SS Jonathan Diaz (-100/66) was called up to replace Reyes. OF Moises Sierra (125/-100) joins backups C Josh Thole (37/190) and C Erik Kratz (78/645). Yes, they're carrying three catchers. Thole is R.A. Dickey's personal catcher and I guess they want to keep Kratz around as well. Whatever. Remember, the wRC+ numbers for 2014 are tiny, tiny samples.
Pitching Matchups
Friday: RHP Masahiro Tanaka vs. RHP Dustin McGowan (Career vs. NYY) (Pitcher GIFs)
It has now been seven years since the 32-year-old McGowan put together that promising 2.3 bWAR season in 2007. Arm injuries have completely derailed his career, limiting him to only 205.1 total innings since that breakout year. He pitched to a 2.45 ERA (3.67 FIP) in 25.2 relief innings with strong peripherals — 9.12 K/9 (22.8 K%), 4.21 BB/9 (10.5 BB%), and 46.6% grounders — during his return to the mound late last year, and this spring he managed to win a rotation spot. Even after all the injuries, McGowan sat in the mid-90s with his fastball in 2014, though I would think he'll lose a little with the move into the rotation. A mid-80s slider and mid-80s changeup are his two secondary pitches. Given all the time he's missed, it's tough to know what to expect out of McGowan as a starter. I'm not sure how much help previous experience against him will be for the team's hitters.
Saturday: RHP Michael Pineda vs. RHP R.A. Dickey (Career vs. NYY) (Pitcher GIFs)
Dickey, 39, had a solid but disappointing debut season with Toronto. Disappointing because he was the reigning NL Cy Young award winner. He threw 224.2 innings of 4.21 ERA (4.58 FIP) ball, with a good walk rate (2.84 BB/9 and 7.5 BB%) but mediocre strikeout (7.09 K/9 and 18.8 K%) and ground ball (40.3%) numbers. Lefties (.339 wOBA) hit him quite a bit harder than righties (.298 wOBA). Dickey is a knuckleballer as you know, though he apparently dropped the harder low-80s version he threw with the Mets, sticking with the softer mid-70s version exclusively. He throws the knuckler roughly nine out of every ten pitches. His show-me fastball hums in right around 80 mph. The Rays roughed Dickey up on Opening Day, scoring six runs on five hits and six walks (four strikeouts).
Sunday: LHP CC Sabathia vs. RHP Drew Hutchinson (Career vs. NYY) (Pitcher GIFs)
McGowan is the not the only guy in the rotation coming back from major injury. Hutchison, 23, made eleven mostly ineffective starts in 2012 (4.60 ERA and 4.48 FIP) before blowing out his elbow and needing Tommy John surgery. His strikeout (7.52 K/9 and 19.1 K%), walk (3.07 BB/9 and 7.8 BB%), and ground ball (44.6%) rates were alright before the injury. Hutchison did not pitch in the big leagues at all last season and he only threw 35.1 rehab innings in the minors. And yet, he won a rotation spot in camp. A low-90s fastball is his bread and butter and he throws it a ton, more than 70% of the time. Mid-80s sliders and changeups round out the repertoire. As with McGowan, it's unclear what Hutchison brings to the table post surgery.
Bullpen Status
The Blue Jays are without closer RHP Casey Janssen (2.74 FIP in 2013), who is nursing a shoulder problem. RHP Sergio Santos (1.84 FIP in 2013/2.96 FIP in 2014) and LHP Brett Cecil (2.88/-3.04) are in a closer platoon for the time being. RHP Steve Delabar (2.72/2.96) handles most setup situations.
RHP Esmil Rogers (4.73/7.87) and RHP Jeremy Jeffress (3.43/7.68) both pitched yesterday and threw quite a bit of pitches (41 and 29, respectively), so they're probably unavailable for tonight's game. LHP Aaron Loup (3.32/1.76) is a really good middle innings lefty specialist. RHP Todd Redmond (4.40 FIP in 2013) is the long man and he has not yet appeared in a game this season.
The Yankees used all of their relievers in the series against the Astros — only Shawn Kelley pitches twice — so everyone has gotten into a game and no one has been sitting around for a week waiting to a pitch. Check out our Bullpen Workload page for all the specific reliever usage details. For the latest and greatest on the Blue Jays, I recommend Drunk Jays Fans.
Six questions in this week's mailbag, so you know what that means: six answers. Use the Submit A Tip box in the sidebar to send us anything throughout the week.
Pete asks: Wilson Ramos is hurt again. Would a trade of either John Ryan Murphy or Austin Romine for Drew Storen or Tyler Clippard work?
I really doubt the Nationals, who have World Series aspirations, would trade on of their ace setup men for a catching prospect who will only be a backup to Jose Lobaton while Ramos is out. If you're going to shoot that high, I'd ask for Danny Espinosa instead. I'm confident the Yankees can cobble together a quality bullpen from internal options — Clippard or Storen, both of whom the Yankees drafted once upon a time, would obviously help though — but the infield cupboard is bare. You're ambitious, The Yankees would have to add major sweeter to the pot to build a trade for one of those two righties around Murphy or especially Romine.
Jonathan asks: Dellin Betances has looked great out of the bullpen in ST and in the opener. Is the door closed to him ever competing for a spot in the rotation in the future?
I don't think he'll ever start another game in his career. The Yankees stuck it out and tried to make it work with Betances as a starter for a long time, but it never took. He's had a lot of success in his relatively short time as a reliever and considering that he looked like a lost cause as recently as last April, I'd leave him right where he is and be happy he's contributing. Betances has said the move to the bullpen helped him because it simplified things, remember. No need to get cute and try to make him a starter again.
Cory asks: Would it surprise you at all if any one of the starting five ended up being the best pitcher of the group this year? Or the worst? There's a lot to be excited and worried about.
I would be surprised if Hiroki Kuroda ended up being the worst pitcher in the rotation, but that's about it. The starting staff is very boom or bust in my opinion. It could be excellent, legitimately one of the best in the game, but there's also a ton that could go wrong and make it one of the worst. The end result will probably be somewhere in the middle. Some things go right, some things go wrong. Such is life.
Anonymous asks: Let's say the Yankees find some luck and have some of their minor league players come up and have success. Being that they broke their policy and signed Brett Gardner to an extension this year, do you see them signing more of their homegrown players to extensions that seem to be the norm around the league now?
Yes, definitely. Cashman confirmed the "no extensions" policy was a thing of the past after the Gardner deal and it has to be. The game has changed and keeping your own players is incredibly important. Relying on free agency to build your roster year after year won't work like it did back in the day, when star players were available every winter. Heck, forget star players, even solid regulars are hard to find these days. Whenever the Yankees have another young player worthy of an extension (Ivan Nova? Michael Pineda?), I'm sure they will explore signing him long-term.
Warren asks: Thoughts on the Mike Trout deal? My initial reaction is seriously? How did he give up that much money especially in light of what Miguel Cabrera just got paid?
I thought it was fair for both sides. Maybe he left a couple bucks on the table, but he is still a player under team control with little leverage. He was going to be with the Angels the next four seasons no matter what. Cabrera was much closer to free agency when he signed his (crazy) deal the other week. Sure, Trout could have asked for ten years and $300M, but I'm not sure he would have gotten it. The Angels might not be in a position to make that sort of commitment right now. Trout has his generational long-term security and he still gets to hit free agency at 29. The Halos have the prime years of the best player in the world under contract. Seems pretty great for both sides.
Anonymous asks: (Regarding last week's mailbag question about Derek Jeter's best teammates) I'd like to see this with best single season WAR during this era. Obviously Ryan remains on the bench. Do other positions change?
So I put together that teammate team for Jeter last week using bWAR accumulated during his career as a full-time player, so 1996 through 2013. Instead of using total WAR — I'm using bWAR because it's easy to search and it's perfect for a fun, quick-and-dirty exercise like this — we'll now use single season bWAR. So the best season by a Yankees catcher during Jeter's career, the best season by a first baseman, so on and so forth. My only playing time criteria is that the player played at least 50% of his games at whatever position in a given season.
Here's the single-season bWAR team. Click on the links for the full results at each position:
Ryan doesn't make the bench because Nix simply had more at-bats with the team last year and accumulated more WAR in pinstripes. Nix had 1.2 bWAR during his two years with the team but he played more games at third base (70) than shortstop (66), which is why I took Ryan as my backup shortstop on the other team. Got it? Good.
The shortstop for this team would be 1999 Jeter (8.0 bWAR), which isn't very surprising. We could have taken 2005 A-Rod at third base instead of 2007 A-Rod since he had 9.4 bWAR both years, but yeah, I'm taking the guy who hit 54 homers, not the chump who only hit 48. Giambi actually had the best DH season (2.8 bWAR in 2006), but I didn't want to use him at two positions. If I were to use the same player multiple times, there would be two Mussinas in the rotation plus pretty much the entire bullpen would be Mo. I also pick actually bench/part-time players for the bench.
Anyway, that team is pretty stacked. Granderson is the worst regular position player (by bWAR) and he hit .262/.364/.552 (142 OPS+) with 41 homers during that 2011 season. The gap between the top three reliever seasons and everyone else is pretty big — there were several Rivera seasons in the 3.something bWAR range — but it's not surprising considering how dominant those three were in those years. The gap between 2002 Giambi the next best first baseman (2009 Mark Teixeira) is almost two full wins. That's nuts. Then again, Giambi was a monster that year. What a team that is.
Well, it took a little longer than we all would have liked, but the Yankees won their first game of 2014 on Thursday. They avoided what would have been a pretty embarrassing sweep with a 4-2 win over the Astros. It wasn't the easiest win in the world, but a win is a win and they needed it.
The First Lead of 2014
The first two games of this series were so ugly that, not only did the Yankees never hold a lead, but they were trailing after every single inning. The Astros scored in the first inning in the first two games and they did it again on Thursday, pushing a run across on a rookie mistake. More on that later. It looked like we were all in for more of the same after that early run.
Thankfully, it all changed in the third inning, when the Yankees put together an extended rally to score two runs and take their first lead of the season. Brian Roberts flew out on the first pitch to start the inning, but after that they had a six-pitch at-bat (Ichiro Suzuki single), a five-pitch at-bat (Yangervis Solarte single), a two-pitch at-bat (Brett Gardner single to score Ichiro), an eight-pitch at-bat (Derek Jeter walk), and a four-pitch at-bat (Carlos Beltran sac fly to score Solarte). They fouled off five of eleven two-strike pitches to extend at-bats. Excellent little rally full of … dare I say … professional at-bats.
The Yankees scored their third run in the fifth inning, but that one was a little more straight forward. Solarte doubled on a ball just out of the reach of a diving Robbie Grossman, then Jeter singled him in on a Jeterian hit to right. The same base hit to right we've been watching since 1996. The throw home was cut off and Jeter was tagged out between first and second, so the inning was over right after the run scored. Hey, it counted. that's all that matters.
Bend, Bend, Bend Some More, But Never Break
Thursday's start was a real grind for Ivan Nova. He simply had no idea where anything was going. Not his fastball and certainly not his curveball. Only eleven of the 24 curves he threw were strikes (swinging or otherwise) and only 47 of his 88 pitches were strikes overall. Only 53%. Nova wasn't missing just off the plate either. He was bouncing 55-footers, missing a mile outside, way up out of the zone, all over the place really. Tough battle for him.
And yet, Nova held the Astros to two runs on six hits and five walks in 5.2 innings. He only struck out one against the five walks, giving you an idea of how tough this outing was. One of those two runs scored in the first, when Solarte made a rookie mistake by going for the 5-4-3 double play with the bases loaded rather than throwing home for the force out and potential 5-2-3 double play. Nova limited the damage that inning by getting a double play with his sinker, something he did all game. He got four ground ball double plays in his five full innings, two of which ended innings with multiple runners on base.
This was the kind of start that, a year or two ago, would have snowballed out of control on Nova. That ability to get by when nothing is working is what separates the promising youngsters from the bonafide big leaguers. Sure, a better offense might have crushed Nova given his control problems, but he doesn't get to pick his opponent or the days when everything is working. This was an Andy Pettitte-esque outing for Ivan. A total grind, but he kept it together and didn't let things get out of hand. Well done.
The New Bullpen
Mariano Rivera is gone. So are Boone Logan and Joba Chamberlain. Aside from David Robertson in the ninth inning, the Yankees came into the year with no clearly defined roles in the bullpen, and that's not necessarily a bad thing. We saw Dellin Betances and Vidal Nuno pitch when they were losing big on Tuesday, David Phelps when the game was a little closer on Wednesday, and a completely different crop of pitchers on Thursday.
Nova left a runner on first base when he exited the game with two outs in the sixth, giving way to Adam Warren. Warren struck out the next batter on three pitches, then tacked on a scoreless seventh inning as well. He faced four batters, got two strikeouts, one weak ground ball back to himself, and a weak infield pop-up. Only needed 14 pitches too. I've been curious to see what Warren could do in a short relief role for a while now, and he did not disappoint on Thursday. He could be a real middle innings weapon.
As expected, Shawn Kelley took over Robertson's old role as the eighth inning setup man. He got lucky when Jose Altuve ripped a line drive right at Solarte, but otherwise he struck out the next two batters without much issue. I was a little surprised when Joe Girardi didn't bring in Matt Thornton to get the left-handed Marc Krauss, not that I thought he should have. Just seemed like a move he'd make. Robertson, in his first official save chance as the team's closer, retired the side in order in the ninth on a fly ball, a strikeout, and weak ground ball back to himself. He threw only 13 pitches. Piece of cake.
Solarte Partay
How about that for your first big league start? Solarte made a mistake by not throwing home in the first inning, but otherwise he had an outstanding game. His first career hit was a ground ball single up the middle, his second a bloop hustle double in front of Grossman, his third an infield pop-up that fell between the infielders. He also drew his first career walk in the ninth inning. If the Astros were a better defensive team, he could have easily gone 0-for-3. Instead, Solarte went 3-for-3 with a walk, a run driven in, and two runs scored in his first career start. Not a bad day at the office.
Leftovers
The four through seven hitters went a combined 0-for-15 with a walk (Roberts) and three strikeouts, all by Frankie Cervelli. Not a good night for those guys. Alfonso Soriano went 0-for-4 and is still hitless on the season, but he did hit two line drives right at infielders. He ran into a little bad luck on Thursday. Hopefully he's starting to come out of it.
Gardner and Jeter both went 1-for-3 with a walk and a run driven in, seeing a combined 37 pitches from the top two spots in the lineup. Ichiro went 2-for-4 with a double and deserves some props for scoring a big insurance run from second on Solarte's infield pop-up single. He put his head down and ran hard the whole way. I'm really hoping he pulls a 1996-98 Tim Raines this year, the former star who becomes a kick ass part-timer.
There was a three or four-minute delay with two outs in the top of the ninth because the umpires lost track of the count and went to the new replay system to review it. I guess that's reviewable? Seems weird. Since it happened in the seventh inning or later, the umpires can go to the review on their own, without a challenge from the manager. They confirmed the count was 3-1 and one pitch later, Solarte walked.
Jacoby Ellsbury replaced Soriano for defense in the late innings, just in case you were worried he did not start because his calf was bothering him. He took over in center and Gardner slid over to left, so their outfield for the last six defensive outs was Gardner, Ellsbury, and Ichiro. That's a pretty excellent defensive outfield right there.
The Yankees still have not hit a homerun this year, by the way. The last time they started the season with three straight homerless games with 1998, and the last time they went four or more games without a dinger to start a season was 1990. They hit a homer on Opening Day every year from 1999-2012. Am I the only one amazed by that?
Box Score, WPA Graph & Standings
MLB.com has the box score and video highlights, FanGraphs some additional stats, and ESPN the updated standings.

Source: FanGraphs
Up Next
The Yankees are off to Toronto for a three-game weekend series against the Blue Jays. Masahiro Tanaka will make his long-awaiting debut in the opener on Friday night, which has been pushed back from 7pm to 7:30pm ET for whatever reason. I guess it has to do with the pregame ceremonies. Righty Dustin McGowan will be on the bump for the Jays. Can't wait for Tanaka, you guys.
Sure, the Yankees opened their season in Tuesday, but now the 2014 season is officially underway. The minor league season started today and all four of the team's full season minor league affiliates were in action. Here are some quick notes before we get to the games.
RHP Jose Ramirez (oblique), UTIL Ronnie Mustelier (hamstring), 1B Greg Bird (back), LHP Nik Turley (arm), and RHP Jose Campos (being eased back in) are among those opening the year on the DL. Slade Heathcott (knee) and OF Tyler Austin (wrist) are working their way back after being slowed in camp, like Bird and Campos. They should join their teams soon.
Following today's starter, LHP Manny Banuelos, the High-A Tampa rotation will be LHP Eric Wooten, RHP Rafael DePaula, LHP Daniel Camarena, and RHP Brett Gerritse. Wooten is a former independent baller who had 88 strikeouts, nine walks, and one homer allowed in 90 innings at three levels last season. The rotations for the other levels can be found right here. [Josh Norris]
Here is Baseball America's minor league roster analysis for the AL East, if you're interested.
Since it's Opening Day, here are the full lineups and results.
Triple-A Scranton (4-1 win over Syracuse)
2B Jose Pirela: 1-4, 1 R, 2 K, 1 E (fielding) — led off the game with the team's first hit of 2014
3B Scott Sizemore: 3-3, 1 R, 1 BB — can opt-out of his deal on May 1st
LF Zoilo Almonte: 0-4 — drove in the first run of the year with a GIDP
1B Russ Canzler: 2-4, 1 R, 2 2B, 1 RBI — he always mashes at Triple-A
C John Ryan Murphy: 0-4 — threw out the only runner who attempted a steal … as expected, he'll get the majority of the playing time behind the plate.
CF Adonis Garcia: 0-4
RF Ramon Flores: 2-4, 1 3B, 1 RBI, 1 K — threw a runner out at home … very nice Triple-A debut
DH Austin Romine: 0-4
SS Zelous Wheeler: 2-4, 1 R, 1 2B, 1 K — was drafted as a shortstop and has played a handful of games there each year, so it's not an entirely new experience to him … SS Carmen Angelini replaced him for defense in the ninth
RHP Bruce Billings: 5 IP, 7 H, 1 R, 1 ER, 1 BB, 3 K, 6/4 GB/FB — picked a runner off first … 53 of 82 pitches were strikes (65%)
RHP Preston Claiborne: 1 IP, 1 H, 0 R, 0 ER, 0 BB, 1 K, 0/1 GB/FB — eight of 15 pitches were strikes (53%)
RHP Danny Burawa: 1 IP, zeroes, 2 K, 0/1 GB/FB — 13 of 17 pitches were strikes (76%) … if he continues to throw pitches like this, he'll be in the big leagues later this year
RHP Mark Montgomery: 1 IP, zeroes, 1/2 GB/FB — eight of 14 pitches were strikes (57%)
RHP Matt Daley: 1 IP, zeroes, 3 K — nine of 13 pitches were strikes (69%) … caps off an excellent day for the bullpen
The Astros have been baseball's worst team for three straight years and there's little reason to think they will be substantially better in 2014. And yet, they are on the verge of sweeping the big bad Yankees. Everyone outside New York is loving this. The Yankees can't worry about any of that though. They just need to grab a win tonight to avoid the sweep and a disappointing post-game flight up to Toronto.
The lineup has a new look tonight, though nothing crazy and it's not a response to the last two games. Brian McCann is sitting against the lefty Brett Oberholtzer, and so are Kelly Johnson and Jacoby Ellsbury. Ellsbury is fine, it's just a scheduled day off as they look to keep him healthy following his little calf problem late in camp. With three games on the Rogers Centre turf coming up, sitting him tonight isn't a bad idea. It's too early in the season to push guys physically. Here is the Astros' lineup and here is Joe Girardi's starting lineup:
It's hot and humid in Houston, though not as hot as the last few days. It's also been raining on and off for most of the day, but again, Minute Maid Park has a retractable roof. They're playing tonight no matter what. First pitch is scheduled for 8:10pm ET (/shakes fist) and you can watch the game on YES. Try to enjoy.
By

Baseball America published their updated farm system rankings yesterday (subs. req'd), which were topped by the Pirates. Even with RHP Gerrit Cole graduated to MLB, they still have a pretty stacked system. The Red Sox and Twins round out the top three while the Brewers and Angels predictably rank 29th and 30th, respectively. They never seem to have good farm systems.

The Yankees rank 13th, though that is because Baseball America considers RHP Masahiro Tanaka a prospect. Both Keith Law (#20) and Baseball Prospectus (#23) ranked them lower without Tanaka, understandably. "[Tanaka's] acquisition masks a down year from the system last year at the upper levels. New York's volume approach internationally, plus three first-rounders in a potentially strong 2013 draft, infused talent to the lower levels," said the write-up, which also listed RHP Bryan Mitchell as a sleeper. The minor league season begins today. · (16) ·
The start of the season has a way of magnifying things. We can't help it. We've been baseball starved for months and while Spring Training is fun in its own way, it can't compare to meaningful games. Once the season starts and we see new faces in new uniforms, we get excited and look at things a little too deeply. I did it just this morning. If that CC Sabathia start happens any other day of the year, I probably wouldn't think twice about it.
That same idea applies to the offense. The Yankees haven't hit a lick these last two days, especially against Astros starters Scott Feldman and Jarred Cosart (combined 11.2 IP, 6 H, 0 R, 2 BB, 6 K). New York's offense went 0-for-10 with runners in scoring position last night and 2-for-8 in those spots on Opening Day. Few things are are frustrating as stranding runners. The much-hyped outfield is hitting a combined .103 with a .212 OBP while the oft-criticized infield has hit .278 with a .350 OBP. Up is down, black is white, nothing makes sense anymore.
That's because the season is two games old. The Yankees as a team have had 73 plate appearances so far. That's a small amount for a single player, nevermind an entire team. If these last two games happened in the middle of June — and trust me, they'll stop hitting for a few games several times this year, that's baseball — we'd notice but not think much about it. Because it's the start of the season, it's a Really Big Deal.
"We're going to be fine, man. We haven't been able to put anything together offensively, but we have what it takes to play better and win ballgames. We don't need to worry about it," said Carlos Beltran to Mark Feinsand after last night's game. "That's part of when a team is cold. Sometimes you put a few guys in scoring position and you have difficulties getting those guys in. It's just the second game of the season. It's important to win and every win counts, but we've had good pitching from them, so you have to give credit for what they've been doing."
I mean, of course there's a chance the Yankees really do stink offensively despite all the new additions. That's always possibility but I find it very hard to believe. Jacoby Ellsbury (calf) and Alfonso Soriano (flu, shoulder) were behind the other position players in camp because of injuries, Mark Teixeira (wrist) and Derek Jeter (legs) are coming back from lost seasons, so it's no surprise they look rusty. The offense has positively stunk these last two games, but it has been just that, two games. It's annoying but hardly a cause for concern at this point.
The Yankees designated Eduardo Nunez for assignment on Tuesday, giving them ten days to trade him, release him, or slip him through waivers. That is down to eight days now, and considering the waiver process takes three days, it's really more like five days. This situation could be resolved before the start of next week.
According to Marly Rivera, the Astros and Mariners* are among the teams with interest in Nunez. The middle infield bar is pretty low around the league right now, especially at shortstop, so I figured there would be some interest. That the Yankees couldn't work out a trade before designating him suggests interest isn't that high though. For what it's worth, George King hears Nunez is expected to wind up elsewhere, either through a trade or waivers.
* As you surely remember, the Mariners wanted Nunez as part of the failed Cliff Lee trade a few years ago, so their interest now is not surprising.
Since he's been designated for assignment, Nunez has pretty much zero trade value. He had very little trade value before being removed from the 40-man roster, but this clinches it. The Yankees forced their own hand with the move and other teams know they have to move him. That's the way the DFA game has been and always will be. If they were to ship him to the Astros or Mariners, the likely return would be a nondescript non-40-man minor leaguer, cash, or a player to be named later. Don't get your hopes up.
Nunez, 26, has hit .267/.313/.379 (86 wRC+) in parts of four seasons, in a league where the average shortstop put up a … wait for it … 86 wRC+ from 2010-13. His offense isn't the problem, especially since he can steal bases on top of the league average-ish production. The issue has been and always be his defense, which hasn't improved after years and years of work. This has been a career long problem and his career started in 2005.
The Yankees are short on shortstops right now, especially with Brendan Ryan hurt. Derek Jeter appears to be healthy and is moving fine in the field, but at age 39, he's not someone who can play the position day after day. Joe Girardi's going to mix in some DH days every once in a while. He has to. Dean Anna is the backup shortstop, Yangervis Solarte the emergency backup, and the Triple-A starter is Carmen Angelini according to Chad Jennings. (Addison Maruszak was released yesterday according to Donnie Collins.) The 25-year-old Angelini had a 73 wRC+ at Double-A Trenton last year, so yeah.
Even though his defense is nightmarish, it wouldn't be the worst thing in the world if Nunez slipped through waivers and went to Triple-A (he can't elect free agency since it would be his first outright assignment), at least until Ryan returns. The Astros and Mariners and whoever else probably won't give up anything of value for him in a trade, so keeping Nunez around as an emergency backup plan is better than losing him for nothing. Especially with no shortstop at Triple-A. If he doesn't stick around, they'll have to find someone just like him to stash in the minors.
The Yankees dropped their season-opener to the Astros on Tuesday for more than a few reasons, including a rebuilt offense that didn't show up until about the seventh inning. CC Sabathia shoulders most of the blame because he was awful, allowing six runs in six innings. Doesn't matter who you're playing, climbing out of a 6-0 hole is tough for any lineup.
That game really was a tale of two Sabathias. He was abysmal in those first two innings, allowing all six runs on six hits, including two homers and two doubles. Over his final four innings, Sabathia kept Houston off the board and held them to a walk and two singles, one of which didn't leave the infield. Five of his six strikeouts came in those final four innings and only one of the 14 batters he faced after the second hit the ball in the air. Sabathia was terrible the first two innings and pretty damn good the final four.
As I mentioned yesterday, the mid-start turn-around was so drastic that you have to think some kind of adjustment was made. Maybe Sabathia did it on his own, maybe pitching coach Larry Rothschild pointed something out, maybe it was Brian McCann. We've seen CC struggle early in a start before figuring it out before, so Opening Day wasn't that unique, but it was especially noticeable on Tuesday. For what it's worth, Sabathia chalked it up to adrenaline.
"It got out of hand early," said CC to Chad Jennings after the game. "That's been the toughest thing for me. I do get so excited. I feel like I'm a kid again. I would sleep in my uniform if I could the night before Opening Day. I think it's just the nervousness, the jitters, wanting to start the season off good so bad, I end up pitching bad."
It's very possible Sabathia's adjustment was simply calming down, but whatever it was, it should show up in the results somewhere. His velocity held steady all game — his fastball averaged 89.7 mph on Tuesday, down from 90.3 mph on Opening Day last year — and while Sabathia said he starting throwing his new cutter in the later innings, PitchFX didn't pick any up. Maybe the system is broke, maybe the cutting action was so big they were classified as sliders. Who knows?
Whenever Sabathia struggles, it seems like it's because he misses his location. That sounds obvious, I know. Sure, he gives up the occasional hit on a pitcher's pitch like everyone else, but the Astros punished him early because he was missing out over the plate. I'm going to point this out again: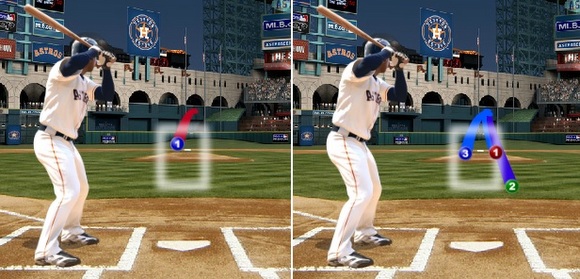 Those are the homers by Jesus Guzman (left) and L.J. Hoes (right). Dexter Fowler swatted a similar pitch to center, leading off the game with a double. Belt high offerings right out over the plate. That's no way to pitch.
So did Sabathia's location improve in innings three through six? To the PitchFX data: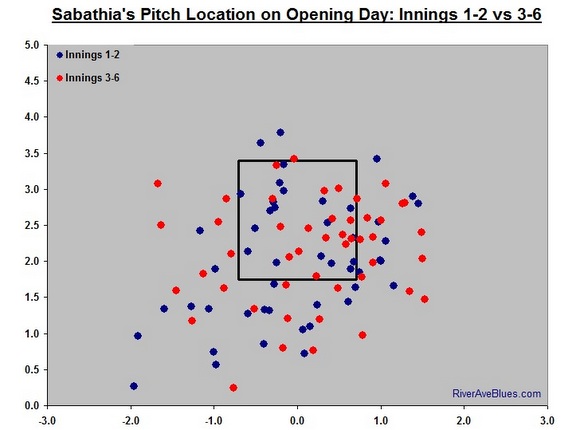 Just to be clear, that is looking from the catcher's perspective.
I was hoping there would be a big blob of blue pitches over the middle of the pitches and a bunch of red on the edges, but no dice. That would have been cool. Sabathia threw 99 pitches in the start, including 50 in the first two innings and 49 in the final four, so the sample is split right down the middle. That's convenient. There are two things going on in this graph that I want to look at specifically, so let's make life easy: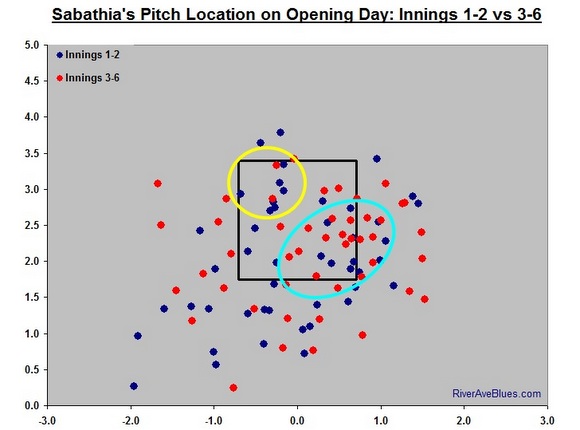 Like I said, two things I want to look at, hence the colored ovals. To the details:
Yellow Oval: The Astros had eight right-handed or switch hitters in the lineup, so these pitches are more or less in the wheelhouse. Belt high and right out over the plate. Sabathia threw seven pitches in this general area in the first two innings, resulting in the two homers, Fowler's double, Jason Castro's run-scoring fielder's choice, a foul ball, a called strike, and a swing and a miss. In innings three through six, he threw only two pitches in this area, getting a foul ball and a swing and miss. If you want to count that one extra pitch at the top of the zone that's hiding under the yellow oval, that's another swing and miss. So yes, Sabathia did a better job of staying out of the danger zone in those final four innings.
Blue Oval (or cyan, whatever): I'm not going to count pitches and look at individual results here. I'm pointing this part of the strike zone out because it's the outer half of the plate and generally the bottom half of the zone. With those eight righty bats in the lineup, that where you'd want a left-hander to pitch, down and away. Sabathia didn't throw too many pitches down there in the first two innings — he was really all over the place in those two innings, geez — but he did a much better job of locating the ball down and away in his final four innings. Getting the ball out of the wheelhouse and instead burying it down there is a surefire way to improve performance.
Location is very important but it is just one piece of the pitching pie. I also want to look at whether Sabathia changed up his pitch mix as the game progressed, so here's the breakdown:
| | Batters Faced | 1st Pitch FB | FB% | CH% | SL% |
| --- | --- | --- | --- | --- | --- |
| Innings 1-2 | 13 | 6 | 40.0% | 24.0% | 36.0% |
| Innings 3-6 | 14 | 9 | 55.1% | 20.4% | 24.5% |
That is … the exact opposite of what I expected. I thought Sabathia would have thrown fewer fastballs and particularly fewer first-pitch fastballs in those last four innings. Instead, he threw more fastballs than he did earlier in the game. He really pounded the zone with his heater late. Very surprising, at least to me. I guess he just got into a groove and was better able to drive the ball down and away to all those righties.
At some point between the second and third innings, something happened that helped Sabathia better locate his pitches, particularly his fastball. The PitchFX data confirms this. We have Point A (innings 1-2) and Point B (innings 3-6), but no knowledge of Sabathia got there. Maybe he did just calm down. Maybe it really is that simple. I can't help but think some kind of mechanical adjustment was made, something that helped him get the ball down and get it on the outer half of the plate against righties.
"I just think it was a matter of relaxing. I didn't want to go out and overthrow and be all over the place, but I think backing off didn't help either so I got to find a place in the middle where I can pitch good," said Sabathia to Jennings and Jorge Castillo. "I've got 34, hopefully, more starts left. I'm definitely not going to pitch like I did tonight in the first two innings. I know I can pitch, and I know I can get guys out. I feel great. I'm not going to beat myself up about this."
Sabathia has always been super-accountable and when he struggled last year, he crushed himself after every start. Tuesday though? Eh, no big deal, I'll be fine. I wonder if that is a function of knowing the problem and knowing how to solve it. Sabathia stunk last year and he always seemed to be looking for a fix. There were no answers and he as clearly frustrated. This year, it seems like he knows what was wrong in those first two innings and knows the solution. He found it in the middle of the start. That he didn't tear into himself after the game may be an indication that is the case.
Let's not try to soften the blow here, Sabathia was terrible overall on Opening Day. He didn't give the Yankees much of a chance at all. That he turned it around literally between innings and settled down is encouraging. We don't know what changed, but something did. I guess there's always a chance nothing changed too. We are talking about the Astros. It's early in the season though and this is the time for optimism, so let's say he fixed something. Sabathia has a big test against the Blue Jays on Sunday, so we 'll get to see if whatever adjustment was make between the second and third innings on Tuesday is a sustainable formula for success.