Got nine questions in the mailbag this week. You can send us questions via the "For The Mailbag" form in the sidebar at any time. There's no confirmation page, I know, but your questions go through, trust me. It just looks like they don't.
Owen asks: What do you think the Yankees chances are of singing Howie Kendrick to a deal in the upcoming off-season? He seems to fit the Yankees needs and current free agent policies fairly well; that is, he plays a position that the Yankees will need filled (I don't believe in Rob Refsnyder's defense), and he's the kind of guy who can be had for a somewhat large annual salary but without a long term commitment attached to it. What do you think a Kendrick deal would look like? Maybe 5 years 100M? I'd be on board.
Aside from the Robinson Cano outlier, the largest free agent contract given to a second baseman the last six years is the four-year, $30.25M deal the Royals gave Omar Infante last winter. Kendrick should clear that easily, I'm just not sure by how much. Five years and $100M seems like an awful lot for a guy on the wrong side of 30 who is consistently above-average but not truly great. That's basically Jose Reyes money and Reyes was way more dynamic when he hit the market.
Johnny Peralta and Chase Headley signed nearly identical four-year contracts worth $52M-ish the last two offseasons and I think Kendrick's in line for a bit more, but not a ton. Maybe he's a $16M a year player rather than a $13M a year player like those two. Four years and $64M? I don't think I would be comfortable offering more than that to a guy who turns 32 in July and is trending downward defensively.
Now, that said, yeah I think the Yankees would look into signing Kendrick and he would be a really great fit for the lineup if he continues to produce like he has the last few years. They could definitely use another high contact righty bat. Kendrick is off to a great start this year (136 wRC+) and I think he'll finish the season close to his 2012-14 level (111 wRC+) when it's all said and done. Second basemen usually don't age all that well and Kendrick's best years are almost certainly behind him. Maybe he will get five years and $100M after all. I'm not sure I'd want to be on the hook for that though.
Dan asks: Why should I give guys like A-Rod and Nelson Cruz the benefit of the doubt when it comes to PED use? Cruz is having a career year in a pitchers park, past his prime; A-Rod last hit this well when he was 32 years old (he's 39 now). Am I just jaded?
You're free to give whoever you want the benefit of the doubt. Those two guys cheated, they got caught, and they don't deserve the benefit of the doubt as far as I'm concerned. That's just me. You're welcome to feel however you want about them. Heck, I've already seen articles saying A-Rod is probably on PEDs again and others saying he's clean. I'd like to think the testing system works and everyone's clean, but that's not the case and it never will be the case. That's just the way it is. It would be nice if players didn't cheat, yet they do and they always will as long as the sport exists.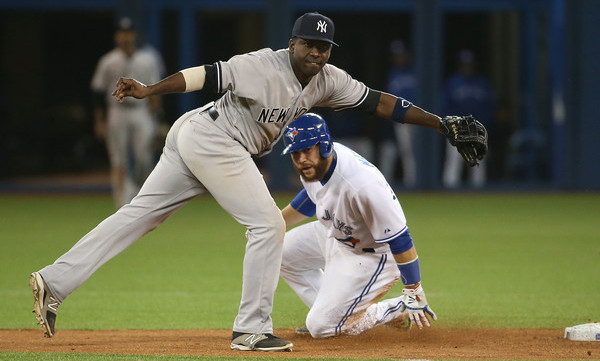 Ethan asks: I know a lot can happen between now and when he's healthy, but is it possible the team's stronger with Jose Pirela instead of Brendan Ryan? It seems like his offensive floor is almost certainly higher, and we've already got two people who can play SS.
Yes, I definitely agree with that. Ryan can't hit and his defense, while still solidly above-average, isn't what it was a few years ago. Pirela might be able to hit, we don't know that for sure yet, but most agree he'll never be much of a defender. Ryan isn't useless, the ability to play shortstop is a valuable skill. The Yankees already have what amounts to two defense first shortstops in Didi Gregorius and Stephen Drew though, and they don't need another. Pirela's a better fit for the Yankees. That said, I think the difference between the two will be relatively small given sparse playing time.
Mark asks: As would be expected, the duo of Drew and Gregorius have considerably more range than Derek Jeter and Brian Roberts. Chase Headley also has much more range than anyone they had at 3rd base last year … what is the percentage of ground balls that are making it through this infield compared to last year?
I agree the infield range is much improved this year. It's very obvious watching each night. I'm not sure ground balls are a great way to measure range though because, well, the Yankees kinda stink at shifting. Seems like they burned by it constantly. Here's how the club has fared at preventing ground balls from turning into hits this year compared to the last few years:
| | NYY GB BABIP | MLB GB BABIP |
| --- | --- | --- |
| 2015 | .251 | .239 |
| 2014 | .252 | .247 |
| 2013 | .255 | .240 |
| 2012 | .250 | .238 |
| 2011 | .250 | .237 |
Consistently worse than the league average, so yeah, they stink at shifts. (Despite the widespread use of the infield shift, more ground balls are not being turned into outs in 2015, both by the Yankees and by MLB in general. The shift is definitely hurting some specific hitters, but league-wide there has been no real change.) The Yankees are converting ground balls into outs at the same basic rate as the last few years, but again, I'm not sure that's a good measure of range. Positioning plays a huge role.
David asks: Who was the last pitcher to have more wins than walks over the course of a full season? I remember Curt Schilling accomplishing that at his peak. Think Pineda can do it this year?
More wins than walks has happened just four times in history among players who qualified for the ERA title. If we lower the innings minimum to 100 innings, it's still only happened five times in history. If we drop the innings minimum all together, the list is 67 names long. Lots of guys came up, pitched in one game, got the win without walking anyone, then didn't pitch again that season.
Here's the list of guys who had more wins than walks while throwing at least 100 innings, via Baseball-Reference:
Five times in history and just once in the last 96 (!) years. Crazy. Schilling is one of the greatest command pitchers in baseball history, but the closest he ever got was 2002, when he had 23 wins and 33 walks. Two pitchers are on pace to do the more wins than walks thing this year: Pineda (five wins, three walks) and ex-Yankee Bartolo Colon (six wins, one walk). My guess is neither gets there. It's way too hard to go a full season walking that few hitters. At some point they'll just have one of those days and walk four batters in a start, which will screw everything up.
Larry asks: Who was Roger Maris traded for when Yankees acquired him?
The Yankees acquired Maris from the Kansas City A's in December 1959 in a seven-player trade. Maris, IF Joe DeMaestri, and 1B Kent Hadley came to the Yankees in exchange for RHP Don Larsen, OF Hank Bauer, 1B/OF Norm Siebern, and 1B/OF Marv Throneberry. Maris, Larsen, and Siebern were the principles. Bauer was a big name near the end of his career while the others were extra players.
Bauer had some great years in pinstripes, but he was 37 at the time of the trade and would only play 138 games with the A's from 1960-61. Larsen threw his World Series perfect game at age 26 in 1956, but by 1959 he had a career 100 ERA+ in 1,049.2 innings. After the trade he had a 98 ERA+ in 498.1 innings from 1960-67. Siebern had some nice years in Kansas City, hitting .289/.381/.462 (126 OPS+) with 78 homers from 1960-63.
Maris was only 24 at the time, and was coming off a season in which he hit 16 homers and batted .273/.359/.464 (123 OPS+). He owned a career 107 OPS+ in three years at the time of the trade. Then, two years after the trade, he set the then-single-season home run record. Despite Siebern's production and the name recognition of Bauer and Larsen, the Yankees won this deal easily. Maris hit .265/.356/.515 (139 OPS+) in seven seasons with New York.
P.J. asks: I know it's early but who do you think on the Yankees stands the best chance to make the All-Star team, pitchers and position players?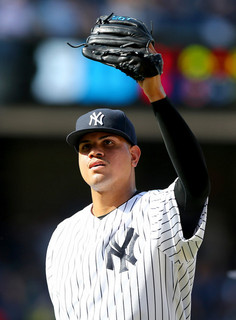 Five players jump to mind: Alex Rodriguez, Jacoby Ellsbury, Michael Pineda, Andrew Miller, and Dellin Betances. Brett Gardner's been awesome but the All-Star Game is a popularity contest and he's not popular enough. It is what it is. Mark Teixeira's been great too but I don't think he'll get in over Miguel Cabrera, Eric Hosmer, or Jose Abreu, barring injury.
Ellsbury, Pineda, Miller, and Betances are pretty self explanatory. Just remember, it's really hard for a non-closer reliever to get into the Midsummer Classic. Betances was the rare exception last year. A-Rod will be interesting, especially if the fans don't vote him in as the starting DH. (Do that!) Will the players and coaches vote in someone not many people seem to like even if his production warrants it? A-Rod's something of a pariah.
Adam asks: Is it too early to think that Chris Young might be a good qualifying offer candidate?
Oh no, he's definitely not. Young has been awesome, but the qualifying offer is expected to be in the $16M range this offseason, and he's not that kind of player. He'd accept the one-year, ~$16M offer in a heartbeat at this point of his career. Even if he kept up his current production all year. Young's a part-time player these days. A good one, but still a part-time player. No way the Yankees risk giving him a qualifying offer.
Young, Garrett Jones, Stephen Drew, and Chris Capuano are the team's notable free agents after the season, and none of them are qualifying offer candidates. Next year's crop of free agents includes Mark Teixeira, Carlos Beltran, Ivan Nova, Brendan Ryan, and Esmil Rogers. Nova is the only one of those guys who could be worth a qualifying offer, and even then he'd have to bounce back from Tommy John surgery exceptionally well. Unless they hit it big with a one-year contract guy next season, the Yankees don't have any extra draft picks coming their way anytime soon. Pineda's the next no doubt qualifying offer guy on the roster and he's three years from free agency.
Hank asks: Do you think A-Rod has a chance to get to 715 HR?
Yes I think he has a chance, albeit a small one. A-Rod is 52 homers away from passing Babe Ruth with his contract set to expire after the 2017 season. So he has two seasons and four and a half months to hit 52 homers. Keep in mind he hit only 41 homers from 2011-13 before getting suspended in 2014. Rodriguez has been mashing early this year, but will it last all summer? And into next year? And the year after that? For A-Rod to have a chance to pass Ruth and take over third place on the all-time list, he's going to have to hit a ton of dingers this season and make up as much ground as possible. I have to think his power will continue to fade in his early-40s.