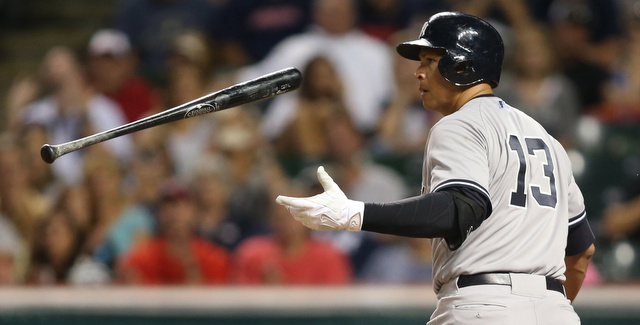 Over the last 12 games, the Yankees are averaging just 2.83 runs scored — that includes last night's eight-run outburst — which is down considerably from the pace they maintained in the first half of the season. The pitching staff has been great of late, they're allowing just 3.33 runs per game during that 12-game stretch, but the lack of offense has led to a 5-7 record. A big part of the offensive problems is Alex Rodriguez's worst slump of the season.
"I felt like (expletive) today. I felt terrible," said A-Rod to Brendan Kuty after going 0-for-3 with a walk and three strikeouts Sunday. "You know, you grind through it. Everyone is going to go through times like this. So it's going to be good to have a change of scenery and get back home."
A-Rod's slump conveniently started right at the beginning of the month: he's 7-for-53 (.132) with three doubles in August after ending July with a seven-game hitting streak, during which he went 11-for-27 (.407) with two doubles and four homers. This is also not the first time Alex has slumped his year — he went 5-for-37 (.135) during a ten-game span in April — but this slump is worth examining for more than a few reasons.
For starters, the Yankees have fallen in the standings the last two weeks or so primarily because of their offense. A-Rod, the No. 3 hitter, is a big reason why, and if he doesn't start hitting soon, chances are the Yankees will continue to slide in the standings. Secondly, we're deep into the season, and Alex is a 40-year-old with two surgically repaired hips who did not play last year. It's not unreasonable to suggest he may be wearing down, though he did tell Kuty "I actually feel fine" when asked about fatigue the other day.
When Rodriguez first returned in Spring Training, what stood out most to me was his plate discipline and still excellent knowledge of the strike zone. There was no rust there. A-Rod swung at strikes and spit on pitches out of the zone. Over the weekend in Toronto and last night against the Twins, he did not do that. He swung at some bad pitches out of the zone and looked lost. Here are Alex's swing tendencies this year:
| | O-Swing% | Z-Swing% | O-Contact% | Z-Contact% |
| --- | --- | --- | --- | --- |
| April thru July | 25.2% | 65.9% | 53.8% | 77.8% |
| August | 22.7% | 64.2% | 56.7% | 81.8% |
| AL Average | 30.4% | 63.9% | 64.0% | 87.3% |
Okay, so that was a bit unexpected. I figured A-Rod's swing rate on pitches out of the zone (O-Swing%) would be sky high during his August slump, but that's not the case. He's swung at fewer pitches out of the zone. We are talking about a small sample, however, so it's entirely possible Alex was ultra-disciplined earlier in the month and has taken to hacking at everything the last few days, skewing the numbers.
A-Rod's contact rates on pitches both in (Z-Contact%) and out (O-Contact%) of the strike zone have increased this month, so isn't swinging and missing more often either. Rodriguez has always been a guy who's swung and missed a bunch (he is fifth all-time in strikeouts, you know), so it wouldn't have been a surprise if his slump featured more empty swings. That's not the case, however.
More interesting is what's happened when A-Rod has made contact during his slump. He's struck out 15 times in 63 plate appearances this month, a 23.8% rate that is in line with his pre-August rate (21.1%). Alex has put 38 balls in play this month with only seven hits to show for it (.184 BABIP). I absolutely remember a few line drives finding gloves during the series in Cleveland and Toronto, but they were the exception, not the norm during this sump. The line drive outs stood out because they were so infrequent.
A low BABIP is not always bad luck. Rodriguez's quality of contact has gone down during the slump. He simply hasn't hit the ball as hard as he had the first four months of the season. Here are the numbers:
| | GB% | FB% | IFFB% | Soft% | Hard% | Pull% | Oppo% |
| --- | --- | --- | --- | --- | --- | --- | --- |
| April thru July | 43.1% | 36.9% | 3.1% | 10.4% | 38.5% | 46.2% | 16.9% |
| August | 47.4% | 36.8% | 28.6% | 21.1% | 23.7% | 52.6% | 10.5% |
| AL Average | 44.5% | 34.9% | 10.0% | 18.5% | 28.2% | 40.5% | 24.7% |
The infield pop-up rate jumps out at you. A-Rod rarely popped out earlier this season (league average is 11.1 IFFB%) but now nearly three out of every ten fly balls is going straight up in the air. (IFFB% is pop-ups per fly ball, not pop-ups per ball in play.) Pop-ups are BABIP killers. They're as close to a sure out as you can get on a ball in play.
Rodriguez's isn't necessarily hitting more grounders or fly balls — a four percentage point increase in ground ball rate isn't alarming, that's the normal ebb and flow of baseball more than anything — but his hard and soft contact rates have gone in the wrong direction this month, further explaining the low BABIP. The harder you hit the ball, the more likely it is to fall in for a hit. The numbers haven shown that.
The decline in hard contact is just a symptom of the problem, however. There is something causing the lack in hard contact and figuring out what it is will take a miracle. Bad mechanics? Fatigue? Guessing wrong? We could come up with a million reasons. I'm no swing expert, so I couldn't tell you is Rodriguez's swing is out of whack. I can tell you opponents haven't been pitching him any differently …
| | FB% | SL% | CB% | CH% |
| --- | --- | --- | --- | --- |
| April thru July | 61.8% | 18.4% | 6.5% | 9.6% |
| August | 61.0% | 12.1% | 6.6% | 9.8% |
| AL Average | 63.6% | 14.6% | 7.5% | 10.7% |
… so it's not like opponents have suddenly started burying him with breaking balls or throwing fastballs by him. (The lower slider rate coincides with an increase in knuckleball rate. A-Rod has seen 7.8% knuckleballs this month thanks to R.A. Dickey and Steven Wright. Good reminder we're talking about a small sample here.) Alex has seen the same basic pitch mix during the slump as he did when he was raking earlier this year.
From the looks of things, it appears A-Rod's slump may be a timing issue. He is not swinging at more pitches, but he is making more contact, and the contact he has made hasn't been as hard as before. The huge spike in pop-up rate is a classic indicator that timing is an issue — those pop-ups are just a millisecond from being a fly ball or line drive. Rodriguez has always had a low pop-up rate. That it suddenly spiked like this suggests he's juuust missing. The timing isn't right.
That could be good news is bad news. Is A-Rod's timing off simply because hitters tend to lose their timing at various points through a 162-game season? Or is he starting to get worn down and his bat is slowing as a result? I don't know. Alex might not even know. That's not a satisfying answer but it's better than pretending I do know the answer when I really don't. His approach has been fine, he's not chasing stuff off the plate, so that's encouraging. It would be much more worrisome if Rodriguez had started hacking at everything.
We're in uncharted territory with A-Rod because of his age, his hips, his suspension … everything, really. We came into the season not knowing what to expect, he exceeded even the most optimistic of projections for the first four months of the year, and is now in his worst slump of the season. Regardless of whether this is a late season fade due to fatigue and age, or simply a normal slump, the offense has taken a big hit with Alex's lack of production.