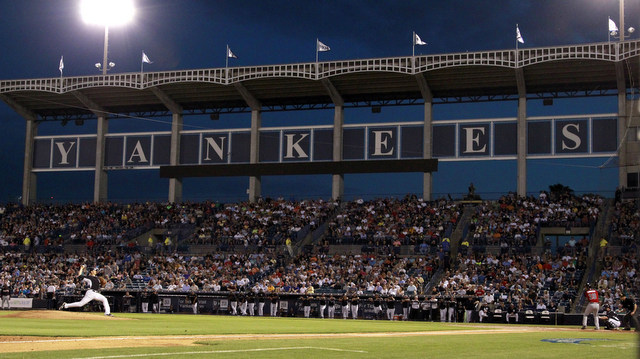 The Yankees took the two-hour bus trip down to Fort Myers to play the Red Sox tonight, so, as you might expect, not many regulars are in the lineup. Two hours there and two hours back for a Spring Training night game? Nope. The guys on this trip drew the short straws, basically. This is one of those Spring Training games that will make you wonder why you're watching.
Tonight's reason to watch: Prospects, basically. All the big prospect names are scheduled to play tonight and a few big arms will be coming out of the bullpen as well. Also, infielder Tyler Wade is up from minor league camp for the night, so we'll get to see him in action too.
Here is the starting lineup for the evening:
RF Ramon Flores
CF Chris Young
DH Brian McCann
3B Jonathan Galvez
SS Nick Noonan
RHP Adam Warren
Available Position Players: C Gary Sanchez, 1B Greg Bird, 2B Tyler Wade, SS Cito Culver, 3B Cole Figueroa, LF Jake Cave, CF Mason Williams, and RF Aaron Judge will be the second string off the bench. C Francisco Arcia, C Trent Garrison, C Kyle Higashioka, and IF Dan Fiorito are the extra players.
Available Pitchers: LHP Chasen Shreve, RHP Jose Ramirez, LHP Jacob Lindgren, RHP Branden Pinder, and RHP Nick Goody are all scheduled to pitch. LHP Tyler Webb, LHP James Pazos, and RHP Nick Rumbelow are the extra arms.
It's cloudy in Fort Myers and there is some rain in the forecast, but not much. Might be a quick drizzle or two during the game. Tonight's game will begin a little after 7pm ET and you can watch nationally on MLB Network and MLB.tv. The game won't be blacked out on either in the New York area. Also, if you're in the Red Sox market, you can watch on NESN as well. Enjoy the game.