By

6:00pm: Baseball America (no subs. req'd) has the individual slot values for the draft and international pools. The international slots are for used in trades. The Yankees are slotted for $1,018,700 for that 55th overall pick. Their third rounder falls all the way to $585,100.

12:00pm: Via Jim Callis: Bonus pools for the draft and international free agency have increased 1.7% this year. The Yankees have been slotted $3,202,300 for the 2014 draft, the second smallest pool, ahead of only the Orioles. They have also been slotted $2,193,100 for international free agency, which is more middle of the pack (17th most).

The Yankees forfeited their top three draft picks — their first rounder and the compensation picks for Curtis Granderson and Robinson Cano — to sign free agents last winter, so their first selection is in the second round, 55th overall. That may change slightly if Stephen Drew and Kendrys Morales ever get around to signing. That $3.2M pool still gives them enough cash to sign a big money prospect or two, as long as they grab cheap college seniors in rounds five through ten to compensate. They've done that the last two years.

Based on what we heard over the winter, the international spending pool is meaningless this year. The Yankees are said to be planning a huge spending spree, upwards of $15M on prospects and then another $15M in penalties. They reportedly have some agreements already in place. If they do spend huge like that, they will not be allowed to sign anyone to a bonus larger than $300k the next two years. That might not matter with an international draft looking more and more likely. The international signing period opens July 2nd. · (31) ·
The minor league season starts tomorrow and the Opening Day rosters for the various full season affiliates are now available: Triple-A Scranton, Double-A Trenton, High-A Tampa, and Low-A Charleston. Not sure why OF Aaron Judge is listed as a first baseman with the River Dogs, but it's probably just a mistake. As always, the rosters are subject to change. Here are some more notes on the final day of the minor league offseason:
Update: According to Collins, UTIL Addison Maruszak has been released. Between that and Eduardo Nunez being designated for assignment, I have absolutely no idea who will play shortstop for Triple-A Scranton.
Two years ago it was OF Mason Williams, last year it was OF Tyler Austin, and this year it will be 3B Eric Jagielo. The Yankees' first first round pick in last summer's draft won our Prospect Watch vote convincingly, receiving nearly 29% of the over 5,400 votes submitted. That's way more votes than I expected, so thanks to everyone for taking the time to click.
Here are the full voting results:
3B Eric Jagielo, 28.7%
C Gary Sanchez, 22.2%
OF Aaron Judge, 17.4%
LHP Manny Banuelos, 12.1%
OF Slade Heathcott, 8.6%
1B Greg Bird, 7.4%
OF Tyler Austin, 1.9%
OF Mason Williams, 1.8%
No love for Austin or Williams, huh? Cold. I guess they've already had their moment in the Prospect Watch sun though. Same with Banuelos. I suspect Bird and Judge will have their time in the sidebar in a year or two. With Heathcott already on the 40-man roster and heading to Triple-A this year, it's possible he will go his entire minor league career without being part of the Prospect Watch despite being a first round pick. Weird.
Jagielo, 21, was the 26th overall pick in last year's draft, and he signed quickly for a $1,839,400 signing bonus, which was exactly slot money. The third baseman out of Notre Dame hit .266/.376/.451 (153 wRC+) with 14 doubles and six homers in 218 plate appearances for the Short Season Staten Island Yankees after turning pro. He will open 2014 with High-A Tampa and a promotion to Double-A Trenton at midseason is very likely if he hits like he did with the Baby Bombers. For more on Jagielo, check out his Prospect Profile.
The Prospect Watch will be up in the sidebar tomorrow afternoon. Jagielo and his Tampa Yankees teammates open the season tomorrow night, as do the other three full season affiliates. Austin was a bit of a dud last year because of his nagging wrist injury, but Williams had a very strong year in 2012 and Banuelos was solid in 2011. Barring injury, Jagielo should have no trouble putting up big numbers in Single-A. If we doesn't, well, that will only add fuel to the Curse of the Prospect Watch fire.
I know I just did a thoughts post yesterday, but there's a bunch of stuff going on after Opening Day and none of it is worth a full post. This is the worst time of the season because we know the samples are still way too small to mean anything, but what else are we supposed to talk about? Baseball, man. It can be cruel.
1. I'm really curious to know what adjustment CC Sabathia made after the second inning last night. There had to be something, he looked like a completely different pitcher in his last four innings than he did his first two. Joe Girardi told Dan Barbarisi his pitches were cutting early and Sabathia told Bryan Hoch he was too amped up, but that doesn't help us any. If there was a tangible adjustment made, that's good. You want to be able to point to something specific for the improvement, something real. Everything gets magnified on Opening Day, that's just the way it is, and Sabathia was far from impressive on Tuesday. I am looking forward to seeing his next outing though. Something changed after that second inning.
2. The offense was mostly a no show on Opening Day, but I thought Mark Teixeira looked really good. He hit a ball to the warning track in his first at-bat, ripped a line drive to right that sliced just foul in his second time up, then slapped a single the other way later in the game. He also drew a walk and saw 18 total pitches in four trips to the plate. Teixeira said he is still a little apprehensive about his surgically repaired wrist at the end of camp, which is a concern for obvious reasons, but he didn't show it last night. He swung hard, made some solid contact, and he's seeing the bell wall. Does that mean he'll be fine going forward? Who knows. This one game, those four at-bats, were encouraging.
3. I'm fully on board with batting Brett Gardner seventh after being on the fence about it at first. Yeah, he would serve as the second leadoff man by batting ninth, but I think batting him seventh does a better job of helping the middle of the order. Gardner's whole thing is not making outs, and by batting him closer to the middle of the lineup, he'll get more of an opportunity to extend rallies and cap them off. The middle of the order is the key to everything; Brian Roberts and Kelly Johnson aren't going to generate much offense no matter where they slot into the lineup. Batting Gardner two spots higher to get that one extra good hitter behind Teixeira and Alfonso Soriano gives them more of a chance to turn rallies into runs. Instead of being a leadoff guy, he'll be expected to drive in some runs. Plus he might get an extra at-bat once in a while.
4. I am wrong all the time, about everything, yet I'm still surprised at how wrong I've been about this last bench spot stuff. Literally every step of the way. I thought they'd take Scott Sizemore, then when it was clear he was out of the running, I thought they'd take Eduardo Nunez. When they didn't take Nunez, I thought they'd keep him in Triple-A as insurance. Instead, he was designated for assignment yesterday to make room on the roster for Yangervis Solarte. Wrong, every step of the way. Even by my terrible standards, that's amazing. The Yankees don't have much shortstop depth now — Addison Maruszak figures to be the starter in Triple-A with Nunez gone — especially with Brendan Ryan out for a few weeks, so they'll probably have to keep an eye on the waiver wire for an extra body.
5. Dellin Betances is going to be my favorite sidebar this season. He was great in relief last year, very good in Spring Training, and just electric last night. Betances has been in the farm system for an eternity and he's had a ton of ups and downs, and we've watched them just about every step of the way. It's great to finally see him find some sustained success and a niche in the bullpen. His stuff is obviously excellent, and now that he's throwing strikes regularly, Betances can be a late-inning force. There is plenty of opportunity in the bullpen with a clear path to higher leverage seventh and eighth inning work, so this is a good time for everything to be clicking. Very much looking forward to seeing more.
6. As a team, the Yankees saw 138 pitches in last night's game. That isn't a huge number, but out of their 150 nine-inning games last year, they saw 138+ pitches only 72 times. Less than half the time. The 2014 offense had a bad day on Opening Day and yet they still saw pitches at a higher rate than last year's squad. Roberts did the heavy lifting with 20 pitches in his four trips to the plate while Gardner, Teixeira, and Soriano saw 18 apiece. That was by far the worst part of the 2013 offense. They made a ton of outs and they were mostly quick outs, two or three pitch at-bats. This group isn't like the 2004-12 lineups or anything, but they make the pitcher work for whatever he gets. It's refreshing.
See what happens when you designate Eduardo Nunez for assignment? You lose to the Astros on Opening Day. The Yankees dropped their first game of the season 6-2 on Tuesday, and it sure looked like the score would be much more lopsided early on. Losing on Opening Day really sucks, especially to an awful team like the Astros, but that doesn't mean it's a harbinger for the rest of the season.
Which Trend Continued?
Coming into Tuesday's start, CC Sabathia had a history of terrible Opening Day starts and an awful 2013 season in the rear-view mirror. Which trend continued in the first game of the 2014 season? I hope it was just the former but eh, it was probably the latter. The Astros roughed Sabathia up for six runs on eight hits (four for extra-bases) and one walk in six innings, forcing him to throw 50 pitches in the first two innings. That's … a lot. The details of his 99 pitches:
47 fastballs, averaging 89.7 mph.
22 changeups, averaging 84.3. Some more separation from the fastball wouldn't hurt.
30 sliders, averaging 80.8 mph.
Nine swings and misses and 15 foul balls, including six with two strikes.
Sabathia showed the same problems as last year, meaning he struggled to put guys away — the Jason Castro at-bat in the first inning was a perfect example, Sabathia used to eat up lefty hitters but instead Castro fouled off two two-strike sliders before driving in a run with a fielder's choice — and his command was terrible, especially in the first two innings. The evidence: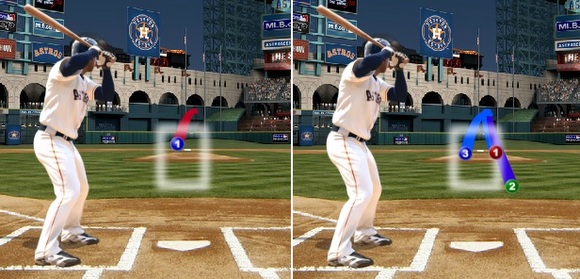 Those are the homers hit by Jesus Guzman (left) and L.J. Hoes (right). Both pitches were pretty much belt high, right over the plate. You can get away with that when you're throwing 93-95 mph. But at 88-91 mph? Not as often. Just for the record, Guzman hit his dinger off a fastball, Hoes hit his off a changeup.
Anyway, the Yankees were down six-zip after the second inning and while Sabathia settled down wonderfully after that — he retired 12 of the final 15 men he faced — it doesn't matter how many lineup additions you make over the winter down that many runs. It's tough to come back and win that game, even against Scott Feldman and the Astros. Sabathia did not give the Yankees much of a chance on Opening Day and, unfortunately, he really didn't do much to suggest he will be more productive than last season. Hopefully things go better in five days.
New Lineup, Just Like The Old Lineup
Four new regulars, including seven new starters from Opening Day last year, but the result did not change. The 2014 Yankees offense paid homage to the 2013 Yankees offense by playing just like them, being held to two runs on five singles, one double, and three walks. They didn't have a runner reach third base until there were two outs in the seventh, and 19 of the first 22 men they sent to the plate made outs.
The Yankees rallied for two runs in the eighth — Brian McCann and Mark Teixeira both went the other way for RBI singles — but their best chance to realistically get back in the game came on inning earlier, when Feldman started to run out of gas. Teixeira singled with one out then Brett Gardner (hit-by-pitch) and Brian Roberts (walk) reached to load the bases with two outs. Astros manager Bo Porter went to Kevin Chapman, his only lefty reliever, to face Kelly Johnson, who hit a weak ground ball back to the pitcher to end the rally.
I thought maybe that Johnson at-bat would have been a good opportunity to use Frankie Cervelli as a pinch-hitter against the lefty. It burns the backup catcher, but Cervelli has always hit lefties and the left field porch at Minute Maid Park is tiny. If there was ever a time to take a shot at making this a game, that was probably it. That said, it is the first game of the season and the score was so lopsided that sticking with Johnson was fine. Nothing wrong with showing some confidence in him there.
It wasn't until Feldman was out of the game that the offense put up a fight, so perhaps the Houston right-hander was just sharp in the season-opener. Eight of the final 15 Yankees reached base — six of eight reached at one point — but by this point, the deficit was just too big. Alfonso Soriano really killed them, striking out to end the fourth with two men on base and grounding into a double play to end the eighth with two on. At -0.084 WPA, he's the easy goat.
Dealin' Dellin and the Vidal Nunos
It might not seem like a big deal with three long relievers on the roster, but Sabathia did save the bullpen some by following up those disastrous first two innings with four scoreless ones. The Yankees open the year with 13 games in 13 games and you know they want to take it easy on Masahiro Tanaka and Michael Pineda if at all possible. Saving the bullpen a few innings was a silver lining to an otherwise forgettable game.
Dellin Betances was electric in the seventh, facing the top three hitters in Houston's lineup and completely overwhelming them. He struck out Dexter Fowler on five pitches, struck out Robbie Grossman on three pitches, and got Jose Altuve to ground out weakly to second base on the second pitch. Betances topped out at 99.3 mph (!) according to PitchFX. Dynamite. Vidal Nuno faced four batters in the eighth, striking out three and getting a weak ground ball that slithered passed Derek Jeter and Johnson. Too bad we can't erase those first two innings, the pitching was pretty excellent after that.
Leftovers
Jeter's final Opening Day started with a hit-by-pitch. He took a Feldman fastball off what initially looked like the left wrist, but replays showed it got him off the left forearm. That woulda been some way to start the season, wouldn't it? Jeter struck out looking in his second at-bat, grounded back to first in his third at-bat, then slashed a Jeterian single to right field in his fourth at-bat. The same hit we've seen about a couple thousand times these last 19 years.
The Yankees played some hilariously sloppy defense in the first inning, particularly on Castro's fielder's choice. Teixeira fielded it cleanly and tried the cut runner down at home, but he threw the ball in the dirt and it bounced to the backstop. After McCann picked it up, he tried to get the runner at third base, but instead airmailed the throw into left field. Gardner did a good job backing up the play and preventing the runner from scoring. Teixeira was clearly trying to do too much in his first game after such a long layoff. He's gotta take the out at first there.
Carlos Beltran picked up the team's first hit of the season, singling to left field on a soft line drive with one out in the fourth. He also slide head-first into first base down six runs in the eighth inning. Silly. I know he wants to win and help his new team and all that, but he's asking to get hurt by doing that. Ellsbury went 0-for-4 with a walk, McCann went 1-for-4, and Teixeira went 2-for-3 with a walk. Johnson doubled with two outs in the ninth for the team's first extra-base hit of 2014.
Box Score, WPA Graph & Standings
MLB.com has the box score and video highlights, FanGraphs some other stats, and ESPN the updated standings. Spoiler: the Yankees are in last place.

Source: FanGraphs
Up Next
Same two teams Wednesday night, though that one is an 8pm ET start. Stupid time zones. Hiroki Kuroda and Jarred Cosart will be the pitching matchup for that one.
By

Tuesday: You've got another 14 hours or so to vote. Here's the link once again. Jagielo was still in the lead when I last checked, but C Gary Sanchez was gaining ground.

Monday: Just in case you missed it earlier, voting for the 2014 Prospect Watch is now open. All of the details are in the linked post. 3B Eric Jagielo was leading by a comfortable margin last I checked, so if you want to see someone else in the sidebar this season, you better get to votin'. The poll will remain open until 10am-ish ET on Wednesday. · (12) ·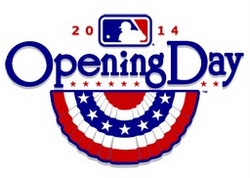 One hundred and eighty three days ago, the Yankees closed out their disappointing 2013 season with an extra-innings win over the Astros. Too many injuries and too little talent doomed them, though, to be fair, the club did remain in the hunt for a postseason spot for a good chunk of September. Rather than gear up for a playoff drive, we were saying goodbye to Mariano Rivera and Andy Pettitte in those final days of the season.
Over these last 183 days, the Yankees remade their roster with several huge and several not-so-huge moves. Ten of the 25 players on the Opening Day roster were not with New York last summer, including four of their eight starting position players. Given how much time Derek Jeter and Mark Teixeira missed to injury, it feels like they are new additions as well. The Yankees needed that roster overhaul and they paid handsomely to get it.
Of course, this season is as much about trying to win the World Series as it is saying goodbye to Jeter. The Cap'n announced he will retire following the season a few weeks ago, meaning we're in for another long goodbye tour. Don't get me wrong, I'm not complaining. Jeter is playing in his final Opening Day tonight just like he played in his final Spring Training game last week. Everything from here on out is a final something for him.
On the mound for the Yankees tonight is the same man who's started their last five Opening Days: CC Sabathia. The big … well, not so big these days … left-hander is making his sixth consecutive Opening Day start for New York, the most since Lefty Grove started six in a row from 1932-37. Only Mel Stottlemyre, Whitey Ford, and Ron Guidry have started more Opening Days in pinstripes at seven apiece. Sabathia also leads all active pitchers in Opening Day starts. This is number eleven for him.
The Yankees have lost their last two and four of their last five Opening Days. They are 75-37 all-time in the first game of the season, which is pretty ridiculous. This is only the second time they are opening the year against a non-AL East team since 2006. Here Joe Girardi's first lineup of the season:
SS Derek Jeter
1B Mark Teixeira
3B Kelly Johnson
LHP CC Sabathia
It's hot in Houston and it has been raining on and off all day, but that doesn't matter. Minute Maid Park has a retractable roof, so the weather is a non-factor. First pitch is scheduled for 7:05pm ET and you can watch live on YES locally and MLB Network nationally, depending on where you live. Enjoy the game, everyone.
Yankees on YES Update: Apparently the Yankees on YES streaming service is no longer being offered. A few people have emailed in asking about it. I'm not sure why it was discontinued, it was pretty great. I used it all the time. For shame.
By

The Yankees have officially placed Brendan Ryan on the 15-day DL. We've know this was coming for a few weeks now. The injury is being described as a cervical spine nerve injury, whatever that means. Brian Cashman said Ryan will miss more than the minimum 15 days and could be out until May. · (9) ·
By

The Yankees have designated infielder Eduardo Nunez for assignment, Joe Girardi announced. The move clears a 40-man roster spot for Yangervis Solarte. The team has ten days to trade, release, or pass Nunez through waivers. He might get claimed since middle infielders are in short supply, but I've been wrong about the last bench spot literally the entire time, so don't listen to me.

Nunez, 26, hit .267/.313/.379 (86 wRC+) with ten homers and 48 steals in 827 games for the Yankees over the last four seasons. He was a competent backup infielder at the plate, but his defense was a disaster and it just didn't improve. It started to become clear the Yankees were growing tired of him over the winter when they brought in guys like Solarte, Dean Anna, and Scott Sizemore to compete with him directly. It would have been very easy to take Nunez north instead of Solarte, so this is another good sign. We'll always have this, Eddie. (This too.) · (94) ·
After more than four months of offseason and six weeks of Spring Training, meaningful baseball is back. The Yankees open the 2014 season later tonight in the same place they ended last season, at Minute Maid Park in Houston. The Astros will honor Derek Jeter with a ceremony prior to tomorrow's game, according to Evan Drellich. Former Yankees and former Astros Andy Pettitte and Roger Clemens are scheduled to attend. Neato.
What Did They Do Last Year?
Stunk, mostly. The Astros went 51-111 with a -238 run differential, the worst marks in baseball by eleven games and -64 runs, respectively. Terrible. They made a few moves to add legitimate MLB caliber players over the winter but not nearly enough to right this ship. Houston went 12-15 during Grapefruit League play.
Offense
The Yankees were terrible offensively last season thanks to the injuries, and the Astros were just as bad. The two clubs were nearly identical on a rate basis (86 vs. 85 wRC+), though New York did a better job of actually pushing runs across (4.01 vs. 3.77 runs per game). Houston did add one notable position player in OF Dexter Fowler (106 wRC+ in 2013), who they stole from the Rockies for pennies on the dollar.
The Astros' best hitter and best all around player is C Jason Castro (130 wRC+ in 2013), who broke out last summer and lived up to the hype of being the 10th overall pick in the 2008 draft. 1B/DH Chris Carter (113 wRC+) has huge power (29 HR and .223 ISO) and was the club's only other comfortably above-average hitter in 2013. 2B Jose Altuve (85 wRC+) has become one of the game's most overrated players the last year or two. His production is on par with the Yankees version of Melky Cabrera, except instead of having a cool name, he's really short.
3B Matt Dominguez (89 wRC+) quietly swatted 21 homers a year ago. Guys like OF L.J. Hoes (98 wRC+) and OF Robbie Grossman (97 wRC+) had strong showings after being called up at midseason, SS Jonathan Villar (80 wRC+) and 1B Marc Krauss (74 wRC+) less so. OF Alex Presley (career 102 wRC+ vs. RHP) and UTIL Jesus Guzman (career 130 wRC+ vs. LHP) were low-cost offseason pickups who are good platoon options. C Carlos Corporan (79 wRC+) is Castro's seldom used backup and IF Marwin Gonzalez (55 wRC+) is essentially the 25th man on the roster. The top four hitters in the lineup (Fowler, Altuve, Castro, Carter) are MLB caliber, but it really falls off after that.
Pitching Matchups
Tuesday: LHP CC Sabathia vs. RHP Scott Feldman (Career vs. NYY) (Pitcher GIFs)
Feldman, 31, was one of those legitimate MLB players the Astros added this winter, signing him to a three-year, $30M contract. I like him as a back-end starter, but not that much. Anyway, Feldman is coming off a solid season split between the Cubs and Orioles, pitching to a 3.86 ERA (4.03 FIP) in 181.2 innings. His strikeout rate (6.54 K/9 and 17.4 K%) wasn't anything special but he limits walks (2.77 BB/9 and 7.4 BB%) and gets ground balls (49.6%). He also had no platoon split, holding righties to a .297 wOBA and lefties to a .298 wOBA. Freaky. Feldman is primarily a low-90s sinker/upper-80s cutter/mid-70s curveball pitcher, though he will throw the occasional mid-80s splitter that serves as his changeup. Feldman has been around a while and so has most of the Yankees' lineup, so there's some familiarity here.
Wednesday: RHP Hiroki Kuroda vs. RHP Jarred Cosart (Career vs. NYY) (Pitcher GIFs)
Acquired from the Phillies in the Hunter Pence trade, the 23-year-old Cosart made his MLB debut last season and managed a 1.95 ERA (4.35 FIP) in 60 innings. He got a ton of ground balls (54.5%) but walked (5.25 BB/9 and 14.2 BB%) more batters than he struck out (4.95 K/9 and 14.4 K%). Eek. Command has never been his strong suit. The young righty had a reverse platoon split last year — righties had a .376 wOBA, lefties only a .236 wOBA — but that's a sample size thing more than anything. Cosart throws very hard, sitting in the mid-90s and touching 97-98 with a four-seam fastball that he threw more than 70% of the time in 2013. An upper-70s curveball is his top secondary pitch, and he'll also mix in the occasional mid-80s changeup. Cosart did not face the Yankees last season and players on the roster have four combined plate appearances against him, three by Jacoby Ellsbury.
Thursday: RHP Ivan Nova vs. LHP Brett Oberholtzer (Career vs. NYY) (Pitcher GIFs)
Oberholtzer, like Cosart, made his big league debut last season. The 24-year-old had a 2.76 ERA (3.65 FIP) in 71.2 innings, walking no one (1.63 BB/9 and 4.4 BB%) but not striking anyone out either (5.65 K/9 and 15.5 K%). He also didn't get many ground balls (35.6%) or do a particularly good job against same-side hitters — lefties had a .325 wOBA, righties a .271 wOBA — though again, that's probably a sample size thing. Oberholtzer is a classic finesse southpaw, sitting right around 90 mph with his fastball while throwing both his changeup and curveball in the low-80s. The Yankees did face Oberholtzer in Game 160 last year, but the only guy who was in the lineup that day and on the active roster right now is Alfonso Soriano. Here's the box score if you don't believe me.
Bullpen Status
The Astros did spend some money on bullpen help this winter, though RHP Jesse Crain (1.52 FIP in 2013) will open the season on the DL with a biceps strain. Manager Bo Porter has declined to name an closer to start the season, with RHP Chad Qualls (3.32 FIP) and RHP Josh Fields (5.10 FIP) considered the leading candidates.
Porter's middle relief crew is solid, with veteran RHP Matt Albers (3.49 FIP) joining LHP Kevin Chapman (4.28 FIP) and RHP Anthony Bass (4.24 FIP). RHP Brad Peacock (4.98 FIP) is moving into the bullpen after a failed experiment as a starter, so he could take off in his new role as many failed starters have done before. Veteran RHP Jerome Williams (4.60 FIP) is the long reliever. Only one left-hander, so Porter will have to decide whether to save him for Ellsbury or Brian McCann. The game situation will dictate that. There aren't many Astros blogs out there, but The Crawfish Boxes is very good.