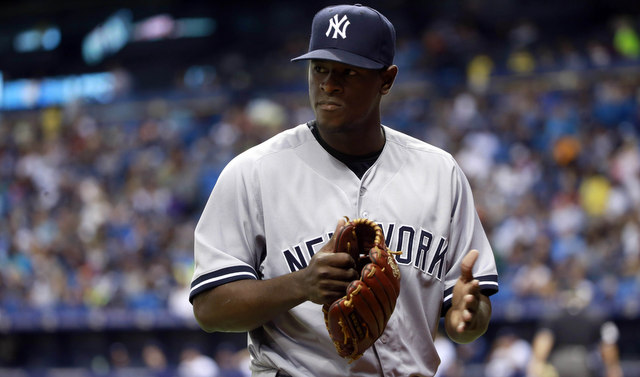 One week from today, the 2015 regular season will come to an end. The Yankees have a magic number of four to clinch a postseason spot, so it could happen as soon as tomorrow. That doesn't mean they can rest easy though. First clinch, then rest. The sooner they clinch, the sooner we can start to look ahead to the wildcard game.
Luis Severino is on the mound this afternoon and as soon as he records his second out of the first inning, he will lose his rookie eligibility. No big deal, really, it just means he won't be eligible for the Rookie of the Year next season. The same applies to Greg Bird — he lost his rookie eligibility with his second at-bat of yesterday's game. Severino and Bird will just have to settle for the Cy Young and MVP next season instead of Rookie of the Year. No biggie. Here is the White Sox's lineup and here is the Yankees' lineup:
1B Greg Bird
3B Brendan Ryan
RHP Luis Severino
It's cloudy and cool in New York, though there's no rain in the forecast this afternoon. Today's game will begin a bit after 1pm ET and you can watch on YES. Enjoy the game.