By

Via George King: The Yankees do not have much interest in acquiring A.J. Burnett from the Phillies. Philadelphia has the fourth worst record in baseball at 38-51 and there are more and more rumblings that they be ready to sell. Cliff Lee is hurt and Cole Hamels has a ton of money left on his deal, so Burnett is a lower cost option.

Burnett, 37, has a 3.92 ERA (3.89 FIP) in 19 starts and 124 innings this year, though his strikeout (19.1%), walk (9.9%), and ground ball (49.6%) rates have dropped off considerably from last season. After coming to New York with concerns about his durability, Burnett has made at least 30 starts and thrown at least 186.2 innings every year from 2008-13. He's a workhorse, if nothing else. The Yankees can use another innings eater even after acquiring Brandon McCarthy, but bringing Burnett back isn't happening. The Javy Vazquez reunion seems to have eliminated the "bring back a guy who stunk in pinstripes one before" option. · (28) ·
As expected, the Yankees went on a huge international free agent spending spree when the signing period opened last Wednesday. By my unofficial count, the team signed 22 players for $14.51M worth of bonuses on the first day of the signing period alone, and those are just the players we know about. I'm certain there are other deals in place that have not yet been reported.
Now that the signing period has opened and most of the heavy lifting has been completed, let's break down everything that happened on the international front. There's a lot to digest here.
The Penalties
The Yankees were assigned a $2.2M signing pool for international players this summer, but they blew right through that. Based on what we know, they will have to pay approximately $12.31M in taxes for going over their pool, and the final number will be higher than that since it is inevitable several signings have yet to be reported. Between bonuses and penalties, the current total payout is $26.82M, or thereabouts.
In addition to the tax, the Yankees are now prohibited from signing a player to a bonus larger than $300k during both the 2015-16 and 2016-17 signing periods, the last two covered by the current Collective Bargaining Agreement. Here is the most important thing: their signing pool will not change in those years. Their pool will be whatever size it's supposed to be based on their finish in the standings, but now they can not hand out any big bonuses. They aren't actually losing any pool money these next two signings periods.
So … Good Idea or Bad Idea?
I've been going back and forth about whether going all in on one signing period is a good idea. At this point I think it is. Yes, they effectively removed themselves from the bidding for the top international prospects in the next two signings periods, but the Yankees usually do a very good job of finding cheap talent in Latin America. RHP Luis Severino ($225k), SS Abi Avelino ($300k), and SS Thairo Estrada ($45k) all signed for relative peanuts. Heck, go back a few years and both Robinson Cano ($150k) and Ivan Nova ($80k) came cheap. That $300k bonus cap the next two summers shouldn't hinder them from finding quality prospects.
More than anything, I think it's good the Yankees added all that talent right now. Remember, we're talking about 16-year-old kids here. Even if things work out great, we're still talking about four or five years in the minors before they make their MLB debut. It'll take another few years after that for them to have a real impact. This is a long-term process and by signing all of these players now, the Yankees are starting that process. They added a ton of talent in one fell swoop. (Signing players is the easy part, developing them into MLB players is the real challenge.) I'll take a bunch of top youngsters today over the prospect of signing top youngsters tomorrow.
What Kind Of Talent Are We Talking About Here?
As always, information about international prospects is hard to come by. It's gotten about a million times better over the last few years, but there are still lots of conflicting reports. Here are where the team's most notable signees were ranked by Baseball America and MLB.com, for comparison:
| Player | Bonus | Baseball America | MLB.com |
| --- | --- | --- | --- |
| SS Dermis Garcia | $3.2M | 9th | 1st |
| 3B Nelson Gomez | $2.25M | 6th | 2nd |
| OF Juan De Leon | $2M | 2nd | 5th |
| OF Jonathan Amundaray | $1.5M | 22nd | 7th |
| SS Wilkerman Garcia | $1.35M | 7th | 14th |
| SS Hyo-Jun Park | $1.16M | 18th | 13th |
| C Miguel Flames | $1M | 16th | 25th |
| OF Antonio Arias | $800k | 28th | 9th |
| SS Diego Castillo | $750k | 24th | 16th |
According to MLB.com, the Yankees signed the top two, three of the top five, four of the top seven, five of the top nine, and eight of the top 20 available prospects. According to Baseball America, they signed one of the top five, three of the top eight, four of the top nine, and six of the top 20 prospects. Bit of a difference there, and you know what? That's perfectly fine. Consensus rankings are boring. The most important thing is that both publications agree the Yankees landed some of the very best international prospects last week. They brought in the elite.
Bats, Not Arms
As you may have noticed in the table, all of the team's notable signings are position players, particularly up the middle players (De Leon and Amundaray are center fielders). This year's crop of international free agents was light on pitchers to start with — according to Baseball America, only two of the top ten and five of the top 30 prospects were pitchers — but hoarding position players prospects is not a bad idea in and of itself.
Offense is getting harder and harder to find these days. Run-scoring around the league is down to its lowest point in years — MLB teams have a combined .316 OBP in 2014, which would be the lowest since 1972, the year before the DH was adopted — and that makes quality bats even more of a top commodity. Pitching is important, it absolutely is, but right now impact bats are something of a market inefficiency. Everyone wants one but few are actually available. Look at the Cubs and their prospects. Remember, not all of these guys will be future Yankees. Some will be used as trade bait and young, high-end bats are valuable. Stockpiling position player prospects makes a ton of sense.
Exposing A Broken System
This last week has exposed just how broken MLB's spending restriction system is. The system was intended to level the playing field and give every club a shot at acquiring the best talent, but instead the Yankees (and Red Sox, as well) blew through their spending limit and signed the top available talents. Meanwhile, both the Brewers and Rays had to swing trades for pool money to sign just one top prospect because they can't afford to pay the penalties.
Rather than create a fairer market, the new system has given large market clubs even more of an advantage. It's not about a willingness to go over the pool to sign players, every team would do it if possible, but some simply can not do it financially. The Yankees didn't break the rules at all, they will pay the tax and deal with the bonus limitations the next two years, but to them that is simply the cost of doing business. Smaller market teams can't dream of doing that. Expect the system to change somehow during the next round of Collective Bargaining Agreement negotiations.
Thanks to baseball's general mediocrity, the Yankees remain in the postseason hunt — they come into today 3.5 games back of both the top spot in the AL East and the second wildcard — but there's little chance they will play in October without getting help at the trade deadline. They already acquired Brandon McCarthy, but that move alone isn't putting them over the top. They need more help, both pitching and offense.
We know the Diamondbacks are ready to sell because they've started doing it already. It's not just the McCarthy trade, they also dealt Joe Thatcher and Tony Campana over the weekend. Last week we looked at the pitchers they could peddle (pre-McCarthy deal), and now it's time to look at the position players. Remember, just because the Yankees and D'Backs have already gotten together for one trade this month does not mean they can't hook up again.
2B Aaron Hill
Hill, 32, has been one of the most productive second basemen in baseball over the last few years, at least on and off. He hit .298/.359/.501 (129 wRC+) with 37 homers in 243 games from 2012-13, but this year he's dropped down to .239/.275/.356 (70 wRC+) with six homers in 85 games. It's not the first time Hill has had this kind of drop-off either. He went from 36 homers to almost being designated for assignment while with the Blue Jays back in the day.
Hill's strikeout rate (17.5%) is way up and his walk rate (4.3%) is way down this year (13.0 K% and 7.9 BB% from 2012-13), though his plate discipline stats are right in line with the last few years. He isn't swinging more or less often, either at stuff inside or outside the zone, which suggests his strikeout and walk numbers may return to his career norms in time. Maybe he's offering at more pitchers' pitches, but the plate discipline numbers don't come with any red flags. It's weird.
The biggest concern with Hill is that his power is way down. He had a .203 ISO from 2012-13, but is down to only .117 this year. Again, his batted ball profile is right in line with the last few years, so there are no red flags there, and batted ball distance data shows he is hitting the ball just as far this year (on average) as the last few seasons: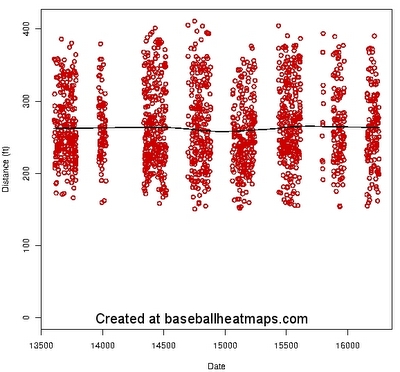 I'm not quite sure how the explain the poor strikeout, walk, and power numbers, which is not necessarily a bad thing or a good thing. It could be a indication he is having an unlucky year — I think the word "luck" has jumped the shark in baseball, but it still exists, sometimes guys have bad years or no real reason — and will bounce back in the future, or it could be a sign there is some kind of mechanical/swing issue we can't detect with the stats. That's much more problematic.
The Diamondbacks bought into Hill's huge 2012 season (132 wRC+) and gave him a three-year, $35M extension the following spring. He is owed approximately $5.5M through the end of the season plus $12M in each of the next two seasons. If he was still mashing 20+ homers with a 120+ wRC+ and average defense at second, it would be more than a fair salary. But he's not doing that anymore. Hill's production has fallen way off and he is at that age when second basemen tend to fall off a cliff.
IF/OF Martin Prado
Like Hill, Prado's production has fallen off this season after very successful 2012-13 campaigns. The 30-year-old hit .292/.346/.427 (111 wRC+) with 24 homers and 20 steals in 311 games from 2012-13, though this year he is at .268/.313/.365 (86 wRC+) in 89 games. His strikeout (13.9%), walk (4.9%), and plate discipline numbers are right in line with the career averages, though he is hitting a ton more grounders (53.8%) and that has sapped his power (.097 ISO).
Now Prado is not much of a power hitter to start with, at least not over the fence power. He's usually good for 10-15 homers per season, though he'll also chip in 30+ doubles per year as well. This season he has four dingers and only 13 two-baggers. It's fairly common for contact hitters to start beating the ball into the ground when they decline, but Prado seems a little too young for that. A half-season of batted ball data is hardly enough to conclude he's in irreversible age-related decline.
As you may know, Prado has always stood out for his versatility. He has a ton of experience at second base, third base, and in right field. He's also filled in at shortstop, right field, and first base on occasion. The various defensive stats say he's a tick above average at third and in left but slightly below average at second. Hill has been a second baseman exclusively for about eight years now, so while Prado can not match his over-the-fence power ability, he makes up for it by being able to play more positions competently.
Arizona gave Prado a four-year extension worth $40M last spring. He is owed about $5M through the end of the season plus $11M in both 2015 and 2016, so he and Hill have basically identical contract situations. If he was producing like regular old Martin Prado, it would be more than a fair wage. Since he is having a down year and it's unclear if there is something more to it than just the general ups and downs of baseball, it's a bit more scary.
OF Cody Ross
The Yankees have received only 15 homers from right-handed hitters this year, six by the departed Alfonso Soriano. They went into last night's game hitting only .257/.321/.375 (92 wRC+) against lefties this season. That's pretty terrible. The need for another right-handed power bat is pretty obvious.
Ross, 33, dislocated his hip (!) running through first base last August, an injury that required surgery and kept him on the shelf at the start of the season. He returned in mid-April and has hit .224/.278/.279 (53 wRC+) overall, including .260/.327/.260 (67 wRC+) against lefties. Before the injury, Ross put up a stout .339/.399/.612 (170 wRC+) batting line with 16 homers in 242 plate appearances against southpaws from 2012-13. Considering he is coming off the hip injury and has nearly twice as many plate appearances against righties (103) than lefties (55), this year's poor performance isn't all that surprising.
The D'Backs gave Ross a three-year deal worth $25M two winters ago, so he is owed approximately $4.5M through the end of the season plus another $9.5M in 2015. That's pretty pricey for the right-handed half of a right field platoon, no? Maybe Arizona would be willing to eat some money like they did with McCarthy. Ross can play all three outfield spots and is no worse than slightly below-average everywhere, which is neither good nor terrible. It's tolerable. If you think he can get back to his 2012-13 form as he gets further away from the hip injury and are willing to live with that salary, Ross would make a lot of sense for the Yankees.
Young Infielders
In Didi Gregorius and Chris Owings, the Diamondbacks have two highly marketable young shortstops. Gregorius, 24, is hitting .222/.337/.389 (97 wRC+) in only 87 plate appearances this year after opening the season in Triple-A, where he had a 123 wRC+. Last season he hit .252/.332/.373 (91 wRC+) as the everyday shortstop. The book on him continues to be that he can legitimately play shortstop long-term, but his bat leaves a lot to be deserved.
The 22-year-old Owings took the shortstop job from Gregorius to start the year, though he has been sidelined by a relatively minor shoulder problem these last two weeks. He was hitting .277/.313/.458 (110 wRC+) with six homers in 254 plate appearances before the injury. Owings is considered a slick fielder like Gregorius, but he offers way more pop and impact potential with the bat. UConn product Nick Ahmed, 24, put up a 119 wRC+ in 336 Triple-A plate appearances before being called up the other day. He is the best defender of the trio but also likely the worst hitter despite his minor league numbers this year. That is an enviable group of young middle infields, no doubt about it.
* * *
Real talk forthcoming: if Hill and/or Prado were on the Yankees, we'd be talking about them as overpaid veterans who are part of the problem. But, because they're on another team and the grass is always greener, they're being looked at as possible solutions. I think versatility is overrated and would prefer Hill to Prado, especially given the team's need for right-handed power, but I'm just not sure if he's simply having a bad year or is starting to decline.
Hill had two and a half years left on his contract when he was traded from the Blue Jays to the D'Backs a few years ago, and all Arizona gave up was … Kelly Johnson. They bought really low and it has worked out wonderfully. (No, Kevin Towers probably will take Johnson back for Hill now.) Hill's trade value figures to be a little higher this time around despite his performance, especially if Arizona is willing to eat some cash like they did with McCarthy, but I don't have any idea what a reasonable package would be. Two good but not great prospects? Someone like Ramon Flores or Rafael DePaula? I'm not sure.
Ross is owed a ton of money relative to his role and the D'Backs would have to eat some to make a deal palatable. Even then they would have to take back very little, a player to be named later type. I greatly prefer Owings to Gregorius and especially Ahmed. Obviously adding Derek Jeter's long-term replacement should be a goal for the Yankees in the near future. Players like Owings and Gregorius are usually dealt as part of a package for an established veteran, not by a team that is selling. Tough to gauge their market value. Arizona has some potentially useful position players for the Yankees, but for different reasons, it's tough to pin down the exact trade value of each.
It's never easy with this team, but a win is a win. The Yankees won for the fourth time in five games on this road trip, beating the Indians by the score of 5-3 on Monday night.
Early Onslaught
Justin Masterson has not had a good year by any measure, but he looked far worse than I expected on Monday night. He had no idea where the ball was going — 24 strikes and 30 balls — and when he did locate in the zone, the Yankees clobbered it. They got to him for five runs on six hits and three walks in three innings, and all six hits were well struck. These weren't bloops or grounders with eyes. Everything was hit with authority.
After stranding a runner at second in the first inning, the first seven men to bat in the second inning reached base against Masterson. The inning went double to right (Brian McCann), run-scoring double to left (Brian Roberts), single to left (Ichiro Suzuki, who was thrown out attempting to advance on the throw home), walk (Kelly Johnson), hit by pitch (Frankie Cervelli), run-scoring single to left (Gardner), bases loaded walk (Derek Jeter). Jacoby Ellsbury was robbed a bases-clearing double down the line by Carlos Santana, who made a sweet play at first to turn an inning-ending double play. The Yankees were all over Masterson.
The third inning was more of the same. Mark Teixeira (walk) and McCann (single) reached base to lead things off, ending Masterson's day. Brian Roberts lined out as the next batter, but Ichiro plated a run with an infield single and the Indians helped bring home another run when Jason Kipnis threw away a potential double play ball. They got the out at second, but the throw was off line and Cervelli was safe, allowing the run to score and extending the inning. Twelve (!) of the first 17 men New York sent to the plate reached base.
Mean Greene
It's very obvious Shane Greene has the stuff to pitch in the big leagues, isn't it? The kid was running his mid-90s sinker all over the place and breaking off some nasty upper-80s sliders as well. I thought half of them were cutters he was throwing them so hard. In fact, let's take a second to look at the PitchFX breakdown, courtesy of Brooks Baseball (data may change overnight):
34 sliders, averaged 86.6 mph and topped out at 91.3 (!)
30 sinkers, averaged 95.4 mph and topped out at 97.2
13 cutters, averaged 95.1 and topped out at 97.0
eight four-seamers, averaged 95.1 mph and topped out at 96.9
two curves and one changeup
The stuff has never been the problem, but Greene's command tends to come and go, sometimes within a start. He had it working in his first career MLB start on Monday night, holding the high-powered Indians to two runs in six innings. He faced the minimum (one hit by a pitch with a caught stealing mixed in) and did not allow a hit until Nick Swisher swatted a solo homer with two outs in the fifth. The Indians scored their second run with a series of soft hits in the sixth. Nothing crazy.
Greene used that Derek Lowe-esque sinker to get nine of his 15 outs on the ground. They were weak grounders too. Easy plays that required minimal effort from the defenders. Five of his other six outs were recorded on the infield via pop-ups and strikeouts. Greene threw 56 of 88 pitches for strikes (64%) and he didn't walk anyone. Five batters saw a three-ball count and four of them made outs. The exception was Swisher's homer.
Considering how shaky the non-Masahiro Tanaka portion of the rotation has been the last few weeks, Greene gave the Yankees exactly what they needed on Monday. Two runs in six innings? Can't ask for much more from a kid making his first career start. Greene handled a good lineup well and I think he did more than enough to earn another start. Keep Chase Whitley in the bullpen for the time being, re-evaluate everything after the All-Star break.
Hangin' On
After the Yankees scored their five runs in the first three innings, the Cleveland bullpen held them scoreless on five singles in the final six innings. They did manage to get three runners into scoring position, but were unable to get them home. Par for the course, I guess. The Yankees have had a knack for scoring runs early and doing nothing after that.
Greene got the Yankees through six innings, but the bullpen was taxed and that pressed David Huff into setup work. He retired the side in order in the seventh, served up a solo homer to Yan Gomes to leadoff the eighth, then was replaced by Dellin Betances. Betances finished off the eighth inning — Kipnis reached on a Roberts error with one out, then got deked out by Jeter on a foul pop-up and was doubled off first — then pitched around a leadoff single in the ninth. Lonnie Chisenhall and Swisher flew out for the 26th and 27th outs, and I'm not going to lie, I thought both balls were trouble off the bat. Maybe not homers, but extra-base hits. Thankfully that wasn't the case and this was the first (of many?) save of Dellin's career.
Leftovers
Santana made three very good plays at first base, including two to cut runners down at home plate. He threw Cervelli out at home in the second as part of Ellsbury's inning-ending double play, then he managed to get McCann in a rundown between third and home in the fifth. Not too bad for a converted catcher. Santana legitimately saved his team some runs with his glove in this game.
Gardner went 3-for-5 at the plate and was thrown out trying to steal second in the eighth inning. He has been thrown out in each of his last three steal attempts and has not successfully stolen a base since June 20th, 16 games ago. What's up with that? McCann and Ichiro had three hits apiece as well. Two of Ichiro's were infield singles. Roberts had two knocks as well. The Yankees did draw three walks (Jeter, Teixeira, Johnson), so this was only the second time they drew more than two walks in their last eleven games.
Between Greene (two), Huff (one), and Betances (three), the Yankees got six swings and misses out of 116 total pitches (2.6%). Not a big deal or anything, it obviously didn't hurt them at all, but it surprised me when I looked at the box score. I understand Huff not missing bats, but Greene was throwing some vicious stuff and Betances is Betances. Baseball can be weird.
Box Score, WPA Graph & Standings
For the box score and video highlights, go to MLB.com. FanGraphs has some other stats and the updated standings are at ESPN. The Orioles beat the Nationals in extra innings, so the Yankees remain 2.5 games back in the AL East. Depending on what happens with the late game, they will be either 2.5 (Mariners lose) or 3.5 (Mariners win) games back of the second wildcard spot.

Source: FanGraphs
Up Next
These same two teams play again on Tuesday night, in the second game of this four-game series. Masahiro Tanaka and Trevor Bauer will be the pitching matchup.
First, some notes:
In case you missed it earlier, RHP Luis Severino was ranked

34th by Baseball America and 48th by Baseball Prospectus in their midseason top 50 prospects list.

C Gary Sanchez, C/1B Peter O'Brien, OF Ben Gamel, and LHP Matt Tracy have all been named to the Double-A Eastern League All-Star Game. Here's the full roster. Congrats to them.
RHP Jose Ramirez was placed on the Triple-A Scranton DL and IF Scott Sizemore was placed on the temporary inactive list, reports Brendan Kuty. Not sure what's wrong with Ramirez. The temporary inactive list usually means the player has a family matter. In other news, RHP Jaron Long has been promoted from High-A Tampa to Double-A Trenton, according to Nicholas Flammia.
Baseball America (no subs. req'd) released their Midseason All-Star Teams over the weekend. No Yankees' farmhands made the Minor League Team, but IF Yangervis Solarte, RHP Masahiro Tanaka, and RHP Dellin Betances made the MLB All-Rookie Team. 2B Rob Refsnyder made the Minor League All-Surprise Team.
Triple-A Scranton's game was suspended due to rain with one out in the bottom of the fourth. The pitching staff has been worked hard of late and I'm sure those guys are all happy to get a few innings off. The game will be resumed tomorrow. Here's the box score if you can't wait.
Double-A Trenton (10-3 win over Reading)
CF Mason Williams: 1-4, 1 RBI, 1 BB, 1 K
LF Ben Gamel: 1-5, 1 RBI
1B Tyler Austin: 0-5, 1 K
DH Peter O'Brien: 2-3, 4 R, 2 HR, 2 RBI, 1 BB, 1 HBP – had gone eleven games without a dinger
RHP Bryan Mitchell: 6.2 IP, 6 H, 2 R, 2 ER, 3 BB, 5 K, 11/2 GB/FB – 63 of 99 pitches were strikes (64%) … has allowed exactly two earned runs in five of his last seven starts
LHP Cesar Cabral: 1.1 IP, 1 H, 1 R, 1 ER, 0 BB, 4 K — 14 of 20 pitches were strikes (70%) … quietly has a 19/5 K/BB in his last 12.2 innings
I feel like the Yankees are just trying to survive until the All-Star break. The pitching staff is a wreck, especially the bullpen, and there are a few position players banged up as well. Brian McCann's foot has been bothering him, Mark Teixeira's knee gave him trouble not too long away, Carlos Beltran's elbow is still a thing, so on and so on. They could use four straight days off in the worst way.
The Yankees play the first of the final seven games of the unofficial first half tonight in Cleveland. Shane Greene has been called up from Triple-A Scranton to make the spot start, which was necessitated by the Brandon McCarthy/Vidal Nuno trade. (Nuno was scheduled to start tonight.) If Greene pitches well, he could very easily stick around for more than just the one spot start. Hopefully he gives the Yankees a reason to keep him. Here is the Indians lineup and here is the Yankees lineup:
SS Derek Jeter
1B Mark Teixeira
DH Brian McCann
C Frankie Cervelli
RHP Shane Greene
It is overcast and very humid in Cleveland, and there are supposed to be on and off light showers pretty much all night. Nothing heavy that will delay the game, but the conditions won't be perfect. First pitch is scheduled for 7:10pm ET and you'll be able to watch on YES locally and ESPN Nationally. Enjoy the game.
Injury Update: Carlos Beltran is day-to-day with swelling in his right knee. The team is hopeful it's nothing serious, but Beltran had surgery on the knee in 2010 and missed most of the season.
Roster Move: As expected, the Yankees have called up Greene to make the spot start. There is no need for a corresponding move because technically McCarthy has not yet reported the team. They will need to drop someone from the roster when McCarthy is added tomorrow.
By

Both Baseball America and Baseball Prospectus (subs. req'd) published their midseason rankings of the top 50 prospects in baseball today. Twins OF Byron Buxton tops both lists despite appearing in only six games this season due to a wrist problem. There's just too much ability to drop him after only a half-season. Cubs 3B Kris Bryant and Astros SS Carlos Correa rank second and third in the two lists, just not necessarily in the same order.

The Yankees had one prospect make the two lists: RHP Luis Severino, who was 34th for Baseball America and 48th for Baseball Prospectus. No other Yankees farmhands made it. "Yankees' breakout prospect is a long way from big leagues but has three potential above-average pitches," said the Baseball America write-up while Baseball Prospectus says "Severino is a legit talent and one of the most enjoyable arms to watch in any farm" while noting his slider must continue to develop to avoid a future in the bullpen. I think OF Aaron Judge and C Gary Sanchez will crack the back half of top 100 lists after the season, but they aren't top 50 guys right now. · (76) ·
The Yankees have played 11 of the 14 other AL teams so far this season, and this week they'll make it 12 of 14 when they face the Indians for the first time. (They still have yet to play the Tigers and Rangers.) The Bombers are in Cleveland and will open a four-game set against the Tribe later tonight.
What Have They Done Lately?
The Indians took two of three from the Royals over the weekend and have won four of their last five games overall. They lost eight of eleven before that. Cleveland comes into the series sitting in third place in the AL Central with a 43-44 record and a -13 run differential. They're six games back in the division but only 4.5 back of the second wildcard spot. The Indians and Yankees are separated by one game in the wildcard standings, so this series is not insignificant.
Offense
At 4.41 runs per game with a team 104 wRC+, the Tribe is one of the better offensive teams in the game this year. They won't have OF Michael Bourn (97 wRC+) this series after placing him on the 15-day DL with a hamstring injury just yesterday. OF Nyjer Morgan (knee) and DH Jason Giambi (knee) are also hurt and won't play this series. Kinda bummed we won't get to see Big G.
Manager Terry Francona's lineup is built around deserving All-Star OF Michael Brantley (155 wRC+), who has finally broken out this season. They acquired him from the Brewers in the CC Sabathia trade back in the day, just in case you needed a reminder that it often takes years for a young player to find his way in MLB. C/IF Carlos Santana (118 wRC+) got off to a brutal start but has been much better of late. 3B Lonnie Chisenhall (166 wRC+) if starting to live up his potential in a mostly platoon role, and C Yan Gomes (110 wRC+) is the reason Santana moves all around the field.
Former Yankee OF Nick Swisher (74 wRC+) is having an awful year and the double play combo of 2B Jason Kipnis (99 wRC+) and SS Asdrubal Cabrera (98 wRC+) has been just average. IF Mike Aviles (80 wRC+) and UTIL Ryan Raburn (46 wRC+) haven't been anything special in reserve roles. OF David Murphy (96 wRC+) does his best work against righties. C George Kottaras (197 wRC+ in very limited time) is effectively the third catcher and OF Tyler Holt was called up to replace Bourn. He went 0-for-1 in his MLB debut yesterday.
Pitching Matchups
Monday: RHP Shane Greene (No vs. CLE) vs. RHP Justin Masterson (vs. NYY)
The 29-year-old Masterson is going to be a free agent after the season and so far things are not going well this year. He has a 5.16 ERA (3.97 FIP) in 18 starts and 96 innings, so he's still taking the ball every fifth day, but his walk rate (4.97 BB/9 and 12.1 BB%) has ballooned to a career high by quite a margin. Masterson is still missing bats (8.63 K/9 and 21.0 K%) and using his sinker to keep the ball on the ground (59.3%) and in the park (0.56 HR/9 and 10.3 HR/FB%), but hitters are reaching base against him more than ever. As usual, lefties (.395 wOBA) have hit him much harder than righties (.303 wOBA). Masterson's velocity drop is scary — he went from averaging 93.1 mph with his four-seamer and 91.1 mph with his sinker last season to 90.6 and 88.7 this year, respectively. Yikes. Losing two and a half miles an hour off your fastball in an offseason usually means something is physically wrong. A low-80s slider is Masterson's primary secondary pitch, though he will throw a few mid-80s changeups per start.
Tuesday: RHP Masahiro Tanaka (No vs. CLE) vs. RHP Trevor Bauer (vs. NYY)
Bauer, 23, appears to have gotten his career back on track after some tinkering, though his 4.42 ERA (4.43 FIP) in ten starts and 59 innings this season isn't anything to get excited about. He misses bats (8.24 K/9 and 21.1 K%) and does a good job not handing out free passes (3.36 BB/9 and 8.6 BB%), but he is an extreme fly ball pitcher (30.2% grounders) and very homer prone (1.37 HR/9 and 11.5 HR/FB%). That is by design too — Bauer has said he likes pitching up in the zone because fly balls are higher percentage outs than ground balls, and he'll live with the homers as a byproduct. He is definitely unique when it comes to that line of thinking. Anyway, his platoon split is small and he throws his mid-to-upper-90s fastball roughly half the time. Bauer also throws a mid-to-upper-80s cutter, a mid-80s changeup, a low-80s slider, and an upper-70s curveball. He throws all five pitches regularly with the slider and curve being his go-to offspeed pitches.
Wednesday: RHP Brandon McCarthy (vs. CLE) vs. RHP Josh Tomlin (vs. NYY)
The Indians seem to have a lot of homer prone pitchers on the staff this season. Tomlin, 29, has a 4.11 ERA (3.71 FIP) in 70 innings across eleven starts (and one relief appearance) despite a ridiculous 1.41 HR/9 (13.6 HR/FB%). That's right in line with his 1.37 HR/9 (11.1 HR/FB%) career norm too. Tomlin's sky high strikeout rate (8.23 K/9 and 22.0 K%) is by far the best of his career. We're talking about a guy with a career 5.48 K/9 (14.8 K%) here. He has never walked anyone (1.16 BB/9 and 3.1 BB%) and isn't much of a ground baller (36.2%) either. Unless the improved strikeout rate is real, the only thing Tomlin does well is limit walks. He actually has a reverse split too — lefties have a .270 wOBA against him while righties are at .361. Tomlin uses upper-80s four-seam fastballs and mid-80s cutters to set up his mid-70s curveball and occasional low-80s changeup. Pretty generic repertoire.
Thursday: TBA vs. LHP T.J. House (No vs. NYY)
The Yankees lucked out and will not face All-Star Final Vote candidate Corey Kluber this weekend. He's been awesome this year and started yesterday. Instead, they will face the 24-year-old House in the series finale. He has a 4.24 ERA (4.62 FIP) in seven starts (and one relief appearance) and 40.1 innings this year thanks mostly to his low walk rate (2.01 BB/9 and 5.2 BB%) and high ground ball rate (61.0 K%). House doesn't miss many bats (5.58 K/9 and 144 K%) and yes, he is homer prone (1.34 HR/9 and 26.1 HR/FB%). Like I said, everyone on the staff seems to give up the long ball. Righties (.386 wOBA) have hit him a lot harder than lefties (.323 wOBA), though that's probably a sample size thing. House is a true four-pitch pitcher, using low-90s four and two-seamers to complement low-80s sliders and changeups. He throws all four pitches at least 16% of the time.
The Yankees' starter for this game depends on whether Chase Whitley is needed out of the bullpen at some point in the next few days. If he is, David Phelps will probably get the ball on Thursday instead of getting an extra day of rest following the McCarthy trade. Heck, it might be Phelps anyway even if Whitely isn't needed in relief because Greene could pitch well enough tonight to earn another start. The schedule allows them to avoid giving Whitley a start this week.
Bullpen Status
Francona is already on his third closer this season. RHP John Axford (4.60 FIP) started the year in the ninth inning, melted down, then RHP Bryan Shaw (3.14 FIP) got a chance. When he had some hiccups, the job went to RHP Cody Allen (2.92 FIP), who has run with it. Allen has pitched each of the last two days, though he only threw four pitches yesterday, so he should be available tonight. Otherwise the rest of the bullpen is fresh.
Axford and Shaw still see some setup work while LHP Marc Rzepczynski (3.51 FIP) faces the tough lefties. RHP Scott Atchison (3.16 FIP), RHP Vinnie Pestano (2.51 FIP in limited time), and LHP Kyle Crockett (4.43 FIP in limited time) handle the middle innings and RHP Carlos Carrasco (3.23 FIP) is the team's swingman. Yes, the Indians are currently carrying eight relievers and only three bench players. The Yankees' bullpen is pretty overworked, so check up on their status with our Bullpen Workload page. Once you've done that, head over to Wahoo's on First for everything you need to know about the Indians.
When the Yankees acquired Brandon McCarthy from the Diamondbacks yesterday, they threw their rotation temporarily out of whack. Nuno and McCarthy were not scheduled to start on the same day — Nuno was supposed to start tonight's series opener against the Indians while McCarthy lines up start tomorrow on normal rest — so the club has to dig up a spot starter. Not a huge deal, just something they have to deal with. (McCarthy will get an extra day of rest and make his Yankees debut on Wednesday, partly so Masahiro Tanaka can start as scheduled Tuesday and make two starts before the All-Star break.)
That spot start will go to right-hander Shane Greene, the Yankees announced. He will be on normal rest after last pitching for Triple-A Scranton on Wednesday. I assume Jim Miller will be dropped from the roster to clear a spot rather than Bruce Billings simply because Billings is stretched out and can go 100+ pitches if necessary. The bullpen is pretty taxed and keeping the extra long man around sure seems like a good idea.
Greene made his MLB debut earlier this season and it was a disaster — five batters faced, three walks, three unearned runs, one out — though that came after a few weeks of being jerked between the show and Triple-A. That appearance came on April 24th and up to that point he had thrown only thrown 2.2 innings and 52 pitches during the regular season. Add in the usual MLB debut jitters and it's easy to understand why he was wild.
That will not be the case tonight, at least hopefully not. Greene has been making a regular turn in the RailRiders rotation for weeks now, so he is fully stretched out and able to go through his usual routine. No irregular pitching schedule, no sitting in the bullpen for weeks on end, nothing like that. Greene's overall numbers in Triple-A are not all that good (4.61 ERA and 3.39 FIP) but he has been much better of late, allowing six earned runs (1.93 ERA) with a 23/10 K/BB in 28 innings across his last five starts.
If Greene can come up and give the Yankees the bare minimum quality start (three runs, six innings), I'll be thrilled. I'm sure the team would be as well, considering how things have been going for most of the rotation. Six innings from someone other than Tanaka feels like a minor miracle these days. The rotation after Greene is a little unsettled at the moment. Tanaka will start Tuesday and McCarthy on Wednesday, but Thursday's starter is officially listed as TBA. That's Chase Whitley's spot.
"Right now [Whitley will] be in the bullpen until we get this ironed out," said Joe Girardi to Chad Jennings following yesterday's game. "If we don't need him out of the bullpen, he could start again for us. A lot of this depends on tomorrow … Every opportunity is an opportunity to shine and get more opportunities."
If Whitley isn't need out of the bullpen these next few days, he'll make the start on Thursday. If they do need him, David Phelps would presumably move up and start Thursday on normal rest. Then they'd need a spot starter for Saturday (Hiroki Kuroda goes Friday), which could be Greene again. Point is, the bullpen is such a mess right now that Whitley could wind up pitching in relief at some point soon. I'm guessing that's something that wouldn't happen or even be considered if he hadn't gotten destroyed in his last three starts. If he was still pitching like he was a few weeks ago, he'd remain in the rotation no questions asked.
So now, even with McCarthy theoretically providing some stability in place of Nuno, the Yankees still have one questionable rotation spot in Whitley. The All-Star break is coming next week and that will give the team a much-needed chance to catch its collective breath and reset the staff, but beyond that the job should be considered up for grabs. If Greene pitches well tonight, he could very well assume that rotation spot with Whitley, the career reliever, remaining in the bullpen. Girardi said it himself: "every opportunity is an opportunity to shine and get more opportunities."
The benefit to keeping Greene in the rotation is potentially two-fold. One, it would improve the rotation compared to what Whitley has given them the last three times out. That's the only way Greene would remain in the rotation anyway, if he pitches well enough to get another chance. Two, Whitley has been a reliever his entire life, so it's a familiar role for him, plus now he's stretched out. He could step in and serve as another two or three-inning guy for the middle innings. That would be a huge improvement over the Miller/Jose Ramirez/Matt Daley revolving door we've seen lately.
The Yankees have taken some steps to shake up their roster over the last week or so, specifically replacing Yangervis Solarte, Alfonso Soriano, Ramirez, and Nuno with McCarthy, Miller, Billings, and Zelous Wheeler. The Miller and Billings moves are only temporary, plus the team will need to call up another position player to replace Soriano in the coming days, so the shakeup isn't complete. Outside of a handful of spots at the top of the rotation and in the back of the bullpen, the current pitching staff is full of opportunity. If you pitch well, you'll get a chance to remain with the team and play a role. Whitley has done it already and now it's Greene turn to try to carve out a niche for himself.