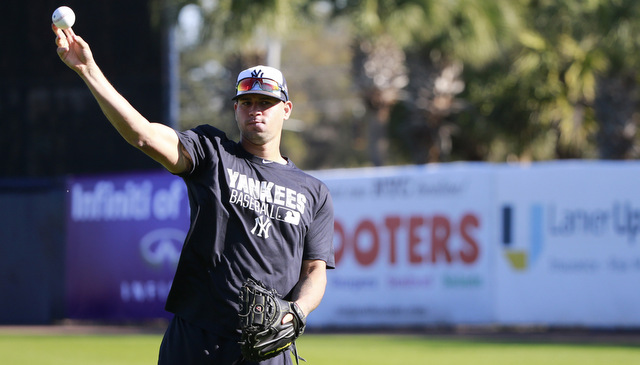 According to George King, the White Sox asked the Yankees about top catching prospect Gary Sanchez earlier this week, but talks didn't progress far because the asking price was "far too high." The ChiSox just lost Alex Avila to a hamstring injury and are looking to stay in the wildcard race. Also, Sanchez would be a long-term solution behind the plate.
Sanchez, 23, went into last night's game hitting .281/.321/.487 (132 wRC+) with nine homers in 55 Triple-A games. He missed a few weeks earlier this season after taking a foul tip to the thumb and suffering a fracture. Sanchez spent one day in the big leagues a few weeks ago, serving as the DH against the White Sox, coincidentally enough. Anyway, I have three quick thoughts on this.
1. So the Yankees asked for one of the lefties, right? I'm guessing the Yankees asked the ChiSox for one of their three left-handed starters, meaning Chris Sale, Jose Quintana, or Carlos Rodon. When a team asks about one your top prospects, you ask about getting one of their best players in return. That's how this usually works. Sale and Quintana are presumably off-limits and I'm sure the Yankees knew that. They were probably asking for Sale or Quintana, and willing to "settle" for Rodon. He'd satisfy their need for young pitching controllable beyond 2017.
2. What else do the White Sox have to offer? The White Sox don't have a great farm system, especially with Tim Anderson now holding down the shortstop position in the big leagues. Carson Fulmer, the eighth overall pick in last year's draft, has a 4.76 ERA (4.11 FIP) with a 13.0% walk rate in Double-A this year. His stock is down because concerns about his high-effort delivery and imprecise command are manifesting themselves in pro ball.
Here is MLB.com's top 30 White Sox prospects, for your perusal. I don't see anyone — or even a combination of multiple players — worth giving up Sanchez to get. Maybe I'm just a raging homer. If nothing else, that prospect list shows why the Yankees (probably) focused on the White Sox's lefty starters. What else do they have to offer? Brett Lawrie? No thanks.
3. Sanchez is the most "untouchable" prospect the Yankees have. As far as I'm concerned, the Yankees do not have an untouchable player in their organization. They don't have a young franchise cornerstone like Mike Trout or Francisco Lindor, and they don't have a truly elite prospect like Lucas Giolito or Dansby Swanson. Those guys should be untouchable. Not players like Sanchez or Didi Gregorius or Aaron Judge.
That said, it would be tougher to part with some players than others, and Sanchez is one of them as a Triple-A catcher with a chance to hit in the middle of the order. Those guys are hard to find. Trading Judge would make more sense because the Yankees have a ton of outfield prospects in Double-A and Triple-A. Trading Jorge Mateo would also make more sense because he's only in High Class-A and the Yankees have a whole bunch of other quality shortstop prospects. They only have one Sanchez though. Outfield and shortstop are positions of depth. Catcher isn't.
* * *
Austin Romine's surprisingly competency as Brian McCann's backup has bought the Yankees some time. They've been able to leave Sanchez in Triple-A so he can continue to work on his defense. He is clearly the catcher of the future, and his path to the job is pretty clear. Sanchez figures to spend next year as McCann's understudy before taking over as the No. 1 guy in 2018 or 2019. Trading him shouldn't be off the table, but the Yankees are right to set the price high.