We know that The Yanks are on CC Sabathia's list. Now we hear via Jayson Stark that last night's meeting was mostly a session for CC to gauge life in New York. That's fair enough. As Stark notes, this is a major life decision for CC, as he'll likely be signed through most of his remaining productive years. Why not have all the information possible at hand before making that decision.
(Though someone might disagree about obtaining as much info as possible to make a decision.)
The Yanks are also making moves on their second free agent target, A.J. Burnett. Jerry Crasick reports that the Yankees are looking to make an offer, and "might be willing to surpass the guaranteed dollar figure that Atlanta has on the table for the free agent right-hander." The Atlanta deal is reportedly for four years and $60 million, with an option for a fifth year which could bring the package to $75 million. No one seems sure about the nature of the option; early word was that it would vesting, though it could just be a team one.
Oh, and Sheets is in the house. When asked about the Yankees, he replied: "I haven't even given it thought." That might not sound good, but he also had this to say about his prospects in general: "There's nothing out there for me to contemplate right now." So we will see.
Jerry Crasnick of ESPN.com notes that the Manny – Dodgers relationship might be coming to a close. He acquired this quote from GM Ned Colletti:
"I just find it curious," Colletti said. "We made a [contract] offer and never heard back. We made a [salary] arbitration offer and never heard back. Maybe we have to look into the communications we're using."
First off, they did hear back on the arbitration offer; Manny declined. Minus that nitpick, Colletti certainly isn't projecting a feeling of optimism regarding Manny. Most telling, to me, is that he didn't discuss an improved offer. When asked about the chances of Manny showing up to Dodgers' Spring Training, Colletti gave a roundabout answer. Colletti also joked that he didn't want to go out to the lobby and see Scott Boras.
This, of course, is going to open the rumors of the Yankees being interested. I wouldn't put much stake in these until we hear something substantial. Which in many cases means until we get a confirmed report of a signing, or that Boras and the Yankees are "deep in talks." I don't expect to hear anything of that nature in the next few weeks, if ever.
By

Just overheard two writers near me talking about Mark Teixeira: The Angels are ready to go to eight years for him, and $20M per year "isn't even an issue." He also said the Beltway Teams (Nats and O's) are hard after him as well. There was also brief talk about the Halos wanting Justin Masterson from the Sox in exchange for Jeff Mathis or Mike Napoli.

Like I said, I overheard two media guys talking about this not more than 6 feet away from me. Just a rumor. · (55) ·
By

The guys from MLB Network are launching into their big press conference right now, but I'd say a solid 75% of the media guys are out to lunch/staking out the elevators. Harold Reynolds, Matt Vasgersian and Hazel May are on stage as part of the crew that will host MLB Tonight, a Baseball Tonight type show. I'll update this post if they say anything exciting, it seems like they have their stuff together.

Update (1:40pm): The network is launching in July 2009. It'll be the largest launch in television history, and it sounds like most cable providers have decided to carry it.

Update (1:45pm): My bad, it launches on January 1st. They'll broadcast the original tape of Don Larsen's perfect game on Day One, original commercials and all. Their facility is in Secaucus.

Update (1:50pm): This sounds like a very ambitious endeavor. They're going to have a daily eight hour live highlight show (not the same broadcast crew for all eight hours, obviously) and have already enlisted a ton of high end TV talent, including Al Leiter.

Update (2:00pm): The PC is over. The Q&A was rather light since half the press is chowing down on the buffet. · (30) ·
Both the rhetoric and real news surrounding CC Sabathia are ramping up. After last night's reported meeting between the two sides, everyone had something to say. Since the meeting went, according to Brian Cashman, "great," let's see where everything stands.
Bill Madden kicked off the fun with his analysis of the meeting. Sabathia and his agent are reportedly trying to stall. Writes Madden:
The reason Genske wanted the meeting, said one source, is that the agent is trying to buy more time for another team more to Sabathia's liking to approach the Yankee bid.

With each passing day, the likelihood of that lessens considerably. "(Genske) has to be concerned about them pulling the offer and moving on to the other (free agent) pitchers," the source said. "If he blows this deal, he's dead as an agent. For one thing, who's going to approach that $140 million if the Yankees are out of it? Sabathia winds up with a deal $20 million less than Barry Zito? Like I said, (Genske's) dead."
That last line is an interesting one. Sabathia basically is waiting for another offer to come along that approaches the Yanks' deal. It doesn't seem likely to happen.
Seemingly in response to the Madden piece, Dan Graziano offers up a even-keeled rebuttal:
The way it was put to me, it's not that he'd hate playing in New York or couldn't handle it — it's that he knows the Yankees' offer isn't going to vanish, and he wants to make sure he knows what all of his options are before deciding where to sign. Sounds doggone sensible if you ask me.
Graziano's conclusion is a lot more sensible that the doom-and-gloomers predicting that Sabathia hates New York and doesn't want to play here. In that vein, my favorite article of the day comes from Jon Heyman who alleges that Sabathia hates going to Florida for Spring Training. I've been to both places, and let me just say that Arizona isn't really any better.
Heyman also notes that the Brewers may have up their offer to six years and $110-$120 million with an opt-out clause. It sounds like a Hail Mary offer made with the expectation that Sabathia isn't going to take it. The wheels, they are a-turnin'.
Update 4:11 p.m.: A few people have started to take the "Randy Johnson was unhappy" line of reasoning in the comments, and I just wanted to drop in one more link that I forgot to include up here originally. All reports indicate that the Yanks believe Sabathia will be fully invested in New York if he were to sign. He may prefer California, but he's not resistant to the idea of New York. He's not a cranky Randy Johnson-type. I'm not worried about his being unhappy in New York.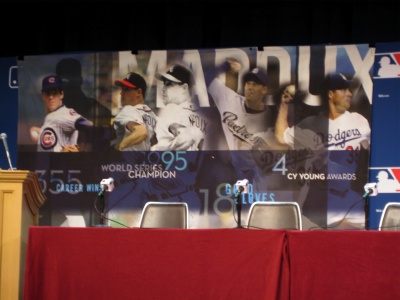 Click on the image for full size
Greg Maddux is in the house to officially announce his retirement. That's a pretty cool mural for him. If he says anything of note we"ll update the post. For now, the only thing of note is that a ton of GMs associated with Maddux — we saw Hendry, Schuerholtz, and Colletti strolling in with Mad Dog.
Update by Mike (11:30am): Here's Boras & Maddux: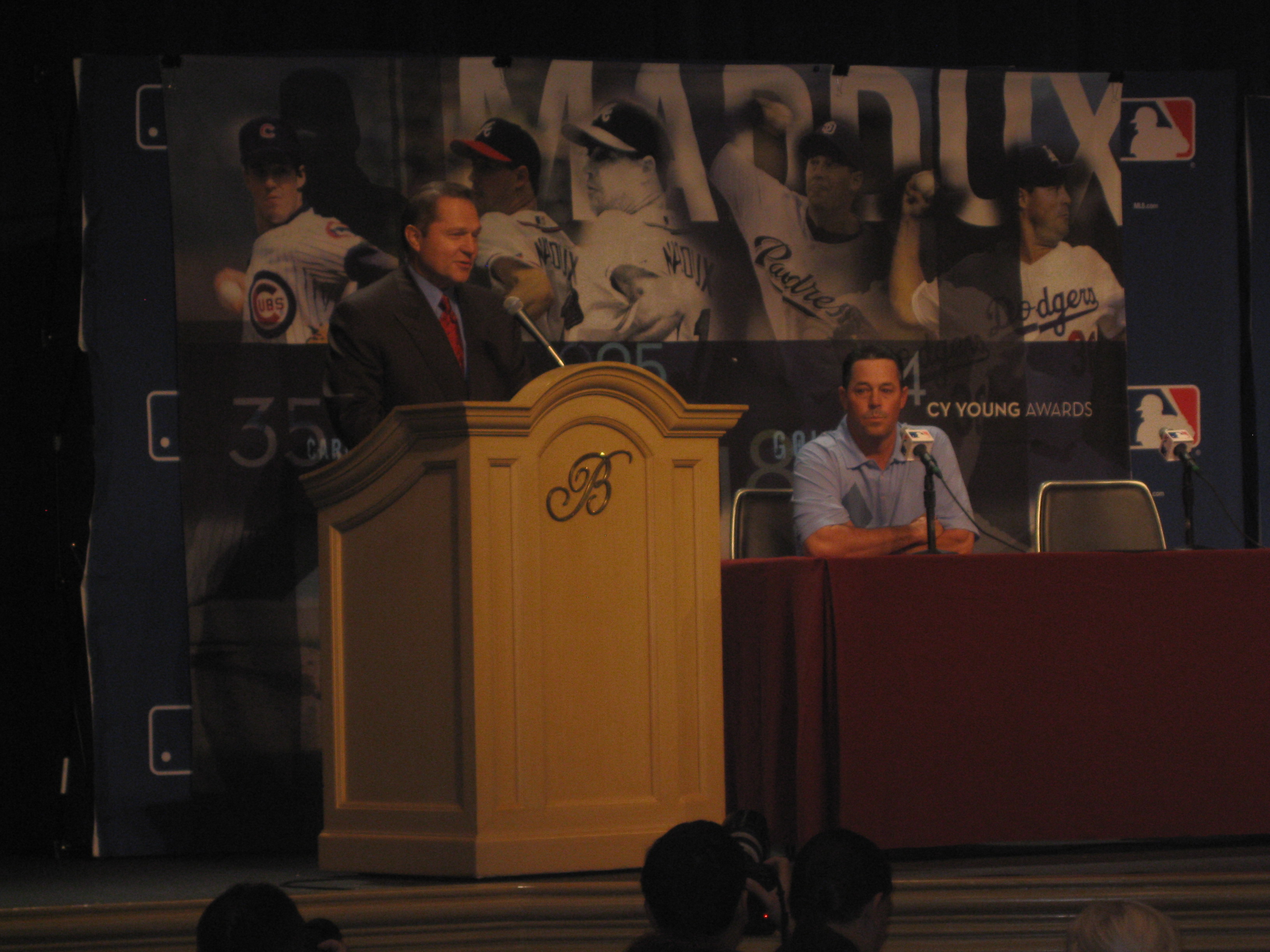 Like Moose, Maddux said he knew for "quite some time" that he'd be retiring.
Update by Joe (11:32 a.m.): Maddux says he's going to take a year off, see if he likes it or not, and then consider coming back as a coach. "I don't feel like I know a whole lot about anything, but I know a few things about baseball." He hasn't made any decisions, but considering his acumen for the game, we could certainly see him back as a coach soon enough.
Update by Mike (11:35am): Here's Maddux answering questions: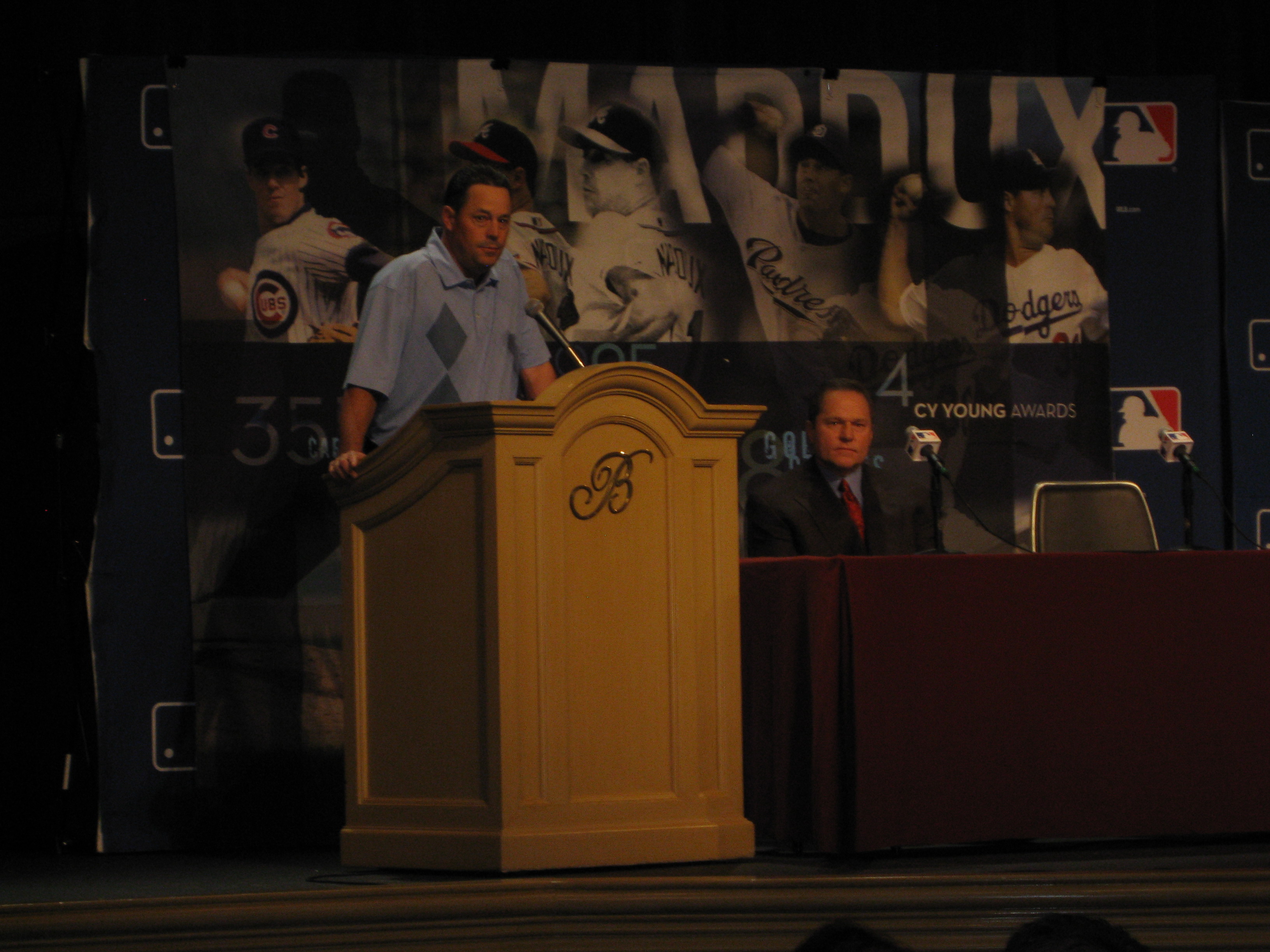 Bobby Cox is here too. Maddux is talking about the Mets-Braves rivalry now, he said he remembers "the smell" of Shea. He also noted how Chipper Jones annihilated the Mets. Good stuff.
Update by Mike (11:40am): When asked if there was ever one core piece of information he shared with all the young pitchers he mentored, Maddux said "not really," but he mentioned that "the best way to learn is to screw up and not do it again."
Update by Mike (11:55am): The press conference is over. Maddux gave the usual schtick, thanking everyone from his high school coaches to Leo Mazzone to his brother Mike, and everyone in between. Did you know he didn't start pitching until he was 15 yrs old? Crazy.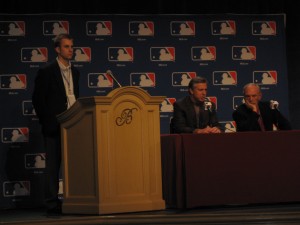 Here's the Tigers announcing the Gerald Laird deal. GM Dave Dombrowski is sitting on the left, manager Jim Leyland is looking very interested to his right. The guy standing is one of MLB's PR people, I missed his name. Dombrowski said they considered Jason Varitek, but lost interest once the Sawx offered arbitration.
The Maddux press conference starting in about 15, that should be great.
By

Nothing big, but (again) on Rosenthal's meetings blog, he makes a note on the Yankees and A.J. Burnett. Seems that the free agent talked to his former teammate Carl Pavano about pitching in the Big Apple. Surprisingly, Pavano didn't steer him away, though this sounds like more speculation than anything. · (38) ·
By

This came on us pretty quickly. No sooner than we posted the Robinson Cano Dodgers rumor the Hall of Fame Veterans' Committee press conference started. They didn't beat around the bush: no one got in. Ron Santo received the most votes again, but not enough to gain admittance. Joe Torre finished with just 29.7 percent, so he's got a long way to go. The Hall of Famers have yet to elect someone via the Veterans' Committee process. The next ballot will be held in 2010.

Update (10:14 a.m.): Joe Gordon, former Yankees second baseman, has been inducted with 83.3 percent of the ballot. How did he get in? This was a different process, covering only pre-World War II players. He won the MVP award in 1942. · (13) ·
We haven't seen much of the Yanks entourage this morning — just one guy standing in the back of the room right now. Why is that? According to Ken Rosenthal, they're talking to the Dodgers about Robinson Cano — and Melky Cabrera:
As the Dodgers try to resolve their infield, they are again talking to the Yankees about a trade for second baseman Robinson Cano. The teams have resumed their discussions about Cano at the winter meetings, according to one source.

The Dodgers also are interested in Yankees center fielder Melky Cabrera, and the Yankees likely would want outfielder Matt Kemp and pitching in return. The Dodgers' interest in Cabrera is a sign that they might not be confident of Andruw Jones making a strong return in 2009. The Dodgers also need to find a match for Juan Pierre, who has requested a trade.
The Veterans' Committee is starting their presser, so we're going to switch gears to that. Feel free to speculate here, though.
Update (1:05 p.m.): The rumor has been debunked by Colletti. Mike and I came back from lunch (the Bellagio buffet might be the best on the Vegas strip) and there was a pack of reporters surrounding him. So the mixed reports commence here at the Winter Meetings.