Yesterday's WPA chart has been deemed too ugly to display on this site. Instead, we bring you: Rocky Dennis!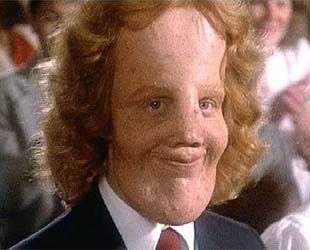 Okay, okay. Here's the WPA chart.

Player
WPA
pLI
Pitcher
WPA
pLI
Matsui
.076
1.80
Henn
.063
0.30
Posada
.066
1.82
Proctor
.037
0.34
Abreu
.026
1.29
Myers
.018
0.43
Cano
.018
1.88
Mussina
-.389
1.03
Alex
.003
1.58
Phelps
-.041
1.29
Minky
-.047
1.80
Jeter
-.057
1.13
Melky
-.083
1.22
Giambi
-.190
1.59
Really, what can you say about a loss like that? Moose looked like shit right from the beginning, and didn't get better as time went on. Even after it looked like he might have been settling in after finishing the first, he opened the second with a walk to Millar. At least Dave Roberts didn't pinch run for him.
We (or at least I) always enter panic mode when we're scored on in the first and don't answer. I can't really explain it, but it every inning just feels longer. So a big thanks to Moose for making the second inning seem even longer. And you knew during the second that he was only going five innings max. Then you pray for the bullpen.
The good news was that I just purchased a monthly pass to MiLB.tv, and Phil Hughes was pitching for Scranton. Chris Basak hit a bomb during the second, which was followed almost immediately by a Moose strikeout. That helped ease the burden…a little.
The next great coincidence came in the second half of the frame. About a minute after Alex smacked a double, Phil Hughes retired his third batter in order: 1-3, K, 4-3. And then Alex scored, and I was a bit happier. Too bad it didn't last longer.
Seriously, by the time the fourth rolled around, my attention was almost completely on the Scranton game. Hughes was rolling, and Eric Duncan hit a shot towards State College to give Hughes a 5-2 lead.
Even after Moose left the game, little good could be taken from it. Yeah, Henn went three scoreless innings and gave Bruney, Farnsworth, and Vizcaino a day off, which will be nice for the weekend. If Moose had gone four innings in an April game last year, the bullpen would have been toast. I'm not sure how Henn's going to hold up over the course of the year, but he sure helped us a ton in the early going. It still makes me cringe to think that it would have been Tanyon Sturtze in that spot last year.
A couple of final notes:
Melky looks like shit. Seriously. The reason I really took to him early last year was that he didn't look over-anxious and would actually take a walk. This year, he's hacking at everything. Meanwhile, even though he doesn't have any walks to show for it, his buddy Robby has been much more selective at the plate. He even takes the first pitch the majority of the time. Can Damon play today?
Alex looked absolutely clueless against Chad Bradford. I don't understand why he didn't just take the first pitch from him. He seems like the kinda guy you don't mind falling behind 0-2, as long as you got a good look at his delivery during those two pitches.
Rob Neyer, who has been railing against Jeter's defense for some time now, makes an astute observation from last night's game (registration required).
I make no mirage of my hatred for Miguel Tejada. So it was quite gratifying to see him make two dumb errors on the same play. The first error — his booting a grounder — was great, but then the over throw (when he shouldn't have been throwing at all) was just gravy.
At least the weather wasn't like it was in Cleveland:

(Hat tip to Lookout Landing)
If Kei Igawa goes six innings today, I promise I'll try to be easy on him, even if he kinda stinks.
By

Tabata's going to be keeping a journal with milb.com this season, in his first entry he writes:

Bobby [Abreu] taught me so much in big-league camp, that really helped a young kid like me adjust from A-ball, to big-league pitching and just being in that kind of environment.

He's supposedly had some maturity issues in the past, hopefully Bobby knocked some sense into him. How crazy is it to think that of all the great players in big league camp with the Yanks this year, A-Rod was probably the only guy with more physical talent than Tabata. In other new, it looks like Phil Hughes' site has been shut down; now there's just a message board. · (0) ·
Triple-A Scranton (6-3 win over Norfolk)
Kevin Thompson: 2 for 4, 1 R, 2 K, 3 SB
Bronson Sardinha: 0 for 2, 1 R, 1 BB, 1 K
Eric Duncan: 1 for 4, 1 R, 1 HR, 1 RBI – keep it comin' baby
Alberto Gonzalez: 2 for 3, 2 R, 1 BB, 1 E (throwing)
Phil Hughes: 5 IP, 2 H, 2 R, 2 ER, 2 BB, 6 K, 1 WP, 1 HB, 9-0 GB/FB – K's and GB's…love it
Chris Britton: 1 IP, 1 H, 0 R, 0 ER, 0 BB, 0 K – looks like he's the closer this year
By

…Eric Duncan? Seriously, check out the box score. (yes I know all the positions are screwed up, but when I first saw it…wow) · (2) ·
By

Jim Baumbach brings us good news from the clubhouse on Johnny Damon. The Yanks' injured centerfielder is feeling better and no longer seems destined for the DL. Who knows if this is Damon's playing through an injury or real news? Either way, good for the Yanks. · (0) ·
By

Separated at birth? · (0) ·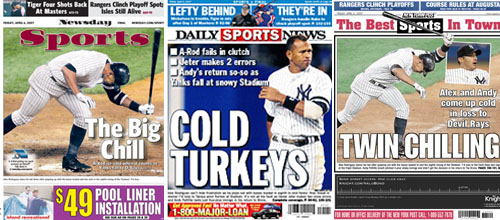 I hope the Baseball Schedule Gods take note: Baseball in New York during the first week of April is a Bad Idea. It's miserable playing baseball in 30-degree weather with snow swirling; it's miserable watching baseball in 30-degree weather. So try as I might, I just cannot fault the Yankees for the way last night's game unfolded.
Luis Vizcaino, the only Yankee with a record, said it best. According to Tyler Kepner of The Times, it was too cold for pitchers to grip their breaking balls. And it showed.
So while Steve Lombardi accurately summed up last night's game, much like Mark McGwire, I'm not here to talk about the past. Instead, let's see how reporters summed up this game.
As the lovely montage above shows, the New York tabloids seemed fit to lay the blame squarely on Alex Rodriguez's much-maligned shoulders. But that wasn't the worst. Note this excerpt from the AP's game summary:
Alex Rodriguez had a great opportunity to turn Yankees fans in his favor.

Once again, he flopped….

A-Rod, who is 4-for-41 (.098) without an RBI in his last 12 playoff games dating to 2004, tossed his bat aside in disgust after the popout and muttered to himself as he waited for a teammate to bring out his cap and glove. Often booed at Yankee Stadium for failing to deliver in crucial situations, he heard plenty of catcalls again — even from a crowd diminished by the cold.
Such drama for the second game of the season. A-Rod completely and utterly flopped. And let's not forget to mention his post-season struggles even though it's April and the regular season. That's sound reporting and writing right there.
To this, I say, "Enough!" Enough dumping on Alex Rodriguez; enough laying the blame for every single Yankee loss on his shoulders.
Leverage Index experiments aside, let's review a few key points that are seemingly glossed over in the articles about last night's game.
The Yankees gave up two unearned runs last night because Golden Boy Derek Jeter made two more errors to add to his league-leading error total. Those errors were costly. Does he get lambasted? No. Other than a brief mention on the cover of the Daily News and some lip service to playing sloppily, Derek gets off free.
Jorge Posada forgot how to catch the ball.
Melky Cabrera cannot bunt. Period. That was a terrible strategic decision and a terrible bunt. Pinch run for the slow Mientkiewicz if you really want to run.
Derek Jeter – oh, him again – grounded into what should have been the second out of the inning in the 8th. His 20-foot fielder's choice sure was clutch. Only a bad play by the Devil Rays kept the inning alive for Alex Rodriguez to come to the plate later on.
Bobby Abreu, with the bases loaded and one out, could have done just about anything to get the run in short of what he did. Instead, he takes a mighty hack at a terrible pitch…and grounds it right back to the pitcher. Maybe a squeeze should have been in order there. It would have been more effective. And this, folks, is your Goat of the Game. Not Alex Rodriguez who had to hit with two outs but Bobby Abreu who simply needed to hit a fly ball. Where are the writers criticizing Abreu?
No one at all mentioned the brilliant decision to pinch run for Jason Giambi in the 7th inning of a tie game. So Joe Torre used Miguel Cairo to run halfway from second to third before the inning ended. Instead of Giambi facing Al Reyes in the 9th, the Yanks had to use Josh Phelps, proving yet again that Joe Torre doesn't know how to use his bench.
So there are six factors that contributed to the loss tonight absent the weather and terrible pitching by the Yanks' bullpen. But of course, the media just dump on Alex Rodriguez. They dump and dump and dump.
They mention Alex Rodriguez's game 1 error but not Jeter's three errors in two games. They mention Alex Rodriguez's pop up with two outs but not Abreu's disastrous at-bat. And Newsday and The Post couldn't even come up with an original headline. Do they sit around their offices wondering how best to dump on A-Rod tonight?
Why do so-called Yankee fans want to see A-Rod fail? Why do his plays get magnified? This guy is the leading slugger in baseball over the last 10 years, and Yankee fans would rather see him play elsewhere. You are the people ruining baseball in New York.
Enough.
By

While Joseph here may think the Yanks resemble a Little League team, I beg to differ. I think they resemble The Little League team immortalized on the silver screen. Here's your team picture: · (0) ·
Player
WPA
pLI
Pitcher
WPA
pLI
Matsui
.208
2.30
Farnsworth
.044
0.61
Jeter
.201
1.83
Bruney
0.39
0.87
Minky
.156
1.89
Myers
-.036
1.56
Cano
.104
1.90
Pettitte
-.156
1.24
Posada
.051
1.67
Vizcaino
-.177
1.82
Giambi
-.047
1.54
Proctor
-.206
1.51
Phelps
-.095
3.60
Abreu
-.123
2.56
Melky
-.161
2.27
Alex
-.303
3.05
(What's this?)
(Stats and graph courtesy FanGraphs)
Eek. Alex didn't help himself much in the Leverage Index experiment. I suppose Abreu hitting a dinker the at bat prior didn't help much, either. Anyway.
The viewer fatigue started kicking in during the top of the second. After a quick, eight-pitch first, Pettitte labored…and labored…and labored. I'd have blamed it on the cold, but Jae Seo didn't seem to be having the same control problems on his end.
By the third, we were in "pull your hair out" territory. The Yanks were playing so sloppy, and the only reason they weren't getting killed was because it was the freakin' Devil Rays. Wild pitches, errors, passed balls (three, three, and one for the game, respectively). The inning did get a bit better, though, as Pettitte snuck in strike three on Jonny Gomes (decent acting job; I'd put him on par with Keanu Reeves). But then he blundered again by throwing to second on a pickoff play. Come on, Andy. Getcha head in the game!
I felt really bad for Matsui in the fourth. Poor guy couldn't buy a hit, and when he finally hits one hard, Wiggington snags it. Yeah, I know he reached base and that it was officially scored a hit, but that was the Official Scorekeeper feeling bad for him. It was a hit, then immediately changed to an error. About three minutes later, it's a hit again. Such a move should be illegal; OS's should only be able to flip-flop once. Unless, of course, he goes by the name of John Kerry.
So after the Matsui "single," Minky pops one up to center, but Elijah Dukes must have misjudged it, because he sprinted, then jogged, and the ball feel about five feet in front of him. Gotta catch those, rook! Anyway, at this point, Girardi suggests a bunt, since there are men on first and second with none out. So I whip out the trusty WPA calculator, and lo and behold, the current WPA with runners on first and second and none out in a tie game is .695. With men on second and third with one out, the WPA is .733. Sac bunt validated.
(For the record, I understand that more goes into the sac bunt than just the WPA outcome of one. It's just that most objective evidence shows that the sac bunt normally amounts to merely a wasted out. It can be used effectively on occasion, as shown here.)
Despite him letting both inherited runners score, I thought that using Proctor in the fifth was an excellent idea. With Vizcaino and Farnsworth capable of handling the seventh and eighth, might as well use arguably your second or third best reliever to get out of a jam. Had he just let in the runner on third, I would have called it a success. Now I'm just calling it an experiment that will work more often than not, despite the sole sample we got last night. That's the kind of flexibility this bullpen has — though you'd like to see that kind of situation in the seventh or eighth rather than the fifth, if for no other reason than starter longevity.
I made three notes during the top of the sixth inning:
Holy shiiiiiite
Jeter/defense
These are just long innings
The first was in reference to Duke's tater, and the last is self-explanatory. The second I'll allow the guys at NoMaas explain:
On defense, no one has looked worse than Derek Jeter. He committed two more errors to bring his total to three in just two games. In addition to his errors, Jeter has shown the range of a 75-year old woman. There were several balls on Thursday night which Jeter could have made a play on, but his lousy first step prevented him from doing so. How he wins Gold Glove awards is beyond our comprehension.
Speaking of Jeter's defense, anyone catch Zobrist in the seventh? He made the Jeter-esque backhanded pick, leaped, and decided against making the throw. Smart man that Zobrist is. It looked like he realized mid-jump that he simply is not Derek Jeter — though he's probably a better all-around defender. Okay, I promise not to bash Jeter's defense…until they play another game.
The eighth is where the whole damn thing got frustrating. First, Stokes hands the Yanks a bases loaded situation by trying to get the lead runner instead of getting the sure out. So then we have this scrub against Abreu, and Bobby nearly gets doubled up. Okay, so now Alex is up. He took this chump deep on Monday, so things were looking bright. That is, until he popped one up to end the inning. It's one of those moments where go from being so tense to basically losing all muscular tension and collapse on the couch.
Even after all that, though, I had one gasp of hope left as the ball left Jorge's bat in the ninth. It looked good, and I tried to fool myself into thinking it had a chance, but the crack of the bat never lies. He just missed it, and the Yanks lost a close one.
Normally, I'm livid when the Yanks lose a game like this. It was a one-run affair, and they had more than their share of chances to take the lead at various points in the game. You can't lose the winnable games. However, they played so damn sloppily that I can't even get pissed at the loss. I'd like to blame it on the cold, but I'll hold off on that, since tonight's weather doesn't look much better.
Moose vs. Cy Loewen. Let's see if Phelps can figure this guy out. Lord knows the rest of the team hasn't.
By

The Yankees took their official team picture before the game yesterday. · (1) ·