Sunday afternoon's game against the Angels was not an easy one. The Halos seemed to have a runner on base at all times, and in the late innings they often did. The Yankees used some evil homeruns and ugly but effective relief work to win the weekend series and finish the nine game west swing.
Two Times The Tex, Two Times The Fun
Curtis Granderson has been the Yankees' best player pretty much all season, but you know what? Mark Teixeira has been pretty damn awesome himself. He went 3-for-4 with two homers in this game, pushing his season line to .258/.365/.549. His 18 homers are one more than Granderson and two behind Jose Bautista for the Major League lead.
The first homer, a solo shot in the third to give the Yankees a two-run lead, was an absolute bomb off a hanging changeup, which is essentially a batting practice fastball. The second homer was a two-run shot in the fifth that turned a 2-2 game into a 4-2 game, another absolute bomb deep into the right field seats. Tex didn't hit his 18th homerun last season until July 17th, the team's 90th game. He hit four long balls on the road trip, and has nine homers in his last 16 games overall. That's pretty nuts. Tex is a streaky dude, and right now he's locked in.
Swish's Back
When the road trip started, Nick Swisher's season line was sitting at an unsightly .204/.321/.289. He managed to boost that all the way up to .215/.342/.348 during the nine games in Seattle and California, capping the trip off with a solo homer off the right field pole to give the Yankees a big insurance run. Overall, Swish went 8-for-29 (.276) with nine walks (.436), three homers (.655), and just five strikeouts during the trip. That's the Nick Swisher we all know and love, and I'm glad to see him back. It just adds another level of depth to the lineup.
By The Skin Of Their Teeth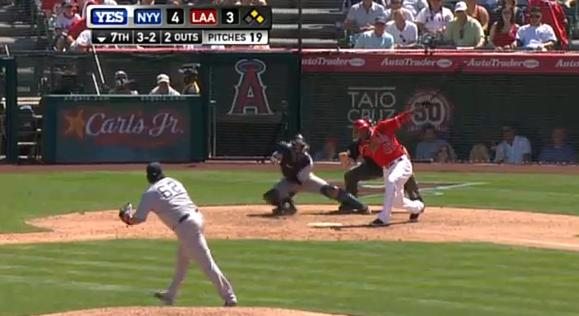 The Yankees' bullpen has been very strong this year, despite getting next to nothing from high priced imports Rafael Soriano and Pedro Feliciano. David Robertson and Joba Chamberlain have done most of the heavy lifted ahead of Mariano Rivera, who's been his usual brilliant self. Sunday's game wasn't so easy though, those three had to combine for 11 outs following a solid but unspectacular effort from Bartolo Colon.
Robertson replaced Colon with one out and a man on second in the sixth, then walked two batters after a fielder's choice before escaping the inning by striking out Maicer Izturis. He coaxed a ground out from Erick Aybar to start the seventh, then Joba came in only to allow an infield single to Bobby Abreu. He got out of the inning with a strikeout of Howie Kendrick, then pitched around a one out walk in the eight. Rivera nailed down the save despite two singles, escaping the jam thanks to a Torii Hunter ground out.
It was definitely one of those games that does a number on your blood pressure, but all three guys got out of their jams by making big pitches when they had to. It's cliche, but that's what happened. Izturis whiffed on a 2-2 curveball in the dirt, Kendrick hacked at a 2-2 curve off the plate, Bourjos grounded int a double play on a 3-2 slider, and Hunter did the same on a 0-1 fastball. All told, the late-game trio of relievers combined to allow six baserunners over the last three-plus innings, but none of them came across to score. Good stuff.
Leftovers
Colon was dominant in the first two innings, but the Halos adjusted their approach and started to swing away at fastballs early in the count with great success. They scored three runs on six hits and two walks off the Yankees' starter over the next 3.1 innings, and he needed a great barehand play by Robinson Cano to get out of the third inning. It was just the second time in nine starts that Colon failed to complete six innings, but that kind of stuff happens form time to time.
Jorge Posada had perhaps the ugliest 2-for-4 in the history of baseball. He grounded into a double play in the second inning and got thrown out foolishly trying to stretch a double into a triple in the fourth, so he still managed to account for four outs despite the two hits. Seriously, I don't know how much longer this charade can go on, but it's pretty obvious that Jorge is dunzo.
Curtis Granderson appears to be slumping, but he reached base twice in the game (single and walk) and has reached in four of his last eight plate appearances. That'll do. Cano had a hit, Derek Jeter had a hit, and Brett Gardner had a pair of hits, including an RBI double in the second to kick off the scoring. He also got thrown out trying to steal second later in the game, continuing a troublesome trend.
A 6-3 road trip is pretty much the best case scenario, especially considering the high-end starting pitching they faced. In fact, they had multiple run leads against Michael Pineda and Felix Hernandez only to lose the game. I'll take it, this is as good as west coast road trips get. At 33-24, the Yankees have tied the fading Indians for the best winning percentage in the AL (.579), and their +71 run differential is 20 runs better than anyone else. Their lead in the division sits at two games in the loss column.
WPA Graph & Box Score
MLB.com has the box score and video highlights, FanGraphs the other stuff.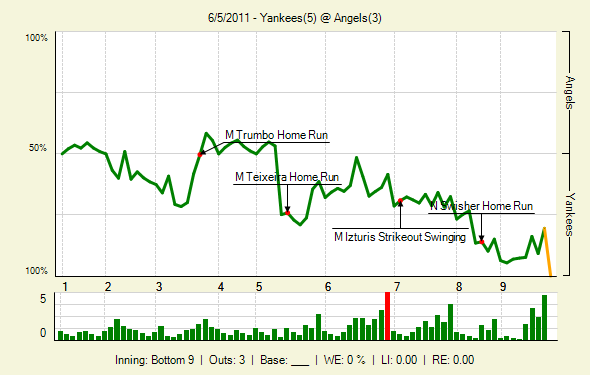 Up Next
Time for the Yankees to come home. They'll take Monday off then head to the ballpark on Tuesday to take on the Red Sox. Freddy Garcia will kick the series off against Jon Lester.