The story of last night's win over David Price and the Tigers will be the nine consecutive hits in the third inning and rightfully so, but, just as importantly, rookie right-hander Shane Greene had another solid start and continues to solidify his place in the rotation going forward. I mean, nine straight hits is cool and all, but it's an anomaly. Greene pitching well has become the norm.
Greene's performance against the Tigers was particularly impressive because he was facing them for the second time. It was the first time a team got a second look at him as a starter. He threw eight scoreless innings against Detroit three weeks ago and followed that up with seven innings of two-run ball last night. Chase Whitley's second turn through the league was a disaster — the Blue Jays, the first team to face him a second time, pounded him for eight runs on eleven hits and three walks in 3.1 innings the second time around. It was good to see Greene more than hold his own against a team somewhat familiar with him.
The Yankees have now won six of their last seven games and eight of their last eleven games overall. Greene's outing continued a stretch of strong starting pitching from the makeshift rotation — the Yankees are on what, their eighth through 12th starters at this point? I've lost count — that has kept the team afloat during their offensive struggles. Here is what the rotation has done since August 16th, the start of this eleven-game stretch (via Baseball Musings):.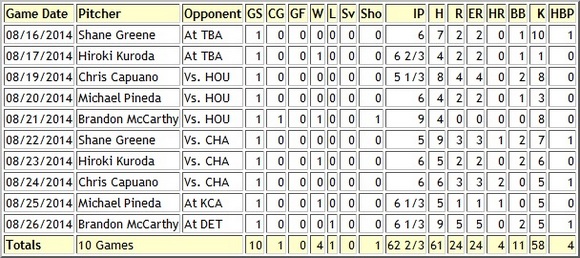 The table does not include Greene's strong start against the Tigers last night — I didn't have time to wait for the Baseball Musings database to update, so sue me — which was his third excellent outing during this eleven-game stretch. Include him and the rotation has a 3.36 ERA (2.69 FIP) with a 5.50 K/BB in 69.2 innings during these eleven games. Stretches like this explain why the rotation has a 3.82 ERA (3.75 FIP) this summer despite all the injuries.
The only real terrible start in the table above is Brandon McCarthy's outing on Tuesday, when he clearly didn't have his usual command and ability to locate. He walked two batters and a hit a guy in the second inning alone. He never does that in a full start, nevermind one inning. Pitchers have off nights once in a while and that was one for McCarthy. The bullpen (specifically Adam Warren) deserves some level of blame for allowing two inherited runs to score during Chris Capuano's start against the Astros, the other eyesore in the table.
Otherwise the Yankees have been getting strong start after strong start during his eleven-game stretch. And, really, it dates back even further than that. The team has been getting strong starting pitching for several weeks now, but the offense has failed to hold up to its end of the bargain most nights. These last few offensive explosions — you do realize the Yankees scored 16 runs in 14.2 innings against Chris Sale, James Shields, and David Price these last few days, right? — have been nice but they are hardly he norm for this club.
The Yankees don't win if they get anything less than a strong outing from their starter. They aren't capable of winning high-scoring games consistently and may the baseball gods have mercy on their soul if the bullpen is any worse than dominant on a given night. In this low-scoring day and age, it all starts with pitching, and the Yankees have been getting lots of it from everywhere imaginable. Scrap heap pickups, trades, big money free agents, you name it and they've helped out.
These eleven games have helped the Yankees climb back into the wildcard race — they're 2.5 games back and FanGraphs has their postseason odds at 13.8%, so they still have a ton of ground to make up — and they've had a chance to win just about every game because of the rotation work. This season could have (and, depending on who you ask, should have) been sunk once the regular rotation members started going down with injury. Guys like Greene, McCarthy, and Capuano have picked up the slack, and it has been especially evident during this recent surge.