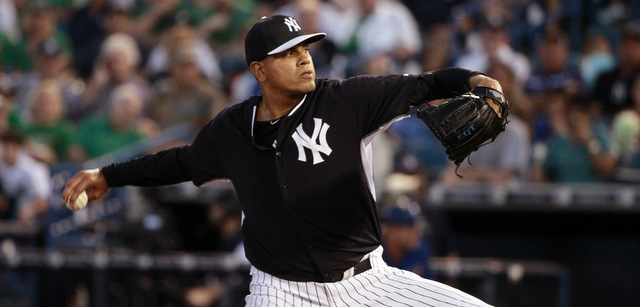 The regular season is now nine days away, meaning ace righty reliever Dellin Betances has nine days to figure out whatever has caused his velocity to drop and his command to disappear. I'm concerned but not panicked at this point. Betances is scheduled to pitch this afternoon and he probably has two or three more Spring Training appearances left after today, so there isn't much time for Dellin to straighten things out.
Betances is scheduled to come out of the bullpen, so he'll be the focal point of this afternoon's game. He told Kevin Kernan he found some mechanical issues while watching video — "I've been opening up a little too much with my front shoulder," he said — and hopes to iron things out with more work this week. Fingers crossed. Betances may only be a reliever, but he's a very important part of this Yankees' team that is built to win close games.
Today's reason to watch: Aside from Betances, bullpen candidates Scott Baker, Andrew Bailey, Chasen Shreve, and Jacob Lindgren are all scheduled to pitch as well. Some have a better chance of making the team than others, obviously. Baker had a disastrous spring debut (1 IP, 6 H, 3 R, 3 ER, 0 BB, 2 K) but has rebounded well with two strong outings (7.1 IP, 3 H, 2 R, 1 ER, 0 BB, 5 K) and could sneak onto the Opening Day roster as the long man. Another strong showing today will only help his cause.
The Orioles made the trip up from Sarasota for this afternoon's game and, needless to say, they didn't bring many regulars for the game. Teams are in full blown "don't let a division rival see your regulars if possible" mode at this point of Spring Training. Here is the O's lineup and here is the Yankees' lineup:
Available Position Players: C John Ryan Murphy, 1B Francisco Arcia, 2B Rob Refsnyder, SS Nick Noonan, 3B Jonathan Galvez, LF Ramon Flores, CF Slade Heathcott, and RF Garrett Jones will be the second string off the bench. C Kyle Higashioka, C Eddy Rodriguez, IF Ali Castillo, and OF Taylor Dugas are the extra players.
Available Pitchers: LHP Justin Wilson, RHP Andrew Bailey, LHP Chasen Shreve, LHP Jacob Lindgren, RHP Dellin Betances, and RHP Chris Martin are all scheduled to pitch. HP Nick Rumbelow, RHP Danny Burawa, RHP Diego Moreno, and LHP Tyler Webb are the extra arms.
It's sunny and surprisingly cool in Tampa this afternoon. It'll be in the upper-60s/low-70s for the game. This afternoon's game will begin at 1:05pm ET and you can watch live on YES, MLB Network, and MLB.tv. MLB Network will be blacked out in the Yankees' home market but MLB.tv won't. Enjoy.