Got a whopping 15 questions in this week's mailbag, the first mailbag of the 2018 regular season. Send your questions to RABmailbag (at) gmail (dot) com and I'll get to as many as I can each week.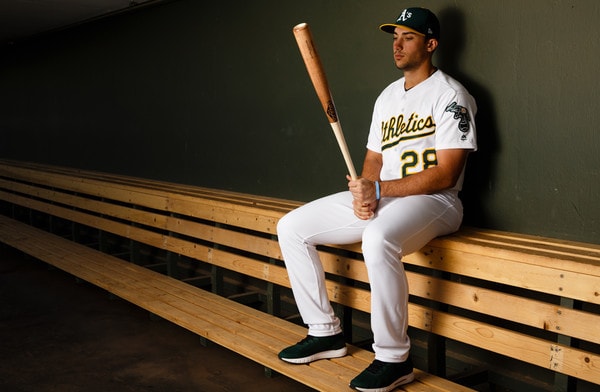 Frederick asks: How realistic would trading for Matthew Olson from the Oakland Athletics be to serve as a lefty power/OBP bat to play first base and insert between Judge/Stanton or Stanton/Sanchez? What kind of package would it take to get him? Surely if he can be had for a tolerable price and given a meaningful chance to play with the short porch, it would help clarify the Greg Bird situation (keep or move on)? Thanks!
I would bet against the price tag being "tolerable." Olson went deep yesterday and has 25 homers in 60 games since being called up last year. That is pretty ridiculous. The A's are starting to piecing together an interesting position player core with Olson and Matt Chapman in the corner infield spots, Stephen Piscotty and Boog Powell in the outfield, and Franklin Barreto, Jorge Mateo, and Dustin Fowler on the way. The asking price for Olson figures to be quite high right now. If he were doing what he's doing with the Yankees, we'd want the moon.
I don't love the idea of paying big for a first base bat anyway. I know Bird is out again, but there are too many first basemen available on one-year deals in free agency each offseason. The Yankees still have Bird and they hope to find out exactly what they have in him later this year, once he gets healthy. And if Bird doesn't work out, the Yankees could always sign a Lucas Duda or Logan Morrison type. Trading a package of prospects for a first base only guy like Olson doesn't excite me. I think he's much more likely to be the next Duda or Morrison than the next Anthony Rizzo or Joey Votto, you know?
Ben asks: Once he's healthy, what's Ellsbury's playing time going to look like? Could he be a real luxury as an early pinch runner, given his general levels of offensive and defensive competency, or is the lineup too stacked to justify bringing him in early enough to bat?
I don't think it's worth bringing Jacoby Ellsbury in as an early pinch-runner. I'm not sure who you'd even remove in that situation. Tyler Austin or Neil Walker? Brandon Drury? That's pretty much it. Everyone else is too good to replace with a pinch-runner in anything other than a close game situation (down a run in the ninth, etc.). I know it's not easy to see how Ellsbury will get playing time, but believe me, there will be times this summer we'll wonder why he's playing so much. He'll give the starting outfielders regular rest — do they each sit once a week? more often than that for Brett Gardner? — and I think there's a path to three starts a week doing that. And if someone gets hurt, that solves the "when will Ellsbury play?" problem. Look, I've dumped on Ellsbury as much as anyone over the years, but he has a chance to be a really useful part-time outfielder. Hopefully Aaron Boone and the Yankees find the right balance and everyone stays healthy and productive through Game 162.
Seth asks: It seems to me that Boone has been revealing lots of information whenever he's been asked questions, or at the very least much more than Girardi ever did. For example, he said he is leaning toward splitting up Judge/Stanton/Sanchez and he revealed part of the Yankees interview process. Do you think he's actually been revealing information too liberally or does it just feel too liberal after Girardi didn't tell us/the media anything?
I used to freak out about this stuff. These relievers aren't available, I'm thinking about doing this with the lineup, that sorta stuff. I used to wonder why managers would volunteer information like that. Then I realized it doesn't matter one bit. A team won't take the opposing manager at his word. They're going to develop a plan to attack hitters and they'll they keep tabs on who may or may not be available in the bullpen themselves. They're going to prepare for different scenarios like, say, Gary Sanchez hitting behind Giancarlo Stanton and Didi Gregorius hitting behind Stanton, because it does matter to some degree. Teams will cover all their bases, and when the lineup is posted, they'll finalize things. They're not going to trust anything the opposing manager says. I wouldn't.
Jason asks: Hey – question for the mailbag – now that the last of the decent pitchers has signed, what sort of contract do you think Tanaka would have managed in this market? He is younger than Cobb and Darvish, but he was not as effective last year (ignoring postseason) and will always have the injury risk hanging over him.
Hard to think Masahiro Tanaka would've beat the $67M left on his contract. Alex Cobb did well for himself all things considered, but Lance Lynn was pretty good last year, and he has to settle for one year and $12M. Tanaka wasn't good overall in 2017 — he was better in the second half and nails in the postseason, but overall, the numbers aren't good — plus The Elbow™ looms over every pitch he throws, fair or not. Tanaka might've had to take a one-year deal in February or even March. He walked away from $67M and Jake Arrieta had to settle for $75M guaranteed, and Arrieta's resume is pretty great. Would the Yankees have taken him back on $10M to $15M one-year deal? I think so, especially since his $22.14M luxury tax hit would've been off the books. Tanaka made a smart move not opting out. He likely saved himself from a big pay cut, and he got to stay with a contending team.
Nick asks: How do you feel about Kyle Higashioka? Last spring we talked about him pushing Romine out and now it seems like he might not even be third on the teams catching depth chart. Is he soon to be a 40 man casualty or the BUC of the future?
Higashioka pretty much is what he is at this point. He turns 28 in three weeks, so I'm not sure how much more upside is remaining with the bat, if any at all. He's at the age where you'd expect him to peak as a hitter, right? Higashioka has some power and he's a good defender behind the plate, but he just can't stay healthy. He is what he is. A nice depth piece with minor league options remaining who can go up and down as the third catcher on the depth chart. Even playing part-time as a backup, I'd be worried about him holding up physically. If you need him for a few weeks to fill in, okay. But counting on him to stay healthy all year seems like bad news. That said, the Yankees are short on catching prospects at the moment, so I don't think they'd designate Higashioka for assignment unless absolutely necessary. Running out of catching would be very bad. Very, very bad.
Manuel asks: As you surely have seen, the YES network is promoting their broadcast team with a new short video. Al Leiter is not a part of it. Do you know if he's still gonna be a broadcaster on YES or not? I couldn't find anything on the interwebs.
I have to give the YES Network folks credit, the nine-man booth commercial is pretty funny. Props to them for poking fun at themselves for having a ridiculously large cast of rotating analysts. Here's the commercial if you've somehow missed it:
As for Leiter,
he is still listed on the YES Network's website
, so I assume he'll still call games from time to time. He must've missed the commercial shoot due to a scheduling conflict or something like that. Ryan Ruocco wasn't in it and he said it was because he was on the road on basketball duty. Or maybe the YES folks decided "nine-man booth" sounded better than "ten-man booth" and told Leiter to stay home. That's probably not it. He probably just wasn't available that day. Leiter will still do games for YES as far as I know.
Paul asks: With German and Luis Cessa as the 6th starter, and presumably whoever is available getting the call, will the Yankees make sure they aren't pitching back to back? Meaning, do they try to keep 2-3 days in between each of their starts, the ensure one of them is available more often?
Yes. Teams do this routinely, weather and schedule permitting, and also assuming they have two starters in Triple-A they're willing to call up for spot start duty. Sometimes the rotation order gets thrown out of whack and there's nothing you can really do about it, and sometimes you need a spot starter on a day one of their primary depth arms isn't available. That's life. You deal with it when the time comes. Triple-A Scranton begins their season one week from today and I imagine there will be a day or two between Domingo German and Cessa for that reason, to give the Yankees more flexibility should a spot starter be needed.
Max asks: Since Ford is back from the Mariners, and Bird is injured (again), is it too early to consider Ford a legit option at the big-league level? He walks more than he strikes out, and he's got pop, and he's still only 25, which isn't young but is still technically "prospect age."
I don't think the Yankees view Mike Ford as a big league option, at least not over the Neil Walker/Tyler Austin platoon, and probably not over Billy McKinney either. Ford had a really great season last year — he hit .270/.404/.471 (144 wRC+) with 20 homers and way more walks (94) than strikeouts (72) — but he's already 25 and it was his second go-round at Double-A, so it's tough to know how much to read into those numbers. There have long been questions about his power — he hit 30 homers in 317 pro games prior to last year — and he's not much of a runner or defender, so if he doesn't hit, he's kinda useless. To me, Ford is a Quad-A type, and hey, sometimes those guys turn into Garrett Jones and make themselves some money. My guess is if we see Ford in the Bronx this season — or any season, for that matter — a lot will have gone wrong.
Roy asks: The Yankees have said that Clint Frazier and Jacoby Ellsbury will start the season on the DL (now also Greg Bird). How does pay while on the DL effect team salary for the purposes of the CBT threshhold? Is Clint Frazier assumed to be on minor league salary? I know that he is part of that 40-man roster group (above the 25-man active) that is included in the $197 Million soft cap.
It's like Frazier is on the active 25-man big league roster. The Yankees gave him a one-year split contract worth $559,200 in the big leagues and $135,943 in the minors, and as long as he is on the Major League disabled list, he gets his Major League salary. That means he gets paid the pro-rated portion of the $559,200 salary and counts the same amount against the luxury tax payroll. If the Yankees send him down once healthy, Frazier is paid the pro-ration portion of the $135,943 salary and counts the same amount against the luxury tax. When you're on the big league disabled list, you get big league pay and service time, and the luxury tax payroll is hit accordingly. For all intents and purposes, the Yankees have 28 big leaguers counting against the luxury tax payroll right now. The 25 players on the active roster plus the three disabled list guys (Bird, Ellsbury, Frazier).
Steve asks: As the season opens with one of the most loaded Yankees teams since 2009, just curious which Yankees (barring major injuries/unexpected breakouts, etc) you would expect to have a decent shot at All Star nods this year.
Five at least. Same number as last year. Giancarlo Stanton, Aaron Judge, Gary Sanchez, Luis Severino, plus a reliever. It wouldn't unprecedented for one team to send multiple relievers to the All-Star Game — the Yankees sent Dellin Betances and Andrew Miller two years ago — but it doesn't happen often. These days it's not easy for one team to send more than five players to the All-Star Game. Fans vote for the starters and stuff the ballot (coughRoyalsfanscough), and that leaves fewer spots to go to everyone else. Last year the Astros, Yankees, Nationals, and Indians led the way with five All-Stars each. Two years ago the Cubs had seven All-Stars because five were voted in as starters and Jon Lester and Jake Arrieta were too good to leave out. There are a lot of Yankees fans out there, so maybe they vote in like five Yankees as starters. Realistically, I think they end up with five All-Stars. Stanton, Judge, Sanchez, Severino, and a reliever. That'd be pretty cool.
Ron asks: Long time reader, first time writing. Was there no special team building, social, plain fun outing this year? I always enjoyed when Joe did it and was expecting Aaron to try something this year but I cannot remember seeing anything on any blog, news report, or Tweet.
There was. The day before the Grapefruit League opener the Yankees had actor/comedian Steve Shenbaum, founder of the communication and team-building training organization "game on Nation," in camp to host … something. Not sure what, exactly. Here are some photos. Everyone is laughing, so I guess they all had a blast. In previous years the Yankees went to an arcade or had a pool tournament, things like that. This year they brought in Shenbaum to do whatever it is he does.
Mathieu asks: With Wade, Torres and Drury all capable of playing 2B and 3B, and with Andujar's questionable D at 1st, is there a chance we see a permanent move for Andujar? How does his bat play as a first baseman as opposed to third?
If Brandon Drury plays well enough to cement himself as the long-term third baseman, I say trade Miguel Andujar before moving him to first base full-time. The offensive bar is quite high at first base — first basemen hit .261/.343/.472 (113 wRC+) last year while third basemen hit .256/.330/.438 (102 wRC+) — and though I think Andujar could meet that bar at first, he'd be so much more valuable at third. This isn't like shifting Gleyber Torres from one up-the-middle position (shortstop) to another (second). First base is typically the last resort position and Andujar can play third base. I think he'd be more valuable to the Yankees as a trade chip than as a first baseman.
James asks: Would you see Aaron Boone employ 4-man outfield setup defense shift? Stanton, Gardner, Hicks and Judge?
Sure. The Astros used a four-man outfield — a four-man outfield and an infield shift! — against Joey Gallo yesterday. Check it out:
Gallo had a microscopic 27.9% ground ball rate and a sky high 49.6% pull rate last season, hence the four-man outfield
and
infield shift. He's just not going to hit the ball on the ground the other way. And if does, you tip your cap. The Cubs used a four-man outfield against Joey Votto last season and he still managed to hook a double into the right field corner.
If you're going to use a four-man outfield, you have to use it against a hitter who puts the ball in the air a ton, like Gallo. Looking over the ground ball rates of hitters currently in the AL East, the best four-man outfield candidates appear to be Curtis Granderson (32.6% in 2017) and Chris Davis (36.7%). It's something to consider, sure. You can't do it against just any hitter though. Has to be a fly ball prone hitter. Ground balls could be a problem with a four-man outfield.
Steve asks: How did our boy Luis Torrens look during spring training and where will he end up in the Padres system? I imagine he will be sent to the minors (AA?).
Torrens, who is still only 21, missed a bunch of time with an oblique injury in Spring Training. He appeared in only three Cactus League games and went 2-for-4 with a double and a triple. The Padres optioned him down to Double-A a week or two ago, so he'll start the season there. Their ideal plan probably calls for Torrens to split this season between Double-A and Triple-A before returning to the big leagues as Austin Hedges' backup next year. He hit .163/.243/.203 (18 wRC+) in 139 plate appearances last year as a Rule 5 Draft player. San Diego stuck with him that long, and now they get to option him down and let him continue his development in the minors.
Matt asks: Last week Tyler Austin was optioned to AAA, and yesterday he was recalled before the season started. Suppose Austin plays the whole year in the majors, without being optioned out. In that scenario, do the Yankees lose an option on Austin? If that is the case, why wouldn't teams wait until the last day of spring training to option out any of their players?
Players have to spent 20 days in the minors to burn an option. It doesn't have to be 20 consecutive days, just 20 total days throughout the season. Austin has spent zero days in the minors on an option this year because he was called back up for Opening Day. The season hadn't started yet when he was sent down. It doesn't matter when you option out a player in Spring Training for that reason. Only regular season days count against an optional assignment, not spring days. Austin has one more option remaining. The Yankees were prepared to burn it before Bird got hurt.