The Opening Day losing streak may be at six years, but you know what? The Game Two winning streak is now at three years. Boom! The Yankees picked up their first win of the 2017 season Tuesday night at Tropicana Field. They beat the Rays 5-0.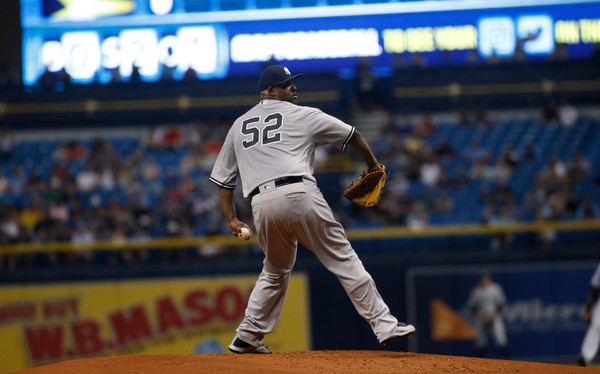 Sabathia's Resurgence Continues
Masahiro Tanaka was damn near perfect in Spring Training. He almost made it through the entire Grapefruit League season with a 0.00 ERA. Then, of course, he couldn't make it out of the third inning on Opening Day. CC Sabathia, meanwhile, got knocked around all spring, then went out and tossed five scoreless innings in his first regular season start Tuesday night. Go figure.
The Rays, as teams tend to do, stacked their lineup with right-handed batters against Sabathia. Kevin Kiermaier and Brad Miller were the only lefties in the starting lineup, and you can understand why. Two years ago righties hit .304/.363/.502 (.370 wOBA) against Sabathia. Goodness. Adrian Beltre hit .300/.358/.521 (.371 wOBA) last season, for reference. The big man has a big platoon split late in his career.
As of past of last year's renaissance, Sabathia picked up a cut fastball, which he used to bust righties in on the hands. That helped him hold opposite side batters to a .258/.325/.400 (.316 wOBA) batting line. That's still not great, but it is a heck of a lot better than two years ago. Sabathia used the cutter to limit Tampa's righty hitters to three hits and two walks in 14 plate appearances Tuesday, with two of three hits being infield singles. Here's how Sabathia pitched those righties, via Brooks Baseball: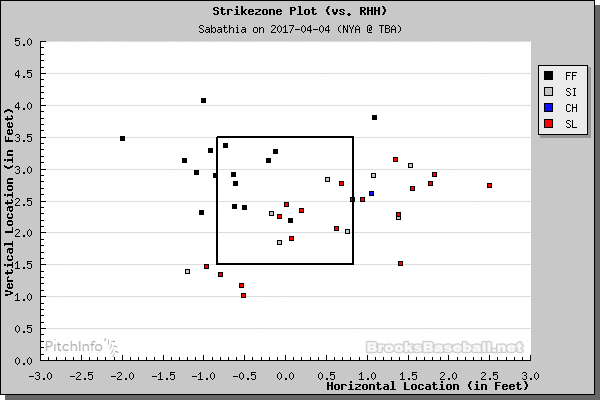 Cutters inside — the new Trackman system is classifying them as four-seam fastballs for some reason, but watching the game, they sure looked like cutters — and everything else away. Sabathia struck out two and got eight ground ball outs, the latter of which is more important. At this point of his career Sabathia can't blow hitters away. But if he can keep the ball on the ground, he'll be in good shape. Nice work, CC. A fine season debut, this was.
Three Runs On A Role Reversal
You know, Matt Holliday is supposed to be the one launching home runs while Ronald Torreyes gets the BABIP luck, not the other way around. Naturally, Torreyes smacked the Yankees' first home run of the season, a loud two-run shot in the third inning. He hit two homers in Spring Training, remember. Maybe he's growing into some power. Then again, when Jake Odorizzi leaves an 86 mph cutter here …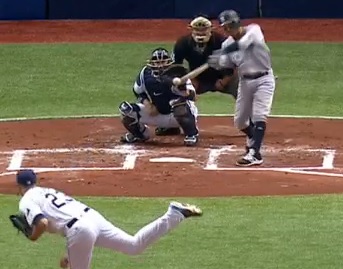 … most hitters will drive the ball with authority. Torreyes did exactly that and the Yankees took a 2-0 lead, their first lead of the season. (Aaron Judge laced a line drive single back up in the middle as a previous batter despite being down in the count 0-2. Judge is looking pretty comfortable at the plate so far this year, at least compared to last year.)
Brett Gardner followed the Torreyes home run with a double into the right field corner — that was three straight hard-hit balls for the Yankees — so the Yankees were again in business. Then Gary Sanchez and Greg Bird struck out to put the rally on life support. Womp womp. Holliday picked them up by strategically lifting a pop-up into the catwalks in left field, which caused Peter Bourjos to lose sight of the ball. It bounced in for a run-scoring double. Smart move by Holliday. You can't teach that kind of veteran experience. The Yankees were up 3-0 in the third.
Four Innings From The Bullpen
Sabathia escaped a little two-out jam in the fifth inning — he walked Bourjos and gave up an infield single to Steven Souza, then got Kiermaier to hit a tapper back to the mound — and Chase Headley gave the Yankees an insurance run in the next half inning. He smacked a solo home run off whatever the hell that thing is in center field at the Trop. Last season Headley didn't hit his first home run until May 12th. He got it out of the way early this year.
With a 4-0 lead and off-days galore these first ten days of the season, Joe Girardi went to his top relievers to close out the game. Bryan Mitchell needed nine pitches to cut through the middle of the Rays lineup in the sixth inning. Tyler Clippard struck out two in a perfect seventh inning. Headley was nice enough to drive in another insurance run in the eighth, this time with a shift-beating ground ball single. That's four shift-beaters in two games. Headley also stole a base. He's sneaky good at that. It was the Yankees' first steal of the year.
Once the lead was stretched to 5-0, Girardi went to Jonathan Holder for the eighth, not Dellin Betances. Holder allowed two dinky infield singles — the Rays had five hits on the night, four of which were infield singles — before giving way to Betances, who walked Longoria to load the bases with one out. Never easy. Betances escaped the jam with a strikeout (Rickie Weeks) and a weak grounder to first (Logan Morrison). Aroldis Chapman cruised through the ninth with ease. Five relievers, four scoreless innings.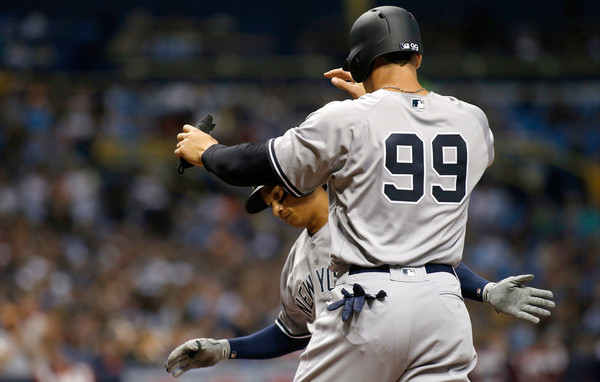 Leftovers
Sanchez went 0-for-5 with two strikeouts and is now 0-for-10 with three strikeouts on the season. Bust! Back to Scranton he goes. In all seriousness, Sanchez had a double taken away by Longoria, who made a nice play at the line, and he also smashed a line drive right at the shortstop. This isn't one of those "he's flailing at everything!" slumps. This is one of those "bah, he's hitting into some bad luck" slumps. It's not even a slump. It's two games! He'll be fine.
Everyone in the starting lineup had a hit except Sanchez and Starlin Castro. Jacoby Ellsbury had two hits, the first a hard-hit grounder that hit Odorizzi and deflected away from the defenders, and the second a ground ball double down the line. Holliday hit what I thought was his first home run of the season in the eighth inning. He hit it hard, but the ball just died and was caught at the warning track. Too much topspin, I guess.
Judge's wingspan turned a double into a single in the first inning. Longoria stroked a line drive single to right field — it was Tampa's only hit to leave the infield — and Judge was able to run over and reach out to grab the ball before it rolled to the wall, limiting Longoria to one base. Being nine feet tall has its advantages.
Box Score, WPA Graph & Standings
Go to ESPN for the box score and MLB.com for the video highlights. Don't miss our Bullpen Workload page either. Here's the win probability graph:

Source: FanGraphs
Up Next
The first rubber game of the season. The Yankees and Rays will close out this three-game series Wednesday night. Michael Pineda and Alex Cobb are the scheduled starters.