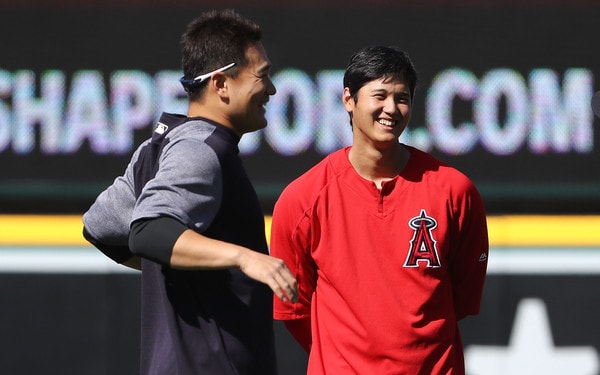 It took an extra inning and most of the fan base was probably asleep, but the Yankees did win their seventh straight game last night, as they once again rallied against the other team's closer. They did it Thursday and they did it Friday. I hope they don't have to do it again today. A nice easy blowout win with like three mop-up innings from A.J. Cole would be swell.
Tonight the Yankees are looking to clinch their first eight-game winning streak since … last year. They had an eight-gamer in April. You have to go back to 2012 for the last eight-game winning streak before that one. As good as the Yankees have been lately, it still doesn't feel like everything is clicking. There's still room for improvement. That's exciting. Here are tonight's lineups:
New York Yankees
1. LF Brett Gardner
2. RF Aaron Judge
3. SS Didi Gregorius
4. DH Giancarlo Stanton
5. C Gary Sanchez
6. CF Aaron Hicks
7. 1B Neil Walker
8. 3B Miguel Andujar
9. 2B Gleyber Torres
RHP Masahiro Tanaka
Los Angeles Angels
1. 2B Ian Kinsler
2. CF Mike Trout
3. LF Justin Upton
4. DH Albert Pujols
5. 3B Luis Valbuena
6. SS Zack Cozart
7. RF Kole Calhoun
8. 1B Jefry Marte
9. C Martin Maldonado
RHP Garrett Richards
The weather is picture perfect again out in Anaheim. I'd expect nothing less. Tonight's game will begin at 9:07pm ET and you can watch on FOX Sports 1. Not YES, not MLB Network. FS1 only. Enjoy the game.