By

7:31pm: Headley visited a neurologist and all tests came back clean. He escaped the beaning with just a cut on his chin. Headley has rejoined the team — the YES cameras showed him in the dugout during tonight's game — but he is still a few days from returning to the lineup.

11:42am: Tests showed no fractures after Chase Headley was hit in the chin by a Jake McGee fastball in the ninth inning of last night's game, Joe Girardi announced. He didn't even need stitches. Scratch that, he did need some stitches. Headley does still need to see a neurologist before being cleared to play. Good news though, that was a really scary moment last night. · (21) ·
The Yankees suffered a rough but predictable loss this afternoon as Adam Warren was unable to protect a one-run lead in the 11th inning. Let this be a lesson: never use your closer in a tie game on the road, kids. (That was a joke.) The Yankees and Orioles had about two hours to rest between games this afternoon. Here is the Orioles lineup and here is the Yankees lineup for game two of the doubleheader:
Once again, the weather is splendid. Didn't change from this afternoon. Tonight's game will start just after 7pm ET and you'll be able to watch on YES locally and MLB Network nationally, depending on where you live. Enjoy the game.
For not the first time this season, the Yankees' bullpen was unable to preserve a lead against the Orioles on Friday afternoon. Baltimore walked off with a 2-1 win in eleven innings in the series opener.
Nine Scoreless Innings, The Good Way
Brandon McCarthy gave the Yankees everything they could have possibly wanted against the most powerful offense in baseball. The tall right-hander held the Orioles to three scattered singles and one double in seven scoreless innings, striking out six and recording 14 of his 21 outs on the infield. McCarthy retired 13 straight batters at one point from the second through sixth innings and he retired 17 of the final 19 men he faced overall. Seventy-five of his 106 pitches were strikes (71%). He was dominant.
Joe Girardi opted to send McCarthy out to start the eighth inning even though his pitch count was sitting at 104, and sure enough ex-Yankee Kelly Johnson greeted him with a leadoff ground-rule double. That ended McCarthy's afternoon. I absolutely hate that, sending the starter back out for another inning when his pitch count is over 100 and his leash is one base-runner. Just let the reliever start the inning clean if that's the case, especially with expanded rosters and no real need to worry about running out of arms.
Dellin Betances was able to escape the mess with two strikeouts and a ground ball, though it wasn't that easy. Nick Hundley bunted Johnson to third, and for whatever reason Mark Teixeira tried to throw him out, which didn't work. He's lucky the throw hit Johnson as he slid into the base, otherwise it would have sailed into left field. Maybe Teixeira thought it was a force play? Anyway, Betances struck out Jonathan Schoop, then Nick Markakis grounded to Stephen Drew at second base, who was able to catch Johnson wandering too far off third for the second out. That was big. Betances struck out Adam Jones to end the inning after walking Alejandro De Aza to load the bases. Two fastballs, one breaking ball, three swings and misses. Filthy.
Betances and David Robertson combined to walk the bases loaded in the bottom of the ninth — one of the walks was intentional — but Robertson was able to wiggle out of it by striking out Schoop. It was a nine-pitch at-bat that included four foul balls with two strikes. Schoop put up a nice little battle. The two other outs came on a Nelson Cruz leadoff line drive to left and a Johnson pop-up to third base in foul territory. Betances and Robertson combined to put four guys on base in the eighth and ninth innings (all walks) after McCarthy put four men on base in the first seven innings.
Nine Scoreless Innings, The Bad Way
The Yankees put nine men on base in seven innings against Kevin Gausman but only one of the nine managed to reach third base. Their best chance to score against him came with two outs in the sixth inning, when Chris Young doubled to left and Drew walked to load the bases. Prado had singled to lead off the inning and I don't think he would have scored on Young's double even with a healthy hamstring. It was hit hard and De Aza played it quickly and cleanly. John Ryan Murphy leaned into a hanging slider and flew out to left field corner, in foul territory. He juuust missed it.
Once Gausman was out of the game, the Yankees couldn't touch Baltimore's bullpen. Almost literally couldn't touch them. Andrew Miller struck out all three men he faced in the eighth and Darren O'Day struck out two of three in the ninth. Young popped up in foul territory along the first base side for the first out against O'Day. The Yankees struck out a dozen times in the first nine innings and only had three plate appearances with runners in scoring position (one walk, two outs) despite putting those nine guys on base against Gausman. I miss offense.
Extra Innings
This game felt like it had entered "first team to homer wins" territory after Dellin's escape job in the eighth inning, which usually puts the Yankees at a disadvantage, but not when they have Chris Young on the roster. For the second time in less than 24 hours, the Mets cast-off came up with a big go-ahead homerun on Friday afternoon, this one an 11th inning solo shot off Brad Brach. It wasn't quite as dramatic as Thursday's walk-off dinger, but it was still a huge homer. Chris Young, people. Baseball is weird sometimes.
With Betances and Robertson having already been used, Girardi gave the ball to Adam Warren for the 11th inning save opportunity. Warren, like Betances and Robertson in the ninth inning, loaded the bases without surrendering a hit. He walked Cruz, plunked J.J. Hardy with a pitch, then inexplicably walked pinch-hitter Steve Clevenger. The walk to Clevenger was just terrible. Ex-Yankees farmhand Jimmy Paredes jumped on Warren's first pitch with two outs, lining it into the right field corner for a walk-off two-run single. Three relievers combined to walk six batters and hit another in 3.2 innings. Gross.
Leftovers
Prado, Drew, and Antoan Richardson all had two hits while Jacoby Ellsbury, Drew, and Murphy had one each. Brian McCann, Drew, and Richardson also drew walks. Teixeira and Brendan Ryan were the only starters who failed to reach base, which is par for the course these days. Richardson got picked off first base to end the seventh inning, which is less than ideal for a guy who was brought up to be the pinch-running specialist.
Believe it or not, this was the first time the Yankees and Orioles played nine scoreless innings and went to extras in Baltimore. Like, ever. It had never happened before, not with the Yankees. It did happen when they were still the New York Highlanders more than a century ago.
Box Score, WPA Graph & Standings
MLB.com has the box score and video highlights, FanGraphs has some other game stats, and ESPN has the updated standings. The Yankees are currently 4.5 games back of the second wildcard spot but that's going to change with all the games tonight. As of this moment, FanGraphs has the team's postseason odds at 2.8%.

Source: FanGraphs
Up Next
Let's play two, he said with a shrug. The Yankees and Orioles will play the second game of this doubleheader at 7pm ET, so make sure you come back in a few hours. Bryan Mitchell will be making his first career start. Bud Norris is the scheduled starter for the O's.
The Yankees will likely have a new voice running the farm system next year. Vice president of baseball operations Mark Newman is believed to be retiring after the season, reports George King. The team has not made an official announcement and both Newman and Brian Cashman declined to comment on the matter, so this isn't final just yet.
Newman has been with the Yankees since 1988 and has been running the farm system for the last 15 years. He came under some scrutiny last season when Hal Steinbrenner was unhappy with the team's player development system. King says there is some belief the Yankees would decline to renew Newman's contract after the season even if he doesn't decide to retire. Sounds like he's a goner either way.
The Yankees tend to promote from within, so it's no surprise that King says special assistant Trey Hillman is expected to replace Newman. Hillman, who managed the Royals from 2008-10, rejoined the Yankees this past offseason. He managed in the team's farm system from 1990-2001 and has also spent time managing in Japan. Hillman spent this season working with minor leaguers, I believe.
In addition to Newman, the Yankees are also likely to cut ties with director of player development Pat Roessler after the season, according to King. He has been in that role for quite a while now. King says former Yankees hitting coach Gary Denbo will likely replace Roessler. Denbo has been with the team as a scouting and player development consultant since 2009.
The Yankees only made what they called "procedural" changes late last year after reviewing their farm system, and many fans (myself included) weren't thrilled about that. Procedural changes are boring because we can't actually see them at work. Replacing Newman and Roessler would be substantial changes to the player development system though. I have no idea how qualified Hillman and Denbo are for those positions, but they will bring new voices, and hopefully that leads to some production from the system. The Yankees definitely need it.
Update: Newman has already informed Hal Steinbrenner that he intends to retire, according to Mark Feinsand. Steinbrenner plans to conduct a "total evaluation" of the player development system that could result in a "complete overhaul" after the season. Feinsand says Denbo, Roessler, amateur scouting director Damon Oppenheimer, and player development staffer Jody Reed could all be replaced. Furthermore, Feinsand hears any replacements are expected to come from outside the organization "as the Yankee brass believes that new ideas and a new direction are needed."
For more than a decade, a Yankees-Orioles series in September was relatively meaningless. The Yankees were atop the division every year and the Orioles were always in the cellar, so there wasn't a whole lot on the line whenever these two clubs met late in the season.
The tables have turned in 2014. The O's are the team sitting atop the AL East while the Yankees are floundering closer to the bottom than the top, trying their darnedest to remain relevant for another week or so. In fact, Baltimore can officially eliminate the Yankees from the division race with a sweep this weekend. Let's try to avoid that, mmmkay? Here is the Orioles lineup and here is the Yankees lineup:
Perfect weather for a doubleheader in Baltimore. Temperatures in the low-to-mid-70s and just a few clouds in the sky. This afternoon's game will begin at 1:05pm ET and you'll be able to watch on YES locally and MLB Network nationally, depending on where you live. Enjoy the game.
Update: As expected, the Yankees activated David Phelps (elbow) off the 15-day disabled list. They don't have to make a corresponding roster move because of the expanded rosters … Brett Gardner (abdomen) did some running today and could be available for the second game of the doubleheader.
The Yankees are still mathematically alive in the division race, but realistically the Orioles have the AL East all wrapped up at this point. They've lapped the field. These two teams will play four games in three days this weekend — they're making up the August 12th rainout with a doubleheader today — and I guess it's worth noting the O's can officially eliminate the Yankees from the division race with a sweep. The Bombers have lost eight of eleven games to the Orioles this season, including one win in five games in Camden Yards.
What Have They Done Lately?
Baltimore was off yesterday and they swept three games from the Red Sox in Fenway Park earlier this week. They're on a serious roll, winning four straight, seven of nine, and eleven of 14. The O's are 86-59 with a +94 run differential, the second and fourth best marks in the league, respectively. They are ten games up on the Blue Jays and 10.5 games up on the Yankees with a little more than two weeks left in the regular season.
Offense
Manager Buck Showalter's offense averages 4.40 runs per game with a team 104 wRC+, so they are just a bit above the league average despite leading the world with 192 home runs. No other team is within even 20 of that total. They just don't get enough guys on base in front of the sluggers. Both C Matt Wieters (Tommy John surgery) and 3B Manny Machado (knee surgery) are done for the year, and SS J.J. Hardy (98 wRC+) is day-to-day with a back issue. He received a cortisone injection on Wednesday and I guess that means he could return at some point this weekend.
The Orioles lineup is built around the power bats of OF Adam Jones (117 wRC+) and OF Nelson Cruz (136 wRC+), who have hit 25 and 39 homeruns, respectively. Cruz leads baseball in dingers. 1B Chris Davis (93 wRC+) is having a rough year following last season's 53-homer breakout. He still has 26 homers though. Davis has been playing third base with Machado out and 1B Steve Pearce (147 wRC+) is filling in at first base. We all saw Pearce doing that when he was on the Yankees a few years ago, right? Right.
OF Nick Markakis (102 wRC+) leads off and OF Alejandro De Aza (91 wRC+) was a late-August waiver pickup to add depth. 2B Jonathan Schoop (67 wRC+) has crushed the Yankees all year and IF Ryan Flaherty (72 wRC+) has been filling in at short with Hardy hurt. Ex-Yankee Kelly Johnson (82 wRC+) comes off the bench to replace Davis for defense at third base, if you can believe that. C Caleb Joseph has taken over as the everyday catcher (93 wRC+) while C Nick Hundley (82 wRC+) joins OF David Lough (78 wRC+) on the bench. C Steve Clevenger, OF Quintin Berry, and ex-Yankees farmhand UTIL Jimmy Paredes are the September call-ups.
Pitching Matchups
Game One Friday: RHP Brandon McCarthy (vs. BAL) vs. RHP Kevin Gausman (vs. NYY)
The Orioles sure have taken advantage of the 23-year-old Gausman's minor league option this year, sending him up and down numerous times to manipulate the roster and add fresh arms. He's been their heavily used sixth starter — the O's have been using him to regularly give their other starters extra rest — and has a 3.83 ERA (3.40 FIP) in 17 starts and 96.1 innings this summer. Outside of a stellar homerun rate (0.47 HR/9 and 5.1 HR/FB%), Gausman's peripherals are kinda unimpressive: 6.82 K/9 (18.0 K%), 3.27 BB/9 (8.6 BB%), and 41.2% grounders. Lefties (.321 wOBA) have hit him a bit harder than righties (.296 wOBA). Gausman lives in the mid-90s with his four-seam fastball, which he throws roughly 70% of the time even as a starter. A low-to-mid-80s split-changeup hybrid is his top secondary pitch, and he'll also throw a few low-80s sliders as well. The Yankees scored one run in five innings against Gausman back in July.
Game Two Friday: TBA vs. RHP Bud Norris (vs. NYY)
Norris, 29, has probably been Baltimore's most consistent starter this season. He has pitched to a 3.92 ERA (4.32 FIP) in 25 starts and 147 innings with average-ish peripherals across the board: 7.10 K/9 (18.8 K%), 2.69 BB/9 (7.1 BB%), 1.10 HR/9 (11.0 HR/FB%), and 42.6% grounders. Lefties (.330) have had more success against him than righties (.313), and he's been better at home in Camden Yards (.300 wOBA) than on the road (.341 wOBA). Norris is basically a two-pitch pitcher with two other pitches. He relies heavily on his low-90s four-seamer and mid-80s slider, throwing them roughly 80% of the time combined, but he'll also throw a handful of mid-80s changeups and low-90s two-seamers per start. New York has seen Norris twice this year, scoring one run and then three runs, both times in five innings.
The Yankees have not yet announced their starter for the second game of today's doubleheader, but Joe Girardi did tell Chad Jennings that Bryan Mitchell has been "informed that he's a definite possibility." David Huff, Esmil Rogers, Chase Whitley, Adam Warren, and Preston Claiborne can all go two innings if needed, and David Phelps is expected to be activated off the disabled list today as well. The bullpen is full of September call-ups. They'll cobble it together one way or another.
Saturday: RHP Shane Greene (vs. BAL) vs. RHP Miguel Gonzalez (vs. NYY)
A few weeks ago it looked like Gonzalez was a candidate to be dropped from the roster, but he's pitched exceptionally well of late (four runs allowed in his last five starts total) and is now sitting on a 3.22 ERA (4.85 FIP) in 23 starts and 142.1 innings. He also made one relief appearance. The 30-year-old is another guy without strong peripheral stats: 6.39 K/9 (16.8 K%), 2.91 BB/9 (7.6 BB%), 1.39 HR/9 (12.0 HR/FB%), and 38.0% grounders. His platoon split is pretty small. Gonzalez's money-maker is a split-changeup hybrid that sits in the low-80s. He sets it up with low-90s fastballs and also throws a low-80s slider and mid-70s curveball. The Yankees scored three runs in six innings against Gonzalez back in April, then he held them to two runs in eight innings in July.
Sunday: RHP Hiroki Kuroda (vs. BAL) vs. RHP Chris Tillman (vs. NYY)
Tillman, 26, was the Orioles' Opening Day starter this year, and he has a 3.36 ERA (4.09 FIP) in 31 starts and 187.2 innings. Again, his strikeout (6.38 K/9 and 16.9 K%), walk (3.02 BB/9 and 8.0 BB%), homer (0.91 HR/9 and 8.4 HR/FB%), and ground ball (40.9%) numbers do not jump out at you. His platoon split is small but he has been much more effective at home (.274 wOBA) than on the road (.324 wOBA). Low-90s four-seamers and cutters set up Tillman's mid-80s slider, low-80s changeup, and big-breaking mid-70s curveball. He's lost about one mile an hour off his fastball for the second straight year, but he keeps getting outs. Tillman has started against the Yankees three times this season: six shutout innings in June, three runs in 6.2 innings in July, and two runs in seven innings in August.
Bullpen Status
Showalter's setup man/closer combination features two lefties who can actually get righties out: LHP Andrew Miller (1.48 FIP) and LHP Zach Britton (3.13 FIP). RHP Darren O'Day (3.07 FIP) will also see setup work while RHP Tommy Hunter (3.19 FIP) has been more of a sixth/seventh inning type. Baltimore was off yesterday, so everyone is relatively fresh.
RHP Brad Brach (3.59 FIP), LHP Brian Matusz (4.22 FIP), RHP Ryan Webb (2.65 FIP), and RHP Ubaldo Jimenez (4.81 FIP) are the rest of the bullpen regulars. Ubaldo was demoted to mop-up duty a few weeks ago. Yikes. LHP T.J. McFarland, RHP Evan Meek, and LHP Joe Saunders are the extra September arms. Check out the status of the Yankees bullpen at our Bullpen Workload page. Camden Chat is the plate to go for the latest and greatest on the Orioles.
Update: Chris Davis has been suspended 25 games after testing positive for an amphetamine, MLB announced. Apparently he was taking Adderall with out approval. Either way, we won't see him this weekend or when these two team play again in a week and a half.
Baseball, man. The Yankees went from staring a no-hitter and a humiliating loss in the face in the eighth inning to celebrating a huge walk-off win in the ninth. I don't know if this was the best win of the season, but it was very satisfying and it certainly feels like the most improbable. The final score was 5-4.
All With Two Outs
For the first time in his ten starts this season, Michael Pineda allowed more than two runs on Thursday night. He served up three runs on one swing and it all happened with two outs. Wil Myers beat out an infield single with two outs in the fourth, Matt Joyce followed with a solid single to center, then Yunel Escobar unloaded on a hanging slider for a three-run homer into the first row in left field. I though it was gone off the bat. Kinda surprised me when it only landed in the first row. Either way, it was a three-run homer.
Escobar took Pineda deep for a solo homer in the seventh inning on a nearly identical pitch, a hanging slider that he hit out to left. This one had a little more distance than the first dinger. Pineda allowed four runs in 7.1 innings on Thursday, making this his worst non-pine tar start of the season. He struck out two and didn't walk anyone because he never walks anyone — Pineda has walked four batters in 57.1 innings this year. That's nuts. Giving up two homers to Yunel friggin' Escobar is pretty annoying, but that's life. Pineda was bound to have a dud eventually.
No No-No
The Yankees did not get their first real base-runner until Brian McCann drew a one-out walk in the seventh inning. The only guy they put on base in the first six innings came when center fielder Kevin Kiermaier dropped Stephen Drew's fly ball leading off the third. It wasn't a routine play, he did have to go back on the ball a bit, but he had a second to camp under it and the ball hit off his glove. Clearly an error. The Yankees didn't even see their first three-ball count until there was one out in the fifth inning. Alex Cobb was mowing them down.
Mark Teixeira followed McCann's walk with a walk of his own, which was the first sign Cobb was starting to lose it a bit with his pitch count approaching 90. Chase Headley struck out and Ichiro Suzuki popped out to end the mini-rally, however. The Yankees got their first base hit in the next inning, when Chris Young ripped a legitimate line drive double into the left-center field gap with one out in the eighth. Cobb left a fastball up and out over the plate, which is something a tiring pitcher tends to do. Not getting no-hit felt like a win all by itself. It really looked it would happen for a good while.
The team's second hit of the night came one batter after Young broke up the no-hitter. The hobbling Martin Prado pinch-hit for Brendan Ryan and clubbed a two-run homer to left field to give the Yankees some life. Derek Jeter was hit by a pitch (more on that in a sec) and McCann reached on a James Loney error with two outs in eighth to bring the go-ahead run to the plate, but Teixeira struck out on three pitches to end the threat. That one is in the running for the worst at-bat of the year. Strike one looking, strike two looking, strike three swinging through a belt high fastball. End of rally.
Win It For Chase's Chin
The game-winning ninth inning rally started the hard way. Headley took a Jake McGee fastball to the chin leading off the ninth inning and was down on the ground for several minutes. Eventually he walked off the field under his power. It's always so scary whenever a player gets hit up around the face. Headley looked to be responsive but there was blood and you could already see some swelling. He's heading to tests on his jaw. Scary.
The hit by pitch did spark the rally though, so it did not go for naught. Ichiro followed with an opposite field hustle double, putting the tying run in scoring position with no outs. Pinch-hitter Zelous Wheeler swung through three McGee fastballs for the first out, but then September hero Chris Young jumped all over a fastball up in the zone, sending the pitch out to left field for a three-run walk-off homer. He knew it was gone off the bat based on his rather aggressive bat flip. The Yankees went from losing 4-0 and being no-hit to walking off with a win in the span of three offensive outs. It was the first homer McGee allowed all season. This team, man.
Leftovers
Jeter took a Brad Boxberger fastball to the elbow in the eighth inning. It looked like it hit his elbow guard but he was still in a lot of pain. (Post-game x-rays came back negative.) Given his impending retirement and the fact that the season is almost over, I know I wasn't the only one who suddenly worried his playing days were over because of some sort of fracture or whatever. Thankfully Jeter remained in the game and seemed to be fine. That was kinda scary for a minute.
Rich Hill bailed out Pineda in the seventh inning by striking out both Loney and Joyce with a runner on second base. There was an intentional walk of Myers mixed in there as well. The Yankees pulled someone named Chaz Roe out of the bleachers and he walked the leadoff guy in the ninth after getting ahead in the count 0-2. Josh Outman got his lefty out on a sac bunt and Shawn Kelley finished the inning with two ground balls. Five pitchers to get the last six outs.
Young's homer was the team's fourth walk-off homer of the season and second of the homestand — Headley walked off against Koji Uehara and the Red Sox one week ago. Carlos Beltran and McCann had the other walk-off homers. Headley, McCann, and Prado also had walk-off singles, giving the Yankees seven walk-off wins this year. They had seven last year as well, which surprised me. I can't remember any of them right now. Drawing a blank.
Ichiro threw Loney out at the plate on Joyce's single to end the sixth inning. It wasn't a perfect throw by any stretch — it was a three or four hopper along the first base line — but McCann did a great job of catching the ball and lunging across the plate to tag the very slow Loney. A runner with even average speed would have been safe by a mile. Loney slid a little early and didn't even touch the plate. Pretty big in hindsight.
Box Score, WPA Graph & Standings
MLB.com is the place to go for the box score and video highlights. FanGraphs has some other stats and ESPN has the up to the minute standings. Both the Tigers and Mariners were off on Thursday, so the Yankees are now four games back of the second wildcard spot with 18 left to play. FanGraphs has their postseason odds at 2.5%.

Source: FanGraphs
Up Next
The Yankees are off to Baltimore for a four-game weekend series with the Orioles. The two teams will make up the August 12th rainout as part of a doubleheader Friday. Brandon McCarthy and Kevin Gausman will be the pitching matchup for the first game.
By

10:28pm: Headley is heading for x-rays and additional tests on his jaw and will not leave with the team when they travel to Baltimore tonight.

10:07pm: Chase Headley left tonight's game in the ninth inning after taking a Jake McGee fastball to the chin. He was down on the ground for several minutes and there was blood, but he seemed to be responsive. Team doctor Dr. Ahmad even came out to check on him, which you rarely see. Headley eventually walked off the field under his own power. Scary, scary stuff. Stay tuned for any updates. · (35) ·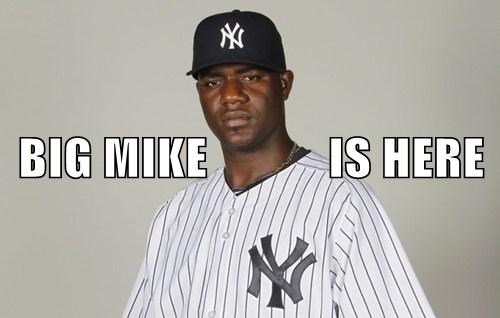 For the fifth straight series, the Yankees have split the first two games. They're sending Big Mike Pineda to the mound tonight as they try to win the rubber game for only the second time in those five series.
Pineda has emerged as the staff ace at this point but the Yankees just don't score any runs for him. Among the 191 starters who have thrown at least 40 innings this season, Pineda ranks 191st in run support. Dead last. The Yankees average 2.22 runs when he's in the game. I guess that's why they're 3-6 in his nine starts even though he has a 1.80 ERA. Here is the Rays lineup and here is the Yankees lineup:
It's cloudy, warm, and humid in New York right now, but there is no rain in the forecast. Tonight's game will start just after 7pm ET and you can watch on YES locally and MLB Network nationally. Enjoy the game.
Not long before last night's win over the Rays, the Yankees had to scratch Carlos Beltran from the starting lineup because of soreness in his right elbow. He has a bone spur in the elbow, as you know, and he's been nursing the injury since early-May. It has limited him to mostly DH duty and last night was not the first time lingering soreness forced him to skip a game. As someone who's dealt with a bone spur, I know they can be far from comfortable.
Both the Yankees and Beltran have said he will have surgery to remove the bone spur immediately after the season, though he has played through it these last few months in an effort to help the team remain in the postseason race. That hasn't happened though. The Yankees have faded out of the postseason picture — FanGraphs puts their postseason odds at a 1.6% right now — and it will take a historic run to win a wildcard spot at this point. It's not gonna happen.
Because the Yankees are a long shot to play October baseball, they should get a head start on the offseason and send Beltran for his surgery right now. They've said he will need two months of rest before he can resume baseball activities, which won't interfere with his usual offseason routine, but we've seen CC Sabathia (elbow) and Derek Jeter (ankle) have offseason surgery in recent years only to need more time to recover than expected. Beltran is 37 years old, remember. A setback or a slow recovery wouldn't be the most surprising thing in the world.
Now, this is not the same situation as Masahiro Tanaka. We already know Beltran is having surgery. It's going to happen as soon as the season ends. The Yankees and Tanaka are actively trying to avoid his elbow surgery though, a surgery that is much more serious than what Beltran will go through. If Tanaka was definitely going to have his surgery, then yeah, I'd be all for sending him for it right now. That's not the case though. It is the case with Beltran. We know he's having the procedure. There's a different dynamic.
In hindsight, the Yankees should have just sent Beltran for the surgery when he initially got hurt. Word got out that he had the bone spur on May 13th, and he hit a weak .192/.252/.365 (68 wRC+) over the next two months, the time he would have missed during his rehab. The Yankees wouldn't have missed his bat at all and they would have had a healthy Beltran for the second half. Obviously it doesn't work exactly like that — who knows how long it would have taken Beltran to get his timing back, etc. — but playing through the injury didn't exactly help.
Between Brett Gardner (abdomen) and Martin Prado (hamstring), the Yankees are already short two regular position players. Beltran would make it three but that's a minor issue at this point. Rosters are expanded and their postseason odds are remote. Chris Young and Ichiro Suzuki would get a few extra at-bats and maybe Antoan Richardson would get a start. Who cares. Ending Beltran's season 19 games early won't mean much of anything to the 2014 Yankees.
Joe Girardi told reporters last night that the team is considering shutting Beltran down for the season and sending him for the surgery, but they're going to wait two of three days before making a final decision. That's fine. Two or three days isn't a big deal. I'm just happy they're considering the option and not stubbornly looking to keep him in the lineup and in an effort to feign contention. Shutting Beltran down now won't change anything with regards to where the team sits in the standings, but getting the two-week head start on the surgery would help put him in the best possible position to help the team in early-2015.