Wow! I already had a chunk of this recap written and had to erase a paragraph or two after that ninth inning. After a lackluster showing for the first eight innings, the Yankee bats slugged their way to a six-run inning in the ninth to win this game 9-7.
Not the best Tanaka start
After tossing a scoreless first, Masahiro Tanaka gave up a run in the second. He allowed a double to Prince Fielder and Elvis Andrus later drove him in with an RBI single, making it 1-0 Rangers.
After the Yanks tied it with Chase Headley's homer, Masahiro got into another jam in the third. He allowed back-to-back singles to Robinson Chirinos and Shin-Soo Choo to begin the frame. Ian Desmond worked a walk in a 3-2 count to get the bases loaded. In another full count, Tanaka threw a 87-mph slider that just kind of hung in the strike zone, and Nomar Mazara drove it into the gap for a three-run double. 4-1 Rangers. Fielder followed it up with a grounder that 1B Rob Refsnyder was able to reach but not pick up. Nomar Mazara raced to home to score another, 5-1 Rangers. That was one of the worst innings from Tanaka in this season.
In the sixth, Tanaka allowed another run – this time, a solo blast by the rising star Rougned Odor for his 15th of the season. 6-1 Rangers. By the time his outing was done, Masahiro had allowed six earned runs in 6.0 IP – not necessarily what you want to see from your ace. If you want to see the bright side, he did strike out seven while walking only one, which is good for padding on that xFIP. (But you know who has a good xFIP though? Michael Pineda with 3.36)
Little offense scattered throughout the game
With the team trailing 1-0, Chase Headley tied the game in the second inning with a solo home run. He got a 93 mph fastball on the inside corner and smoked it towards the right field seats for his fifth dinger of the year. Don't look now but he's now hitting for a .250 AVG and his OPS has crept up kind of close to .700 (.682 in reality). Keep it up and he actually might end up with a decent line.
The Yankees had a major chance in the bottom of sixth. Brian McCann led off with a walk and Starlin Castro singled to put two baserunners with no out. Rangers manager Jeff Banister summoned lefty Cesar Ramos to face Didi Gregorius. Gregorius *almost* grounded out into a double play but he was called just barely safe to make it runners on corners with one out. That made at least some difference – the next hitter, Headley, flied out deep enough to drive a run in, making it 6-2 Rangers.
Oh, meanwhile, Luis Cessa came into the game in the seventh to relieve Tanaka. After throwing a 1-2-3 seventh, he allowed a solo home run to Adrian Beltre on the first pitch of eighth. It was a Yankee Stadium cheapie that just cleared the right field fence. Aaron Hicks gave it a good try to rob it but he barely missed it – from the replays, the ball just sailed over his glove as he was in mid-air. The home run increased Texas' lead to 7-2, which was insurmountable, right? That was about the only damage Cessa allowed – he pitched for 3 innings, allowed one run while striking out and walking two each. Not awful.
New York added another run in the bottom eighth with Brian McCann going deep for a solo shot to make it 7-3 Texas. The ball sailed just over RF Shin-Soo Choo's glove and into the seats, a classic Yankee Stadium cheapie (again). But hey, a run! Bad news: YES Network cameras showed that he slowed down between first and second. It seemed like something was going on with his knee. Not good. Fortunately, he came into catch the next inning. I'm guessing things were alright. Well, you haven't seen everything yet…
Rally! Win!
Former no. 1 overall pick Matt Bush was on the mound to start the bottom of ninth. He had come into the game in the bottom eighth and retired both hitters that he faced. In the ninth, however, he allowed a single to Refsnyder and walked Jacoby Ellsbury to make it a bit interesting. Bannister decided to hammer it down by bringing the closer Sam Dyson. That's when all the fun began.
Brett Gardner, in a 1-1 count, hit a 95 mph fastball towards center to drive Refsnyder in, reducing the deficit to three runs. The next hitter, A-Rod, hit a sharp liner right at Rougned Odor for an out. That was quite dangerous with runners on second and first. Had both runners been off the base a bit further, it would've been a potential triple play situation. Instead of that, the Yankees got something else.
Brian McCann, coming off a bit of a knee scare after homering in the eighth, got a 97 mph fastball right in his wheelhouse to hit a game-tying solo homer Against the power-hitting, pull-happy lefty hitter in Yankee Stadium, I don't think Dyson could have located it any worse. Just take a look: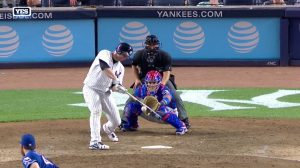 The inning was already nuts and the Yanks weren't done partying yet. Only with one out, Starlin Castro, he of 4.0% walk rate, worked a five-pitch walk to get on base. Gregorius, who is actually having a decent season with a bat (.290/.320/.425 after the game), swung at a first-pitch changeup and didn't miss any of it – he hit it right above the right field fence for a walk-off two-run homer. 9-7 Yankees. That was a heck of a roller coaster ride of an inning.
Box score, highlights, WPA and standings
Here's tonight's box score, video highlights, WPA and updated standings. As you may see from the WPA chart, tonight was a bit nuts.

Source: FanGraphs
Up Next
The Yankees and Rangers wrap up this series Thursday afternoon. Michael Pineda and A.J. Griffin will be the starters.