By TiqIQ
Over the last week, the average price for Mariano Rivera's final game has dropped on the secondary market from $238 on September 8th to $103 today.  It's one of the few games the Yankees have sold out this season. Despite that fact, the average price is now only 10% above the Yankee's regular season average.  That's quite a contrast from opening day, when the game had an average price of $371. In April, Yankees fans envisioned a strong finish after an injury-slowed first half, and Mariano on the mound saving a game to put them into the playoffs for one final magical Mo postseason.  Instead, it's been almost a week since he has pitched, and while a there have been a couple wins along the way, the last 10 days has been filled with a lot of lopsided losses.  Tonight, the Yankees will face Alex Cobb, whose 2.90 ERA is the best of any of the Rays starters this series.  Based on the first two games of the series, a save opportunity may be a long shot.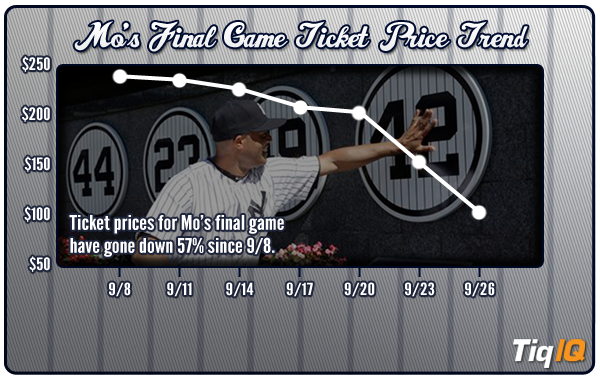 To the dismay of Yankees fans, Mo has not been trotting out for a ceremonially inning this series.  Not surprisingly, it's been business as usual for the Mo, and last night was no exception.  With two outs in the bottom of the 8th, the Yankees, down 7-3, loaded the bases. When Curtis Granderson came to plate, one swing could have tied the game. Many managers feel that a tied game in the 9th at home is the equivalent to a save situation. Preserving the tie gives the home team a chance to win the game in the bottom half of the 9th, so goes the logic.  With that possibility, Mariano quickly stood, loosened his arm with a few bent-over windmills and stepped up the bullpen rubber.  The crowd cheered in anticipation of a miracle, and Mo threw two quick pitches at about three-quarters speed before Granderson grounded sharply into a shifted 4-2 putout.  With the threat over, Rivera returned to his seat and eventually watched the Yankees go out 1-2-3 in the ninth.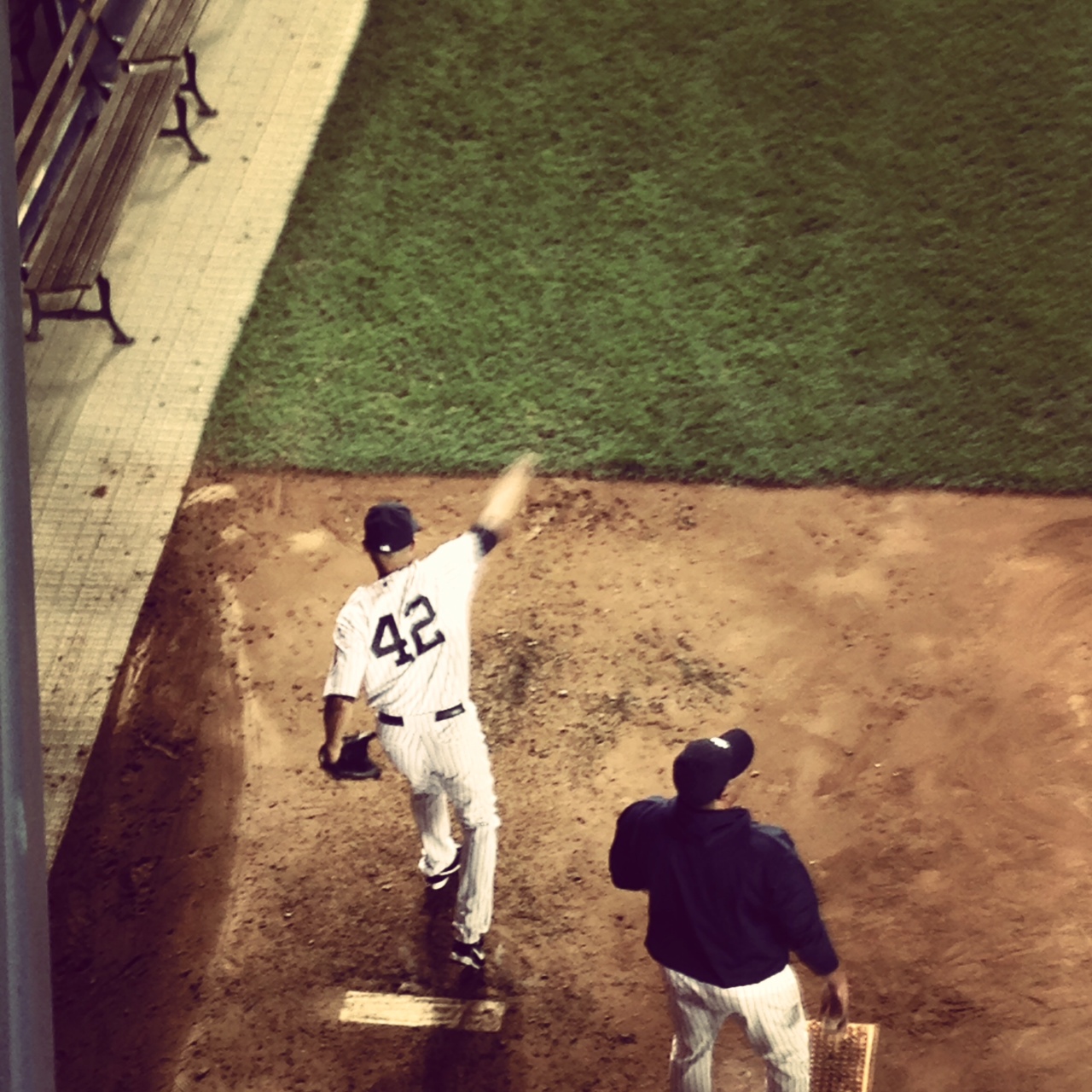 If the Yankees can't make it close tonight, those could have been Mariano's two last warmup pitches in Yankee Stadium.  Despite their elimination last night, and the final confirmation that there would be no world series tickets in the Bronx, the Yankees still have something to play for tonight: the chance to give their fans one last opportunity to see the great Mariano close a game.   It would be some version of a happy ending to a miserable and tortured season, and give Yankees fans a brief moment to reminiscence about the last 19 seasons before turning their attention to an uncertain future.
By

This afternoon, Joe Girardi told reporters the Yankees are "absolutely" kicking around the idea of letting Mariano Rivera play an inning in center field before the end of the season. It won't happen tonight, during the team's final home game, because the game is meaningful to the Rays and they want to respect the pennant race. Something like that. If it does happen, it'll be in Houston this weekend. Rivera would likely play center in the eighth and pitch in the ninth. I really hope this happens. Would make the entire season worth it. · (30) ·
By

3:58pm: Both Brian Cashman and Joe Girardi have shot down the report. A-Rod does not have permission to skip the Houston trip and will apparently be with the team for the final series of the year this weekend.

2:52pm: Via NYDN: The Yankees have given Alex Rodriguez permission to skip this weekend's series with the Astros in Houston so he and his legal team can prepare for his upcoming appeals hearing. The hearing is scheduled to start on Monday and is expected to last several sessions. A ruling may not come down until November or December. The Yankees were eliminated from postseason contention last night, so these last four games don't mean anything. Tonight will be A-Rod's final game of the year and, possibly, his career. · (24) ·
Well, this is awkward. The Yankees were eliminated from playoff contention last night but there are still four days and four games left in the regular season. They've broken up with the postseason, but they're stuck living with each other until the lease runs out, or something. That was a bad analogy.
Anyway, these next four days are meaningless — unless you're overly concerned about moving up or down one draft slot — but they do have some value to the Yankees. They have a chance to attend to some serious and not-so-serious business. Here are the three most important items on the agenda:
Start serious contract talks with Robinson Cano
Cano's impending free agency is, by far, the biggest issue facing the Yankees these next few weeks. The five-day exclusive negotiating period expires five days after the end of the World Series, so the team has about a month to hammer out a deal and keep him off the open market. Obviously doing that would be preferable. The last thing the Yankees want is a bidding war.
"If we don't make it to the playoffs, I want to take my time, go on vacation and relax. Then I want to sit down with my family and decide what we gonna do," said Cano to Wally Matthews yesterday. "I haven't decided anything yet, but don't get me wrong. I love this team, you know? … I understand it's a business. They have to decide what is the best for them, and I have to decide what is best for me and my family. I'm just waiting for the day."
The Yankees made Cano a "significant offer" during Spring Training — before he changed agents — and just this morning we heard the team offered seven years and $161M. (Let's ignore Robbie's demand of $305M for the moment, that's just AgentSpeak.) Now that they've been eliminated, the team needs to sit down with Cano's camp and get serious about a new contract. The idea of talks being a "distraction" during the season is a non-issue now — no one would care if he went 0-for-20 in the final four games. It changes nothing other than his stat line*. This is the single most important piece of offseason business. Get it done as soon as possible.
* Just for the record, an 0-for-20 would drop Cano from .315/.384/.519 to .305/.374/.503 on the year. No one would notice the difference.
Shut down David Robertson, David Phelps, and Shawn Kelley (and Boone Logan)
A bunch of the team's relievers have been banged up of late, and since these last four games are meaningless, the Yankees should just shut them all down and look toward next season. Robertson (shoulder), Phelps (forearm), and Kelley (triceps) have all missed time with arm problems in recent weeks — and not coincidentally, they've kinda stunk — so just shut them down and focus on getting them healthy for their offseason workouts and whatnot. All three figure to be not just part of the pitching staff next season and beyond, but rather important pieces of the pitching staff. No need to push it.
As for Logan, he needs offseason surgery to clean a bone spur out of his elbow after missing a few weeks with soreness. He's available to pitch now but there's no reason to run him out there. Logan will be a free agent this winter and there's no real indication the Yankees will try to re-sign him, so this is more of a "thanks for the last four years, we're not going to risk further injury by running you out there on the verge of free agency" thing rather than a "get healthy, we need you next year" thing. Just do the guy a solid.
Let Mariano Rivera play center field
This has gotta happen. Tonight too, not in Houston. Rivera has been shagging fly balls before batting practice for over two decades now for this very situation. I say regardless of the actual score, let him pitch the eighth inning and then play the ninth in center field in tonight's series finale against the Rays. The other way around would be ideal since the ninth inning is Mo's inning, but I'm not sure he could play the field in the eighth and warm up for the ninth. I don't think warming up in the bullpen before the eighth and "sitting" for an inning would work either.
Following last night's loss, Joe Girardi said he will continue to play his regulars out of respect for the game, which makes me think he won't play Rivera in center field tonight since Tampa is still fighting for a playoff spot (and seeding). This weekend against the Astros will be a different matter. There's literally nothing on the line other than the Yankees' draft slot — the Astros have already clinched the first overall pick for the third straight years — which means Mo might have to wait for the weekend. That would be really unfortunate. If he does play an inning in center, it should be in front of the hometown crowd. Let's hope for a huge lead (or a huge deficit, who really cares at this point) in the late innings so Rivera could play some outfield in his final game in the Bronx. It would make this whole mess of a season totally worth it.
By

Via Buster Olney: Robinson Cano is seeking a ten-year contract worth $305M this offseason. That would be the largest contract in baseball history by a lot — $30M more than Alex Rodriguez's current albatross. The winter's best free agent seeking a record contract — especially with a rookie agent looking to prove he means business — is not surprising at all. No reason to ask for anything less.

Meanwhile, and more importantly, David Waldstein says the Yankees offered Cano a seven-year, $161M contract. David Wright, another homegrown New York superstar, signed a seven-year extension worth $138M last winter, so the team's offer makes sense. Wright was a year (not weeks) away from free agency and Cano is the better player (especially when you consider his durability), hence the larger offer. My official guess is an eight-year deal in the $190M-ish range, but that's just a guess. · (190) ·
This was a question of when, not if. The Yankees were going to be eliminated from postseason contention at some point and that some point just so happened to be last night. As I said in the recap, it's pretty amazing they were still in the race after 157 games. They should have been dead in the water weeks ago. Let's start the eulogy:
1. I have absolutely no idea what to expect this offseason. Usually, after the season ends, we have a pretty good idea of what the Yankees will do over the winter, at least a general direction of some sort. This year? No idea. I could see them making serious changes — front office level changes — just as easily as I could see them tinkering and making little moves but nothing major. I could see them continue to target veterans or finally decide to go young. I really have no idea and that's actually kinda exciting. Exciting and nerve-wracking. This is going to be the team's most fascinating offseason in a long, long time. Maybe of my lifetime.
2. Just eyeballing the 40-man roster, the Yankees will have five open spots after the season. Twelve players are due to become free agents but six have to come off the 60-day DL, plus Frankie Cervelli has to come off the restricted list. Matt Daley, David Huff, and Mike Zagurski are under team control as arbitration-eligible players but are prime release/non-tender candidates, so it could be eight open 40-man spots. The Yankees have seven interesting at worst, very good at best prospects eligible for the Rule 5 Draft this offseason — the list is in last week's mailbag — so it'll be interesting to see how they handle the roster crunch this winter. Unless they go in-house to plug every hole (lol), they'll need to make 40-man space for like two starting pitchers, half a bullpen, the left side of the infield, at least one outfield spot, and the bench.
3. I wonder if the Phillies would have any interest in Ichiro Suzuki this winter. They were reportedly one of the teams that offered him a two-year contract this past offseason — the Giants were the other — so maybe they'll still want him for 2014. Obviously Ichiro has no trade value, but if the Yankees could flip him for like $2M in savings and a Grade-C prospect, they should jump all over it. Replacing a no-hit, all-glove fourth outfielder isn't exactly difficult, so the move would be all about saving a few extra bucks under that all-important $189M luxury tax threshold. Phillies GM Ruben Amaro Jr. can't help himself when it comes to big-name players. Maybe the Yankees will get lucky.
4. This season was cool for like three weeks and it started to suck after that, but it's still going to be sad when the season ends on Sunday. Baseball is all about routine and come Monday that routine will be broken. Yeah, the playoffs are always fun, even when the Yankees aren't involved, but it's not the same. Regular season baseball has this everyday monotony that can be described as both beautiful and awful. Playing every single day is both the best and worst thing about baseball. As frustrating as the 2013 Yankees were for most of the summer, I'm really going to miss them. I'm not ready for the offseason yet.
It was only a matter of time. The Yankees were officially eliminated from postseason contention on Wednesday night when the Indians beat the White Sox, but to make sure everyone knew they meant business, the Bombers lost 7-3 to the Rays a few minutes later. That they weren't mathematically eliminated until Game 158 is something of a small victory, I suppose. This team had no business staying in the race as long as it did.
End Of An Error
With a blown call at third base and a(nother) quick hook by Joe Girardi, Phil Hughes' time with the Yankees came to an unceremonious end in the third inning. At least I think it did. I suppose there's always a chance they could re-sign him, but nah. He allowed three runs on seven hits and one walk in two innings plus three batters before hand-holder David Huff came in to replace him. Hughes threw 35 of 51 pitches for strikes and got seven swings and misses. It was his 14th start (out of 29) of fewer than five innings, the most ever by a Yankee in a single season.
Philbert ends the season with a 5.19 ERA and 4.49 FIP in 145.2 innings. That's the fewest number of innings thrown by a pitcher who made at least 29 starts in a season in baseball history. By seven innings too, so it ain't all that close. Hughes ends his time with the Yankees with a 4.54 ERA in 780.2 innings, which is the third highest in franchise history by a pitcher who threw at least 500 innings in pinstripes. Only A.J. Burnett (4.79 ERA in 584 IP) and someone named Hank Johnson (4.84 ERA in 712.2 IP) were been worse. His 1.29 HR/9 is the highest in franchise history (min. 500 IP), just ahead of Dennis Rasmussen (1.28 HR/9 in 597.1 IP) and Burnett (1.25 HR/9). So long Phil, thanks for 2009.
Three Token Runs
The "just enough" offense showed up for Wednesday's meeting with David Price. The Yankees scoring one run on Robinson Cano's booming double to left and another on Eduardo Nunez's solo shot against the reigning AL Cy Young Award winner, who otherwise cruised through seven innings. He held New York to those two runs on six hits and no walks, and he didn't even go to a single three-ball count on any of the 27 batters he faced. Price struck out eight and recorded 16 of his 21 outs on the infield. He's really good, in case you forgot.
The Yankees scored a third run on Lyle Overbay's bases loaded walk in the eighth and could have really made it interesting, but they left the bases loaded. Nunez and Cano were their only players with multiple hits while Alex Rodriguez, Alfonso Soriano, and Chris Stewart were the only starters who failed to reach base. Price retired the final ten and 15 of the final 17 men he faced. The Bombers went on a nice little offensive run after adding Soriano, A-Rod, and Granderson to the lineup last month, but that has dried up of late. They've scored just 28 runs in their last eleven games now.
Leftovers
The whole Hughes/Huff tandem starter thing  blew up for the first time, as Huff got rocked for four runs on five hits and a walk in 3.2 innings. He gave up back-to-back homers to Evan Longoria (three-run shot) and David DeJesus. It is the first homer DeJesus has hit against a left-handed pitcher since August 6th. Of 2011.
The rest of the bullpen was okay, I guess. Cesar Cabral allowed a single to pinch-hitter Desmond Jennings while Preston Claiborne allowed a solo homer to Longoria and a single to Delmon Young. Matt Daley (one out), Cabral (1.1 innings), David Robertson (one inning), and Claiborne (one inning) retired nine of the 12 men they faced.
Cano's first inning double was his 40th of the season. It's his fifth straight year of 40+ doubles and seventh such year of his career. That ties Lou Gehrig for the most in franchise history. Todd Helton and Albert Pujols are the only other active players with seven years of 40+ two-baggers.
Box Score, WPA Graph & Standings
For the box score and video highlights, go to MLB.com. FanGraphs has some other stats and ESPN has the updated standings. As you know, this will be the first time the Yankees have missed the postseason since 2008 and only the second time since 1993, not counting the strike season.

Source: FanGraphs
Up Next
The first meaningless game at Yankee Stadium since October 3rd of 1993. That's the last time the Yankees played a home game after being mathematically eliminated from the playoffs. It will also be the final home game of Mariano Rivera's career. Ivan Nova and Alex Cobb is the starting pitching matchup. Check out RAB Tickets if you want to catch the Mo's last ever game in the Bronx in person.
By

The Yankees are offering free tickets to anyone who attended last night's Mariano Rivera bobblehead giveaway following the voucher/long line fiasco. You can get a free ticket to any home game next season except Opening Day and Old Timers' Day. All of the info is here. There's also info in there about redeeming your voucher if you never bothered to pick up the bobblehead. Good job by the Yankees, though I'm not sure inviting people to see the 2014 team is much of a reward (zing!). · (12) ·
One loss. That's all it will take for the Yankees to be officially eliminated from the postseason. One win by the Indians would do the trick as well, but let's ignore that for a second. The Yankees need to go a perfect 5-0 in their final five games to have a chance, and you know what? Wins haven't exactly been easy to come by of late. New York has lost seven of their last ten games, including three of six games against the lowly Blue Jays and Giants. How about winning just one game before worrying about winning five? Can they do that? Maybe put up a fight for a full nine innings? That would be nice. Here's the lineup that will face left-hander David Price:
And on the mound is right-hander Phil Hughes, who is almost certainly making his final start as a Yankee. Remember when he was the best pitching prospect in baseball back in 2006? Neither do I.
Lovely weather in New York today and they won't have any trouble getting the game in tonight. First pitch is scheduled for 7:05pm ET and can be seen on YES locally and ESPN nationally.
By

Wednesday: The Yankees have indeed activated Hafner, the team announced. Sabathia was transferred to the 60-day DL to clear a 40-man roster spot.

Tuesday: Via Mark Feinsand: The Yankees are planning to activate Travis Hafner off the 60-day DL on Wednesday. They'll have to make a 40-man roster move to accommodate him, but that won't be an issue. CC Sabathia is a 60-day DL candidate thanks to his hamstring injury.

Hafner, 36, hasn't played since late-July because of a shoulder injury. He hit .205/.300/.384 (86 wRC+) with 12 homers in 293 plate appearances before getting hurt. It's an inconsequential move in the grand scheme of things, but teams can't just leave a healthy player on the DL indefinitely. Welcome back, Pronk. Make yourself useful these last five games. · (22) ·