By

Via Ken Davidoff: Hal Steinbrenner was non-committal yesterday when asked about retaining Brian Cashman after the season. "We're so busy right now, trying to figure out who's going to be playing in any given game, much less that," said Hal. "We'll be talking about that soon enough. But you know me. We've got enough things to worry about during the season. That's where our focus needs to be. Let me get to October — hopefully the end of October, beginning of November — and we'll go from there."

Cashman's contract expires after the season and historically the Yankees have let his deals play all the way out before re-signing him. I agree with Davidoff that Hal's comments were more about the owner having a lot on his plate at the moment — including picking a new commissioner — than a non-endorsement of Cashman. I do think the Yankees need to get serious about changing their team-building strategies because paying premium dollars for (the decline years of) free agents and having a top-heavy roster flat out doesn't work anymore. They need more from the farm system and have to do a better job of avoiding bad players. No more Brian Robertses or Zelous Wheelers, guys like that. That has to start this offseason or else the franchise will make no progress towards returning to contention. · (115) ·
I know it doesn't come across on RAB and especially on my Twitter feed, but I try to be optimistic when it comes to the Yankees' postseason chances each year. Go ahead and laugh, but as long as they're still mathematically in it, then they have something to play for and I have a reason to remain invested in the season. We've been very lucky as a fanbase because we haven't seen a whole lot of truly meaningless baseball over the years.
The Yankees lost a heartbreaker to the Orioles last night, again failing to protect a small lead and losing ground in both the AL East and wildcard races. They are essentially out of the division race now — eight games back with 43 to play isn't insurmountable but it might as well be, and last night several Yankees even conceded it was time to focus on the wildcard — and will instead have to hope they can sneak into the second wildcard spot for the right to play a winner-take-all game with a trip to the ALDS on the line. That's better than not making the postseason in my book.
These Yankees though … man. They have given me very little reason to believe they are capable of making the type of run they need to make to get into that second wildcard spot. If the Tigers and Mariners go only 22-22 the rest of the way, the Yankees need to go 25-18 just to tie. That isn't taking the Royals and Blue Jays (and Indians) into consideration either. Their best 43-game stretch this year was 24-19 done twice, from Games 3-45 and then again from Games 60-102. That's when they had Masahiro Tanaka taking the ball every fifth day and an effective Adam Warren alongside Dellin Betances and David Robertson in the bullpen.
Now though, the Yankees don't have Tanaka and don't have an effective Warren. The offense's performance has also been flat out unacceptable — "We put a lot of money into the offense, and they have been, as a whole, inconsistent. It's been a problem. And it needs to change," said Hal Steinbrenner to Dan Barbarisi yesterday — but outside of Brian McCann, I'm not sure you can say anyone in the lineup is having a shockingly bad season. Carlos Beltran putting up a 99 wRC+ a year after having a 131 wRC+ may be unexpected, but it's not totally surprising at age 37. Jacoby Ellsbury has a 108 wRC+ in 2014 and a 109 wRC+ for his career. Mark Teixeira? Derek Jeter? Disappointing but not outside of what we could have guessed before the season.
Warren looks like he's out of gas, Shawn Kelley looked good for a few weeks but has been roughed up big time in two of his last three outings, and others like Chase Whitley and David Huff are not guys anyone wants to see in a big spot. The bullpen ran into a similar wall at the same time last year and it's probably because the Yankees played so many close games earlier in the season and forced these guys to throw a lot of intense innings. Betances seems to have avoided burn out (last night's solo homer notwithstanding) but others aren't so lucky. Playing catch-up in a postseason race with only two reliable relievers and a patchwork rotation is a bad, bad combination.
The Yankees aren't hitting and they aren't pitching well either right now, plus they don't even control their own destiny anymore. They'll need help from some other teams these next few weeks to sneak into that second wildcard spot. To quote Joe Girardi, it's not what you want. They dug this hole for themselves by letting too many winnable games slip away, mostly because of the offense and the utter lack of an impact hitter, and with each game that passes, they look less and less like a contender.
I really want the Yankees to get to postseason in Derek Jeter's final season, especially since they didn't get there in Mariano Rivera's final season dammit, but this team doesn't look like they have what it takes to make that run at all. They're technically still in it, yeah, but they've given me little reason to believe. It really, really sucks.
The Yankees probably could have picked a better day to send out their postseason invoices. The bullpen melted down again in Wednesday night's 5-3 loss to the Orioles, who left little doubt they are far and away the better team. The Yankees are 7-10 since winning seven of their first eight games after the All-Star break.
Meltdown
Desperate times call for desperate measures, and for the Yankees, that means going to Dellin Betances for three innings with a 2-1 lead. Betances allowed a leadoff single to start the sixth inning but cruised after that, striking out four of the next six batters to get the Yankees to the eighth inning with that 2-1 lead. He went back out for the eighth, recorded the first out on an infield pop-up, then served up a hanging curveball to Jonathan Schoop, who hammered it out to left for a wall-scraping game-tying solo homer. It just barely cleared the wall but that doesn't matter. They all count the same and the game was tied. Schoop has hit four of his eleven homers against the Yankees this year, by the way.
Betances was lifted immediately after the homer with his pitch count at 33. The Yankees have been scaling back on his workload in recent weeks — he had not thrown two full innings since before the All-Star break and only once did he throw more than 25 pitches in an outing since June 24th. I dunno, he didn't look tired to me, it just looked like he hung a breaking ball. It happens. In important games like this, you have to lean on your best players, and that includes going to Betances for three innings. I have no problem whatsoever with sending him back out for a third inning. It just didn't work out.
Anyway, once Betances was out of the game, Shawn Kelley came in to completely put it out of reach. He got a quick ground out to third for the second out of the inning, then Nick Markakis singled back up the middle, Chris Davis walked, and Adam Jones clobbered a go-ahead three-run homer. It wasn't a question of if the Orioles would score more runs after Schoop tied the game, just how many. Three was the answer on Wednesday. Apparently the game was important enough to use Betances for three innings but not important enough to use David Robertson at all. For the second straight game, the bullpen was unable to keep things close and let Baltimore run away with it late.
The Return of Big Mike
Michael Pineda's triumphant return to the rotation started with 12 straight outs. Only one of those outs came on a hard hit ball too. That was Davis' fly out to right field for the second out of the fourth inning. Pineda left a pitch up, Davis just got under it, and Martin Prado tracked it down and reeled it in with a perfectly timed leap at the warning track. That was it. Pineda was dominant through the first four innings, looking very much like the guy we saw back in April.
The fifth inning got a little bit messy. Nelson Cruz broke up the perfect game bid with a leadoff double when Pineda left a cutter up in the zone, putting him in the stretch for the first time all night. He retired Delmon Young on a ground out to third, but Steve Pearce went down and golfed a pitch into shallow left for a single to put runners on the corners. Cruz had to hold up to see if the ball was caught, so he only advanced to third. Ryan Flaherty drove him in with a sacrifice fly to center. Pineda got out of the jam with just one run thanks to Chase Headley's diving stop on Schoop's ground ball.
After throwing 72 pitches in his last minor league rehab start last week, Joe Girardi pulled Pineda after that fifth inning, with his pitch count at only 67. I thought it was the right move because he clearly started to labor during the long 22-pitch fifth, leaving a lot of pitches up in the zone in particular. Remember, he only made two rehab starts and wasn't stretched back out all the way. Pineda's velocity graph shows he was running out of gas too (via Brooks Baseball):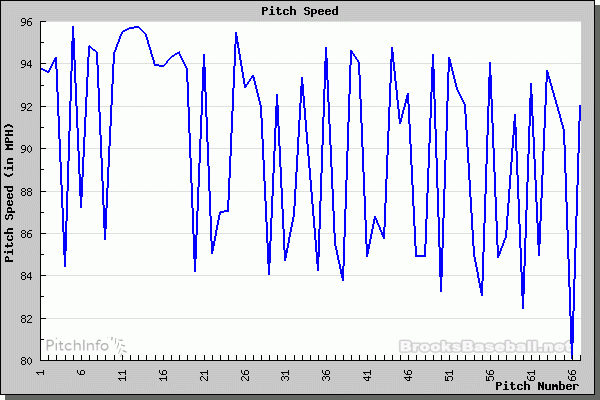 Like I said, Pineda started to labor and his stuff wasn't as crisp as it was earlier in the game. Given his history of shoulder problems, Girardi was right to play it safe and take him out after those five innings, especially since his bullpen was fresh and Thursday is an off-day. PitchFX says Pineda topped out at 95.3 mph with his fastball (averaged 93.8) and got five swings and misses, which is actually kinda low. First start in more than three months though. One run on two hits and no walks with four strikeouts in five innings is a pretty awesome first start back. Welcome back, Big Mike.
You'll Get Three Runs And Be Damn Thankful For It
The Yankees had base-runners in three of the first eight innings of the game. That's it. They plated two runs in the third inning on Frankie Cervelli's two-run homer — Chris Tillman hung the hell out of a 3-2 curveball — which came after Stephen Drew's leadoff double. It was nothing more than a fly ball to left field that Young couldn't run down. It actually hit off his glove too. An average defensive outfielder turns that into an out, no doubt in my mind. Drew (and the Yankees) got lucky, but hey, at this point he'll take whatever he can get.
One inning later, the Yankees put runners on the corners with two outs when Mark Teixeira and Headley dropped singles into right and left fields, respectively. Drew grounded out to second to end the threat. Cervelli drew a one-out walk in the eighth and stolen second base, but that's it. Brett Gardner and Derek Jeter both flew out to end the inning. Drew's double, Cervelli's homer and walk (and steal), and singles by Teixeira and Headley represented the only offense in the first eighth innings.
The Yankees did score a garbage time run in the ninth inning on Headley's ground out. Teixeira walked and Carlos Beltran doubled down the left field line with one out to bring the tying run to the plate. Headley's ground out was the second out of the inning, then Drew grounded out to end the game. The Yankees have scored more than three runs just once in their last six games. That was the ten-run aberration in the series-opening win over the Indians. The last game they won, coincidentally. This offense couldn't be any coming up any more small.
Leftovers
Girardi was ejected in the sixth inning when the umpires ruled Drew ran out of the baseline while running out a ground ball back in front of the plate. The ball was thrown wide of the bag and into right field, allowing Drew to go to second, but it didn't matter because of the call. It was awful. Drew stepped on the grass a few steps before the bag when the ball was already in the outfield. So dumb.
The top three hitters in the lineup went a combined 1-for-12. The only hit was Gardner's third inning single immediately after Cervelli's homer. Jeter banged into a 6-4-3 double play as the next batter to ensure the Yankees did not run the risk of scoring another run. Teixeira (single, walk) and Cervelli (homer, walk) were the only players to reach base twice.
Kelley has now allowed seven runs on five hits and three walks in 1.2 innings across his last three appearances. Betances and Robertson are the team's only trustworthy relievers right now. The bullpen is falling apart late in the season for the second straight year, I assume because they're burnt out from pitching so many important e innings from April through July.
Box Score, WPA Graph & Standings
Head over to MLB.com for the box score and video highlights. FanGraphs is where you can find some additional game stats. The up-to-date standings are at ESPN. The Yankees are now eight games back of the Orioles in the AL East — several members of the team said they were focusing on the second wildcard spot after the game — and as soon as the Tigers finish beating the Pirates, New York will be four games back of that second wildcard spot with three teams ahead of them. FanGraphs puts their postseason odds at 9.1% and that seems way too high.

Source: FanGraphs
Up Next
The Yankees are traveling tonight and will spend tomorrow's off-day in Tampa, at their home away from home. They open a three-game series with the Rays on Friday night. Brandon McCarthy and Alex Cobb will be the pitching matchup for the series opener.
In this week's Ask BA (no subs. req'd), J.J. Cooper answered a question comparing OF Aaron Judge to Adam Dunn. "Judge still has a long ways to go to match a Dunn comp," he wrote. "Judge is 22. At that age, Dunn already had 45 big league home runs. But Judge does have an understanding of the strike zone, and his strikeout rate isn't all that different than what Dunn did as a minor leaguer."
In other news, LHP Ian Clarkin was placed on High-A Tampa's disabled list, the team announced. I'm guessing it's an innings management thing and not a real injury. It's the time of the year for that. I suppose we'll find out soon enough.
Triple-A Scranton (3-2 loss to Louisville in 14 innings)
2B-RF Jose Pirela: 2-7
DH Rob Refsnyder: 1-6, 1 R, 1 2B, 1 RBI, 1 K
CF Zoilo Almonte: 2-6, 1 2B, 1 RBI, 2 K — three straight multi-hit games
1B Kyle Roller: 1-5, 1 BB, 4 K
SwP Pat Venditte: 3 IP, 0 H, 1 R, 1 ER, 3 BB, 3 K, 1/2 GB/FB — 42 of 67 pitches were strikes (63%) … had to make a spot start given the recent Bryan Mitchell and Chris Leroux call-ups

LHP Jeremy Bleich: 3 IP, 3 H, 1 R, 1 ER, 5 BB, 0 K, 7/1 GB/FB — only 29 of 59 pitches were strikes (49%)
RHP Nick Rumbelow: 2 IP, 2 H, 0 R, 0 ER, 1 BB, 1 K, 3/0 GB/FB — 18 of 29 pitches were strikes (62%)
LHP Taylor Dugas: 1 IP, 1 H, 1 R, 1 ER, 2 BB, 1 K, 1/0 GB/FB — 12 of 30 pitches were strikes (40%) … always sucks when a position player takes the loss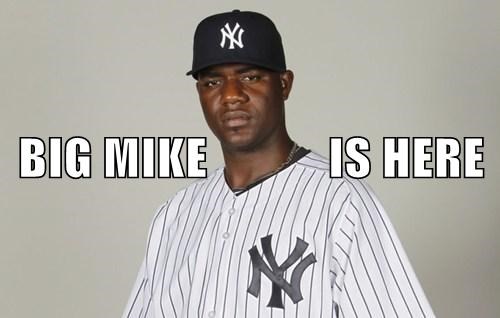 After 111 days on the shelf with a muscle problem in his shoulder, Michael Pineda returns to the Yankees' rotation tonight. He only started four games before getting hurt and only three were real, full starts. The fourth was cut short by the pine tar incident, as I'm sure you remember. Pineda was excellent in those four starts, allowing four runs total and looking very much like the pitcher the Yankees acquired three years ago.
A lot has changed since Pineda last pitched. The Yankees have turned over basically half their roster — Alfonso Soriano, Brian Roberts, Kelly Johnson, Matt Thornton, and Preston Claiborne all played in Pineda's last game before the injury — and they went from a postseason hopeful with two 25-year-old aces to a wildcard long-ish shot struggling to score more than three runs a game. Welcome back, Big Mike. Now put the team on your back. Here is the Orioles lineup and here is the Yankees lineup:
It's cloudy, hot, and humid as hell in Baltimore, so a typical day, basically. Tonight's game is scheduled to start a little after 7pm ET and you can watch on YES locally and ESPN nationally. Enjoy.
Updates: Chris Leroux was designated for assignment to clear both a 25-man and 40-man roster spot for Pineda, the Yankees announced … Hiroki Kuroda is starting Sunday, not Monday. He's getting only six days of rest instead of seven … Joe Girardi said the team expects to be able to activate Brian McCann (concussion) off the disabled list on Saturday, the first day he is eligible.
By

5:15pm: Tanaka threw ten pitches during today's throwing session — all fastballs — he told reporters. It was his first time throwing actual pitches and not just lobbing the ball while playing catch. He said everything went well, though it's unclear what the next step will be.

12:30pm: Masahiro Tanaka continues to make progress with his throwing program as he tries to rehab from a partially torn elbow ligament. George King says the right-hander is now making 90 throws from 120 feet — he started his throwing program with 25 throws from 60 feet last week — though yesterday's rain in Baltimore forced him to play catch in the Camden Yards lobby instead of on the field.

The Yankees are getting Michael Pineda back tonight and if all goes well, Tanaka will return next month. He still has yet to throw off a mound and progress to game situations and all that, so he's still a few weeks away. The important thing is that he's making progress. The Yankees need all the help they can get at this point, and squeezing another two or three starts out of Tanaka in September might be the difference in the postseason race. · (100) ·
First base is a weird position. Teams expect huge offensive production from first base and it's at the bottom of the defensive spectrum despite being involved in more total plays than any position other than pitcher and catcher. You can't just stick anyone there either. We've seen enough of that firsthand this year. You need offense from first but defense isn't a huge deal, except for all those times the first baseman handles the ball.
You also rarely hear people talk about a team's "first baseman of the future" too. There's plenty of "this guy will be our shortstop for the next ten years," but first base? Nope. The history of first base prospects is pretty awful as well. Baseball America ranked 37 full-time first baseman among their top 100 prospects from 1995-2005 and only five became bonafide stars: Prince Fielder, Ryan Howard, Todd Helton, Paul Konerko, and David Ortiz, who made his name at DH.
More recent elite first base prospects like Eric Hosmer and Justin Smoak have been disappointments. Freddie Freeman and Anthony Rizzo are the best of the top first base prospect crop since Fielder while others like Joey Votto and Paul Goldschmidt were never top prospects. It has historically been a tough position to project and I think that's because it's so offense-focused. Hitting is generally considered to be tougher to scout and evaluate than pitching because there is no "textbook" swing. A fastball is a fastball and a slider is a slider. But a swing? Good luck cracking that code.
Anyway, the Yankees are at a point now where the future of first base in the Bronx is up in the air. Mark Teixeira is under contract for another two seasons but he is becoming more and more injury prone with each passing year. His playing time at first base will only go down through injuries and time spent at DH in an effort to keep him healthy. The Yankees have gotten by (barely) with fill-in first basemen during Teixeira's injuries this season, though I hope that isn't the plan going forward. To just wing it whenever Teixeira gets hurt.
The Yankees currently have two first base prospect at Double-A Trenton … well, one first base and one kinda sorta first base prospect. The true first base prospect is Greg Bird, who was just promoted and has gone 9-for-30 (.300) with three doubles and three homers during his first week with the Thunder. He had a monster 2013 season (170 wRC+) with Low-A Charleston and offers the kind of left-handed power and patience the Yankees crave. Bird is a recently converted catcher though, so his defense at first can be generously described as a work in progress.
The kinda sorta first base prospect is Tyler Austin, another ex-catcher who has bounced from third to first to right field over the years. He's spent most of this year playing right in deference to Peter O'Brien and now to Bird. Austin had an outstanding 2012 campaign (~160 wRC+) before a wrist injury marred his 2013 season (103 wRC+). The wrist problem lingered into this season and caused him to miss the start of the year, and after a few slow weeks, he's hit .319/.362/.518 with six homers since July 1st. It appears 2012 Austin is starting to return as he gets further away from the wrist injury.
Neither Bird nor Austin is a top first base prospect like Hosmer or Fielder — Austin did rank 77th on Baseball America's top 100 in 2013 — though they are solid prospects expected to be average or better contributors at the MLB level, assuming things work out. League average is valuable, especially when the players are making close to the league minimum in their pre-arbitration years. Austin in particular fits the roster very well as a right-handed hitter with some power who can play both right and first. Bird, as a pure first baseman, is a less perfect fit.
It's clear at this point the Yankees will need some kind of viable backup for Teixeira going forward just because he gets hurt all the time. It's not necessarily the 15-day DL stuff either. He's shown a knack for those 6-7 day injuries, the ones that are short enough to avoid the DL but long enough to force the team to play a man short. The problem is that "backup first baseman" really isn't a position anymore. No team carries a player specifically for that. They tend to carry, well, someone like Austin, who can play first in addition to the corner outfield, third base, or even catch. Think Mike Carp or Steve Pearce or Scott Van Slyke.
The assumption has been that Brian McCann will eventually have to move to first base, though continues to rate very well defensively in terms of pitching framing, throwing out runners, and blocking balls in the dirt. His bat has been a huge disappointment this season but there is no reason to move him out from behind the plate yet. Since Austin is further along in his development thank Bird and figures to start next season at Triple-A Scranton, he'll be in position to help the Yankees as soon as next season, perhaps getting his opportunity when Teixeira gets hurt. Bird is still a year or two away and his lack of flexibility hurts his chances. If Austin hits, the Yankees will have some different ways to get him into the lineup. They can't really do that with Bird.
Until his contract is off the books, Teixeira will be New York's primary first baseman and that's just the way it's going to be. There is no reason to think they'll bench him or relegate him to DH duty on a regular basis. It would be a drastic change from the way they've done business for the last, I dunno, 15-20 years. Teixeira's injuries will give Austin and later Bird a chance to get into the big league lineup — assuming they're worth calling up, of course — though staying there is the hard part. The Yankees have had four primary first baseman over the last 30 years and they usually go for stars at the position. The opportunity will come for both Austin and Bird in the next two years, but being a good but not great prospect with the Yankees is a not ideal. They may only be stopgaps until the next big name comes along.
The Yankees and Orioles were rained out last night and think everyone needed that. The team hasn't had a day off in a while and it can be exhausting watching them struggle to score runs night after night. That goes for both the fans watching at home and the players watching in the dugout. Here are some scattered thoughts following the impromptu off-day.
1. I was talking about this with a friend the other day: If another team claimed Brian McCann off trade waivers this month, say the Dodgers, should the Yankees just let him go like they did Matt Thornton? That would enable them to get out from under the 4+ years and $72M or so left on his contract, but they'd also be letting him go for nothing. McCann hasn't hit a lick this season and he's been a huge disappointment, and it's fair to wonder if this is just a one-year blip or a sign of things to come. He is a 30-year-old catcher with approximately 10,000 big league innings on his legs, remember. Those guys can fall off a cliff in a hurry and without warning. If this is who McCann is going forward, the Yankees would be foolish not to jump at the chance to unload his contract. Obviously this is all hypothetical since no one is claiming him. I was all for signing McCann in the offseason, he fit the team's needs perfectly, but it hasn't worked out at all. Figuring out why he stopped hitting — teams have been shifting against him for five years, stop blaming that — and getting back to where he needs to be has to be priority number one this offseason.
2. Speaking of Thornton, I wish the Yankees would stop putzing around with Rich Hill — retired three of nine MLB batters faced this year! — and call up either Tyler Webb or Jacob Lindgren. I understand why they let Thornton go and I'm not going to argue against dumping a soon-to-be 39-year-old lefty specialist with another ~$4.5M coming to him, but I feel like they only took a half-measure by calling up Hill instead of one of the kids. They took advantage of the situation and got an aging, relatively expensive player off the roster, paving the way for a youngster, but they called up a retread instead. Bah. I feel like Hill is such a waste of time. Both Webb and Lindgren have pitched very well in the minors this year and the team talked glowingly about them after the Thornton move. So what's the point in waiting? We're not talking about an everyday position player or a starting pitcher who has to learn to turn a lineup over multiple times, they're one-inning (or even less than that) relievers who have to come in an air it out for a few batters. I don't see the sense in waiting until rosters expand on September 1st to call one of those two guys up.
3. The 2015 third base situation fascinates me. Are the Yankees really going to run Alex Rodriguez out there everyday at age 39 with a bad hip after he played only 44 games from 2012-13? Would they re-sign Chase Headley and make A-Rod the full-time DH or even release him? Is the plan to have Martin Prado split time with Alex at third base? Something else entirely? I would love to see the Yankees bring Headley back on an Adrian Beltre-esque one-yearpillow contract, but I get the feeling he's going to go for the biggest payday possible. I know I would. If that means he leaves the team, then I guess A-Rod with Prado as a caddy is the most likely scenario. The Yankees are going to need three infielders this offseason, though you could argue the best possible solutions at third base (A-Rod, Headley, Prado) and second base (Prado, Rob Refsnyder) are already on the team. There won't be much out there in free agency, as usual.
4. Speaking of free agency, here is the 2014-15 crop of free agents. It's a thin class and I wonder if the Yankees would have interest in bringing Melky Cabrera back to play right field. Other than him, the only other free agents who even closely resemble impact hitters are Hanley Ramirez and Pablo Sandoval. Hanley is hurt all the time and will probably require a nine-figure deal. Sandoval could end up with Beltre money (five years, $80M) and I worry he might eat himself out of baseball once he gets a huge contract. His conditioning issues are long-running and well-documented. Melky might come with the fewest questions among the big free agents, which is really saying something given his performance-enhancing drug suspension a few years ago. Cabrera just turned 30 on Monday, he's hit very well this season (135 wRC+ heading into last night's game), and he's a switch-hitter with some power and a ton of contact ability. His defense kinda stinks but he does have a strong arm, which makes him a good candidate for right field in Yankee Stadium. The Yankees know Melky and he knows them, though that doesn't necessarily mean it will be easier to work out a deal. It could mean in the opposite, in fact. With the caveat that I am terrible at estimating free agent contracts, my guess is he gets something like four years and $56M to $60M, or Nick Swisher and Curtis Granderson money.
5. Looking over that list of free agents makes me think the Yankees really need to re-sign Brandon McCarthy. Not at any cost, obviously. He is coming off a two-year deal worth $18M, though he is both two years older and not as good as he was when he signed that contract. His price should come a bit, in theory. Given the dearth of quality pitching and general market inflation, I'm guessing that won't be the case though. Maybe two years and $20M gets it done this time. McCarthy does have a very scary history of shoulder injuries — he hit the DL at least once with a shoulder issue (including multiple stress fractures) every year from 2007-13 — so there would be a lot of risk involved. He's pitched very well in pinstripes though, showing he can deal with pitching in the tougher league and in a small ballpark in his limited time. The Yankees will need rotation help next year and if they can get McCarthy to come back at a reasonable price, they should be all over it. Lock him up during the exclusive negotiating period, before he even gets to free agency.
Triple-A Scranton (6-1 win over Louisville) they faced former Yankees farmhand RHP Brett Marshall
LF Jose Pirela: 1-3, 1 R, 1 3B, 2 RBI, 2 BB, 1 K — threw a runner out at the plate
2B Rob Refsnyder: 2-4, 1 R, 1 BB, 2 K
CF Zoilo Almonte: 3-5, 1 RBI
1B Kyle Roller: 2-3, 2 2B, 1 RBI — 14-for-37 (.378) with four doubles and four homers in his last ten games
SS Zelous Wheeler: 1-4, 1 R, 1 2B, 2 K, 1 E (throwing)
LHP Manny Banuelos: 5 IP, 2 H, 1 R, 1 ER, 0 BB, 4 K, 1 WP, 1 HB, 4/3 GB/FB — 42 of 67 pitches were strikes (63%) and he was sitting around 91 … first Triple-A start since May 2012 … he's strung together some really good starts lately, good to see him finishing the year on a high note
RHP Branden Pinder: 1.1 IP, 2 H, 0 R, 0 ER, 2 BB, 0 K, 1 WP, 0/2 GB/FB — 20 of 36 pitches were strikes (56%)
LHP Tyler Webb: 1.2 IP, 1 H, 0 R, 0 ER, 1 BB, 0 K, 3/2 GB/FB — 15 of 24 pitches were strikes (63%)
The Yankees were rained out tonight, and earlier this afternoon they announced Michael Pineda will start tomorrow night's game as scheduled. Shane Greene is being pushed back to Saturday, with Brandon McCarthy going Friday and Chris Capuano going Sunday. The Yankees are taking advantage of the rainout and Thursday's off-day by giving Hiroki Kuroda a nice seven-day rest. He needs it.
Here is your open thread for the Yankees baseball-less lineup. The Mets are playing, MLB Network will air a regional game, plus the Little League World Series is on. Talk about any of those games or anything else right here.