Now that Brian Cashman has been re-signed, the Yankees started their annual organization meetings at Yankee Stadium today, according to George King. They'll last all week and the staff will evaluate their roster, upcoming free agents, the whole nine. Needless to say, they have a lot of work to do this winter. I'm curious to see where it's all headed. Recent comments by Joe Girardi (link) and Hal Steinbrenner (link) make me think the team will make a sincere effort to incorporate some more youth in the roster going forward. I hope so, anyway.
Here is your open thread for the night. Game Three of the ALCS was already rained out, which is a damn shame. They'll make it up on Thursday, if necessary. The 49ers and Rams are the Monday Night Football Game and the Knicks are playing a preseason game. Talk about those games or anything else right here.
By

MLB is sending a team of players to Japan to play a five-game series against the Japanese national team in November, an event they're calling the All-Star Series 2014. Derek Jeter declined to participate in the event but Chris Capuano will be part of the team, according to a Japan-Baseball report passed along by Kazuto Yamazaki. Capuano will technically not be a Yankee when the series takes place (Nov. 11-20), but I'm guessing they'll slap the pinstripes on him for marketing purposes.

The Japan-Baseball page has all 17 players currently confirmed for the event, but you either have to read Japanese or recognize their faces. Former Yankees Robinson Cano and Randy Choate are on the roster, ditto other notables like Yasiel Puig, Albert Pujols, Adam Jones, Bryce Harper, Evan Longoria, Ben Zobrist, and Jose Altuve. There are already 13 position players on the roster, so I'm guessing most of the remaining spots will go to pitchers. (They'll probably take 30 or so players, right?) I'm sure MLB would love to squeeze another Yankee onto the roster for marketability and stuff, but I'm not sure who it could be at this point. David Huff? · (27) ·
The 2014 season is over and now we'll look back at the year that was. Our old What Went Right/Wrong format has gotten stale, so it's time for a new review format. We'll review individual players, performances, tendencies, all sorts of stuff in the coming days and weeks.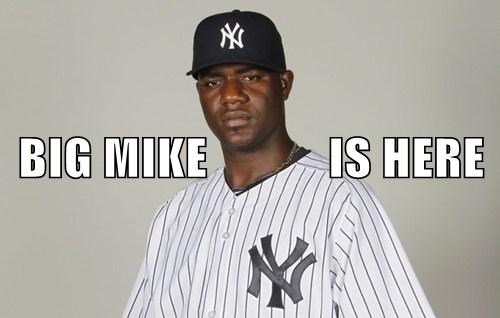 You'll have to forgive me for being skeptical about Michael Pineda coming into the 2014 season, but I know I wasn't alone. He spent his first two years with the Yankees either injured or in the minors — he was both injured and in the minors at one point late last year — and with each passing day the trade looked more and more like a total disaster for both teams. Both the Yankees and Mariners moved top chips for what looked like zero return. Then the 2014 season happened.
Part One: Spring Training
Pineda, who turned 25 in January, came to Spring Training this year fully healthy for maybe the first time as a Yankee. Who knows what was up with his shoulder back in 2012? He came to camp in shape (unlike 2012) and with a chance to win a rotation spot. The Yankees weren't going to hand Pineda anything after he missed the entire 2012-13 seasons and I didn't blame them one bit. Back in February, he was a total unknown who had to earn his roster spot.
In camp, Pineda had to compete against the likes of David Phelps, Adam Warren, and Vidal Nuno for the final spot in the rotation, and he flat out smoked 'em. He allowed three runs (two earned) in 15 innings while striking out 16 and walking one, but, most importantly, he looked healthy and strong. The ball was coming out of his hand well, his slider was filthy, and even his changeup looked promising. There was no competition by the end of Spring Training. Pineda won the job with ease and everyone was looking forward to seeing what he'd do in the regular season.
Part Two: Finally
Eight-hundred-and-two-days after the trade that brought him to New York, Michael Pineda threw his first meaningful pitch for the Yankees. He made his first start in pinstripes on April 5th, in the team's fifth game of the season. Here's how it went:
Pineda held the Blue Jays to one run on five hits and no walks in six innings in his first start for the Yankees, and PitchFX says his fastball averaged 94.17 mph and topped out at 95.94 mph on the night. Considering the nature of his injury and the long layoff, I don't think we could have asked to see anything more out of Pineda that game. He was great. Also, keep the "no walks" thing in mind. It's going to become a theme.
Five days later, in his first career start at Yankee Stadium, Pineda held the defending World Series champion Red Sox to one run in six innings, striking out seven and walking two. Six days after that, he threw six shutout innings against the Cubs as part of a doubleheader sweep. Pineda had a 1.00 ERA and 2.69 FIP though his first three starts and looked very much like the future frontline starter the Yankees were hoping he'd become at the time of the trade.
Part Three: You Guys, You Can't Spell Pineda Without P-I-N-E
During his nationally televised start against the Red Sox, the various networks caught Pineda with what looked like pine tar on the palm of his right hand. It was there in the early innings but not later in the game, after the internet caught wind of it and screen grabs were all over the place. Here's what he had on his hand: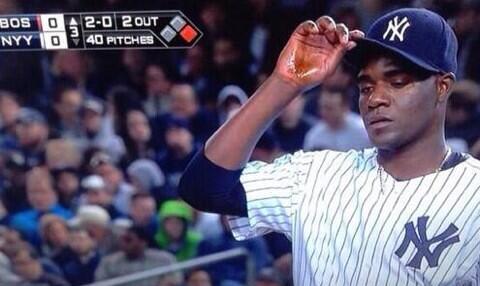 The Red Sox didn't say anything because, frankly, many pitchers use some kind of foreign substance to improve their grip, so calling out an opposing player puts your pitchers at risk of being called out at some point in the future. It's sort of an unspoken code. I won't say anything if you won't.
Two weeks later, in his fourth start of the season, Pineda gave Red Sox manager John Farrell no choice. He had a giant glob of pine tar on his neck in the second inning after getting hit around a bit in the first, prompting Farrell to come out of the dugout and bring it to the attention of the umpires. He had no choice. It would have been irresponsible for Farrell to not say something at that point.
The umpires looked at Pineda, found the pine tar, and immediately ejected him from the game. He admitted afterwards that he did use pine tar — "I know I made a mistake today," he said following the game — and was later suspended ten games, the standard punishment for this sort of thing. Fair or not (fair!), suddenly Pineda's dominance in his first three starts was brought into question.
Part Four: Hurt
Pineda spent his ten-game suspension at the team's complex in Tampa. While throwing a simulated game to stay sharp, he felt a little something in his back and had to go for an MRI. Tests showed a lower lat strain, though when the Yankees announced he had been placed on the 15-day disabled list, they officially called it a shoulder injury. Regardless of what anyone called it, it was close enough to his surgically repaired shoulder to worry.
The injury was originally expected to keep Pineda out for 3-4 weeks, but that turned into 6-8 weeks after a setback in late-May. Then, in mid-June, Pineda suffered yet another setback to put the rest of his season in question. It was starting to look like those first three starts in April were just a tease. Every time Pineda ramped up his throwing program, he back/shoulder injury flared up and he had to be shut down.
Part Five: The Return
Eventually, Pineda was able to stay healthy long enough to increase his throwing program and begin pitching in simulated games. He made his first official minor league rehab start with Triple-A Scranton on August 3rd, throwing 58 pitches in 3.1 innings. Five days later he threw 72 pitches in 4.1 innings. Reports indicated that Pineda's arm strength was fine and his back/shoulder was healthy, so it was just a matter of getting his pitch count up before he could return to MLB.
The Yankees didn't wait that long. Phelps went down with an elbow injury and the team didn't want to give Esmil Rogers another spot start, so Pineda was activated off the disabled list after his second rehab start with the RailRiders. In his first game back, on August 13th at Camden Yards, Pineda held the Orioles to one run on two hits in five innings. He threw only 67 pitches and clearly started to labor in the fifth inning. The Yankees were careful with Pineda earlier in the season — he threw 83, 94, and 89 pitches in his first three starts in April — and they were going to do the same following the injury.
There were no more setbacks once Pineda returned. No more pine tar (that we know of!) and eventually no more pitch limits. No more nothing. Just pitching. Pineda took the ball every fifth day once he was activated and he was dominant nearly every time out. He allowed six runs (five earned) in his next four starts and 25.1 innings, striking out 15 and walking just one. After the Rays tagged him for four runs in 7.1 innings on September 11th — easily his worst non-pine tar start of the season — Pineda allowed just three runs (two earned) in his final three starts and 19 innings.
In his final start of the season in Game 162, Pineda struck out ten Red Sox and allowed just one run in 6.1 innings. He closed the year with a 1.89 ERA and 2.71 FIP in 13 starts and 76.1 innings. Eight of those 13 starts were walk-less. Eight! Pineda walked just seven batters (!) in those 76.1 innings, a 2.4% walk rate that was the second lowest among the 206 pitchers who threw at least 70 innings in 2014. (Phil Hughes was the lowest at 1.9%).
Pineda's strikeout total (59, or 20.3% of batters faced) was surprisingly low given the quality of his stuff, though it didn't hurt his performance at all. He's a weak contact guy who gets a lot of easy pop-ups, so while his .233 BABIP was low this year, he's exactly the type of pitcher you'd expect to post a lower than usual BABIP. All those pop-ups and fly balls off the end of the bat are high-percentage outs, especially when Brett Gardner and Jacoby Ellsbury are covering two-thirds (more, really) of the outfield.
Pineda did hold his fastball velocity through to the end of the season, averaging 93.21 mph in and topping out at 96.27 mph in Game 162. His overall season velocity was 93.39 mph, on average. It is worth noting, however, that Pineda did tend to tire later in games once his pitch got up to 70-75 pitches or so. Here's his velocity chart by inning, courtesy of Brooks Baseball: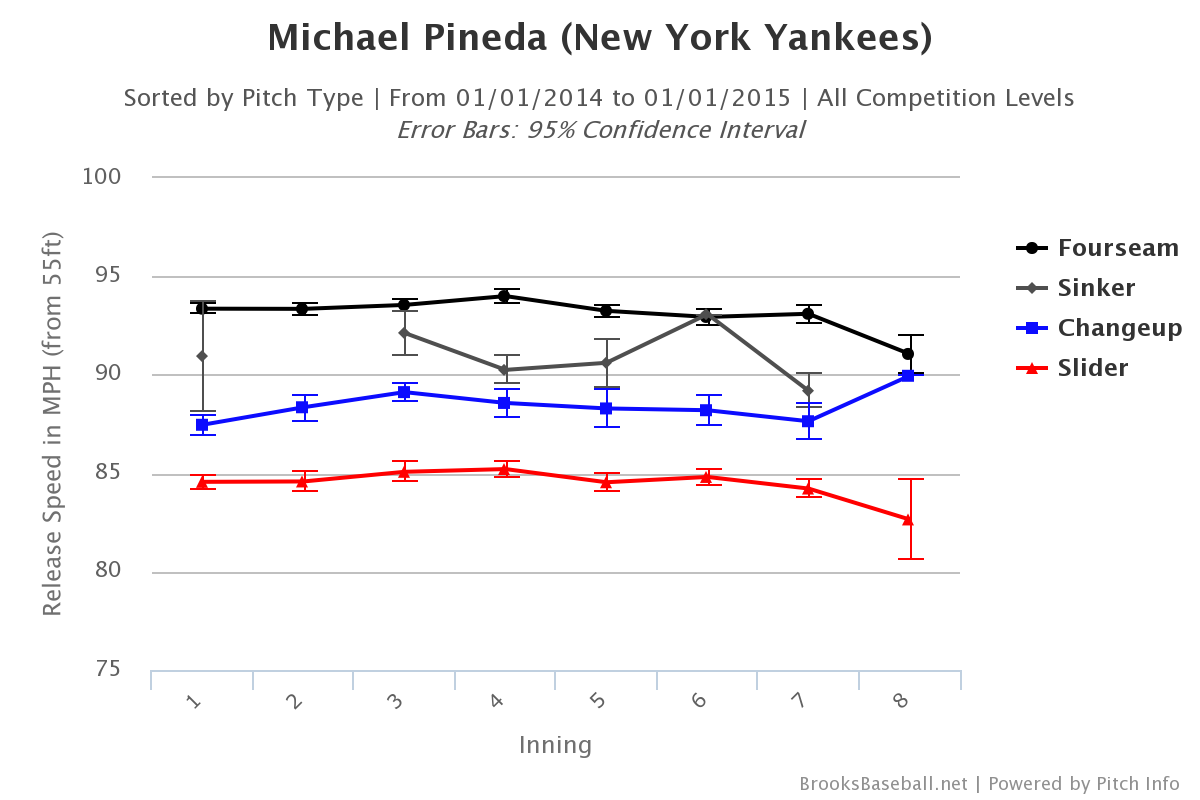 There's a definitely downward trend there, after about the fourth inning. Most pitchers lose velocity as their pitch count climbs within a game, this isn't unusual, but because Pineda's season was interrupted by the injury, we don't know if this is permanent or something he'll grow out of once he truly has a chance to get into midseason and is further away from shoulder surgery. We're just going to have to wait and see next year. Nothing we can do.
Pineda did add a cut fastball to his arsenal this year and it was very effective. It wasn't a show-me cutter. Pineda would cut the ball outside to righties and to both sides of the plate against lefties, but stick with his true four-seam whenever he elevated for a swinging strike or wanted to bust a righty inside. His changeup also showed a lot of progress as well. The pitch averaged 88.49 mph this season, so it was a hard changeup, and at its best, it moved like this:
The pitch didn't move that like all the time of course, but it did it often enough to make you think it's only a matter of repetition and time before he gets a good feel for it and can throw it like that consistently. Besides, his fastball-slider and now cutter combination is good enough to get by as it is. Adding the changeup would be an extra cherry on top.
When the season started, Pineda was an injury risk and we had no idea what to expect when he was actually on the mound. He is still an injury risk, he didn't exactly assuage any concerns about his durability this year, but at least now we know Pineda has the ability to dominate. That's a pretty big question he answered in his 13 starts. Pineda still has frontline stuff and frontline command following shoulder surgery, the two things that made him so special as a prospect and great as a rookie in 2011. It's easy to forget how good this guy was expected to be before the shoulder injury.
The trade has not gone as planned for either the Yankees or Mariners at this point, but the Yankees finally received some return this season. Everyone hoped Pineda would be a top of the rotation starter by time his third year in pinstripes rolled around, but instead his career in the Bronx is just getting started. That's life. The injury this year was a major bummer, but, when he was on the mound, everything Pineda showed was tremendously encouraging. He aced the performance test with fly colors. Hopefully next year he can ace the health and durability test.
The Yankees fired hitting coach Kevin Long and first base coach Mick Kelleher late last week. Brian Cashman confirmed the rest of the staff will be retained — "If we choose to make any other changes we'll let you know, otherwise everything is status quo until then," he said — though there has been speculation bullpen coach Gary Tuck, third base coach Robbie Thomson, and bench coach Tony Pena could be moved into different roles. We'll see. Here are a bunch of coaching and front office staff updates courtesy of Bob Klapisch, Erik Boland, Sweeny Murti, Chad Jennings, Susan Slusser, Bob Nightengale, Donnie Collins, Andrew Marchand, and George King.
Interesting comment from Cashman after the firings were announced (emphasis mine): "There are some individuals, I think, as we move forward (who) will bring more for the global perspective of the coaching staff  … There are some more things that I want to add to the staff with Joe Girardi. And in my dialogue with Joe, we look forward to interviewing some personnel that can bring those things to the table." Hmmm.
Dodgers manager Don Mattingly told reporters he is "assuming" he will return to the team next year after they were eliminated from the postseason last week, though nothing has been decided yet. If Mattingly does get canned, I have to think the Yankees will consider bringing him back as hitting coach, the role he held from 2004-06 before taking over as Joe Torre's bench coach.
Tino Martinez is not a hitting coach candidate and Paul O'Neill gave a simple "no" when asked if he was interested in the job. Tino was the Marlins hitting coach in 2013 but resigned that July after word got out that he verbally abused players in the clubhouse and literally choked one player. So yeah, forget that.
Former Yankees DH and current Athletics hitting coach Chili Davis is "getting mentioned" as a hitting coach candidate. Davis has been Oakland's hitting coach since the 2012 season and before that was a minor league coach with the Red Sox and Dodgers. There's also speculation Dante Bichette could be a candidate for the job. He was the Rockies hitting coach in 2013 and is close with Girardi.
There's also speculation current Diamondbacks pitching coach Mike Harkey could return as bullpen coach — Harkey was the Yankees bullpen coach from 2008-13 — with Tuck taking over as bench coach and Pena taking over as first base coach. (Tuck was Girardi's bench coach with the Marlins in 2006.) The D'Backs just hired new GM Dave Stewart and fired manager Kirk Gibson, so other coaching staff changes are expected.
Triple-A Scranton hitting coach Butch Wynegar was let go after the season and third base coach Luis Sojo won't return to the team next year. That doesn't mean Sojo's leaving the organization, it just means won't be with the RailRiders in 2015. Double-A Trenton hitting coach Marcus Thames is well-regarded within the organization but is not a candidate for the MLB hitting coach job right now.
The Dodgers are reportedly mulling over the future of GM Ned Colletti, and Yankees assistant GM Billy Eppler is already getting consideration as a possible replacement. Eppler interviewed for the Padres GM job earlier this year.
Special assistant Trey Hillman may leave the Yankees to become new Astros manager A.J. Hinch's bench coach. Hillman is considered a candidate to replace retiring VP of Baseball Ops Mark Newman as head of the farm system. He's also a candidate to join the MLB coaching staff in some capacity.
And finally, I can't help but wonder if the Yankees will adopt the two-hitting coach system many teams use nowadays. (Seventeen teams employ two hitting coaches right now.) They were reportedly considering hiring an assistant hitting coach two years ago but never did, and that "globe perspective" talk from Cashman makes me think Hideki Matsui will be considered for the staff. He's always working with the team's minor leaguers at the various parks. Anyway, that's just me thinking out loud. If the Yankees were going to add an assistant hitting coach, now is the perfect time.
2014 Record: 84-78 (633 RS, 664 RA, 77-85 pythag. record), didn't qualify for postseason
Top stories from last week:
Please take a second to answer the poll below and give us an idea of how confident you are in the team. You can view the interactive Fan Confidence Graph anytime via the nav bar above, or by clicking here. Thanks in advance for voting.
Given the team's current roster construction, farm system, management, etc., how confident are you in the Yankees' overall future?
I know it's Friday and I'm supposed to post a whole bunch of links in the open thread, but I'm out of town for a few days and didn't have time to read anything worthwhile, let along put it all together in a post. Sorry. The links will be back soon enough. I promise.
Friday: Anyway, here is your open thread for the night. The Royals and Orioles open the ALCS later tonight (8pm ET on TBS) plus the Islanders are playing their first game of the season. Talk about either of those games or anything else right here.
Saturday: Once again, this is your open thread. The Orioles and Royals are playing Game Two of the ALCS right now (on TBS), and later tonight the Cardinals and Giants will play Game One of the NLCS (8pm ET on FOX). The Knicks are playing a preseason game, the three local hockey teams are playing regular season games, and there's college football going on somewhere. Talk about any of those games or whatever else is on your mind right here.
Sunday: One last time, here is your open thread for the rest of the weekend. The Giants and Cardinals are playing Game Two of the NLCS (8pm ET on FOX Sports 1) and the late NFL game is the Giants at the Eagles. The (hockey) Rangers are playing as well. You this thread to talk about those games or anything else.
The video above, courtesy of Kiley McDaniel, is SS Jorge Mateo running down the line a few times in Instructional League. McDaniel says he clocked him at 4.0 seconds down the line from the right side of the plate, which is basically 80 speed. Kid's fast.
In other video news, Josh Norris posted some Arizona Fall League footage the other day. It's not embeddable, but just click the link to watch. It includes clips of both OF Tyler Austin (2:17 to 2:36) and 1B Greg Bird (2:36 to 3:27). The video is from the first game of the AzFL season, when Bird hit two doubles and a homer. Austin singled twice. Check it out.
AzFL Scottsdale Scorpions (6-3 loss to Salt River) Wednesday's game
1B Greg Bird: 1-4, 1 R, 1 K
RF Tyler Austin: 1-4, 1 R, 1 RBI, 2 K
RHP Kyle Haynes: 1.2 IP, 0 H, 0 R, 0 ER, 2 BB, 1 K, 3/0 GB/FB — 15 of 28 pitches were strikes (54%) … looks like he replaced RHP Branden Pinder on the roster for whatever reason … Norris says Haynes sat 93-95 mph with a hard slider and changeup both in the mid-80s … he's the guy they got from the PirateS for Chris Stewart last winter
RHP Caleb Cotham: 2 IP, 2 H, 2 R, 2 ER, 1 BB, 3 K, 1 HB, 2/0 GB/FB — 17 of 29 pitches were strikes (59%) … both hits were solo homers
RHP Alex Smith: 0.2 IP, 2 H, 1 R, 1 ER, 0 BB, 1 K, 1 HB, 1/0 GB/FB — 16 of 32 pitches were strikes (50%) … he plunked ex-battery mate Peter O'Brien
AzFL Scottsdale Scorpions (11-2 loss to Peoria) Thursday's game
1B Greg Bird: 2-4, 1 R, 1 2B, 1 K
RF Tyler Austin: 1-3, 1 BB, 2 K
3B Dante Bichette Jr.: 0-3, 1 RBI, 1 E (fielding) — replaced 3B Eric Jagielo on the roster after Jagielo had his face broken by an errant pitch in Instructional League a few weeks back
AzFL Scottsdale Scorpions (6-5 win over Glendale) Friday's game
RF Aaron Judge: 1-4, 1 R, 1 2B, 2 RBI, 1 K
1B Greg Bird: 1-3, 1 RBI, 1 BB, 1 K — got picked off first … 7-for-16 (.438) with three doubles in a dinger in his first three games out in the desert
DH Dante Bichette Jr.: 1-4, 1 K — got picked off second … Judge, Bird, and DBJ hit 3-4-5 in the lineup
RHP Alex Smith: 1 IP, 4 H, 3 R, 1 R, 1 ER, 1 BB, 1 K, 0/1 GB/FB — 18 of 29 pitches were strikes (62%)
RHP Kyle Haynes: 1 IP, zeroes, 1 K, 2/0 GB/FB — nine pitches, six strikes
AzFL Scottsdale Scorpions (7-6 win over Surprise in ten innings) Saturday's game
1B Greg Bird: 1-5, 1 R, 2 K
3B Dante Bichette Jr.: 1-4, 1 R, 1 K, 1 CS — 2-for-11 (.182) in the early going
RF Tyler Austin: 0-4, 1 BB
C Kyle Higashioka: 3-5, 2 R, 1 HR, 2 RBI
RHO Caleb Cotham: 1 IP, 2 H, 1 R, 1 ER, 1 BB, 2 K, 1/0 GB/FB — 18 of 28 pitches were strikes (64%)
The Dominican Winter League season begins next Friday. The rosters have not yet been released but don't worry, there will be more than a few Yankees' farmhands playing here this winter.
The Mexican Pacific League just started Friday and no one's gotten into a game yet. RHP Luis Niebla, RHP Gio Gallegos, and OF Jose Figueroa are all listed on rosters.
The Roberto Clemente Professional Baseball League (Puerto Rico) doesn't begin play until October 30th. No rosters yet.
Venezuelan Winter League
C Francisco Arcia: 3 G, 3-11, 1 R, 2 2B, 5 RBI, 3 K (.273/.273/.455)
UTIL Ali Castillo: 3 G, 2-9, 1 R, 2 K, 1 CS (.222/.222/.222)
OF Ramon Flores: 2 G, 2-6, 2 R, 1 K (.333/.333/.333)
UTIL Adonis Garcia: 3 G, 3-12, 2 R (.250/.250/.250)
C Jose Gil: 1 G, 0-2, 1 BB, 1 K (.000/.333/.000)
RHP Diego Moreno: 2 G, 2 IP, 1 H, 0 R, 0 ER, 0 BB, 2 K, 1 HB (0.00 ERA, 0.50 WHIP)
The VWL season just started Thursday, so obviously there hasn't been much action. In addition to the six guys who have already appeared in games, OF Ericson Leonora, RHP Mark Montgomery, RHP Wilking Rodriguez, SS Angel Aguilar, and C Frankie Cervelli are all listed on rosters. Remember, just because a player is listed on a roster, it doesn't mean he will play. That just means the team controls his winter ball rights.
By

Baseball America announced their All-Rookie Team on Friday, and both Masahiro Tanaka and Dellin Betances made the cut. Tanaka claimed one of five starting pitcher spots while Betances grabbed the only reliever spot. Former Yankee Yangervis Solarte was mentioned in the write-up for his strong season but was not named to the team.

"The Yankees' $155 million import pitched like a Cy Young Award winner in the first half, going 11-3, 2.10 and leading the AL in wins and ERA, but an elbow injury scuttled his second half and leaves his 2015 season in doubt after a pair of lackluster September starts … he proved he can pitch like an ace, health permitting, in both Japan and the U.S," said the write-up of Tanaka.

The write-up noted Betances' season was better Craig Kimbrel's, Neftali Feliz's, and Andrew Bailey's when they won the Rookie of the Year awards. Betances won't beat out Jose Abreu though. "(One) must go back to Mark Eichhorn's 1986 season to find a rookie reliever who notched more strikeouts than Betances, who had 135 in 90 innings. The catch: Eichhorn needed 157 innings to strike out 166 batters." · (85) ·
By

Via Nick Cafardo: Hiroshima Carp right-hander Kenta Maeda told the media in Japan he would prefer to play for either the Yankees or the Red Sox next season. He is expected to be posted this offseason and early speculation has him in line for a five or six-year contract in the $100-120M neighborhood. The 26-year-old had a 2.56 ERA with a 154 strikeouts in 179 innings this season. Here are his career stats.

Ben Badler (subs. req'd) recently gave a scouting report on Maeda, saying he "doesn't have overpowering stuff of a frontline starter like we've seen from fellow Japanese righthanders Masahiro Tanaka or Yu Darvish, (but his) ability to command his fastball and mix his pitches allows him to keep hitters off-balance." Badler said Maeda sits anywhere from 87-94 with his fastball and his go-to pitch in a low-80s slider. He also throws a mid-80s changeup, an upper-80s cutter, and a slow low-70s curveball. Here's video. The Yankees need pitching and I'll sure they'll kick the tires on Maeda, but I think they'd go after a known commodity like Jon Lester or James Shields if the price is $20M+ per year. · (386) ·
By

Via Mark Feinsand: The Yankees will not retain first base coach Mick Kelleher. He also served as the team's infield instructor. I'm pretty sure Kelleher's contract was up, so they technically aren't firing him. They just aren't bringing him back. Kelleher had been the team's first base coach since 2009. · (372) ·