That was a Very Bad Loss. Worst of the season, I'd say. The Yankees jumped out to a quick 6-0 lead Tuesday night, but the Blue Jays picked apart the bullpen and scored 12 (!) unanswered runs in the sixth through eighth innings. The 6-0 lead turned into a 12-6 loss. Brutal.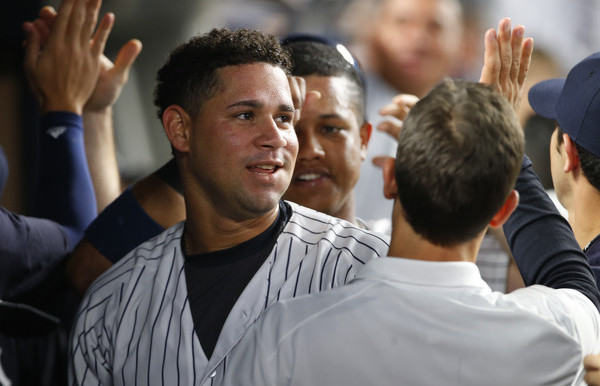 Gary Gives 'Em The Lead
Another day, another young player doing things to help the Yankees. Things really have changed around here, huh? Tuesday night the Yankees got three early home runs from young players. Didi Gregorius opened the scoring with a first inning solo home run into the second deck in right field. I do love first inning runs. It takes the edge off right away, you know? Early leads are fun.
The Yankees kept tacking on runs after the first inning homer. Gary Sanchez whacked his third big league homer in the second inning, this one an impressive solo shot into the visiting bullpen. It was a full count changeup from Marco Estrada, a certifiable changeup master. Estrada showed him the changeup three or four times earlier in the at-bat, Sanchez read it out of his hand, then unloaded. It was pretty cool. That gave the Yankees a 2-0 lead.
Two innings later, Sanchez went deep again, this time clocking a three-run home run into the second deck in left field. Estrada left a 79 mph changeup up in the zone, so he basically gave Sanchez a batting practice fastball, and he unloaded on it. It was a very aesthetically pleasing home run. Look: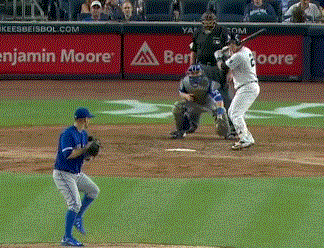 That is some bat speed right there I'll tell you what. Sanchez put his A-swing on that hanging changeup and he topped it off with a subtle little bat drop. The gentleman's bat flip. He must have learned that from Alex Rodriguez. Sanchez's second blast gave the Yankees a 5-0 lead in the fourth. Thanks in part to Didi and Sanchez, the last 31 home runs hit by the Yankees have been hit by players under the age of 30. That's pretty cool. The last over-30 guy to go deep was Mark Teixeira on August 3rd.
Five Innings if Big Mike
Mother Nature robbed Michael Pineda of what could have been six or even seven splendid innings. He limited the Blue Jays to four singles in five shutout innings while striking out two. Pineda threw only 68 pitches in those five relatively stress-free innings too. Then it started raining and the tarp was put on the field. It was a relatively short rain delay, only 42 minutes, but that was long enough to force Pineda out of the game. The Yankees didn't want to push him after sitting that long. The pre-rain delay portion of the game was awesome. Everything after that was a nightmare.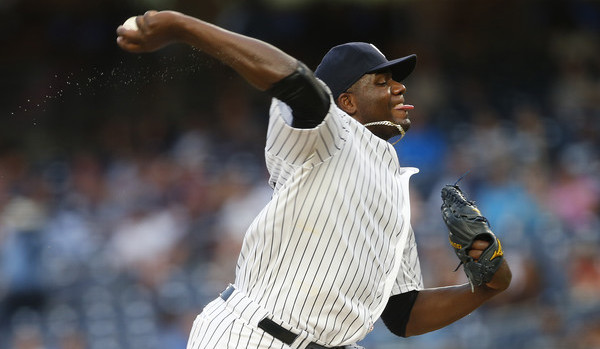 Bullpen Disaster
The Yankees scored their sixth run immediately after the rain delay. Chase Headley doubled and Gregorius singled, both with two outs. That gave the Yankees a 6-0 lead. Everything is great! Go Yankees! They're going to rally and make the postseason! Things were fun for a while. Then Anthony Swarzak & Co. vomited all over everything.
Swarzak replaced Pineda in the sixth and did what Anthony Swarzak does: give up dingers. He allowed a two-run shot to Troy Tulowitzki and a solo homer to Russell Martin in that sixth inning. A Headley era contributed to a run earlier in the frame. Just like that, Swarzak turned a 6-0 lead into a 6-4 lead in the span of two outs and 25 pitches. He's now allowed nine homers in 27 innings this season, or 3.12 HR/9. There's no reason for Swarzak to be on the roster tomorrow. None.
Okay. Alright. A 6-4 lead is still a lead, even if it's not a 6-0 lead. The Yankees only had to get nine more outs to clinch the win, and their back-end relievers were fresh. Tyler Clippard came out and retired the side in order in the seventh. Good. This is good. Then the eighth inning happened. It was a total disaster. Worst half-inning of the season given the context of the game. Let's recap the eight-run mess with an annotated play-by-play: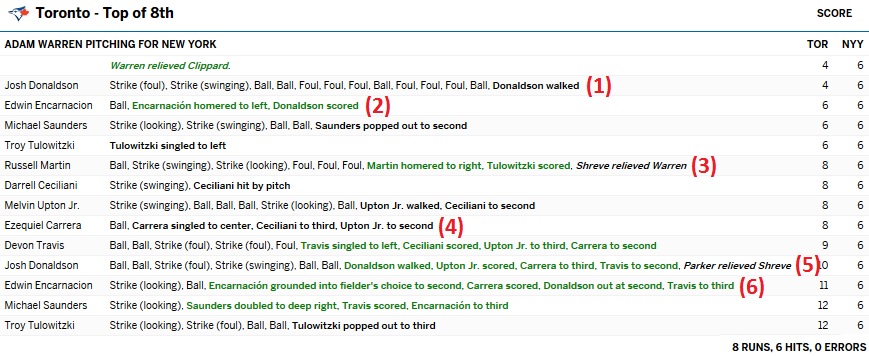 (1) That Josh Donaldson at-bat was one heck of an at-bat. It was a 12-pitch battle and Adam Warren showed him everything he had. Fastballs, sliders, changeups, curves … everything. He emptied the bag of tricks and still couldn't get him out. That's what an MVP does. He puts together tough at-bats like that. The Donaldson walk set the tone for the entire inning. The Blue Jays didn't give away a single at-bat.
(2) Edwin Encarnacion's game-tying home run was absolutely demolished. Warren missed out over the plate and Encarnacion crushed a no-doubter to left field. I was looked at my laptop at the time, not the television, and it could tell from the sound that it was gone. It was that kind of blast. Encarnacion is known to do that. Make a mistake to him and you're going to pay big time. The two-run shot tied the game 6-6. The six-run lead was officially gone.
(3) The Martin at-bat was when it was clear Warren didn't have it. The walk by Donaldson was a hard-fought at-bat by a great player and you tip your cap. The pitch to Encarnacion was a total mistake. It happens. But when Warren jumped ahead in the count 0-2 on Martin and couldn't put him away, that's when it was clear there was a problem. Warren made another mistake and Martin hit his second home run in the span of three innings, this one a two-run shot into the short porch. Suddenly that 6-0 lead had become an 8-6 deficit.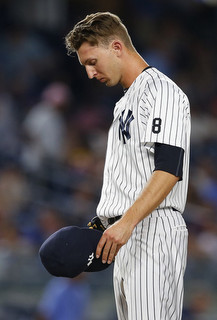 (4) Chasen Shreve has been amazingly bad over the last calendar year or so, and when the Blue Jays loaded the bases against him with one out, it was obvious things were about to get messy. Joe Girardi had more or less decided to punt the game at that point because no one was warming in the bullpen. Either Shreve was going to do the miraculous and stop the bleeding by retiring Travis and Donaldson with the bases loaded, or the Blue Jays were going to score more runs. They scored more runs. Many more runs.
(5) Five batters faced, zero outs. Shreve did not retire a single batter after replacing Warren on Tuesday night. Donaldson drew an always annoying bases loaded way to score Toronto's tenth run and end Shreve's evening. The tally up to this point: six runs on five hits, three walks, and hit-by-pitch. Ugly.
(6) Blake Parker, the third pitcher of the inning, replaced Shreve and got the potential inning-ending double play ball from Encarnacion. The ball wasn't hit that hard and Starlin Castro's flip to Gregorius at the second base bag was a little too slow (surprise surprise), so the Yankees only got the one out. Another run scored and the inning continued. When it was all said and done, the Blue Jays led 12-6. Twelve unanswered runs in three innings against the bullpen.
I know it'll never happen, especially not with Girardi and his assigned innings, but the eighth inning was the spot to use Dellin Betances. Two-run lead with Donaldson and Encarnacion due up? That calls for your best reliever. Warren's been really good since the trade but he's no Dellin, and he coughed up the game. Losing by one or two runs after blowing a 6-0 lead would have been excruciating. At least the bullpen had the decency to turn it into a laugher. Easier to turn the page this way.
Leftovers
After the Gregorius single that gave New York a 6-0 lead, the final 14 Yankees to bat made outs. Two of the 14 hit the ball out of the infield and eight struck out. Eight! Sometimes you just run into a buzz saw like Scott Feldman and Ryan Tepera and have to tip your cap. This really was like two different games. The stuff before the rain delay was cool. The stuff after was a disaster.
The homer was No. 16 of the season for Gregorius. That's the most by a non-Derek Jeter shortstop in franchise history. Is that not crazy? That's crazy. Also, this is only the fourth time in baseball history both catchers hit two home runs in the same game. It last happened in 2009, when Miguel Montero and Bengie Molina did it.
Jacoby Ellsbury went 0-for-4 with two strikeouts and is down to .263/.326/.361 (86 wRC+) on the season. Can Girardi at least move him down in the lineup? Pretty please? I'm not holding my breath. Aaron Judge went 0-for-4 with two strikeouts as well. It's his first hitless game in the bigs.
Sanchez, on the other hand, went 3-for-4 with the two homers and an infield single. He's hitting .340/.367/.660 (173 wRC+) in his limited MLB time this season. More Gary, less Jacoby.
Box Score, WPA Graph & Standings
Go to ESPN for the box score, MLB.com for the video highlights, then back to ESPN for the updated standings. Don't miss our Bullpen Workload and Announcer Standings pages either. Here's the depressing as hell win probability graph:

Source: FanGraphs
Up Next
The Yankees are going to have to shake off this miserable loss rather quickly. They wrap up this three-game set with the Blue Jays with a Wednesday matinee. That's a 1pm ET start. Crafty lefties CC Sabathia and J.A. Happ will be on the bump. The Yankees leave for a six-game road trip after Wednesday's game, so if you want to catch the last home game until next weekend in person, check out RAB Tickets.