By

Via Nick Cafardo: The Yankees are one of several teams that have called the Dodgers to inquire about Matt Kemp. Los Angeles has four outfielders (Kemp, Andre Ethier, Carl Crawford, Yasiel Puig) for three spots and are reportedly looking to deal one of the veterans to address a different hole on the roster. I assume the two sides talked before New York dropped big bucks on Brian McCann.

Kemp, 29, hit .270/.328/.395 (103 wRC+) with six homers and nine stolen bases in 73 games this past season while missing time with shoulder, hamstring, and ankle problems. He had surgery on the ankle a few weeks ago and surgery on the shoulder last winter. Kemp was an absolute monster in 2011 (168 wRC+ and 8.4 fWAR) and excellent in 2012 (146 wRC+ and 3.2 fWAR) despite missing more than 50 games with hamstring problems. He is owed $128M through 2019 and comes with a $20M annual luxury tax hit.

A trade for Kemp would be complicated for several reasons. First of all, what do the Dodgers want in return? I doubt they'd take prospects; they're a win now team and probably want a third baseman or a starter, two things the Yankees don't have to offer. Second, there's the money. If Los Angeles kicks in enough cash to make him a $16-17M a year player instead of $20M, Kemp would be way more appealing. Third, those injuries. These aren't bumps and bruises, it's serious stuff. That said, the upside is insane. He just turned 29 in September and could legitimately be one of the five best players in baseball if healthy. Trading for Kemp is a great idea that might be too complicated to actually pull off. · (24) ·
Last night, the Yankees made the single biggest upgrade they could have made this winter by agreeing to sign Brian McCann. They got close to nothing from their catchers last season and now they have one of the four or five best in baseball. McCann still has to pass a physical before the deal becomes official, and while that isn't expected to be much of an issue, he did have surgery to repair his left shoulder last October. The team needs to take a good look at that. Here's some other stuff I have to add.
1. Five years and $85M is pretty much exactly what I expected McCann to receive and probably a bit of a bargain in the current market. I mentioned in the Scouting The Market post that the bidding could get so out of hand — lots of big market teams need catching help (Yankees, Red Sox, Rangers, etc.) — that it could take a sixth guaranteed year to land him, but the Yankees were able to avoid that. There is a vesting option, however. This is the third largest catcher contract in history behind Joe Mauer (eight years, $184M) and Mike Piazza (seven years, $91M), but it's the largest free agent catcher contract ever. The previous free agent record was Jorge Posada's four-year, $52.4M deal prior to 2008. Good catchers are never available. This is also the largest contract the Yankees have given out since signing Mark Teixeira. As for the draft pick … who cares? I have no problem giving up a first rounder for a player of McCann's caliber. The full no-trade clause bothers me more than the pick, but whatever.
2. The contract will count as $17M towards the luxury tax threshold these next five years, so, based on my most recent (unofficial) payroll breakdown, the Yankees still have about $27M left to spend this winter. They have to re-sign Robinson Cano with that money, so it's not as much as it seems. Of course, that $27M would become roughly $61M if Alex Rodriguez is suspended for all of next season, but that's hardly a guarantee at this point. If he's suspended only 50 games, it still jump to $35.5M or so. The McCann contract means one of three things: a) the plan to get under the luxury tax threshold went out the winter, b) they're going to let Cano walk, or c) they're confident A-Rod will get suspended. After adding McCann, I don't see how they can realistically re-sign Cano and stay under the threshold without Alex getting suspended. I mean, it could be done, but they would have very little to spend the rest of the winter. Some payroll shenanigans are afoot.
3. Although I think the Yankees should hang onto their catching prospects unless they get an overwhelming offer, I certainly understand the idea of trading one to help the team elsewhere. Gary Sanchez is the best prospect of the bunch but I actually like J.R. Murphy more as a no-doubt long-term catcher and think he is the best bet to take over behind the plate whenever McCann makes the transition to first base/DH. Assuming Frankie Cervelli serves as the backup next season, Murphy could spend the year with Triple-A Scranton (only played 59 games there last year) before starting a Joe Girardi/Jorge Posada-esque apprenticeship in 2015. That would make Austin Romine trade bait even though he probably has the lowest trade value of the trio. Still, young catching is hard to find and the Yankees should have no trouble finding a taker for Romine if they indeed decide to move one of their young backstops. I'd hang onto them just a bit longer though. None are sure things and catching depth can disappear in a hurry.
4. I've been messing around with batted ball distances these last few weeks — wrote this recently — because I think it's pretty interesting, but I'm not quite sure what to do with it yet. I'm not sure how predictive it is or anything like that. It is fun to look at though. Courtesy of Baseball Heat Maps, here is every ball McCann has hit in the air since 2007, when the data started being recorded: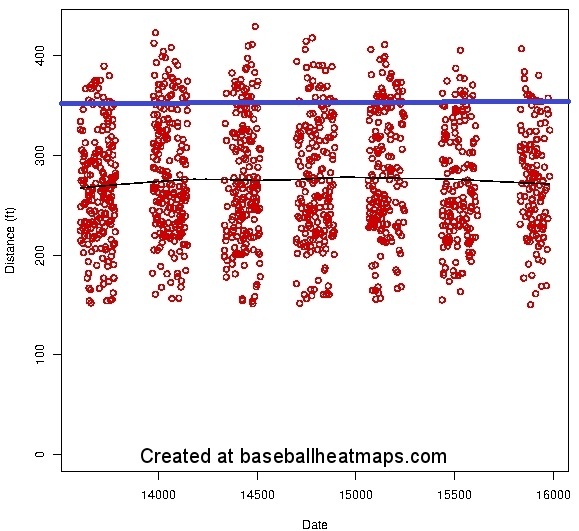 The vertical clusters are individual seasons (2007-2013 from left to right) and each red dot is a batted ball hit in the air, meaning a fly ball, a line drive, or a pop-up. Doesn't matter if it went over the fence, fell in for a hit, or was caught for an out. If it was hit in the air, it's in the graph. As you can see, McCann's average batted ball distance (the black line) has been relatively unchanged over the years. I did add the blue line at 350 feet to show he didn't hit the ball that far as frequently as he once did these last two years. That coincides with his right (front when hitting) shoulder problems, and there is some evidence suggesting an injury to the front shoulder can sap a hitter's power for a few years or, in some cases, permanently. This doesn't mean McCann is doomed or anything, he was a very productive hitter this past season, I just thought it was interesting.
5. So what's next? Aside from getting Cano locked up, of course. The Yankees still need help at third base and in right field, but I think pitching is the biggest item on the agenda right now. Brian Cashman said they're looking to add two starters this winter and that's easier said than done. It doesn't sound like Masahiro Tanaka will be posted anytime soon, but they could target a cheap-ish second or third tier guy to at least get the ball rolling. I've come around quite a bit on Scott Feldman (3.86 ERA and 4.03 FIP in 181.2 innings in 2013) and think he'd be a real solid pickup at the right price. The FanGraphs crowdsourcing and Jim Bowden (who's been ridiculously accurate so far) both expect him to sign a deal worth right around $9M annually this winter, which is more than fair (and probably a bargain) for a number three-ish starter in this market. Landing someone like that solidifies the rotation while leaving enough money (assuming A-Rod is suspended) for Tanaka or Hiroki Kuroda or someone like that. Either way, pitching stands out as the biggest need now.
Do you really need the numbers to grasp how poorly the Yankees performed at catcher in 2013? In case you did: .587 OPS, which ranked 12 out of 14 in the AL, nearly .080 points lower than the next-highest team. They did have a few bright spots, including Francisco Cervelli's productive month and Chris Stewart staying hot for a bit, but by the end of the season the Yankees' catchers were cooked. Stewart, a backup at best, was run down from starting, Austin Romine had gotten hurt (again), and J.R. Murphy was what you'd expect from a late-season call-up.
Tonight, the Yankees addressed their most glaring need, signing Brian McCann to a five-year, $85 million deal that includes a sixth-year vesting option that could make the deal worth $100 million. McCann, 30 in February, will add some much-needed pop at catcher, perhaps recreating the days of Jorge Posada behind the plate.
The upgrade from Stewart, Romine, Cervelli, and Murphy to McCann speaks for itself. Last season, as McCann recovered from shoulder surgery, he produced a .796 OPS, 115 OPS+, in 402 PA. That lines up pretty well with his career numbers (117 OPS+). That OPS alone would have put the Yankees at third in the AL in OPS, behind only Minnesota (Mauer) and Cleveland (Santana). But that doesn't tell the entire story.
McCann, a lefty, pairs perfectly with Francisco Cervelli, a righty who has excelled against lefties. True, his entire career against lefties amounts to a hair under 200 PA, but he's more than done his job in those opportunities (.302/.402/.389). If he can squat behind the plate when the Yankees face left-handed pitching, it's the perfect catching combination. McCann not only saves the wear and tear of catching for a third of the season, but he'll be available to DH — and he's produced a .744 career OPS against lefties.
Left-handed power hitters are always welcome at Yankee Stadium, and McCann's swing appears tailor-made for the short porch. Even in his poor 2012 he produced a .344 wOBA when pulling the ball, and in two of the last three years he has just murdered the ball when pulling. Combine that with a difference in home parks — there's a huge right-center gap at Turner Field — and it seems like an ideal fit from an offensive standpoint.
The money involved has more than a few fans up in arms. At five years and $85 million, it's certainly a large outlay by the Yankees. It's tough to analyze this without knowing their intentions re: Plan 189. If they do plan to come in under the luxury tax threshold in 2014, it'll be even more interesting to see how they fill the roster. For the time being, let's just consider this the Yankees getting aggressive in order to nail their No. 1 priority. Who knows what else is at play? All we know now is that the Yankees have more money than any other team, and that they've spent it on a player that will make them considerably better.
Much of the outcry regarding McCann involves his age and his position. He turns 30 in February, which is not a good sign for a catcher, at least anecdotally. Again, if the Yankees can continue trotting out a backup who can hit left-handed pitching, they can limit McCann's exposure behind the plate, making up the PA at DH or even 1B, a position he said he'd be open to learn. He did suffer a shoulder injury in 2012 that sapped his production and kept him out during the first month of 2013, but it does appear he's recovered from that. Assuming he's healthy now, proper management could go a long way to keeping him on the field, and behind the plate, for the next five years.
It's difficult to understate how poorly the Yankees fared at catcher in 2013. Signing McCann provides the greatest upgrade they could have acquired this off-season. There are concerns, as there are with any free agent signing. But given the upside of the deal, and the Yankees' apparent ability to spend, this deal stands a decent chance of working out for them.
Discussion to be reconvened in January, when we see what else the Yankees have done to augment and upgrade the roster.
By

Evan Grant reports that the Yankees are on the verge of a deal with catcher Brian McCann. More to come, obviously.

Update: Ken Rosenthal notes that while the Yankees are in "serious" discussions with McCann, a deal is not close yet. We'll see how quickly this develops.

Update: Now Rosenthal says that the deal is close, for five years and more than $80 million. For what it's worth, a guy who told me about this deal a half hour before Grant broke it said 4/89 with a vesting option for a fifth, so I'm guessing the 5/89 figure is pretty close.

Update: Rosenthal has the deal at 5 years, $85 million with a sixth year vesting option that would bring the deal to $100 million.

Update: Jon Heyman reports that McCann gets a full no-trade clause. I'm figuring every big-name free agent signing with a large-market team will get one of these. · (229) ·
As you know, the Yankees lost a frickin' ton of players to injury this past season. Important players too. Mark Teixeira and Derek Jeter missed essentially the entire year, Alex Rodriguez and Curtis Granderson both missed over 100 games, Kevin Youkilis and Travis Hafner missed huge chunks of time … on and on it goes. Never-ending, it seems.
Jeff Zimmerman at FanGraphs posted injury data for 2013 and, believe it or not, the Yankees did not lose the most days to injury this year. They did lead baseball with 28 DL stints, but their 1,496 days lost trailed both the Marlins (1,538) and Braves (1,536). The Royals only lost 461 days to injury this past season. Must be nice.
Of course, tons of injuries are nothing new for the Yankees. This chart really drives home the point:
That's an average of 1,200 (!) or so days lost to injury over a four-year period. Obviously some percentage of the injury pie is just plain ol' luck. Curtis Granderson having not one, but two bones broken by pitches this summer was bad luck. Andy Pettitte having his leg broken by a hard-hit ground ball last year was bad luck. It happens. The non-luck portion has to do with things like the team's injury prevention strategies, the training staff, the age of the roster, etc. Age is definitely a factor — older players tend to get beat up a little bit more and they take longer to heal. The Yankees have an older roster by design and they have to deal with the injury consequences, that's all. They make their own bed.
Health is something of a market inefficiency these days. It's not just about who has the best players anymore. It's about who has the best players and keeps them on the field the longest. A huge part of Robinson Cano's value is his durability. He's not just a brilliant hitter and an excellent defensive player, but he plays every single day. Since he broke into the league in 2005, only Ichiro Suzuki, Miguel Cabrera, and Michael Young have played more games. Over the last five years, only Prince Fielder has played more. He's amazing. The Yankees have struggled with injuries over the last few seasons and when it happens year after year, it's not really a coincidence. Some teams have a knack for keeping players healthy, but New York is definitely not one of them.
By

Via Andy McCullough: The Yankees never showed much interest in free agent catcher Carlos Ruiz before he agreed to re-sign with the Phillies. The Fightin's gave him a three-year contract worth $26M with a club option for a fourth year earlier this week. New York had interest in acquiring the backstop prior to the trade deadline but was told he was not available.

Ruiz, 34, hit .268/.320/.368 (89 wRC+) with five homers in 341 plate appearances this past season after serving a 25-game amphetamine-related suspension. He managed a 128 wRC+ from 2010-2013 and is regarded as adequate defensively. The contract is probably a year too long but the salary is reasonable. The Yankees seem to be going in one of two directions behind the plate: either they'll go big and sign Brian McCann or they'll go cheap with Chris Stewart, Austin Romine, et al. The latter seems more likely given payroll restrictions. · (20) ·
By

The Cardinals traded David Freese (and a reliever) to the Angels for Peter Bourjos (and a prospect) this afternoon, both teams announced. This is notable because the Yankees were discussing Freese with St. Louis recently, but talks didn't advance because New York didn't have much to offer. There was some belief they could revisit talks later in the offseason, but forget that now. Even if Alex Rodriguez does not get suspended, the Yankees need to look for a capable third baseman just because he's such an injury risk. · (33) ·
After 19 big league seasons, including the last 17 as closer, Mariano Rivera's Hall of Fame career is over. He announced his intention to retire during Spring Training, so this is no surprise. We all knew it was coming. Turns out the knee injury that wiped out almost his entire 2012 season extended his career by one year — Mo admitted he planned to retire last year before the injury. In a weird way, I'm thankful he got hurt.
As good as he was this past year, the 2013 season was actually a down year for Rivera. He blew more saves (seven) than he had in any season since 2001, including three in a row during one ugly early-August stretch. His 2.11 ERA was his highest in a full, healthy season since 2007 and second highest since 2002. His 1.05 WHIP was also his highest since 2007. Rivera allowed seven homers in 64 innings, the second highest total of his career since moving to the bullpen full-time. His 3.05 FIP was his highest since 2000.
Despite all of that, Rivera was still one of the best closers in baseball. Among relievers who saved at least 20 games, he ranked seventh in bWAR (2.4) and tenth in fWAR (1.5). That's a down year. Forty-three-year-old Mariano Rivera coming off a serious knee injury was still better than two-thirds of everyone else out there. When the Yankees were making one last push towards the postseason, Mo threw multiple innings five times in September, more than he had in any full season since 2009. He did that despite pitching through what he called "tremendous soreness" in his arm. He left everything on the field for New York and was deservedly named the AL's Comeback Player of the Year for his effort.
Throughout the season, teams around the league paid their respects to Rivera with gifts and donations to his charity. The Athletics gave him a surfboard, the Twins gave him a rocking chair made out of broken bats, the Red Sox gave him the never-again-needed #42 placard from the Green Monster scoreboard, the Rangers gave him cowboys boots and a hat, the Rays gave him … whatever the hell this is. During Mariano Rivera Day at Yankee Stadium, the Yankees enshrined their closer in Monument Park followed by a live rendition of Enter Sandman by Metallica. The farewell tour was one of the coolest sidebars of the season, hands down.
And yet, the thing I will remember most about the 2013 season was the goodbye. We all knew it was coming — Joe Girardi announced beforehand that Rivera would pitch in the final home game of the season no matter what — but it was still a surprise to see him exit before the end of the ninth inning. It was unscripted, it was incredibly emotional, and it was a moment Yankees fans won't ever forget.
Rivera never did pitch in another game after that and he didn't have to. It was the perfect send off, the perfect goodbye for a perfect Yankee. Mariano was more than the greatest reliever to ever live. He was a first class person who was kind and treated everyone with respect. He helped countless people through his charity work and always took the time to give some love back to the fans.
I am happy to have witnessed Mo's career from start to finish and I will miss watching him pitch dearly. There is never going to be another like him. Not ever.
If you were the GM of the Tigers, and two winters ago you could have signed Prince Fielder to a two-year, $76 million contract, would you have? Paying him $38 million annually sounds steep, but getting him for only his age-28 and age-29 seasons mitigates that inflated salary. It's a deal that Fielder never would have signed, but it's the deal that the Tigers got. I imagine they're happy with the way that turned out.
What the Tigers essentially did was walk away when they had the opportunity. Signing him two off-seasons ago was a play for the short-term. Detroit had just made the World Series and felt they weren't far from a victory. While they did make the Series last year, and the ALCS this year, it became apparent that their roster had some weaknesses. The landscape changed, so Detroit acted while it had the opportunity.
The Yankees now have an opportunity to walk away from an enormous contract. They won't get back a player, as the Tigers got with Ian Kinsler, other than whoever they can take with a low-30s draft pick, so the situations aren't directly comparable. What they would gain is significant financial flexibility, something they apparently desire. While it might hurt, especially in 2014, Tyler Kepner of the NY Times argues that letting Robinson Cano walk is the right move.
The risks of long-term contracts for players already in their 30s is well documented. The Yankees need look no further than their own organization six years ago, when they signed Alex Rodriguez to a 10-year contract. In Rodriguez the Yankees see how injuries and performance decline can hamper even a generational talent. Cano, even as one of the league's premier hitters, doesn't quite reach A-Rod's level. So why sign him to a contract that could similarly cripple the organization?
Kepner's argument centers on this kind of risk aversion. In discussing a 7-year, $161 million contract for Cano, Kepner says, "That kind of deal has put the Yankees in their present state — decaying and injury-prone — and the team needs to break the cycle." The problem is that there isn't any player, or even group of players, currently available that can help the Yankees as much as Cano. Even if the last three years of a seven-year deal are well below what his salary warrants, the Yankees still need Cano in those first four seasons.
Yes, but what about the Cardinals, who lost Albert Pujols and have done quite well without him? Kepner cites this case, noting that the Cardinals went on to sign Carlos Beltran and hand out a few extensions on the path to two playoff berths and a World Series appearance. While it sounds nice, it completely ignores the organizational differences between the Cardinals and the Yankees. For starters, Pujols wasn't even the best hitter on the Cardinals in 2011; Lance Berkman and Matt Holiday each put up better numbers. They also had Allen Craig, who had broken out in 2011 and was ready for a regular gig. That's not even bringing their robust farm system into the equation.
The Yankees have none of these things. Alfonso Soriano is solid, and Mark Teixeira could come back to produce next season, but even if both have fine years the Yanks still aren't nearly as deep as the Cardinals. There is no Yadier Molina, there is no Allen Craig, there's no Matt Adams and Matt Carpenter. There is, hopefully, an Adam Wainwright in CC Sabathia, but there's no Lance Lynn, Joe Kelly, or Shelby Miller. If the Yankees plan to contend in 2014 they need to do it with a heavy top-end. That's not going to work without Cano.
What about punting 2014? That's not a strategy that really pays off in baseball. The Astros are trying it now, and even then it's going to take them several more years to get even a little feedback on their experiment. Getting a draft pick for Robbie is nice, and getting a higher draft pick next year would be nice as well. But are those two picks going to turn around the organization? Doubtful. Even if they do, it will take years and years for that process to play out. Does anyone have that kind of patience?
The alternative is using the $23 or so million for Cano and spreading it to a few other players. Kepner lists the possibilities, and we're familiar with all the names. But it's not as though the Yankees can take Cano's salary and somehow turn it into two high-end free agents. Brian McCann will cost between $15 and $18 million himself. Shin-Soo Choo might cost even more. Perhaps savings from Cano, plus the other money the team has available, can turn into three free agents. But none of them will be as good as Cano.
Therein lies the choice. Do you bring in the superstar, understanding that he's your only superstar, or do you spread the wealth a bit? People love to cite how the Red Sox spread the wealth last winter, but fail to mention that they already had a superstar on board in David Ortiz and a damn good first mate in Dustin Pedroia. Again, the Yankees don't have that. They can't replicate what the Cardinals or Red Sox did, because their franchise is in a completely different position right now.
The biggest risk with Cano, or any other long-term contract, lies in the later years. Given how he's performed in the last few years, it's difficult to imagine Cano declining much, if at all, in the next year or so. If he can manage a graceful decline (anything but guaranteed), the last three to four years of a seven- or eight-year contract will be the ones that hurt. This is actually good news for the Yankees. In year-five of a potential Cano deal, they have zero dollars in current obligations. In year-four they have just $26 million.
In other words, this isn't some situation where they hand out $700 million in five-plus-year contracts within the span of two off-seasons. They've done a good job of limiting obligations in the last few years, and given their lack of future payroll the effort is starting to show. Adding Cano now will hurt if they sign a bunch of five- and six-year deals in the next two off-seasons. Given the market, I don't think it will come to that.
As Mike has noted, frequently, this off-season, even if the Yanks add Cano, Carlos Beltran or Jhonny Peralta, and Masahiro Tanaka, they still might not contend in 2014. But even if they're going to struggle again next year, they still have needs in 2015 and beyond. Letting Cano go stands directly in opposition to those future goals.
Just because some other teams played the market a certain way doesn't mean the Yankees should follow suit. They're in a different position than those teams. Given their current roster, and the fruits on the farm, Cano become an essential piece to not only potential contention in 2014, but also 2015 and beyond. Letting him walk, especially at seven years and $161 million, a deal he'll almost certainly exceed, because other teams did something similar, would be foolish. The Yankees need Cano just as much as Cano needs the Yankees.