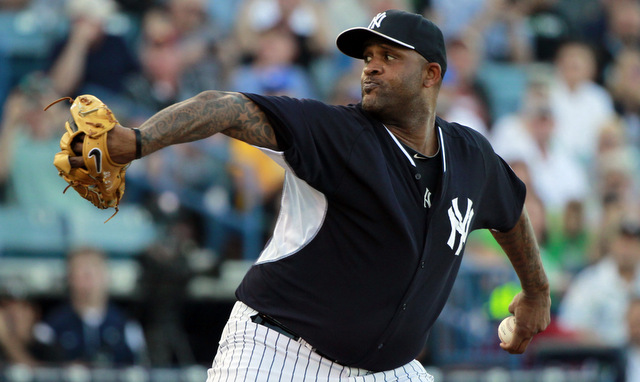 For the first time since last May, CC Sabathia pitched in an actual game Tuesday night, making his Grapefruit League debut against the Blue Jays at home in Tampa. He allowed two runs on four hits in two innings of work, striking out two. Twenty-two of his 31 pitches were strikes (71%).
Sabathia retired the side in order in the first (two grounders and a strikeout) before running into some trouble in the second. More importantly, scouts clocked his fastball at 90-92 mph in the first inning and 89-92 mph in the second inning, according to Mark Feinsand. That's in line with the 90.6 mph he averaged last year and it's only March 17th.
"I felt pretty good," said Sabathia during a YES Network interview after his outing. "I was just telling the guys I was really nervous in the bullpen. Just wanted to get out there and be healthy. Felt good throwing the ball — made a couple bad pitches but I still wanted to get out there and get the game feel and get after it, and I did that."
I thought Sabathia looked pretty good considering it was his first outing a) in ten months, and b) after knee surgery. His location was okay with most misses way off the plate, so hopefully he irons that out as camp progresses. It would have been nice to see him go six up, six down, but whatever. Sabathia didn't come out with Jamie Moyer velocity and his mechanics seemed fine. That's good enough for me in mid-March.