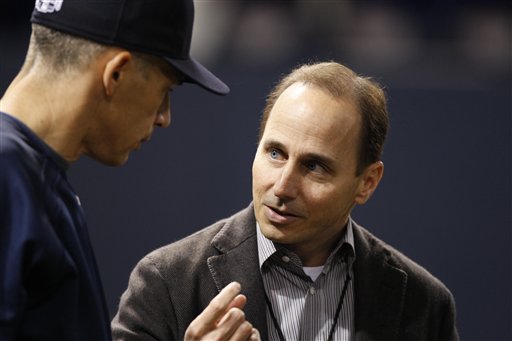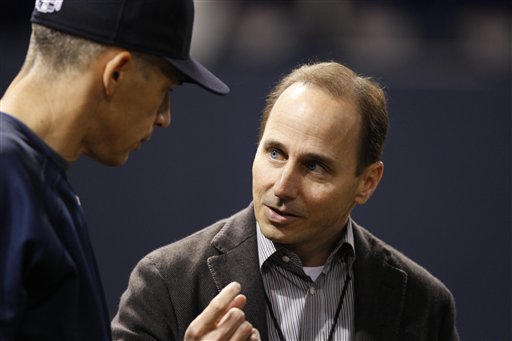 The first official day of the GM Meetings has come to a close, at least in theory. Like I said on Monday, the hot stove is a 24/7 business, so who knows what could happen overnight. Obviously, the big news from Tuesday involved Dan Uggla, who was dealt to the Braves for the low, low price of (All Star) Omar Infante and former Yankee prospect Mike Dunn. I know they're just getting one year of Uggla before free agency, but damn. You mean someone else wouldn't top that?
Anyway, let's round up today's miscellaneous items, with the source in parenthesis again…
"Things are going well right now," said Hal Steinbrenner (Chad Jennings). He acknowledged talking to Derek Jeter's agent "a couple of times" since last week's meeting in Tampa, but otherwise there's not much going on.
Meanwhile, Jon Heyman hears that the Yankees will bid at least three years to keep Jeter. Three years? Fine. At least three years? I don't like where that's going.
The Yankees still have no idea if Mariano Rivera is looking for a one or two-year deal, but they're expecting it to be the latter (Buster Olney).
Bill Hall is on the list of free agents the team is interested in, and they have a bit of a connection: Hall works out with Yanks' hitting coach Kevin Long during the offseason (Ken Rosenthal). I'm not much of a Hall fan, mostly because the idea of multi-million dollar utility players with multi-year contracts strikes me as utter lunacy.
The Yankees did in fact contact the Diamondbacks about trading for Justin Upton, but it was nothing more than due diligence (Marc Carig).
"I've got a small player move that I'm working on that might get done at some point this week," said Cashman (LoHud). "But it's small." Let the speculation begin. I hope it's Randy Choate.
They won't consider releasing Damaso Marte to free up a 40-man roster spot even though they expect him to miss the entire 2011 season. Cashman doesn't believe the team has a roster crunch when it comes to protecting players from the Rule 5 Draft.
Cash on the pitching coach situation (Marc Carig): "This is a scenario where there isn't an obvious, without a doubt, in-house candidate."
In somewhat surprising news, Brian Cashman said that Al Aceves might have been healthy enough to pitch in the World Series if they'd gotten there (LoHud). The Mexican Gangster last pitched on May 8th and suffered a setback as recently as early-September. Cash said he's "hopeful" going forward, presumably talking about Ace's ability to stay healthy. That's basically all you can do, back issues are tricky.
And finally, former Yankee GM Bob Watson announced that he will retire at the end of the 2011 season. Watson is currently MLB's VP of Rules & On-Field Operations, meaning he disciplines players and what not, but he ran the Yankees' ship from in 1996 and 1997, bridging the gap between Gene Michael and Cashman. He was a helluva player before that, hitting .295/.364/.447 with 184 homers in a career that spanned from 1966 to 1984. Watson played mostly for the Astros, but he also had stints with the Red Sox, Yankees, and Braves. Congrats on the retirement, Bob.