Archive for Retired Numbers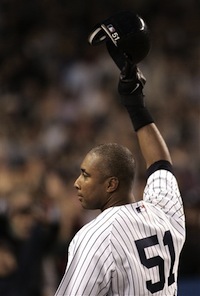 As Spring Training nears, the Yankees' numbers are slowly talking center stage. Now, I'm not talking about wOBA, UZR or other intriguing numbers. Rather, I'm talking about those numbers on the backs of all of the players' jerseys. As the old concessionaire's saying goes, you can't tell the players without a scorecard, and the Yankees are seemingly running out of numbers.
On Monday afternoon, Ed Price on Tweeter noted how the Yankees are pushing it numerically this spring. With their 40-man roster and 20 invitees, the team will have 60 players in camp, and a whole slew of coaches who need uniform numbers too. Last year, with 64 players in camp, the highest number on the field in Tampa was Kanekoa Teixeira's 94. This year, the Yanks will again push toward 90.
This problem of numbers — if we can call it a problem — is generally a March-only issue. In recent years, the Yanks have had just two players sport numbers in the 90s range. Brian Bruney donned 99 for a spell in an effort to find some numerically-inspired consistency while Alfredo Aceves has embraced number 91 to honor Dennis Rodman. In 1952, Charlie Keller wore 99 for a spell as well, but when the rosters are pared, most players break camp with numbers at 55 or lower.
Why then are the Yanks heading to Tampa ready to dole out numbers more fit for linebackers and offensive linemen than baseball players? For the Bombers, it is one of nostalgia and historical recognition mixed with some recent stubbornness on behalf of the team and its fans. The Yankees, as we know, have retired 15 numbers — including Jackie Robinson's and eventually Mariano Rivera's 42 — for historical and political purposes. Does Phil Rizzuto's number 10 need to be shelved? What of Billy Martin's 1? Ron Guidry's 49, hung up in Monument Park to lure him back to the team as a pitching coach? Reggie Jackson's 44?
And then, the Yankees have those numbers than sit in limbo. Joe Torre's number 6 will remain reserved for a future reconciliation. Bernie Williams' 51 has been unissued since Bernie didn't retire after the 2006 season. And who could forget the uproar over the Yanks' willingness to issue 21 to LaTroy Hawkins for a few weeks? O'Neill might have been the 41st Yankee to don that one, but in the collective mind of the fans, it belongs only to him.
Eventually, the Yankees will have to hang up a few more numbers. Rivera's 42, already on ice due to the league-wide retirement of it, will earn a place in Monument Park. Derek Jeter's number 2 will never see another player, and if we want to get overly sentimental Andy Pettitte's 46, Jorge Posada's 20 and maybe even A-Rod's 13, depending upon his career accomplishments, might wind up unused forevermore.
So at some point, the Yankees will run out of single-digit numbers to hand out. They'll have to break that triple-digit barrier unless they do what the White Sox have done and unretire some numbers. Omar Vizquel will wear Luis Aparacio's number 11 with the Hall of Famer's permission, and the Yanks, a team that has, in the Steinbrenner era, put its history on a golden pedestal, may need to unretire some respectable numbers. The fans too may have to let go or else we will be cheering on future greats wearing awkwardly large numbers on their uniforms.
Above: Bernie Williams' 51 remains in limbo. (AP Photo/Ed Betz)
As reports of Manny Ramirez's exploits in Los Angeles filter through the Boston/New York East Coast media bias sieve that we know and loathe, we've seen photos of Manny wearing not his customary 24 but rather the slightly absurd 99 on his back. Turk Wendell he is not. Scott Miller, writing for CBS Sports, tells us why: The Dodgers have retired 24, and while Manny requested 34, the Dodgers will not reissue Fernando Valenzuela's old number. "It's been retired in our hearts," Mitch Poole, the team's clubhouse manager, said to Miller.
I, for one, am glad to see the Yanks aren't the only team retiring people's numbers in their hearts but not in reality. As Shysterball opines, perhaps some standard for retired numbers and unissued but non-retired numbers should be put forth. It's all just a little silly.
That sure is a long line of retired numbers. (Photo by flickr user aeonix01)
The Yankee fan masses have spoken. After three days of voting, 79 percent of you feel that Paul O'Neill's number should not be retired while 21 percent of you would like to see 21 added to the growing list of Yankee retired numbers.
Despite these overwhelmingly one-sided results, the debate has generated a lot of conversation about the nature of retired numbers and the way the Yanks go about retiring the numbers. Some fans seem to feel that the Yanks retire way too much numbers; others feel that the honors are warranted. And no one can agree on exactly what standards are applied to a player to determine if a number is retired.
Take Phil Rizzuto's number 10. Rizzuto is, famously, in the Hall of Fame after many passionate fans waged a rather rabid campaign to get him inducted, and one could say that he's in the Hall as much for his decades-long career behind the microphone as he is for his play on the field. In fact, his play on the field, while great at its peak, wasn't that spectacular overall. He played 13 years for the Yanks and hit .273/.351/.355.
In 1985, the Yanks decided to hang up Rizzuto's 10. At that point, he had been retired for 31 years, and seven other players — including Chris Chambliss, Tony Kubek and Rick Cerone — had worn 10. Why the Yankees opted then to retire Rizzuto's number is anyone's guess. In fact, as an August 18, 1985 letter to The Times shows, Yankee fans 23 years ago were not of the mind that Rizzuto was deserving of a spot alongside the Yankee greats.
Ron Guidry's 49 and Reggie Jackson's 44 are also big question marks. Guidry was great for a long stretch but not a baseball immortal. Reggie had a few iconic games in the post-season for a team that played during an era when George Steinbrenner was hell-bent on winning the World Series. He ended up spending just five of his 21 seasons in the Bronx.
Interestingly, the timing of these two retirement ceremonies raises an eyebrow or two as well. Reggie's number was retired in 1993 when he was inducted into the Hall of Fame. At the time, the Yanks were mired in their worst World Series drought since the early years of the Twentieth Century, and perhaps, George was looking to recapture some of the aura of his glory years of the 1970s. Guidry's number was retired in 2003 right when he was returning to the Bronx fold. The Times speculated that perhaps it was some sort of gesture of appreciation designed to draw Guidry into a soon-to-be vacant coaching job.
Whatever the case, retired numbers are a prickly issue in Yankee-land. Fans of players from recent teams grow vehement in their arguments for or against enshrinement in the outfield. Take the 1990s teams. Off the top of my head, I would guess that Derek Jeter, Mariano Rivera, Joe Torre and Bernie Williams will see their numbers retired. Paul O'Neill supporters will feel slighted, and Jorge Posada fans will wonder why their catcher doesn't get the same respect. Andy Pettitte's 46 never comes up and was in fact given out to five players during's Pettitte's three years in Houston. And the A-Rod debate will rage forever until or unless the Yanks win a few rings while he's in town.
Meanwhile, as the Yanks slowly run out of respectable numbers, a few fans have floated the idea of un-retiring certain numbers while keeping the number circles up as monuments in Monument Park. While I like the idea in principle, how that would work is again anyone's guess.
The Yankees have a tricky balancing act to perform. They have a vast history that they want to enshrine and recall. They have legends of the game and legends of the Bronx and just plain old fan favorites. As the available numbers decrease and more plaques find their way to the left field park, these debates will only grow more boisterous. Who needs single-digit numbers anyway?