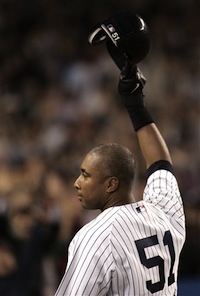 As Spring Training nears, the Yankees' numbers are slowly talking center stage. Now, I'm not talking about wOBA, UZR or other intriguing numbers. Rather, I'm talking about those numbers on the backs of all of the players' jerseys. As the old concessionaire's saying goes, you can't tell the players without a scorecard, and the Yankees are seemingly running out of numbers.
On Monday afternoon, Ed Price on Tweeter noted how the Yankees are pushing it numerically this spring. With their 40-man roster and 20 invitees, the team will have 60 players in camp, and a whole slew of coaches who need uniform numbers too. Last year, with 64 players in camp, the highest number on the field in Tampa was Kanekoa Teixeira's 94. This year, the Yanks will again push toward 90.
This problem of numbers — if we can call it a problem — is generally a March-only issue. In recent years, the Yanks have had just two players sport numbers in the 90s range. Brian Bruney donned 99 for a spell in an effort to find some numerically-inspired consistency while Alfredo Aceves has embraced number 91 to honor Dennis Rodman. In 1952, Charlie Keller wore 99 for a spell as well, but when the rosters are pared, most players break camp with numbers at 55 or lower.
Why then are the Yanks heading to Tampa ready to dole out numbers more fit for linebackers and offensive linemen than baseball players? For the Bombers, it is one of nostalgia and historical recognition mixed with some recent stubbornness on behalf of the team and its fans. The Yankees, as we know, have retired 15 numbers — including Jackie Robinson's and eventually Mariano Rivera's 42 — for historical and political purposes. Does Phil Rizzuto's number 10 need to be shelved? What of Billy Martin's 1? Ron Guidry's 49, hung up in Monument Park to lure him back to the team as a pitching coach? Reggie Jackson's 44?
And then, the Yankees have those numbers than sit in limbo. Joe Torre's number 6 will remain reserved for a future reconciliation. Bernie Williams' 51 has been unissued since Bernie didn't retire after the 2006 season. And who could forget the uproar over the Yanks' willingness to issue 21 to LaTroy Hawkins for a few weeks? O'Neill might have been the 41st Yankee to don that one, but in the collective mind of the fans, it belongs only to him.
Eventually, the Yankees will have to hang up a few more numbers. Rivera's 42, already on ice due to the league-wide retirement of it, will earn a place in Monument Park. Derek Jeter's number 2 will never see another player, and if we want to get overly sentimental Andy Pettitte's 46, Jorge Posada's 20 and maybe even A-Rod's 13, depending upon his career accomplishments, might wind up unused forevermore.
So at some point, the Yankees will run out of single-digit numbers to hand out. They'll have to break that triple-digit barrier unless they do what the White Sox have done and unretire some numbers. Omar Vizquel will wear Luis Aparacio's number 11 with the Hall of Famer's permission, and the Yanks, a team that has, in the Steinbrenner era, put its history on a golden pedestal, may need to unretire some respectable numbers. The fans too may have to let go or else we will be cheering on future greats wearing awkwardly large numbers on their uniforms.
Above: Bernie Williams' 51 remains in limbo. (AP Photo/Ed Betz)