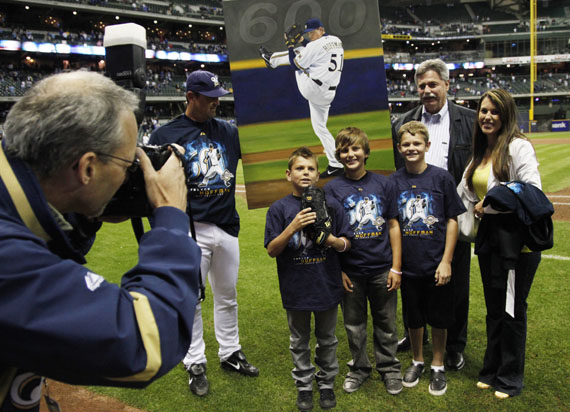 Before we get into the nitty gritty of the post, a little introduction: Hi. I'm Hannah. I really like the Yankees. Been a fan since I was about six years old, actually. The best way to reach me is probably through Twitter (@firstheart42). If you're interested in knowing more about me, or have questions, comments, concerns, humorous banter, flames, send me a @reply. If you don't have Twitter, you're missing out. Now, to more important things.
There's a reliever that hasn't come up at all despite the discussion regarding the various bullpens: Trevor Hoffman. Before his disastrous 2010, Hoffman put together an absolutely stellar career, posting a ERA of 2.73, a WHIP of 1.04, and FIP of 4.08. He had 591 regular season saves and was looking to top off his sparkling resume with a nice even 600. Then, for no explainable reason, Hoffman lost it. His fastball velocity dropped and his change-up control suffered, leading to a simply catastrophic 2010. In some ways, Hoffman could be the poster boy for the volatility of relievers: after a fantastic 2009 (helped along by a .233 BABIP against, in comparison to his .266 career), Hoffman hit career lows almost everywhere: his ERA shot up to 5.89, his FIP hit 5.21, he got hit by the homeritis bug with 1.5 HR/9 (as opposed to his 2009's 0.3 HR/9), and he couldn't even get a 2:1 ratio on strikeouts to walks. It wasn't as if something happened over the season: Hoffman blew four saves in April (out of seven opportunities) and continued to perform poorly until before the Brewers stripped him of his closer role in June and gave it John Axford. It took him until September 7th to get his 600th save. On the year, Hoffman got just 10 saves, bring his total up to 601 regular season saves. He did it 15 opportunities. Yeah, that's right. His save conversation percentage was 66%. What a nightmare. On the list of people in baseball I would not wanted to be in 2010, Trevor Hoffman is way up there.
Hoffman's a free agent right now and he's looking for a closing job. A cheap opportunity for whoever misses out on the Soriano Sweepstakes? Maybe. He could certainly retire if he doesn't find a job and a contract he wants and I'm sure baseball would get by just fine without him.  If anything, he could be a good guy to have in your bullpen in case your current closer pulls a, well, a Trevor Hoffman in 2011.
So, where does that leave Mo? Well, originally this article was going to be 'Will Mo Catch Hoffman,' but the more I looked at it, the more obvious it became: of course he will. Assuming Rivera avoids a Hoffman-esque apocalypse (a scenario that even the mere mention of should give any Yankee fan nightmares), it should be easy. The Greatest of All Time has 559 regular season saves as is, and if he doesn't string together 41 more (42 to beat Hoffman) between two more seasons, I'll be more surprised than not. After all, ever since he became full-time closer in 1997, he's never picked up less than 37 saves. The more interesting question: Can he do it in 2011? I'm not so sure.
Here's where the going gets a little rocky. In the past five years, Rivera has logged only one 40+ save season (2009, with 44 in 55 appearances). He picked up 33 in 2010 in the same amount of appearances, logging a couple more blown saves as well. His numbers in 2010 were, as always, jaw-droppingly good: 1.80 ERA, 0.833 WHIP, 2.81 FIP. Despite this, both his bb/9 and his k/9 trended the wrong way, and even if the increase in walks was insignificant (a mere tenth of a point), his drop in strikeouts was huge (almost 3/9IP) despite being granted one of the widest strike zones in baseball. Now, we know Mo's not really a strikeout pitcher, so it might not be as much of a problem as, say, Tim Lincecum, but it's not what you want to see. The other problem is that Rivera was assisted by a .230 BABIP against  – his second-lowest ever. The lowest was .223, in 1999, if you were wondering. The problem with all of these numbers is that there are no giant, definitive changes. His FB/GB%, for example, remained almost exactly as 2009 (51%), for one, and Rivera's reliance on broken-bat dribblers to second and short is a big part of how he does what he does.
So, to answer the question, I'm going to err on the side of caution and go with a most likely 'no.' That's not because I think Rivera will get all those opportunities and blow them; I think that his age will have us see just a little less of the closer we know and love for everything he's done. Injuries might factor in as well: in 2010, Rivera was day-to-day with oblique and knee pain and withdrew from the All Star Game. Although immortal, Rivera might be just a little creakier than he was last year, and Girardi may even be just a bit more hesitant to play him: he had only 3 2-inning appearances in '10.
Like wins, saves don't really tell you that much, but it's nice to have a whole bunch of them topped off in a nice round number, and it's certainly even nicer to have more of them than anyone else. If Hoffman does manage to pick up a closing job (Rays?), the race might get more interesting, but until then, Rivera is racing against himself and not much else. All I have the say is that the Yankees organization will hopefully give him more than a painting for his accomplishment, because man, a painting? I guess it is the Brewers…
Edited to Add: I have absolutely no idea how I messed this up, but Rivera has six seasons with less than 37 saves since 1997, actually. Just bear with me while I acclimate myself to this position and things will get smoother. I am unclutch. Apologies. Thanks Ross for pointing this out to me.