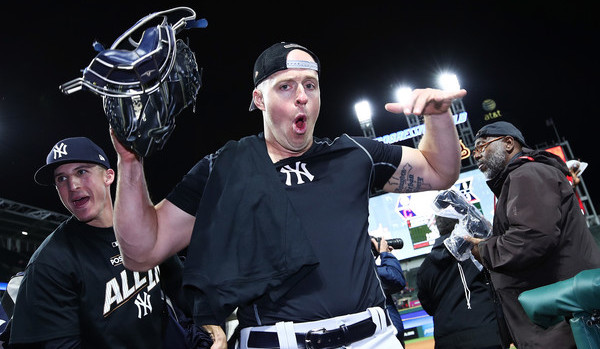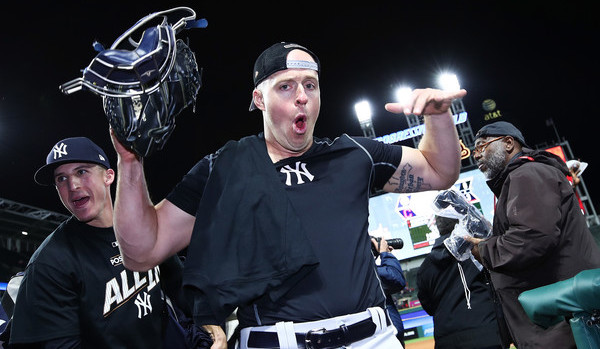 So long, Erik Kratz. Earlier today the Yankees announced Kratz has elected free agency rather than accept an outright assignment to the minors, which was completely expected. The move opens a 40-man roster spot.
The Yankees acquired Kratz from the Indians in a cash trade to serve as their third catcher in September, while Kyle Higashioka was out injured. The 37-year-old journeyman went 2-for-2 with a double and two runs driven in during his time in pinstripes. He is the franchise's all-time leader in OPS (minimum two plate appearances):
Erik Kratz: 2.500 OPS
Chris Latham: 2.000 OPS
Chris Parmelee: 1.875 OPS
Drop the minimum to one plate appearance and the Yankees all-time leader in OPS is Branden Pinder at 3.000. How about that? Anyway, Kratz did travel with the Yankees throughout the postseason, mostly because the team wanted him close by in case there was an injury and they needed to add a catcher to the roster.
The Kratz move begins the annual early offseason 40-man roster purge, in which clubs clean up their rosters and prepare for the winter ahead. Aside from Kratz, the Yankees don't have any obvious outright candidates right now. Guys like Bryan Mitchell and Chasen Shreve may be at risk of losing their 40-man spots this winter, though they're probably minor trade bait rather than outright candidates.