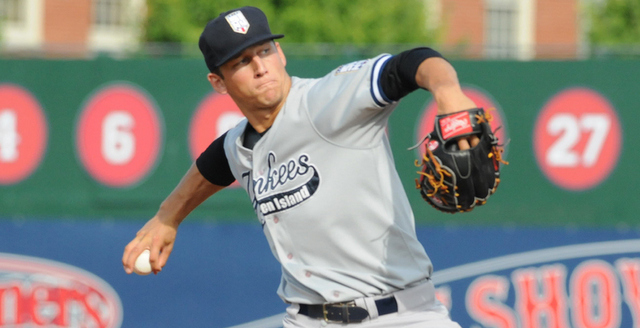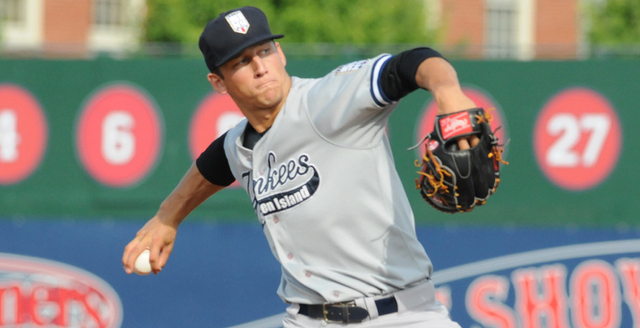 Baseball America is still in the middle of their series looking at the top 20 prospects in each minor league. Inevitability, playing time criteria has left a lot of prospects on the outside looking in. They have to draw the qualifying line somewhere, and some talented players simply fall short of the top 20 list due to playing time. Recent draftees fall short more than anyone.
Earlier today, J.J. Cooper posted a look at the top prospects who failed to qualify for one of their league top 20 lists. It's not a ranking, just a list of 13 players who stood out to scouts in limited playing time. Among the 13 are two of the Yankees top 2015 draft picks: rapper/RHP James Kaprielian (first round) and LHP Jeff Degano (second round). Neither made a top 20 list because they only threw a handful of innings after turning pro.
Kaprielian, 21, threw 23.2 innings with the Rookie GCL Yanks and Short Season Staten Island — 11.1 innings in the regular season and another 12.1 innings in the postseason — and finished with a 2.28 ERA (2.23 FIP). He struck out 24, walked six, and had a 56.5% ground ball rate. Cooper's write-up is free, you don't need a subscription, so here's part of the blurb on Kaprielian:
The 6-foot-4, 200-pound righthander commands a four-seamer at 92-93 mph and touched 95 for Staten Island. Kaprielian's plus 12-to-6 curveball was his go-to pitch with UCLA, but he mainly threw it early in counts with Staten Island, focusing instead on his changeup and slider. Both pitches generated swings and misses. His circle-change had firm, split-like downward action at 82-83 mph with good finish at the bottom of the strike zone, while the slider showed hard, late break … With his deep arsenal, above-average command and maturity, the righthander could be a quick mover in the Yankees system.
For what it's worth, Michael Lananna heard Kaprielian's changeup has progressed nicely in his short time as a pro. Kaprielian's scouting report is damn impressive. Four pitches, command, and poise? It's easy to understand why he was the fifth pitcher selected in the 2015 draft. The only reason the Yankees didn't turn him loose this summer was his workload at UCLA — he threw 106.2 innings for the Bruins before the draft.
Degano, meanwhile, had a 3.80 ERA (3.72 FIP) with 24 strikeouts, eleven walks, and a 50.0% ground ball rate in 23.2 innings for the GCL Yanks and Staten Island. That's regular season and postseason. The 22-year-old southpaw actually piggybacked with Kaprielian for a while at Staten Island to keep their workloads down after heavy springs in college. (Degano threw 99 innings for Indiana State.) Here's part of the Degano blurb:
Degano did show excellent command of his 90-94 mph fastball inside to righthanded hitters, and his plus 78-82 mph breaking ball neutralized lefties. The development of Degano's fringy changeup, however, will be crucial if he's going to make it as a starter. It showed flashes of being an effective pitch, but Degano threw the change sparingly with Indiana State and still needs to gain a consistent feel for it.
Degano turns 23 later this month and is older than your typical college pitcher, but his development was delayed by Tommy John surgery. He made only three starts in 2013 before blowing out his elbow and then didn't pitch at all in 2014 either. This spring was the only opportunity for scouts to get a look at Degano before he was draft-eligible, and he was working his way back from elbow reconstruction. The Yankees liked him enough to take him in the second round.
The Yankees have a very position player heavy farm system, especially now that Luis Severino has graduated to the big leagues, so Kaprielian and Degano help replenish the pitching pipeline a bit. The Yankees didn't draft them for need, things just worked out that way. Kaprielian could help very soon. I wouldn't be surprised if he was in the big leagues next August or September a la 2007 Ian Kennedy.