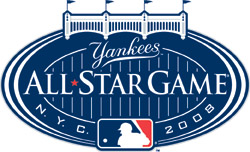 When the All Stars take the field at Yankee Stadium three weeks from tomorrow night, we'll be able to count more than a few Yankees among them. Deservedly or not, Derek Jeter finds himself the top AL vote-getter; A-Rod has a lock on his position; David Ortiz's injury should push Hideki Matsui into the lineup.
While a few Yankees — Johnny Damon and Jason Giambi come to mind — are so far getting the shaft on the popular vote front, those two should find themselves selected by the players and coaches. Meanwhile, the Yanks will see some All Star representation on the mound as well. I can't say enough about Mariano Rivera's incredible season. His numbers are just off the charts this year, and Mo deserves what will be the ninth All Star game appearance of his career. I believe Mike Mussina, 10-5 with a 3.93 ERA, will find himself aboard the All Star squad as well.
There's one more Yankee pitcher who could get All Star consideration too. A loyal reader Nick tipped me off to this idea: Joba Chamberlain, All Star. Joba right now suffers because he doesn't have the wins; his lone victory came in relief. But it's hard to argue with his numbers otherwise.
As a reliever, he threw 23.2 innings to the tune of a 2.28 ERA. He struck out 30 while walking 11 and opponents hit .190/.284/.274 off Joba the reliever. As a starter, he's thrown 18.1 innings while making his transition, and his ERA stands at 2.45. He's struck out 19, and while the 12 walks are too many, opponents are batting just .239/.354/.328 off Joba the starter. Not too shabby, eh?
So here's my question for us to debate while the Yankees enjoy their off day tonight: It's hard to believe that there are too many hurlers in the AL who would be better choices than Joba considering the nature of the game, and it's pretty easy to argue that he deserves to make it on his merits. The only knock — and it's a weak one — is his win total, but if he has a few more stellar starts as he has the last few weeks, the case for Joba becomes even more compelling. So if you were in charge of the All Star Game, would pick Joba Chamberlain as one of your pitchers?