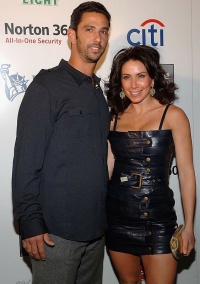 As Spring Training draws nearer, our conversations shift gears from how the Yankees should build their team to how the Yankees can cope with what they've got. Foremost among concerns is Jorge Posada, who as you all know missed most of 2008 with shoulder issues. He had surgery in late July and is reportedly recovering well — so well, in fact, that he wanted to play in the WBC. Despite his desire to represent his country, it's not happening. Not only do the Yankees want to closely monitor his progress, but there is also the issue of working with the new pitchers. He'd do well to develop a rapport with CC Sabathia, A.J. Burnett, and everyone else on the staff.
On his ESPN blog today, Buster Olney checks in on a few injury situations around the league. Here's what he has to say about Jorge:
He is coming back from shoulder surgery and the Yankees have no idea how effective he can be as a catcher, and whether he can be a full-time catcher again. If he can't catch, that would mean he would have to get the bulk of his at-bats as a designated hitter, compelling the Yankees to press for a trade of one or two veteran hitters, among Xavier Nady, Nick Swisher and Hideki Matsui. The organization has another $40 million or so invested in him over the next three years, so Posada's status will probably be the Yankees' biggest concern of spring.
He makes a good point. If Jorge can't throw but he can swing a bat, DH is the only place to play him. As we saw last year, though, that shoulder injury really sapped his power. So that creates yet another conundrum. If Jorge can't throw, but he can hit, but he demonstrates a continued lack of power, what do you do? Do you slap him on the 60-day DL and hope the rest time helps him complete his recovery? Do you play him anyway?
The biggest obstacle, of course, is Matsui. There's no way he can play the outfield on any kind of regular basis, if at all. Not only because of his knees, but because Johnny Damon plays his position. So right there you have a problem. It will be next to impossible to dish Matsui, considering his injury risk, his salary, and his full no-trade clause. Plus, if he's healthy he's a weapon in that lineup, and to substitute a less-than-healthy Jorge for him would be a mistake.
Beyond that, there's the issue of finding a replacement behind the plate. We saw last season that Jose Molina cannot handle the rigors of full-time duty. His bat is a liability, though his defense is stellar. Kevin Cash provides similar offense, though I can't vouch for his defense one way or another. If Posada can't catch, the Yanks will likely have the equivalent of a pitcher batting ninth.
So what do the Yankees do from there? Any trade would cost them dearly, since other teams would know their desperation (Lone Star Ball suggests Hughes for Saltalamacchia). There are only a few catchers left on the market, and as I've said on the RAB Radio Show, I wouldn't touch Pudge. I'm sure the Yanks wouldn't give up a draft pick to sign Varitek, even if it's just a fourth rounder. Beyond that, the only name even worth considering on the remaining free agents list is Javier Valentin. Even then, he's never caught a full season.
As you can see, much depends on Jorge Posada. This will be a big topic for the next month or so, until the team actually sees how he throws and handles himself behind the plate and at it.