Over the next week or so, we'll again break down what went wrong and what went right for the 2009 Yankees. The series this year will be much more enjoyable than the last.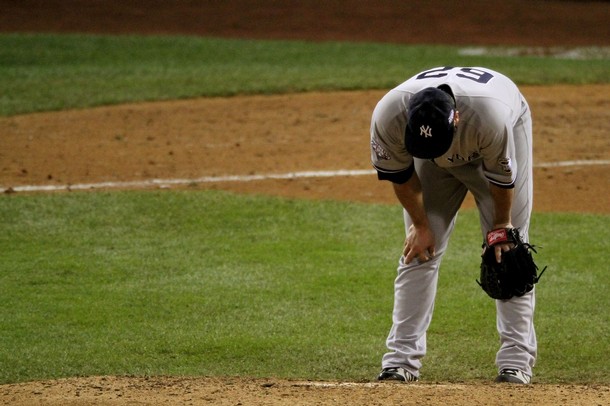 The Yankees added two new and exciting members to their rotation in the offseason, but many fans (myself certainly included) were most excited to see what the young Joba Chamberlain could do in his first full year as a starter. Things started out well, as the young Nebraskan posted a pretty 3.71 ERA with a tolerable 4.51 FIP in his first ten starts, striking out 51 batters in 53.1 IP. For a 23-year-old starter in the unforgiving AL East, Joba's performance was more than acceptable up to that point. Unfortunately, things soon went downhill after that.
In Joba's next seven starts, opponents tagged him for a .311-.385-.477 batting line (basically what Victor Martinez hit this year) that resulted in a 5.05 ERA and 62 baserunners in just 35.2 IP. Even worse were the high pitch counts Joba was running up, forcing him from games early and taxing the bullpen. Joba went into the All Star break with a solid 4.25 ERA, though he was averaging barely five innings per start.
After an eight day breather, Joba returned from the break like a man possessed. He completely shut down the Tigers, A's, and Rays in his first three starts back, allowing just two runs and 16 baserunners in 21.2 IP. He won all three starts and held opponents to a .422 OPS against. Alas, the success did not last long, as Joba started to head into uncharted territory in terms of innings pitched.
Already at 110.2 IP on the season (his previous career high was the 118.2 IP he threw as a sophomore in college), Joba surrendered 19 runs in his next 20 IP (four starts). At this point, the Yanks applied the breaks, as Joba was limited to short, 3-4 inning starts for the next month or so to control those innings. He had a 6.75 ERA with a 5.45 FIP the rest of the way, finishing the season with 157.1 IP, the most he'd ever thrown in his life.
In one sense, The Joba Rules were wildly successful in that they kept the righthander healthy all year. However, at the end of the season Joba looked as if he didn't know if he was coming or going, basically like a deer in the headlights. His performance suffered, resulting in many high stress situations that won't show up in an innings total. Joba's 2,730 pitches thrown were the 29th most in the AL, more than fellow youngster Rick Porcello even though he had thrown 12.2 fewer innings than the Tigers' rookie.
The fact of the matter is that the Yankees made their bed when it comes to Joba and his innings limitations, and now they have to sleep in it. He was rushed to the big leagues in 2007 because he was admittedly fantastic in the minors, but mostly because the team needed help in the bullpen. Joba never had a chance to properly stretch out in games that don't matter, and instead he was forced to learn on the job more than pitchers should have to. Give the Yankees credit for trying to be creative, but it's painfully obvious at this point that the idea of cutting starts short and whatnot are not the best way to control innings.
The good news that Joba won't have a significant innings limit in 2010, and hopefully the braintrust has learned from this experience and will develop a better plan to bring it's young pitchers along, especially with Phil Hughes ready to join the rotation next year. Sometimes the best thing to do is to just keep it simple. Bite the bullet and have the kid sit and rest for two or three weeks mid-season. The less change to a pitcher's routine, the better.
Photo Credit: Jed Jacobsohn, Getty Images