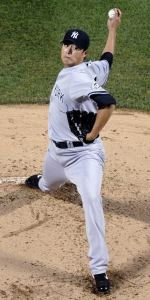 Last week was a pretty eventful one for the Yankees, who brought back Andy Pettitte and added two players to their outfield while trimming the fat in the bullpen. The weekend was just as eventful for ex-Yanks' ace Chien-Ming Wang, who was handed his walking papers on Saturday night. Six teams (three AL, three NL) immediately expressed interest in the sinkerballer, though the Yanks tried to woo him back with a split contract that guaranteed he'd be in the big leagues once his surgically repaired shoulder was good to go.
Despite all the interest in the former Cy Young runner up, Buster Olney is reporting that Wang might not sign for a few months according to his agent, Alan Nero. His client's plans for the immediate future including getting checked out by Dr. James Andrews in early January, heading to Taiwan for some R&R, then returning to Arizona to keep working out. Doesn't sound like the agenda of someone desperate to find a job.
Waiting until early in the season – or even midseason – to sign a contract is one of the newest trends hitting baseball these days. We've seen Roger Clemens successfully pull it off numerous times, and Pedro Martinez did the same thing with the Phillies this season. There's also another guy that tried to pull this off in 2009, though things didn't go so well for him: Ben Sheets.
Sheets started the offseason as one of the most sought after free agent pitchers, then had a little bit of a setback that was going to push his 2009 debut back, and before you knew it he was having elbow surgery that would sideline him the entire season. Shoulders are much trickier than elbows (remember, there wasn't any ligament damage in Sheets' elbow), but if Wang is confident in his health and his ability to recover, then he should (in the words of his agent) "be prudent" and explore what's out there for him.
Teams will surely be looking for rotation help in March and April and May, and Wang will likely be the best available pitcher on the free market. And, of course, he won't be ready until basically mid-season anyway, so it makes sense for him to remain patient and see what's out there. Nero said Wang could eventually re-sign with the Yanks, and if a scenario plays out in which Phil Hughes and/or Joba Chamberlain is struggling, or one of the front three is on the shelf, or basically anything that would open a gaping hole in the rotation, then suddenly that split contract could turn into a Major League guaranteed deal worth more than it might be right now.
Hopefully for Wang, who I'm certain has made millions in endorsements, it's the right decision.
Photo Credit: Reuters