Catching is hell on the knees. For over 120 pitches in most games the catcher squats behind the plate, receiving pitches with varying speed and break and coming in at all different locations. That's over an hour a game in the squat position. Life then becomes harder with runners on base, when the catcher has to put himself in a position to throw out a would-be base stealer and block a potential ball in the dirt. It's no wonder that many catchers see their production decline by their early- to mid-thirties, and that most are out of the game by the time they're Jorge Posada's age. Yet the 38-year-old catcher posted one of his finest seasons in 2009, though he did catch only 100 games. Can he hold up again in 2010?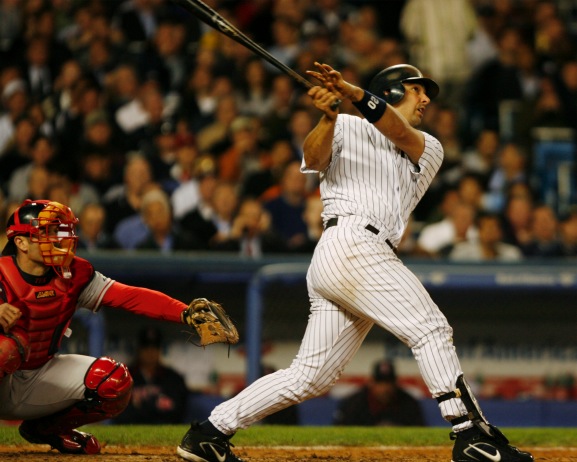 Photo credit: Kathy Willens/AP
Since 1901, only 11 catchers reach 400 plate appearances at age 37. Only 16 got into 100 or more games. At age 38 that dropped off even more, with only three reaching the 400 PA plateau, and eight getting into 100 or more games. Even worse, the catchers who did survive over 100 games in their age-38 season did not play because of their offensive contributions. Of the 21 age-38 catchers with more than 200 PA, only seven posted an OPS over .700 — and five of those did it before 1950. None posted an OPS of .800.
At age-37, however, some catchers still played often and hit big. Of the 11 with more than 400 plate appearances, four posted an OPS over .800 and another two were above .750. Only Ernie Lombardi played his age-38 season before 1950. The rest played in 1985 or later. None of the .800 OPS catchers came to bat even 300 times the following season (though Posada is one of the four), and among the .750 OPS players only Benito Santiago continued playing and hitting in his age-38 season. The odds, then, seem to be against Posada posting a repeat of his 2009 campaign.
Both Carlton Fisk and Mike Piazza hit well in their age-37 seasons. Fisk came to bat 620 times that year, 1985, and hit .238/.320/.488, which translates to a .345 wOBA and a 115 OPS+. Of the 153 games he played, 130 were at catcher. Yet in his age-38 season he saw start drop-offs in production and catching time. He did play in 125 games that year, but only 71 as a catcher. Even if he had made the age-38 list, he wouldn't have fared well, as his numbers dropped to .221/.263/.337, a .264 wOBA and a 60 OPS+. While it appeared at the time that Fisk was finished, he did come back to post five more average or better seasons, including two stellar years, 1989 and 1990, at ages 41 and 42.
Piazza realized a resurgence of sorts in 2006, his age-37 season, after he signed with the Padres. After hitting .251/.326/.452 in his final season for the Mets, Piazza rebounded to hit .283/.342/.501, despite accumulating about half of his plate appearances at PETCO Park. He did play his age-38 season, though the stint with Oakland did not go too well. He didn't catch a single inning and posted a meager .275/.313/.414 line in a season shortened by injury. Unlike Fisk, there would be no late-career revival for Piazza. He hasn't played since his final game with Oakland in 2007.
The stories of Fisk and Piazza might appear to bode poorly for Posada, but as with any player-to-player comparison it never tells the whole story. All three catchers traveled different paths to their age-38 seasons. Fisk was a highly touted prospect, the No. 4 overall pick of the 1967 draft, who came up in 1972, at age 24, and hit right out of the gate. While Piazza broke out at the same age, he was not nearly as highly regarded. The Dodgers took him in the 62nd round, apparently as a favor to Tommy Lasorda. Yet he killed the ball when the Dodgers handed him the starting gig at age-24.
Posada, however, did not break into the league until age 25, and at that point he was a part-time player. Over the next two seasons he saw more playing time, but it wasn't until 2000 that he truly took over as the full-time catcher, at age 28. He also didn't convert to catcher until age 20, when he played behind the plate for just 41 games. Entering his age-38 season he has started 1,793 games behind the plate between the majors and minors. Piazza had 1,898 at that age, though Fisk, because he caught under 100 games in four different seasons, had 1,782.
Through his age-37 season, Posada has defied age. His .885 OPS in 2009 ranks best for catchers with more than 200 PA in their age-37 seasons. Even if he does decline drastically and produces only 80 percent of that, .702, for the 2010 season, he'd still rank among the top catchers at age-38. The Yankees, however, are not so much concerned with how Posada stacks up with his historical comparables as they are how he fits into the lineup. While the .702 OPS might stand out in the former sense, it would be a huge burden in the latter.

These represent five of the freely available projection systems. After mashing them together, they think that Jorge will see only five percent fewer plate appearances than in 2009, though ZiPS accounts for most of the drop-off. All the others expect right around the same playing time, while Bill James is overly optimistic — though his article on players declining is a bit more pessimistic. In terms of production the systems forecast a 2.5 percent reduction in OBP, modest enough, but a nearly 14 percent reduction in power. Perhaps the short porch at the Stadium would inflate those projections.
While all aging catchers warrant concern, Posada presents an interesting case. He's had an odd career path, switching to catcher in the minors and not taking a full-time role until age-28. The following 10 years were excellent, though, as Jorge became one of the game's premier catchers, and perhaps the best hitting catcher over the past decade. He enters his age-38 season with few comparables, and unfavorable ones among those that exist. Still, Jorge has given us little reason to expect a drastic drop-off.