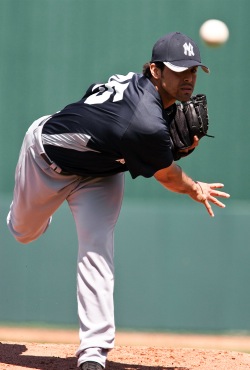 What happens when rusty pitchers face rusty hitters? It's tough to say, which is why I don't put stock in the results. That doesn't mean that these performances go unnoticed. After all, if jobs are actually won and lost in spring training the coaching staff has to base their decisions on something. I'm just not sure that traditional statistics tell us what we need to know when the players are not only rusty, but also working on specific aspects of their games.
One of the few Yankees camp competitions involves the fifth starter spot. As the team tells it, the job is completely up for grabs. Sergio Mitre, Chad Gaudin, Al Aceves, Phil Hughes, and Joba Chamberlain all have an equal shot. But while the Yankees might say that publicly, many of us doubt that they'll pick anyone but Chamberlain or Hughes, their most promising young pitchers. Yet the performances of two presumed also-rans might have changed the story.
Both Sergio Mitre and Al Aceves have pitched well so far this spring, neither allowing a run. Mitre has allowed just two hits and has walked one in five innings, while Aceves has been perfect with four strikeouts through six. We don't know what kind of impression this has made on the Yankees' brass, but the media has jumped on the story. Could one of these two break camp as the No. 5 starter, relegating both Hughes and Chamberlain to the bullpen?
It's not as far-fetched as you might think. On Mike Francessa's show last Wednesday, Brian Cashman admitted that the optimal 2010 Yankees team has both young pitchers in the bullpen blowing away guys. The idea is that they'd help save games for all five starters, avoiding losses when lesser relievers might blow the game. I'm not sure if I buy it — I've always advocated having your top five pitchers in the rotation and not worrying about a numerical designation — but if it's coming from the general manager I suppose it has a chance of happening.
Just after talking about the optimal 2010 team, Cashman also said what we all know to be true. The future of the franchise is better served by having one or both young pitchers in the rotation. This is why I think the Mitre and Aceves stories are non-starters. The Yankees might have to replace two starting pitchers next year. While a few free agent options exist, the team probably wants to fill one of those spots with one of its own, young, cost-controlled arms. They'd be better served in 2011, then, by having at least one of Hughes and Chamberlain starting in 2010.
If the improbable does happen, if Mitre or Aceves impresses enough this spring that the team wants to use him in the rotation, I doubt both Hughes and Chamberlain will go to the bullpen from the start. In that unlikely scenario, chances are one will go to Scranton to stay fresh while the other pitches out of the bullpen. While sending Hughes to Scranton might be a waste, it might be a necessary action at that point. After all, we've seen many top spring training performers flop when the game start to count. It would benefit the Yankees, then, to have someone in Scranton ready to jump into the rotation.
Again, I don't envision this happening. If Mitre continues pitching well perhaps the Yankees trade him at the end of spring training. If Aceves continues pitching well maybe he'll get higher leverage innings out of the pen. Neither, I expect, will start the season in the rotation. The Yankees want to get the most out of Hughes and Chamberlain, and that probably means having one in the rotation all year.
Photo credit: Nati Harnik/AP