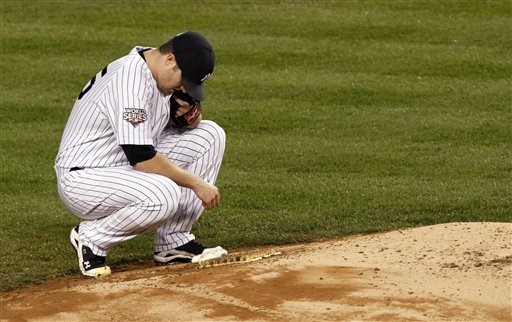 Yankees manager Joe Girardi has officially announced Phil Hughes as the team's fifth starter. While the team will say that Hughes earned the job with his confident and solid Spring Training pitching, the truth is that the job was Hughes' to lose. For some reason or another — and I'm sure it will be discussed ad nauseum over the next few days — Joba Chamberlain had pitched himself out of contention by the end of last season.
For now, this leaves Joba Chamberlain twisting in the wind. After the Yanks kept him tethered to a strict set of rules, innings and pitch limits throughout 2007, 2008 and 2009, the team has yet to determine his role in 2010. "I think Joba could do either job," Girardi said to reporters this morning, "but right now we feel Hughes is ahead as a starter." Girardi's comments, apparently, stem from the development of Hughes' change-up.
When asked about the ever-important eighth inning, Joe Girardi said, "You have to earn your spot." While Joel Sherman seems to think this makes Chamberlain destined to be Mariano Rivera's prime set-up man this year, I wonder if Girardi is referring to Joba's spot on the team. As I speculated just this morning, the Yanks could opt to go with Boone Logan while sending Joba to AAA to keep his innings up.
Meanwhile, Phil Hughes, all of 23 years old, hasn't been a starter over the course of a full season since his injury-free 2006 campaign. That year, he threw 146 innings but hasn't reached that total as a professional at any level since. Last year, over the course of the Minor League season, his Major League campaign and the playoffs, he threw 111 innings, and I believe the Yankees will try to cap him somewhere within the 165-175 innings range. Based on the team's schedule, they don't need a fifth starter until April 24, and Hughes should, in other words, be able to last the season in the rotation.
Dave Eiland discussed the end of restrictions for Joba in February, and he did mention that Hughes would be on a limit. "You've got to remember," Eiland said, "Joba had restrictions because he never had a full season in professional baseball as a starter. Phil Hughes has had several minor league seasons as a starter. So there's going to be restrictions, but they're not going to be as strenuous as Joba. And I'll just leave it at that, right there. There's restrictions, and we're on the side of caution with all our guys."
What all of this means for Joba, I have no idea. Girardi said that Joba would throw one inning on Saturday, and if that doesn't sound like relief prep work to me, I don't know what is. Yet, for now, a limitless Joba will be seemingly in a limited role. How this makes sense for the Yankees of 2010, the Yankees of 2011 or the Yankees of the future, I don't know. Joba needs his innings; Phil needs his innings. The Yanks shouldn't be giving up on Joba after three years of yoking his chain. The team, though, hasn't made an announcement regarding Chamberlain's future, and until then, I'll hold my breath.
Photo Credit: Kathy Willens, AP