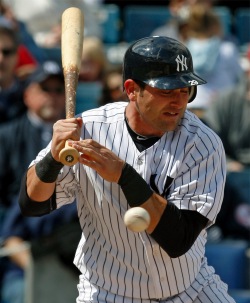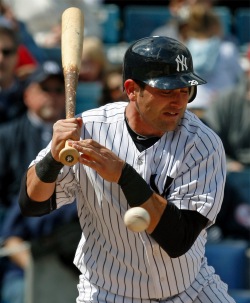 The days of the 11-man pitching staff seem behind us. Bullpen specialization, combined with managers employing a slightly quicker hook for starters, makes teams more comfortable with seven available bullpen arms rather than six. This becomes a big deal when creating a 25-man roster. In the AL it means a shallow bench. Eight position players plus a DH leaves just four sports for reserve players, one of which must be a backup catcher. Teams must be cautious, then, when choosing their bench players.
Thankfully, the Yankees have the personnel to make the bench work. While both Nick Swisher and Nick Johnson start at other positions, they can fill in for Mark Teixeira at first if needed. They also have a number of players in the system who can play the other three infield positions, making only one of them necessary for the 25-man roster. That leaves one spot for a reserve outfielder and one spot for a pinch hitter. The bench need not necessarily work that way when the team breaks camp, but it should end up that way soon enough.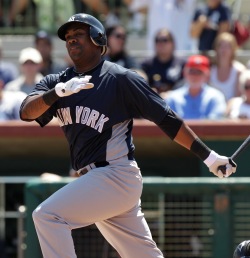 Last season the Yankees started the year with a heavy bench, even with A-Rod sidelined with his hip injury. The only consequence was a downgrade from Cody Ransom to Ramiro Pena, not a huge one at all even considering Pena's rookie status. In the outfield they had Melky Cabrera and Nick Swisher, both starters the previous year. It's tough, actually, to build a better bench than that. It was probably the Yankees' best in five or more years. Xavier Nady's injury thinned it out in April, though, and the team had to react. They later traded for Eric Hinske for pinch hitting purposes. The bench, again, seemed strong.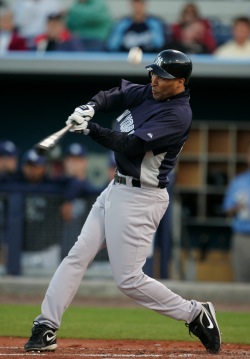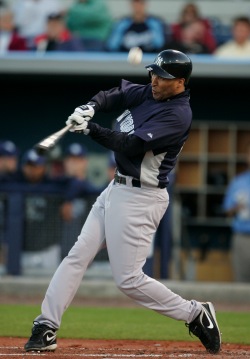 This season the Yankees' bench doesn't appear as strong as 2009, but it still provides the Yankees with what they need. Ramiro Pena or Kevin Russo will serve as the all-purpose utility man, Brett Gardner or Randy Winn will serve as a reserve outfielder and possibly half of a platoon, Francisco Cervelli will back up Jorge Posada, and Marcus Thames will get at-bats late in games mixed with the occasional start against a lefty. That doesn't seem too bad at all. Perhaps the Yankees will seek a better pinch hitter than Thames come mid-season, but he's a serviceable option to start the season.
Even though solid, the bench doesn't come into play a lot, especially the utility infielder. Robinson Cano played 161 games, Derek Jeter played 153, and Alex Rodriguez, a year removed from his surgery, likely won't take as many days off. This should limit the utility infielder to 100 plate appearances or so through August (there's no telling what happens in September when rosters expand). If the winner of Pena/Russo doesn't hit, or has problems in the field, the Yanks can swap them. The actual difference it makes, though, will be marginal. There will be chances in the outfield, as the left field situation doesn't seem quite settled. Also, since neither Brett Gardner nor Randy Winn carries a heavy bat, a pinch hitter could get late-game opportunities.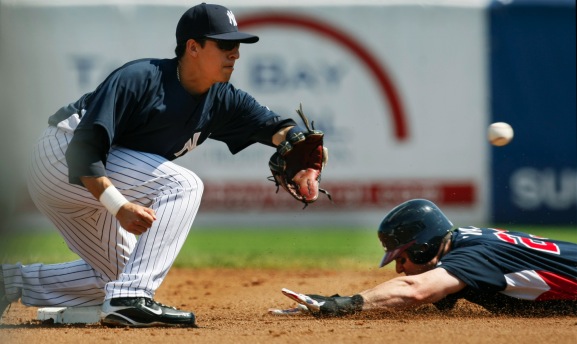 Just how do the projection systems view the Yanks' four bench players? Mike already covered Winn in his left field preview, so here are the remaining three.
Cervelli:
Pena:
Thames:
The average projections seem fairly reasonable. Thames, as we know, is all power and not much else. That could make for a good bench player, at least to start the season. If he doesn't prove effective, the Yankees can go shopping in June. That yielded Eric Hinske last year and could easily net them a similar player this year should the need arise. Pena and Cervelli appear perfectly reasonable for their roles. Cervelli could see more playing time, depending on Jorge's situation.
Again, the Yankees' advantage is that they don't need the bench for very much. Pena will give the infielders a day off, while Winn will spell the outfielders. Thames will come up when the team needs a long fly and Gardner or Winn is due up. Those all seem like very limited roles. Cervelli is the only one who figures to play regularly, though we hope not too regularly. He's fine as a backup. Hopefully that's the only role he fills this season.