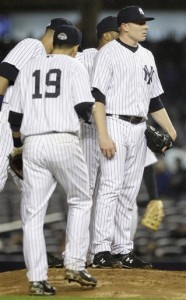 A disabled list trip that was originally supposed to be nothing more than an early season precaution has morphed into a multiple week hiatus with no end in sight for Chan Ho Park, whose bum hammy has yet to improve. The Yankees originally called up Boone Logan to replace him in part because CHoP was expected to be out just the minimum two weeks, but also because he left a solid enough impression during Spring Training. At the same time, Mark Melancon would remain with Triple-A Scranton and work on a regular schedule, rather than be buried as the sixth or seventh man in the bullpen. Now that Park's return has entered into "indefinite" territory, it might be time for the Yankees to swap out Logan and Melancon.
Logan has put five men on base in his 2.1 innings of work so far despite his new mechanics, but we're talking about three games, which are meaningless to base an evaluation on. Sure, last night's episode of walking the sole lefty batter he brought in to face was frustrating, but that happens to everyone. The real reason why I'd like to see Melancon brought up to replace Logan is the upcoming schedule.
The Yanks' next eight games come against the Orioles and White Sox, who have .316 and a .299 team wOBA's against righthanders. The Orioles has several lefthanded bats in Nick Markakis, Luke Scott, and Rhyne Hughes, but Markakis is the only one who is demonstrably worse against southpaw pitching (.328 wOBA vs. LHP, .377 vs. RHP). Joba Chamberlain and Mariano Rivera have the 8th and 9th innings exclusively, so Damaso Marte can be used against him as needed in the 6th or 7th inning. Good righty relievers like Al Aceves and David Robertson (last night notwithstanding) should be able to neutralize the other two.
The White Sox have four lefty batters in their regular lineup, but three of them are named Juan Pierre (.243 wOBA), Mark Kotsay (.193), and A.J. Pierzynski (.172). The fourth is Mark Teahen who is having a fine year (.390 wOBA), so that makes him Marte's designated guy for the series. The other three are awful, and burning through relievers just to get a platoon advantage against them is the height of foolishness.
Once the eight games against those two clubs are through, the Yanks head back to Boston, whose top lefty batters are David Ortiz (.240 wOBA) and J.D. Drew (.271). Drew is a high quality player with a platoon split (.349 wOBA vs. LHP, .394 vs. RHP), so that's the guy you sic Marte after. Ortiz can't catch up to even average fastballs anymore, so any thought about bringing in a lefty specialist to face him is based only on the scars of the damage he's done in the past. He's not worth it any more, Drew's the only lefty in their lineup worth fearing.
After the Red Sox series is a four game set at Detroit, who bring very little offensively beyond the top four of Austin Jackson, Johnny Damon, Magglio Ordonez, and Miggy Cabrera. Damon's the only lefty, and Yankee fans are well aware of his platoon split after his time in the Bronx. Again, there's only one lefthanded bat in the lineup worth saving a lefty reliever for. A second lefthander really won't be a true necessity until after that Tigers' series, when the Twins bring Joe Mauer, Justin Morneau, Jason Kubel, and Jim Thome to town for a weekend set from May 14th to 16th. The next 15 games are against predominantly righthanded lineups.
That's where Melancon comes in. The schedule allows the Yankees to only carry one lefty specialist, instead stacking the bullpen with righthanders that create better matchups. Melancon has a negligible platoon split in the minors, and has pitched to a 3.23 FIP against righthanders during his career. He has been good yet not overwhelming at Triple-A Scranton (4.33 FIP, 1.89 GB/FB, 8.78 K/9), but we all know that his track record is exceptionally strong. He's the logical call-up for that spot currently occupied by Logan.
If the Yankees go this route, Joe Girardi has to commit to being more liberal with not just Marte, but Melancon as well. He has to show a willingness to bring Marte into the 6th inning of a game if the situation calls for it, and he can't bury Melancon for a week or more. Joba's the 8th inning guy, we may not like it but they officially announced it to the world, so show some confidence in the kid and let him face a lefty if they come up in his inning. Girardi and the Yanks will have close to three weeks to evaluate Melancon before the Twins series, so they can adjust accordingly from there.
There's no reason to double up on lefty relievers over the next few weeks, so why not tailor make the relief corps to fit the opponents?