This game followed a pleasant arc. It started off frustrating, with the Yankees loading the bases with one out in the first only to squander the situation. They then blew a first and second situation in the second, so it started to feel like one of those games. That the A's jumped out to a 1-0 lead didn't help. But from the fourth inning on everything went smoothly. They did strand a few more baserunners, but with the lead already in hand and Good A.J. on the mound it didn't really matter. The Yanks easily completed the sweep with a 6-2 win.
Biggest Hit: Teixeira caps the rally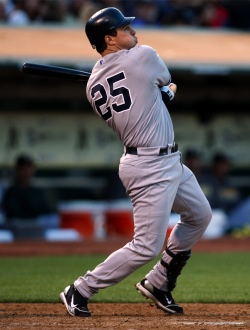 The Yanks had a few chances in the first three innings to put some runs on the board against Gio Gonzalez, but stranded all their runners each time. In the first it was the bases loaded and one out followed by two strikeouts. In the second both Brett Gardner and Ramiro Pena singled with one out, but Jeter killed them with a double play. In the third Swisher led off with a double, took third on a fly ball, and watched as A-Rod and Jorge struck out. Opportunities with runners in scoring position: seven. Yankee runs: zero.
Even in the fourth it seemed like more of the same. Marcus Thames opened the inning with a single, but Francisco grounded one to Mark Ellis and ruined it. But then Brett Gardner drew a six-pitch walk. WIth Pena up he swiped second, and then scored to tie the game when Ramiro Pena singled. A wild pitch and a Derek Jeter single gave the Yankees the lead. Nick Swisher followed that with a walk, putting two on with two out for Teixeira.
It took just one pitch for him to open up the game. Gonzalez dealt a 92 mph fastball that got neither down enough nor away enough. Tex hit it deep to center, clearing the wall and giving the Yankees a 5-1 lead. It's the second straight game in which a middle of the order bat came through with a game-changing home run.
Biggest Pitch: Crisp gives the A's a lead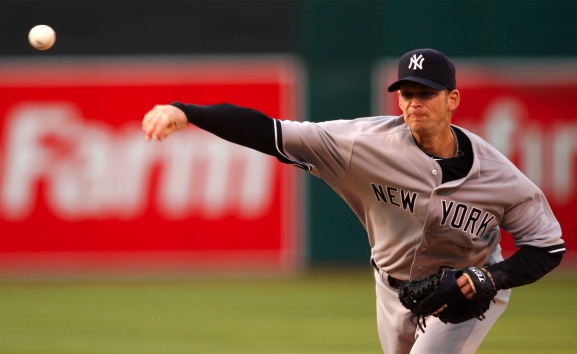 He looked like Good A.J. right from the beginning. Through two innings A.J. Burnett had retired all six batters he faced, two on swinging strikeouts. With two outs in the third he had thrown just 32 pitches. But then he walked Cliff Pennington and let him steal second. Coco Crisp followed that with a single to give the A's an early lead. It was no biggie, though. Burnett got Daric Barton to end the frame.
A half inning later the Yanks gave Burnett a big lead, and he never put it in question. He struck out only one more and allowed five more baserunners, but the A's weren't making great contact. Of the 13 balls the A's put in play from the fourth through the seventh, eight were on the ground, and two were pop ups. It would have been nice to see some more strikeouts, but all considered it was a second straight good start for Burnett.
Most surprisingly, Burnett threw nine changeups. He didn't generate any swinging strikes, but he did throw it six times for a strike. He said he started throwing it more last game. I'm not sure it's a difference maker, but it sure hasn't hurt.
Speaking of difference makers, between innings the YES cameras showed Burnett palling around with Dave Eiland. Of course they did. It's a story. Causation? Maybe. Certainly can't rule it out. It's just so odd that a 33-year-old pitcher would completely fall apart without the pitching coach he's had for just a year and a few months out of a 12-year career.
Swish makes the case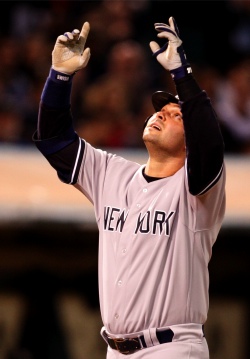 There's been plenty of campaigning to Send Swish to the All-Star game. A 3 for 4 night with a walk, a double, and a homer helps his case for sure. Not as much as the ballot stuffers, of course, but it helped nonetheless. He got a chance to do even more damage in his last at-bat, but ended up flying weakly to center on what appeared to be a hittable pitch.
All-Star game or not, Swish has had a hell of a first half. He's hitting .299 right now, which is significantly above his career average. He'll need to go 6 for 16 this weekend against Seattle to head into the break with a .300 batting average.
Miscelanny
It was a good idea to get Marcus Thames out of the field when Gonzalez came out of the game, but damn, Curtis Granderson really isn't doing anything. The Yanks will face three lefties this weekend, and I figure Granderson will play. It's not like he's hitting righties much better right now.
After a pair of homers last night A-Rod was the only starter without a hit last night. He did, however, manage to look foolish while falling down on a misjudged foul pop.
The team was just 3 for 13 with runners in scoring position, but when one of those is a three-run home run it'll do.
That makes it five straight for the Yanks with four left until the break.
Graph and chart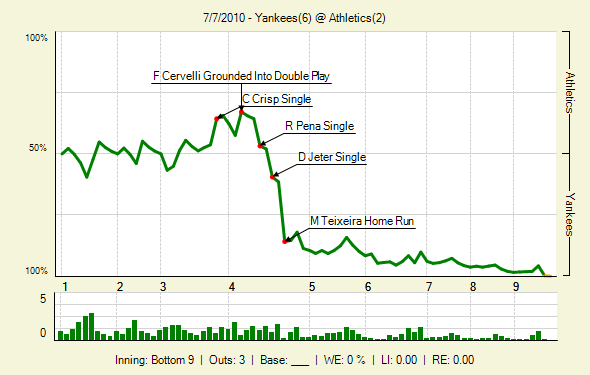 Next Up
The Yanks move northward to Seattle, with Andy Pettitte going against Jason Vargas in the fourth of the six straight 10 p.m. starts.