The 2010 trade deadline is now just 24 days away, and we know GM Brian Cashman considers the bench to be the team's biggest weakness right now. It's safe to say that they're going to bring someone in from outside the organization to shore things between now and then, it's just a matter of who. We've already looked at Jeff Keppinger, Ty Wigginton, David DeJesus, and Octavio Dotel as trade possibilities, so let's move on to another potential fit: Adam Kennedy.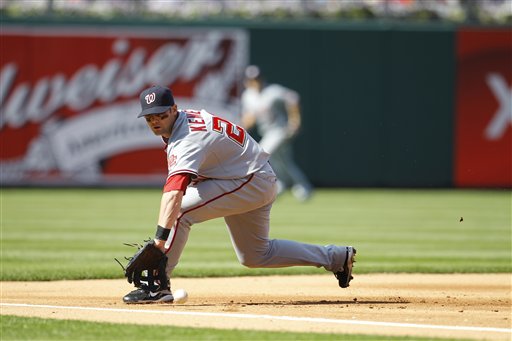 The Angels won a whole lotta games last decade with a middle infield of Kennedy and David Eckstein, which kinda blows my mind. You've got to be strong up the middle to win, yet Kennedy's .349 wOBA in 2002 was the greatest offensive production the team got out of either player during their time in Anaheim. Both players have since moved on, shacking up in St. Louis for a few years before Eckstein landed in Toronto, Arizona, and San Diego while Kennedy headed to Durham (minor leagues), Oakland, and now Washington.
Strictly a utility player at this point, Kennedy can play everywhere but shortstop, so right off the bat the Yankees would have to carry an extra player to spell Derek Jeter on occasion. His defensive value at first (-2.3 UZR over the last three seasons), second (+0.7), and third (-5.3) are nothing special at all, but they aren't horrific and Kennedy could also fake a corner outfield spot in an emergency. He's not going to remind anyone of Ramiro Pena with the glove, but he'll hold his own.
On the bases, I was actually surprised to see that Kennedy was so successful at swiping bases. He's a perfect nine-for-nine in stolen base attempts this year, and 36-for-43 (83.7% success rate) over the last three seasons. In non-stolen base baserunning situations (like moving up on grounders, sac flies, taking the extra base, etc.), Baseball Prospectus says he's added just about three runs to his team's ledger, which is a solid total. Quite simply, the guy is a very sound baserunner, a not tremendously important skill but one that's appreciated. No one likes baserunning gaffes.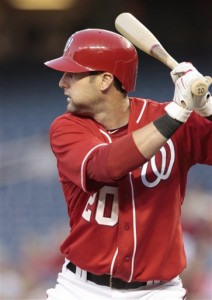 Bench players are almost never anything special with the stick; if they were, they'd be starters somewhere. Kennedy's lone above average offensive season since 2005 came last year with the A's (.337 wOBA), though there's nothing in the peripherals to suggest a massive fluke except a somewhat inflated BABIP (.326). Perhaps it was just a dead cat bounce season for the 34-year-old, since he did revert to his sub-.310 wOBA form this year. The offensive skill set is a simple one: Kennedy makes a lot of contact (88.8%) and slaps the ball into the ground (46.3% grounders), so he doesn't really drive the ball and hit for power (.107 ISO even with last year). He is a lefty batter, so he's got that going for him.
Putting it all together, you've got a an average (at best) defensive player, a below average offensive player, and an above average baserunner, which for all intents and purposes equals a below average player. Kennedy has been replacement level all season (-0.1 WAR), so it would be foolish to expect him to be anything more than a half-a-win player in the second half, which is what the Yanks got out of Jerry Hairston Jr. last year. There's about $600,000 left on Kennedy's contract this year with a $500,000 buyout of his $2M option for next season, so the (monetary)cost isn't prohibitive. Maybe Cashman could get the Nationals to kick in some money, like he did with the Pirates and Eric Hinske last year.
Kennedy's trade value is so small that I'm not even going to bother to run him through Sky Kalkman's trade value calculator. We're talking a Grade-C prospect at best, maybe a guy in Double-A if the Nats kick in a few hundred grand. Looking at the Yanks' system, that means someone like Zoilo Almonte or Sean Black or Lance Pendleton. No one that will hurt. There hasn't been any indication that Washington is actively shopping their utility infielder, but they'd be foolish not to listen.
Between Kennedy, Wigginton, and Keppinger, the three guys I've previewed, I'd go with Kennedy. Wigginton is a newly minted All Star and has some name recognition that will boost his perceived value beyond his actual value (.198/.314/.260 in his last 156 plate appearances), and Keppinger was never anything special to start with. Like it or not, Kennedy's playoff and World Series experience does give him a leg up over the other two guys, especially since all three are just as likely to suck.