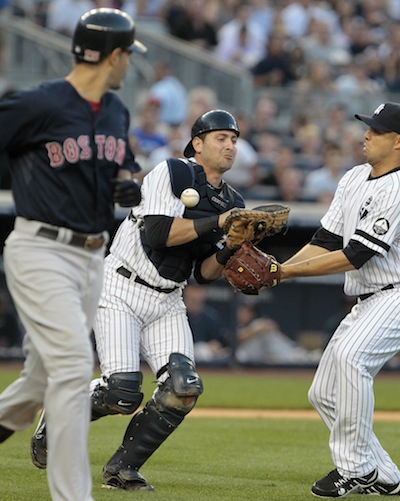 Francisco Cervelli isn't supposed to be here, enjoying this much playing time. The weakest of the Yankees' deep organizational corps of catcher, Cervelli has somehow caught 539 of the Yanks' 958.1 innings this year. He isn't hitting, and as a defensive specialist, his fielding has let him and the Yankees down. As a dinky pop up bounced off his glove and three unearned runs cost the Yanks the game last night, I had to wonder what exactly Cervelli was doing with so much playing time on a team with a $213 million payroll.
I don't hold a grudge against Francisco Cervelli, the person. He's a 24-year-old kid from Venezuela who clearly loves playing baseball as a career. He's enthusiastic to a fault, and for a few weeks, he had a penchant for big hits. But he's nothing more than a back-up catcher, but because Jorge Posada is a fragile 38, Cervelli has become the de facto starter, earning 56 percent of the team's playing time and accruing far too many at-bats.
Coming up through the Yanks' system, Cervelli never cracked the Yanks' top 20 lists. The 2008 Baseball America Prospect Handbook has him at 23 and cites his "above average catch-and-throw skills." After playing for Tampa, he had "impressed scouts with his toughness and ability to grind through the season." Last year, he moved up to 21st and again, Baseball America praised his defense. "His defense is first-rate," the book says, with a plus arm and above-average receiving and blocking skills." His bat would never play as anything better than a back-up.
This year, half of this prediction is true. After his 1-for-3 performance last night, Cervelli is hitting .255/.328/.317 with absolutely no power. (Since the arbitrary date of May 18, he's hitting under .200 with a .500 OPS in over 170 plate appearances.) His offensive value has him at 5.3 runs below average. As a back-up catcher, we could tolerate 100-150 plate appearances of Francisco Cervelli, but he's now at 239 PAs. His playing time is in no danger of lessening any time soon.
The bigger problem right now is that Cervelli's defensive prowess has fallen off the face of the earth. The botched pop-up last night was his seventh error of the season, and only Jason Kendall, with 300 more innings, has a higher error totals. The Yanks' catchers now lead the AL with 13 errors on the year. He has allowed two passed balls while pitchers have thrown 22 wild pitches with him behind the dish. He's also thrown out only seven of 44 would-be basestealers, and while much of that rests with the Yanks' pitchers' inability to hold runners on, Cervelli's arm just hasn't been as strong or as accurate as billed. That 16 percent rate is worst among all AL catchers with at least 300 innings caught. He's fidgety behind the plate, and often lets his enthusiasm get in the way of framing pitchers and receiving the ball. Last night, he jumped up on a few pitches and may have cost the Yanks' hurlers some called strikes.
In terms of overall value, Cervelli is still contributing positively to the team. Before last night, his WAR sat 0.5, but just a few weeks ago, he was a one-win player. As his numbers decline further, that total will continue to drop. Based on his strong April, he should be able to pull in a 0 or positive WAR value, but it's not going to be much when the dust settles.
Meanwhile, the Yankees have turned to Cervelli on a regular basis this year. Due to age and nagging injuries, Jorge Posada just hasn't been able to play much. He couldn't — or Girardi didn't want him to — catch last night, a night after an off day following a day game. At most, he'll catch two of four games against the Red Sox, and the Yankees will replace Jorge's bat — 10.6 runs above average — with Cervelli for a swing of nearly 15 runs. He has become the Melky Cabrera of 2010, an adequate bench player overrated by many and granted too much playing time.
With the Yankees' financial clout, they shouldn't be rolling out near-replacement players at any position. Even though there is a benefit to developing cost-controlled young players, the final piece of that equation concerns those players' qualities. They must be good cost-controlled young players, and right now, Francisco Cervelli does not fit the bill. If the Yankees cannot trust Jorge Posada to catch three out of four games against the Red Sox, the team absolutely needs someone better than Cervelli, and right now, that's not going to happen.
So what, then, were the Yankees to do? The list of free agent catchers following the 2009 season was sparse. The team wasn't going to bring back Jose Molina. The Ivan Rodriguez Experience was one no one wanted to relive, and he — along with Rod Barajas, Benjie Molina and Gregg Zaun — wanted to start. They could have thrown good money after so-so players, but they went with Cervelli instead. It is a decision that's backfired.
As the season plays out, I'll have to come to terms with Cervelli. Despite last night's game, when he didn't take charge of a pop-up and his pitcher couldn't take charge, Cervelli isn't going to make or break a season. But with Jesus Montero knocking on the door, the Yankees aren't going to stick with Cervelli much beyond October. He's a constant reminder that the team still hasn't yet figured out how to put together an adequate bench, and his ample playing time is a constant reminder that the Yankees buried their collective heads in the sand over Jorge Posada's age and potential health problems. They didn't plan accordingly, and we're stuck with Cervelli.