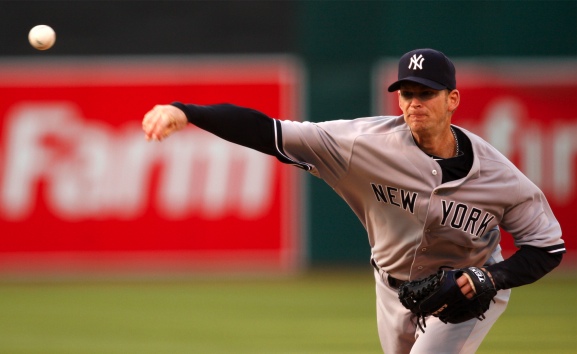 With a patchwork rotation that includes a struggling Phil Hughes, a journeyman pitching way over his head and a 23-year-old with two Major League starts to his name as well as their ace, the Yanks have made it from one to A.J. Burnett start to another without a loss. It's the first time since early July that the Bombers have won four in a row, and few fans expect Burnett to continue the streak.
We know how bad A.J. has been lately. The glow of his World Series duel with Pedro Martinez has long since faded into Yankee lore, and right now, we're stuck with a guy who's 3-10 with a 6.86 ERA since the beginning of June. We're stuck with the innings eater who's averaging under six frames a start. We're struck with the strike-out pitcher whose K rate has dropped to 6.75 per 9 innings. And we're stuck with the guy making $16.5 million a year through 2013. It isn't a comforting thought.
Yet, the Yankees have little choice but to hand the ball over to Burnett tonight, and it's in the club's best interests to get A.J. straightened out. If we look beyond the numbers to the stuff as presented by MLB's pitch f/x data, we can begin to see what ails A.J, and it seems to be a combination of a less effective curveball and a fastball without bite. What many have noticed about Burnett's fastball this year is its velocity. He averaged over 94 miles per hour last year but has been sitting at 93 this year. The velocity chart shows a downward trend too, but a mid-90s fastball thrown thrown with proper movement would still be tough to hit.
Rather, Burnett's problem appears to be just that movement. The horizontal movement on his fastball is nearly two inches less than what it was last year while the vertical movement is approximately an inch and a half more. So instead of tailing fastballs then run away to lefties and in on righties, his fastball seems to be moving less to the corners. Thus, Major League hitters will tee up on it.
The deuce seems to be giving Burnett problems as well. Last year, Fangraphs rated his curve as a plus pitch, 16 runs above average. This year, they rate it at -4.2 runs below average, and the pitch f/x data says the curve too hasn't been moving horizontally as much as it has in the past. While Fangraphs didn't smile upon Burnett's fastball last year, without the movement on the fastball and with a stale curveball, the results have been, as we've seen, disastrous lately.
Right now, though, there are no other options. The Yanks could skip Burnett and hand the ball over to Chad Gaudin or Sergio Mitre for a turn, but they could also do that with Phil Hughes to give him some rest. They can't take both Burnett and Hughes out of the rotation, and the Bombers need both ready to go come the American League Division Series. Without Andy Pettitte around, then, Burnett will get the ball every five days sink or swim, and to me, the data suggests that an adjusted release point and not more rest could solve some problems.
As a Yankee, Burnett has been an enigma. He signed an inflated contract because the Yanks desperately needed some power arms for their rotation, and his strike out numbers haven't been where they were when he was in Toronto. He hasn't been hitting his spots, and his walk rate over those last 15 starts is touching 4.5 per 9 innings. There is no Bad A.J. or Good A.J., only Infuriating A.J. Tonight, as the Yanks hold onto first place and try to ride out a winning streak, some A.J. will get the ball, and I'd be happy with next to nothing. Give me 6 innings, and give up 4 runs. That will satisfy my low expectations.