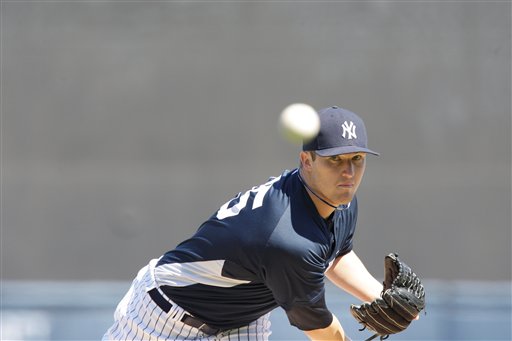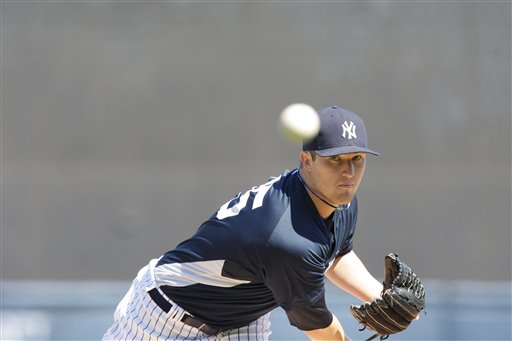 All season long, one of the staples of Phil Hughes starts were complaints about him relying too much on his fastball and cutter. Batters seemed to foul the pitches off at will, yet he continued to throw them deep in the count instead of trying to get swings-and-misses or weak contact on offspeed pitches. The changeup that supposedly won him the fifth starter's job in Spring Training all but disappeared until a late season cameo. It worked fine for the first few weeks of the season, but after that it was a bit of a struggle.
Hughes threw his four-seam fastball 63.6% of the time this year, the cutter 16.4%, and the offspeed stuff the remaining 20%. He was even more predictable with two strikes, throwing either a four-seamer or cutter almost 85% of the time (I have it at 84.75%, unofficially). When you're throwing some kind of fastball four out of every five pitches, it's easy to see why hitters fouled off more than a quarter of his total pitches this season. Hughes simply got predictable, even more so the second and third times through the league.
On Saturday night though, Hughes and catcher Jorge Posada changed up their plan, but not by incorporating more offspeed stuff. They threw more four-seamers and fewer cutters, go with straight power over deception and movement. Just seven of the 99 pitches Hughes threw were cut fastballs, and five of those came in the first four innings (two in the same at-bat).  The 18 curveballs he threw equals his regular season usage of the pitch for all intents and purposes, ditto the two changeups. It was a very straight forward attack plan, go right after them with the four-seam fastball and dare them to hit it.
There's two reason why this approach worked. One, Hughes' fastball was just that good that night, both in terms of life and location. That was obvious from the very first inning. Second, the Twins are nothing more than a league average hitting team against the old numbero uno, clocking in at just 0.05 runs above average for every 100 fastballs they see. In fact, they're essentially league average against cutters (+0.36) and curveballs (-0.25) as well, so when the opponent has no discernible weakness against the specific offering, just stick with the pitcher's strength. No reason to over-think things.
I think that Game Three was a bit of an outlier for Hughes with regards to his pitch selection. You certainly don't want him or any pitcher to throw 70% four-seamers or more on a consistent basis, but for that one night it just all came together. He had plenty of oomph on it, was able to command it to both sides of the plate, and he was staked to a big enough lead that he could be fearless with the pitch when needed. He'll be well rested for his first ALCS start, whenever that may be, so with any luck he'll show the same kind of crispness next time out.