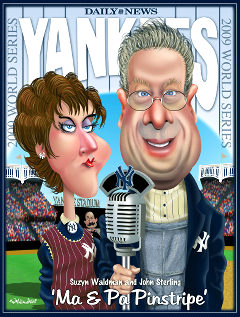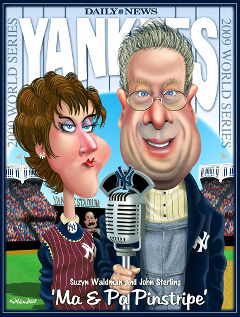 Few members of the Yankees' extended family elicit more debate and dissension than John Sterling and his Yankees Radio Network compatriot Suzyn Waldman. We've gone on the record wondering if the Yanks could do better but recognize that we've been stuck with Sterling for better or worse. Some people love his histrionics and gregarious radio voice while others would prefer that Waldman and Sterling work on their descriptive abilities and call the game as its played instead of the game in their mind. According to one recent report, though, we may be nearing the end of the Sterling-and-Waldman Era.
Bob Raissman, the well-sourced sports media columnist for the Daily News, questioned the future of Ma & Pa Pinstripe in his column on Saturday morning. The team's radio deal, estimated at an annual worth of $12 million, with WCBS AM 880 expires after the 2011 season, and so too do Sterling's and Waldman's employment contracts. As Raissman puts it, Hal Steinbrenner's Yankees are in no rush to renew the deal if the finances aren't just right, and the team may be willing to let its next radio partner pick the broadcast voices.
"The Yankees regime, led by Hal Steinbrenner, will be more concerned with obtaining maximum dollars in a new radio deal than who the broadcasters are," Raissman says. "Loyalty ain't even a factor here."
It will be interesting to see how this storyline plays out. Sterling and Waldman were George's people through and through. Steinbrenner loved Sterling's personality and his campy approach to Yankee games, and Waldman has been an organizational favorite and a female trailblazer in sports media for nearly two decades. Compared to the stars they cover, they don't earn large salaries, but if another station wants to build its own identity, it sounds as though the new generation of Steinbrenners would have little use for the old.
And what might that new station be? Raissman reports of a potential change and one that would not be welcomed by many Yankee fans. "Outside of WCBS, which probably wants to keep the Yankees, it's highly likely ESPN will – if it hasn't already – stick its beak into the mix. For ESPN-1050, the process of trying to chip away at WFAN, longtime Mets rights holder, has not been easy," he reports. Adding Yankees radiocasts to the mix of Jets, Knicks and Rangers would help change the equation – drastically. But how much would ESPN be willing to pay for the radio rights to Yankees baseball? And would pinstripe honchos be satisfied having their games go out over ESPN-1050's weak signal?"
WEPN 1050 AM has a notoriously weak signal in the New York area. While WCBS 880 AM is one of the FCC's clear-channel class A stations that doesn't face competition for signal strength in the eastern half of the United States, WEPN isn't so lucky. This class B signal is limited by a station in Philadelphia at 1060 on the AM dial, and it must avoid pointing or powering up its signal to the southwest due to the clear-channel status of an AM station in Nuevo Leon, Mexico. Listeners near Boston and Washington, DC, can hear WCBS while residents in Monmouth County, New Jersey, have trouble with WEPN.
Right now, this contract status isn't a very big issue. The team has another year left, and Sterling and Waldman will be around for it. How this is eventually resolved though will be an indicator of how things have changed business-wise for the Yanks after the passing of King George. Hal's approach could be much, much different.