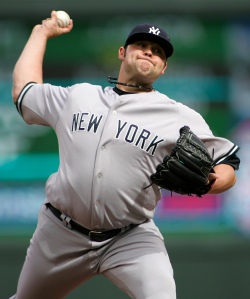 For the last four seasons, we've watched the Yankees attempt to figure out what they had in Joba Chamberlain. He was the 41st pick of the 2006 draft, and the Yankees expected big things from him. When the team had the Big Three — Chamberlain, Phil Hughes and Ian Kennedy — all on the way, Chamberlain was the one with the highest ceiling who profiled as a true ace.
For a little while, in 2008, he got there. He had a sub-3.00 ERA as a starter when he was just 22 before a shoulder injury robbed him of his velocity. He struggled through 2009 and was then toyed with by the Yanks as he neared an innings limit. He spent 2010 in the bullpen where his velocity and strike outs returned but his consistency did not.
Now, it seems that the Yankees are content with sending Joba to bullpen for good. "Joba to the pen," Yanks GM Brian Cashman said to reporters yesterday. "We made that decision after spring training. We're not looking to put it back. We told him in the spring, you're a reliever now. That's it."
That's it. It's all over. Joba will be a bullpen while the Yanks, as Chad Jennings reported, now consider Ivan Nova to be a potential rotation candidate. For those of us not privy to the Yanks' internal conversations and who are inclined to take Cashman at his word, this is quite a development. The team is giving up on a high-ceiling pitcher after he struggled thanks to their kid gloves and inability to chart a clear path or at least so it seems.
As I come to terms with this decision, I realize Joba the Starter has become my Moby Dick. I want the Yankees to believe they can turn a guy who they considered to be good enough to be a first-round pick (and who would have gone higher but for some health and signability concerns). I want to see the Yankees turn the promise of Joba into results as they deal with the looming departure of Andy Pettitte, the decline of A.J. Burnett and a thin free agent class. But that's not what happened.
What's going on here? The team can't actually consider Nova a better option. Compared to Joba, Ivan Nova is small beans. He had a just a 5.6 K/9 IP in 2010 and a poor walk rate: 3.6 BB/9 IP. Generally effective the first two times through the order, Nova couldn't handle a third trip through the starting nine, and players in their third plate appearances of the game hit .400/.531/.480 against him. He's a work in progress, and his ceiling is far lower than Joba's is today.
So I have four theories:
1. Player Failure: It's quite possible that the Yankees watched the Joba progress and determined that he just couldn't make it at the Major League level. They looked at 2008; they gave him a second chance in 2009; and he failed. It certainly wouldn't be the first time that a high-ceiling pitcher failed to reach the sky. But I don't buy it, and that brings me to…
2. Team Failure: The Yankees watched Joba progress and didn't give him enough time or had a set plan. They had too many layers of kid gloves on, and Joba couldn't withstand the yo-yo of the bullpen shuffle. It also wouldn't be the first time a team couldn't figure out how to bring up a top pitcher.
3. The Next Mariano: But maybe it's neither player nor team failure. Maybe the Yankees just think Joba profiles better in the bullpen. They know that Mariano Rivera isn't going to pitch forever, and they believe this deal Mo signs this winter will be his last. They need a replacement for him ready to take over at a moment's notice, and Joba is the heir apparent. He has the mentality to be a closer and the stuff as well. That Joba might be nearing free agency by the time Mo retires isn't much of a concern to the Yanks who have the resources to sign a reliever of Joba's potential caliber.
4. Health Concerns: Finally, it's quite likely that the Yankees simply know more than everyone else about Joba's shoulder. Again, it wouldn't be the first time a potential starter has moved to the pen due to health concerns (See Papelbon, Jonathan), and the Yankees would rather get their 70 bullpen innings out of Joba every year than an injury-plagued 120 starting. After all, they can keep Joba healthy over a full season out of the pen, and it's much easier to replace an injured reliever than it is a starter.
Ultimately, that's it, as Brian Cashman said. Joba tantalized us a starting pitcher, and now he's going to serve as a key part of the Yankees' bullpen. He can still be an impact player in the late inning, and if the club is willing to move forward with players of lesser caliber in the rotation, I'll just believe they have that reasons. The alternative is simply too unpleasant to contemplate.
With that, I've said more than my share on Joba. Unless the Yanks trade him or he becomes news in his own right, River Ave. Blues is through with this starter/reliever debate. You know where we stand, and you know where the club, better informed than us, stands. And so it goes.