Over the next few weeks we're going to explore what went right and what went wrong for the Yankees in 2010.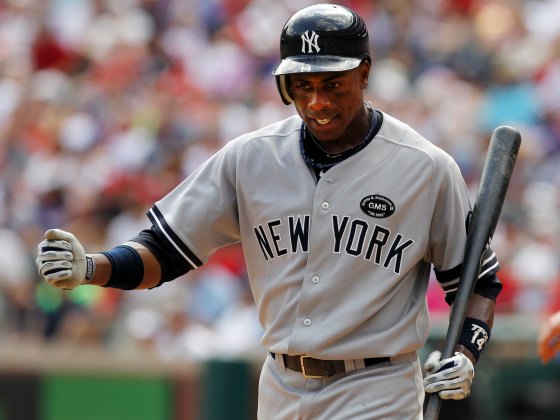 The Yankees needed an outfielder. They had won the 2009 World Series with a unit of Johnny Damon, Melky Cabrera, and Nick Swisher, but that was going to change during the off-season. For starters, Damon was a free agent and didn't appear willing to accept a cut from his $13 million salary. That created a potential opening in left field. In center field the Yankees could have improved, too. Their center fielders, Cabrera and Brett Gardner, combined to produce league average numbers, a 101 wRC+. While there's nothing wrong with a league-average center field unit, the Yankees needed to improve if Damon were to depart. The solution became apparent early during the 2009 Winter Meetings.
After a day or so of heavy rumors, the Yankees finally completed a trade that went Austin Jackson, Ian Kennedy, and Phil Coke to Detroit for Curtis Granderson. But the move was not met with universal praise. Granderson has produced poor numbers in 2009, which left many wondering why the Yankees would trade one of their best prospects, also a center fielder, for a player whose numbers — to paraphrase a common thought last winter — had declined in each of the last two years. That, of course, didn't tell the whole story of Granderson's development as a player.
Looking at Granderson's minor league numbers it's easy to see the makings of a star. His lowest OPS in those four seasons was .823, and he followed it up with a .922 season, after which he was named Baseball America's 57th best prospect. He followed that up with a very good season in AAA, which he followed up with a decent, though powerful, stint in the bigs. While his 2006 season didn't go so well, Granderson absolutely broke out in 2007, hitting .302/.361/.552 (.395 wOBA). The next season he again hit well, a .374 wOBA. That's what the Yankees sought to acquire. It would have been unrealistic to expect a center fielder to perpetually produce a nearly .400 wOBA. But .375? If he could do that while continuing to play an excellent center field, he could be the next in the line of stupendous Yankees center fielders.
At the start it appeared as though Granderson might fulfill that promise. On the seventh pitch of his first at-bat as a Yankee, Granderson homered off Josh Beckett, giving the Yankees a 2-0 lead. Three nights later he broke a 1-1 tie in the 10th inning with a home run off Jonathan Papelbon. If nothing else he endeared himself to the fan base. He furthered that effort in the next week and a half, going 10 for 28 (.357) with three walks (.419 OBP) and three extra base hits (.607 SLG). Might the Yankees have found the star center fielder that had eluded them since the days of Bernie Williams?
The hot streak, as we know, did not last. In his next 60 PA Granderson hit .154/.254/.250. While going first-to-third in a game against the White Sox on May 1, Granderson came up limping. The groin strain put him on the 15-day DL, with a three to four week estimated return time. Considering his slumping ways, he wasn't much missed. In his first seven games back he went 10 for 24 with five extra base hits, but that again was a short-lived hot streak. From June 4 through August 9, Granderson hit .224/.284/.398 in 217 PA, striking out 24.4 percent of his PA (27 percent of his AB). That was enough for him. He went to hitting instructor Kevin Long for some work on his swing. He sat out two games while trying to iron out the kinks.
We said a lot about Granderson during those first few months. First we tried to see the positive during his April slump. A disappointing month after his return from the DL we saw the value in exercising patience, noting specifically the curing powers of Kevin Long. He did land in our list of seven players whose first halves fell short of expectations, but again we maintained hope. Then, of course, just as Long is working with Granderson, I opened my fat mouth and called for a Granderson platoon. It made sense, at least at the time. But as Mike will discuss, it wasn't at all necessary.
No matter what excuses we make, no matter what light we view it in, Curtis Granderson hit very poorly through July. He showed flashes of excellence, especially when he went on a power streak, but the overall package just didn't seem to be there. The Yankees, though, had a different plan. Instead of platooning Granderson with new acquisition Austin Kearns, they instead placed him on the bench for two games against Texas so that he and Long could work on his swing. Mike will discuss the results of those sessions in the next article.