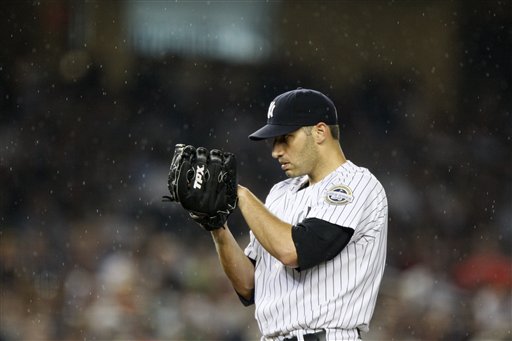 While the Derek dealings are nearing a denouement, the Yankees still don't know what the future will bring for Andy Pettitte. He hasn't yet decided if he's going to pitch in 2011, but the Texas Rangers set everyone into a tizzy when word leaked that they had contacted Pettitte's people.
Today was a day full of denial for those involved. The Yankees reacted strongly to the news. Someone in the Yanks' front office called it a "total [insert your favorite expletive here] joke." Said the source, "Pettitte's gonna pitch here or he's gonna pitch nowhere,"
Later in the day, Jon Heyman chimed in as well. Relying on someone he called a "Pettitte pal," Heyman reported that, if Pettitte returns in 2011, the "only way he doesnt go back to the Yankees is if they offer something insulting." Clearly, the Yanks won't offer anything insulting to Pettitte, but Pettitte has yet to say if he'll return.
Meanwhile, Nolan Ryan himself put an end to the rumor. He said he spoke with Pettitte when the Yanks' lefty called to wish his fellow Texan good luck in the World Series. "I asked him if he thought he was going to play in 2011 or retire," Ryan said to The Star Telegram. "He said if he played it would be with the Yankees because he wanted to retire with the Yankees. It wasn't like I was asking him if he wanted to come play for us."
So now, we're just waiting on Pettitte, and while we do, it's worth examining what the Yanks could expect from the lefty who will be pitching his age 39 season in 2011. This past year was a frustrating one for Petitte. He was dealing before a groin injury sidelined him for two months, and by the end of the playoffs, he said his hamstring and back were barking at him. Still, his numbers were impressive. He maintained a 7.0 K/9 IP and kept his walk rate (2.9 BB/9 IP) in line with his career total. He went 11-3 and lowered his ERA to 3.28, his lowest AL mark since 2002.
Going forward, there's no reason to expect a huge dip in performance. While Pettitte's velocity isn't what it was once, he, like Mike Mussina before him, has managed to make it work. He uses his breaking pitches and control more effectively, and he keeps the ball down in the zone. History too shows that lefties who are still in the game at Pettitte's age have pitched effectively. They aren't termed crafty southpaws for nothing.
Of the 30 seasons spun by left-handed pitchers who were at least 39 years old and made at least 20 starts, all but 10 have seen ERA+ figures top 100. Randy Johnson and Lefty Grove are the leaders, but Jamie Moyer pitched exceptionally well in Seattle at ages 39 and 40. David Wells did the same in New York in 2002. Have left arm, will travel.
Ultimately, for Pettitte, the biggest worry in 2011 will be his health. He broke down in 2010 after a long 2009 campaign, and he felt the strain of the season at the end of 2008 as well. Even though he keeps himself in very good shape, as he ages, his body isn't as fast to heal as it once was, and he is more prone to minor strains. But if the Yanks can convince him to come back for another go of it, the team will be all the better for it.