As we count down the days and weeks leading up to the season, we're going to preview the 2011 Yankees by looking at each of their core players and many, many more. A new preview will go up every day, Monday through Friday, from now until Opening Day.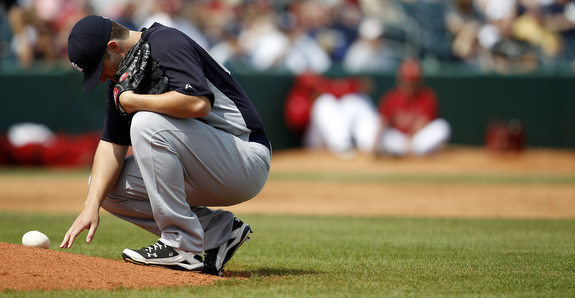 Maybe it's just me, but I don't think there was anything more exciting to watch in 2010 than Phil Hughes coming into his own as a big league starter. He made every start without incident (except when they skipped him), made the All-Star Team, and tossed up an absolute gem in his first career playoff start against the Twins in the ALDS. There's not much more anyone could have asked from the kid in his first full season as the member of a Major League rotation.
Heading into 2011, Hughes is no longer the young, interesting guy in the fifth starter's spot. He's being counted on as one of the team's top three starters, and could very easily start the second game of the season behind CC Sabathia. There were plenty of positives as well as a handful of negatives to be taken away from last season, which is why pinning down what Hughes will do in 2011 is so tough.
Best Case
It's very, very easy to dream on a young pitcher like Hughes. He was so dominant early in the season, with a sub-3.00 FIP in his first eleven starts and an ERA to match, that you can't help but fantasize about him doing that over a full season. Hitters couldn't catch up to his fastball or lay off the breaking ball in the dirt, and the cutter moved just late enough to induce weak contact or swings and misses. It was glorious.
Well, the best case scenario has Hughes repeating that level of performance over a full season. How would he go about doing that? By mastering a changeup, first of all, which would be akin to Jorge Posada suddenly turning into a Gold Glove caliber catcher. That pitch is what Phil needs to better combat left-handers, who tagged him for a .323 wOBA in 2010 and .343 over his entire career. Being able to consistently retire lefties will also help control the homerun issues that surfaced last in the season; 17 of the 25 homers Hughes allowed came off the bat of a lefty.
Developing a changeup and limiting the damage caused by left-handers would certainly be a step in the right direction for Phil, but we're looking at the best case scenario here. For that to be realized, Hughes would also have to get back to being the ground ball machine he was in the minors, when he boasted a stellar 54.9% grounder rate. Strikeouts and grounders are a wonderful way to live life, and would vault the Yankees' young right-hander into the game's upper echelon of starting pitchers.
The last thing that needs to be addressed is durability. Hughes held up pretty well over the largest workload of his career last season, throwing 192 total innings between the regular season and playoffs. The Yankees say he'll be without limits last year, so 200+ is no longer some nice round number to target down the road, it's an expectation. If Hughes can boost his strikeout rate to eight per nine while keeping his walk rate around three per nine with a 50% ground ball rate, we're talking about a right-handed Sabathia, a five win pitcher at the minimum and a seven win monster at the peak.

Worst Case
Young pitchers can be a risky proposition, especially when you stick them in the AL East. Hughes passed the test in 2010, but there were definite red flags down the stretch. He became very homer prone in the second half, allowing 17 long balls in his final 88.1 IP (1.73 HR/9). His strikeout rate dropped while his walk rate climbed as the season went progressed, and Phil's two starts against the Rangers in the ALCS left a lot to be desired.
The worst case for both Hughes and the Yankees would be if those trends proved to be indicative of the right-hander's true talent level instead of simply being a late season slump. In fact, the peripheral stats could continue to decline to the point where we're looking at a pitcher struggling to get strike three or keep the ball in the park. The 2010 version of Javy Vazquez does a damn good job of approximating what Hughes' worst case scenario would be this summer.
Beyond performance, there's also the whole injury issue, which applies to any pitcher regardless of age, size, and track record. Hughes threw 80.1 more innings in 2010 than he did in 2009, and 46 more than his previous career high set half-a-decade ago. A jump like that can be dangerous, and one of the last things the team can afford this year is to lose one of their top three starters for an extended period of time.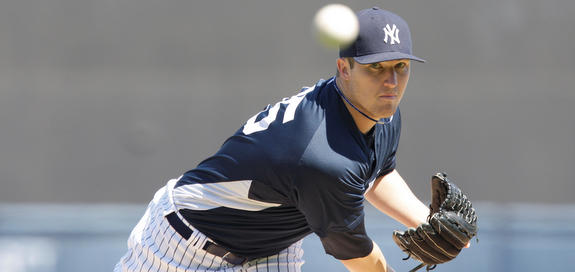 What's Likely To Happen
The range of expectations for Hughes is pretty large this season. He could take his game to another level and emerge as one of baseball's elite starters, or he could be replacement level cannon fodder. I don't think many of us would be surprised if either happened.
Hughes has already said he's aware that he hurt himself by not throwing his changeup enough last year, particularly early on, so I expect him to be a little more aggressive with the pitch out of the gate. That doesn't mean he's going to come out and starting throwing 25 a game, just enough to keep hitters off balance and honest. Phil doesn't need it to be a bonafide put away pitch, just a show-me fourth offering that gives hitters something else to think about is plenty.
As Joe detailed a few months ago, most of the homerun issues stemmed from an ugly, eight-start stretch in the middle in the season. The Blue Jays were also especially unkind to Hughes, accounting for more than a quarter of his homers allowed despite being just 13.2% of his batters faced. He's a fly ball guy (36.1% in 2010, 35.8% career), so homers are inevitable in Yankee Stadium, but giving up one homer for every ten fly balls like he did last year probably won't happen again; that's a rate just one-third of the game's starters experienced.
One last thing I want to mention is that Hughes is still only 24 years old. That seems to get skipped over quite a bit. Believe it or not, talented pitchers that young have this weird, unexpected tendency to actually, you know, get better with experience. It's strange, but trust me, it's happened once or twice in the past. Hughes could improve his performance this season just because he has a better idea of what he'll face as a starting pitcher over the course of a 162-game season.
If the Yankees get 175 IP out of Hughes with an FIP in the low-4.00's like they did last year, it would be a win overall because he'll be a productive starter. It's reasonable to expect some improvement, though it might not be a major step forward. It could be incremental, and there's nothing wrong with that at all.