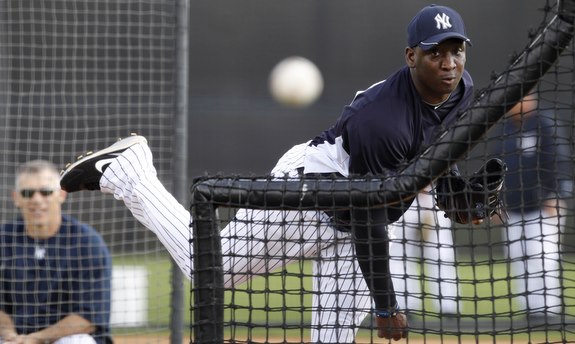 I think it's fair to say that the three-year, $35M contract the Yankees gave Rafael Soriano was the most controversial signing of this past offseason. Hal Steinbrenner and his upper upper upper management buddies over-ruled Brian Cashman because they weren't in love with the idea of using David Robertson and Joba Chamberlain as Mariano Rivera's primary setup men in 2010, plus the team had some of the money earmarked for Cliff Lee burning a whole in their pocket. The stars aligned just right for Soriano and Scott Boras.
Cashman came out and said he didn't think forfeiting a first round pick and spending that kind of money on a relief pitcher was the best way to use resources (at Soriano's introductory press conference no less), and he's right. Multi-year free agent contracts for relievers almost never work out, with the only real exception in recent years being Rivera. For the one they call MFIKY to earn his money, he'll have to not just repeat last year's effort, but improve upon it.
Best Case
Relief pitchers can only be so valuable in the real world, even the great Rivera. The last two years of Soriano's career are about as good as it gets for relievers; he's racked up 3.6 fWAR total (1.6 in 2010, 2.0 in 2009), good for eighth best among all relief pitchers. He's just a win-and-a-half away from the reliever fWAR leader (Brian Wilson), but he's also just half-a-win better than guys like Rafael Betancourt and Darren Oliver. I don't love WAR for pitchers, so if we use FIP, Soriano ranks tenth among all relievers at 2.66 over the last two seasons.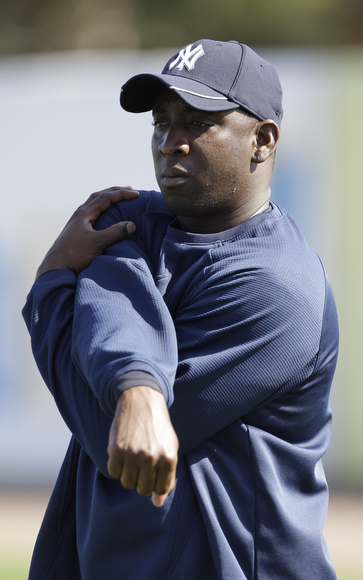 Soriano has nasty stuff, regularly using three pitches to attack hitters. His bread-and-butter is a 92-95 mph fastball and low-80's slider combo, pitches that rated as nine and 7.4 runs better than average last year. A pitcher is usually lucky to have one offering that good, Soriano's one of the few with two. His third pitch is a hard cutter that he throws mostly to left-handers, helping him solve those guys last season after a few years without answers. Hitters have swung and missed at Soriano's pitches more than 12% of the time in his career, and missing bats is the name of the game when it comes to late-inning relief work.
In a best case scenario, you're looking at Soriano returning to his 2009 form, when he had a worse ERA than he did in 2009 (2.97 to 1.73) but better peripherals (2.54 FIP, 2.99 xFIP vs. 2.81 and 3.81). A 2.50 FIP reliever throwing 70 innings of higher leveraged work (LI of around 1.60-1.70) is a two-and-a-half win player, and Soriano is capable of that if some things break his way. A three win season as a setup man is very hard to do, but not impossible.
Worst Case
Unfortunately, we've lived this nightmare before and know just how ugly multi-year contracts for relievers can get. There's Steve Karsay (four years, $22.5M), Kyle Farnsworth (three years, $17M), Paul Quantrill (two years, $6.8M), and Damaso Marte (three years, $12M), all of whom inked their deals within the last ten years and all of whom ended (or will end) their Yankee tenures on the business end of the chopping block. History is not on Soriano's side, and there are some warning flags.
Despite the high swinging strike rate, Soriano struck out just 8.23 men per nine innings last year, down nearly four full strikeouts from 2009 and about a K-and-a-half from his career average. Yes, there's the NL-to-AL East switch to consider, but remember, as an eighth and ninth inning guy with the Braves, Soriano wasn't facing opposing pitchers, he was getting pinch-hitters. His fly ball rate is also extreme at 49.8% over the last two years, a rate he's maintained throughout his career. Despite the improvement against lefties last season, yet still has a ways to go before proving that platoon split (LHB had a .313 wOBA off him prior to 2010) is a thing of the past. That .199 BABIP last year? Don't expect that to sustain itself either.
Oh, and then there's the injuries. Soriano has never stayed healthy for three consecutive seasons in his entire career, and he'll be shooting for that milestone in 2011. A history of elbow trouble (two surgeries, one of which was Tommy John) and shoulder issues reside  in the cons column. The worst case scenario is pretty much Farnsworth's tenure in pinstripes, a homer prone faux-setup man that will strike out enough guys to remain useful, but not really qualified for late-inning, leveraged work. During his two-and-a-half years in New York, Farnsy was worth just half-a-win total.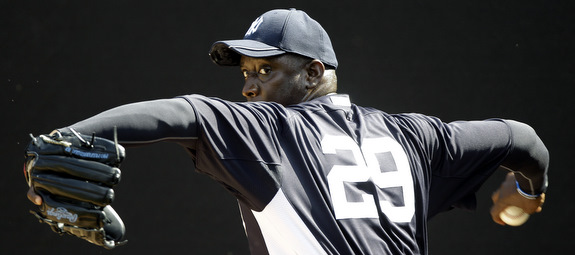 What's Likely To Happen
This part is very tricky, because you want to believe that Soriano is different from everyone else, that he's not one of those flaky late-inning guys because he's "proved himself" with the AL East winning Rays last summer. We've thought that before though, and I refuse to get caught in that trap again. There's no denying that Soriano improves the team's bullpen on paper though, there's just no argument against that, especially when you consider the chaining effect that pushes the whiff-happy Robertson and Chamberlain into the middle innings, where oh so many games are won and lost.
Performance-wise, I don't believe Soriano will be as good as he was last year again in 2011. The move from Tropicana Field into homer-happy Yankee Stadium will have a very real impact on his performance, and the dip in strikeouts is concerning. Ditto the super-low BABIP and historical struggles against left-handers. All told, if Soriano manages to stay healthy all year and puts up a 3.00 FIP in 70 innings, I'd take it in a heartbeat. The Yankees won 80 of 87 games when leading after seven innings last year, and three of those losses are attributed to Mo in one way or another. Soriano won't be that big of an upgrade at the end-game, but he's an upgrade nonetheless.
We can't ignore the contract either. For reasons unbeknownst to us, the Yankees gave Soriano the ability to opt out of his contract after each of the first two years. He and agent Scott Boras are the ones in control here. With any luck, he'll have a monster year and opt out in hopes of landing a huge payday as a closer somewhere. That should allow the Yankees to recoup the lost draft pick, assuming they offer him arbitration and the compensation rules aren't changed in the upcoming Collective Bargaining agreement. Best case scenario: Soriano's awesome in 2011 and heads elsewhere as a free agent after the season. Worst case: he gets hurt and the Yankees are stuck paying him for the next three years. Unfortunately, it's a lot easier to envision this signing turning into a disaster than it is a masterstroke. It's not fair, but Randy Levine & Co. made their own bed.