The Yankees were dealt a double bullpen whammy yesterday, as Pedro Feliciano suffered a setback with his strained rotator cuff and Luis Ayala hit the disabled list with a strained lat. It appears as though Hector Noesi will get the call for now primarily because the Yankees aren't exactly brimming with call-up candidates at the moment. Both Andrew Brackman and Steve Garrison made minor league starts last night, and so they'll be unavailable for a few days. Ryan Pope is on the minor league disabled list himself. That leaves Andy Sisco and George Kontos along with the rehabbing Mark Prior. This is where David Purcey comes into play.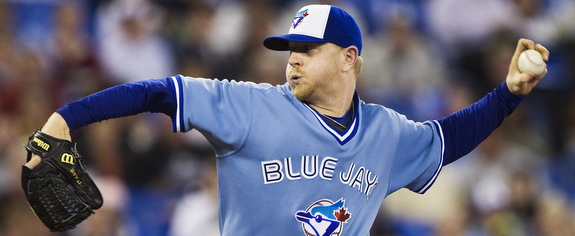 Purcey, an out-of-options lefty reliever, was designated for assignment by the Blue Jays yesterday, effectively ending a six-plus year relationship. They selected him in the first round of the 2004 draft out of Oklahoma (a year after the Yankees took him as a draft-eligible sophomore in the 17th round), but Purcey climbed the ladder slowly because of various minor injuries. He made his big league debut as a starter in 2008, but has since moved to the bullpen full-time. Toronto expects to trade Purcey, and they should be able to find a taker since he's left-handed and on the right side of 30 (he turns 29 in about a week). Given the Yankees' bullpen situation at the moment, he does make sense for them.
Purcey passes the eye test; he's a 6-foot-4, 240 lb. left-hander that sits around 93 mph with his fastball and occasionally touches 95. Just about three out of every four pitches he throws is a fastball, and he's since scrapped the curveball he used as a starter and replaced it with a sweepy slider. That pitch has helped him rack up just about eight strikeouts for every nine innings pitches as a big leaguer. He's done well against lefties since moving to the bullpen, striking out more than one out of every five batters with a ground ball rate close to 50%, limiting them to a .287 wOBA. That's not great, but we're talking about the 25th man on the roster remember, the low-leverage lefty specialist.
The problem with Purcey has been and always will be throwing strikes. He's unintentionally walked 4.58 batters per nine innings his career, 4.46 as a reliever, and 5.61 against lefties. If he was perfect, the Jays wouldn't have cut him. The Yankees would obviously be banking on Larry Rothschild and Mike Harkey ironing enough things out so that Purcey becomes usable in a game that's remotely close, something Ayala really isn't. The Yankees and Blue Jays haven't made a trade in a long time (last one was Raul Mondesi), but we're not exactly talking about a Roy Halladay here. Trade talks for a spare part between division opponents shouldn't be that difficult, especially since Toronto has no leverage because they have to move Purcey within the next week or lose him on waivers for nothing. Whatever they get is a bonus, and that bonus will likely be some Single-A prospect no one will miss.
Remember, not everyone on the roster has to be here for the long haul. I'm looking at Purcey as a short-term solution that will eventually be displaced by Feliciano or whoever comes back next, just a guy to fill a spot and eat some unimportant inning from time to time. Think Billy Traber or Jim Brower or Brett Tomko. He's just a band-aid in my eyes, a big, hard-throwing, left-handed band-aid that could even surprise us and prove useful in one of the most insignificant roles imaginable.