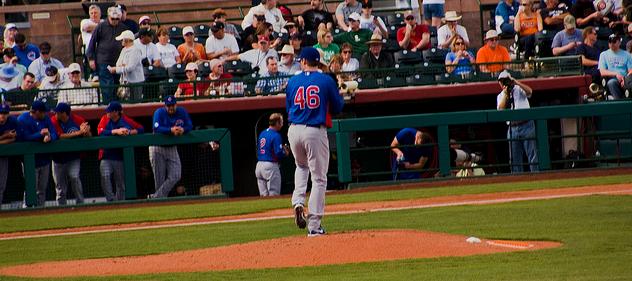 The Yankees' perpetual search for pitching takes us to Ryan Dempster today, who we got to see firsthand over the weekend. He wasn't very good, walking six and allowing eight hits in just 5.1 IP on Saturday, and the three runs scored had more to do with the Yankees not getting the job done with men on base than Dempster bearing down and pitching his way out of jams. A recent report indicated that there's "no likely scenario" in which the Cubs trade him, but we've heard that about so many players in recent years that it's tough to take it seriously. Let's break it down…
The Pros
Dempster has proven himself as a bonafide workhorse over the last few years, throwing at least 200 innings every year since 2008 (he's on pace to do that again this year). Although he had a lot of elbow issues early in his career, his only trip to the disabled list in recent years was due to a broken toe he suffered climbing over the dugout fence in 2009. That qualifies as a fluke.
His fastball velocity has held up well over the years, still sitting in the low-90's regularly. He'll use both a two and four-seamer, though Dempster's bread-and-butter is a mid-80's slider that he throws 35.5% of the time. He'll also throw his low-80's changeup one out of every ten pitches. Since the start of the 2009 season, his slider has an 18.1% whiff rate, the changeup 20.2%. That's pretty damn good.
Since returning to the rotation in 2008, Dempster's been above eight strikeouts per nine innings in three of the last four years (it was 7.74 K/9 in the one exception year, which is still close to eight per nine). His ground ball rate has hovered between 47.1% and 48.1% every year since 2007. Hooray for consistency.
This is the last guaranteed year of his contract and he projects to be a Type-A free agent at the moment.
The Cons
Dempster does have a considerable platoon split since returning to the rotation. He's held right-handed batters to a .240/.304/.375 batting line with 19.8% strikeouts and 7.3% unintentional walks since the start of 2008, but lefties have gotten to him for a .259/.339/.409 batting line with 24.0% strikeouts (very good) and 9.8% unintentional walks (not very good). His unintentional walk rate since 2008 is solid (3.18), but he's been around 3.50 both this year and last. That's nothing special.
He's become increasingly more homer prone over the last several years and is well-below-average at 1.27 HR/9 this year. His 15.1% HR/FB ratio is a touch high compared to recent years, and it's worth noting that eight of the 13 homers he's allowed this year came in his first five starts. He's allowed just five homers in eleven starts since.
I'm not sure how much (if any) stock to put in this, but Dempster is a career National Leaguer and has gotten hit around during Interleague play: 4.98 ERA, ~4.55 FIP in 202.1 career innings against the AL. We saw that on display last weekend and it's not an insignificant amount of innings, but they're spread out over 14 seasons (so an average of 14.5 IP per season, which is nothing). For what it's worth, he has just one career playoff start to his credit, this one back in 2007.
Dempster has a $14M player option for 2012 in his contract, and player options are alwaysbad news because the team has zero control over what happens. Any team that acquires him has to assume he'll pick it up. He'll earn $13.5M this year (about $2.25M per month) and there are a series of escalators built in the contract that are based on award finishes, etc.
The Yankees reportedly have no interest in Dempster (or teammate Carlos Zambrano), but we know they were at least scouting the Cubs recently. Plus "no interest" has led to an introductory press conference a number of times over the last few seasons, so I have a hard time believing that report. The player option is a killer because he could come over, completely stink, then eat up $14M of payroll next year. That said, at least Dempster's option is market value; you don't have to try all that hard to envision him going out on the market after the season and getting that kind of money. If he comes over, pitches well and picks it up, hey that's freaking awesome. But that's just one possible scenario out of many.
As for similar players traded recently, all I can come up with are Ted Lilly (Cubs to Dodgers), Javy Vazquez (Braves to Yankees), and Jake Westbrook (Indians to Cardinals), though I think we can all agree that Dempster is a notch above those two. They also aren't perfect comparisons because of the player option (plus Javy was not a midseason trade). Those three required packages of multiple young players/prospects, which is probably what it would take to acquire Dempster. Anyway, I'm not sure what to think here. There are obviously pluses and some definite red flags, but I think it's safe to say he passes the "better than Freddy Garcia" test. But is the cost and risk worth it?