Exactly one year ago today, Curtis Granderson was a platoon player. He was a centerfielder that couldn't hit lefties on a team that played in a division with several high-end southpaws. His season batting line sat at .239/.306/.415 in 336 plate appearances on the morning of August 11th, 2010, broken down into .256/.336/.467 in 225 PA against righties and .206/.243/.275 in 111 PA against lefties. With Austin Jackson, Phil Coke, and Ian Kennedy excelling for the Tigers and Diamondbacks, respectively, the three-team trade that brought Granderson to New York was looking like a bust for the Yankees. Little did we know what was going on behind the scenes.
The Yankees had just finished up a four-game series at home against the Red Sox, and had moved on to Texas for the two-gamer against the Rangers. Granderson was not in the lineup on August 10th, the series opener, but it wasn't all that unusual with lefty C.J. Wilson on the bump. Curtis pinch-ran for Austin Kearns in the eighth inning of the eventual loss, a forgettable moment in a forgettable game. The next day we heard that hitting coach Kevin Long was working on a "total reformation of the swing" with Granderson, a process that started when the student sought out the teacher. That was one year ago today.
Granderson did not start that night, but again nothing seemed out of the ordinary because Cliff Lee was on the mound for Texas. He pinch-ran for Lance Berkman in the ninth inning, but again, a forgettable moment in a forgettable game. Curtis returned to the starting lineup the next night, after the Yankees had split their two-game series with Texas and moved on the Kansas City. The Royals started lefty Bruce Chen that night, but Granderson singled off him in his first at-bat to drive in the game's first run. Two innings later he doubled to right, and two innings after that he hit a fly ball to the warning track in right. The next day he singled and hit two more deep fly balls. The day after that he hit his first homerun in close to the three weeks, and in the series finale he hit one more deep fly ball.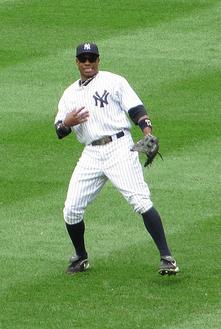 The changes were subtle. Curtis had brought his hands down and eliminated some pre-swing bat movement, and also shifted from a one-handed follow through to a two-handed follow through. Granderson finished the season like a madman, hitting .261/.356/.561 with 14 homers in the team's final 48 games, not to mention a .357/.514/.607 batting line in nine postseason games. Since that "total reformation of the swing" in Texas, exactly 365 days ago, Curtis has been one of the very best players in all of baseball.
In 161 games over the last calendar year, Granderson has hit .271/.362/.575 with 24 doubles, ten triples, and 45 homeruns in 693 plate appearances. He's drawn 83 walks and scored 131 runs as well, though the 164 strikeouts are a bit of an eyesore. No one's perfect though, a few strikeouts never killed anyone. In that time, only Jose Bautista (52) has hit more homers. Only six players have hit more triples. No one has scored more runs, and only Albert Pujols (116) is with 15 runs scored of the Grandyman. He leads all center fielders is basically every significant offensive category other than batting average over the last calender year, and is near the top in those same categories among all players, regardless of position.
Those struggles against left-handed pitchers? Forget about 'em. Grandy has hit .278/.357/.567 with 14 homers in 215 PA against southpaws since the fix, which is nearly identical to his batting line against righties: .268/.374/.578. Before the fix, he had just 17 career homeruns against lefties in 795 PA. He went from one homer every 46.8 PA against southpaws to one every 15.4. That's a factor of three, he tripled his homerun rate against same-side pitchers with a few mechanical adjustments.
We can't downplay the significance of what happened one year ago today, it completely changed Curtis' career. If you ask either Long or Granderson about the changes they made, the hands and the follow through, they'll downplay the significance of the adjustments and say they were just minor tweaks. That may very well be the case, but the results are anything but minor. Granderson transformed from a platoon outfielder into an MVP caliber player overnight (almost literally), and the Twitterwaves are abuzz with the #cured hashtag anytime Curtis does something amazing. These days, that's basically every game.