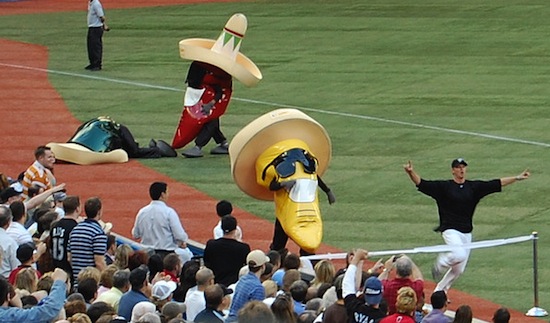 A few days ago, Mike made some great points about A.J. Burnett's performance up until now. Even including his total meltdown on Wednesday, he argues that Burnett been a decent back-end option for the strange and wonderful lineup that is the pitching rotation of 2011, and I agree. Yet, it seems there's no end to the masses of people who have a serious bone to pick with him. Because I'm a really nice person, I will gladly stand up in his defense. And hey, everyone hates me anyway, so why not?
Observe, this frequent complaint which I see posted over comments, threads, chats, tweets, and so forth. I would like to say I hear this in the streets, but I live in the bay, and their failed pitcher, Barry Zito, is making way more than ours. At least A.J.'s not Zito!
Anyway, figure A: A.J. Burnett does not perform up to the standards of a number two starter.
Can I just ask what the hell a number two starter is?
If all you have to do is pitch after CC, then these are the people who have been number two starters this year: A.J. Burnett, Freddy Garcia, Bartolo Colon, Phil Hughes and Ivan Nova. If all that it takes to be "a number two starter" is that you start after the number one starter, then everyone is a number two starter. Burnett is perfectly capable of starting the day after CC. And I'm sure if you asked Hector Noesi, Brian Gordon (when he was in the States) or Manny Banuelos to start after CC, they would have the stuff to be a number two starter as well. If all you have to do to be a number two starter is start the second game of the season, here are some other number twos: Daniel Hudson, Edwin Jackson, Brad Penny, and Paul Maholm. Being or not being a number two starter is a stupid insult. You might as well say A.J. Burnett has bad shirts (which, but he way, he does).
The other option for qualifying as a "number two starter" is that you have to keep certain numbers and Burnett hasn't done it. Keep in mind other number two starters, such as Jeff Francis and Chris Tillman, would also have to stick to these numbers. If that's the case, he's just not a number two starter anymore. That's okay! Closers get demoted when they struggle, and it can happen to starters too. It's okay to think that Burnett isn't as good as we thought he'd be (were you expecting he'd keep the career high in strikeouts?), and it's okay to demote him mentally based on that. But it seems like there's a whole lot of extra angst over this fact.
Basically, "a number two starter" means absolutely nothing. The baseball schedule gets crazy enough that starting after CC Sabathia, while it's cool because the bullpen is usually rested, is something that will happen to everyone. There are pitchers better than Burnett on this staff, I know. If you want to call Colon or Garcia or even Ivan Nova the number two starter, fine, whatever. But it's a stupid role to assign to anyone. There's aces like CC, Verlander, Weaver, and so on – and then there's everyone else. If you're pitching every five (or six?) days, it shouldn't matter when. Is Burnett second best? Obviously not. Is he better than last year and a dependable back-of-the-rotation arm? Absolutely. Burnett isn't going to be winning any Cy Young Awards out there, but he keeps the Yankees in the game most of the time, and that's what's important.
Personally, I don't think he needs anymore hate. Suggesting Burnett is in the same category as Pavano, calling him a total waste, or saying that he should be released immediately seems a bit extreme to me.
Feel free to get on him for terrible outfits though.